Image credits: © Ford.
1970 Ford GT70 news, pictures, specifications, and information

Tweet
Stuary Turner worked as designer for this mid-engined Ford with intentions to race it as a rally car. The GT40 had been given the '40' designation due to it being 40 inches high. The GT70 received its numerical '70' value because it was completed right before 1970. Various engines were proposed to reside in the engine compartment, but it was the Capri derived Essex V6 unit that eventually made its way mid-ship to power the rear wheels of the GT70.

A workers strike halted production and the producing these vehicles meant that it never made it into serious production. Only three prototypes were created.
By Daniel Vaughan | Mar 2006
TOYO TIRES® BLOG GIVES DAKAR® RALLY FANS EXCLUSIVE CONTENT, DRIVER INTERVIEWS & DAILY UPDATES FROM THE RACE
See The Dakar Teaser Video Featuring Robby Gordon and BJ Baldwin at ToyoTires.com/Dakar CYPRESS, CALIFORNIA– The annual Toyo Tires® Dakar® Rally Blog is back at ToyoTires.com/Dakar with exclusive pre-race features and soon, daily coverage of the world's most grueling, most unpredictable race. Covering nearly 3,500 miles over 13 days of competition, racers never know what Dakar will throw at them. This year, drivers will journey through Argentina and Chile between January 5 and ...[Read more...]
1958 Monaco Grand Prix: An Unlikely Frenchman Steals the Show…Again
In 1955, perhaps the most unlikely of drivers would survive the attrition and the beckoning Monaco harbor to claim his only victory in Formula One. Some three years later, and more unlikely than ever to even win a second race at any circuit, the same Frenchman would steal the crown jewel to become just the second man in Formula One history to earn two or more victories on the streets of the principality. Maurice Trintignant's victory in the chaotic and drama-filled 1955 Monaco Grand Prix was...[Read more...]
NEW EUROPEAN DEBUT CONFIRMED FOR SALON PRIVÉ: THE SPYKER B6 VENATOR SPYDER CONCEPT
Salon Privé 2013 - 4th to 6th September Syon Park, London, 22 August 2013 – Following the recent announcement of its new Concepts and Prototypes Display for 2013, featuring a number of British debuts, Salon Privé is delighted to announce a new entry, fresh from Pebble Beach – the European debut of the B6 Venator Spyder Concept. The Spyker B6 Venator Spyder Concept is the incredible new convertible compact 2-door mid-engine luxury sports car from the Netherlands' manufacturer....[Read more...]
DUTCH SUPERCAR MAKER VENCER TO REVEAL STUNNING 'SARTHE' AT SALON PRIVÉ 2013
• Salon Privé 2013: from Wednesday to Friday the 4th to 6th September
Syon Park, London, 10 June 2013 – Salon Privé confirms Dutch super car manufacturer Vencer will reveal the Sarthe to the UK for the first time in the stunning grounds of Syon House. Vencer was established in 2012 by Robert Cobben and is based in Vriezenveen. The first Vencer is the Sarthe, which had its world premiere in Monaco in April and Salon Privé is delighted to host it's UK reveal. The Sarthe i...[Read more...]
Aston Martin To Race In North America With TRG (The Racers Group)
Aston Martin's new portfolio of race cars; Vantage GTE, V12 Vantage GT3 and V8 Vantage GT4 will be seen in domestic competition in North America from next season after TRG (The Racers Group) were today appointed by Aston Martin Racing as an official partner. Under a new partnership; TRG-Aston Martin Racing North America, LLC (hereafter;TRG-AMR), the two companies will work together with the aim of bringing Aston Martin race cars to all of the major sports car racing series' in the United Sta...[Read more...]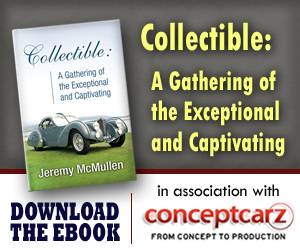 Ford
Monthly Sales Figures
Volume
December 2014
209,679
November 2014
178,221
October 2014
179,014
September 2014
172,261
August 2014
214,028
July 2014
204,373
June 2014
214,793
May 2014
244,501
April 2014
203,552
March 2014
235,198
February 2014
177,286
January 2014
148,671
(More Details)
© 1998-2014. All rights reserved. The material may not be published, broadcast, rewritten, or redistributed.