1962 Austin-Healey 3000 MKII news, pictures, specifications, and information

Tweet
In 1959 the Austin-Healey 3000 was given a few very important improvements over the preceding 100/6 model. The C-Series six-cylinder engine was enlarged to 2912cc and Girling discs were fitted to the front of the car. Horsepower rose to 124 bhp at 4600 RPM and top speed was achieved at 114 mph when the optional hardtop was in place. Few other differences existed between the old and new versions.

Eight more Horsepower would be gained in the early 1960s. Starting in November of 1961, the 3000 came with a new gearbox which finally had the gear level at the center of the transmission tunnel. In January of 1962, the 2+2 MKII Convertible, also known as the MKIIA, appeared, which brought with it many comfort features such as winding windows, swiveling quarter-lights and fixed foldaway hood.

In 1962, production of the MKII ceased after 5,096 examples of the 2+2s and 355 two-seaters had been created. The convertible version continued until the introduction of the 3000 MKIII in 1963.

A restoration was performed on this car during the mid 1990s. It has seen very little use since the mid-1960s and still shows very well in modern times. In 2007 it was brought to the Bonhams Auction, An Important Sale of Collectors' Motorcars and Automobilia, held at the Quail Lodge Resort & Golf Club in Carmel, California. This 1962 Austin Healey 3000 MkIIA Convertible was sold for a high bid of $52,000 plus premium and taxes.
By Daniel Vaughan | Apr 2008
This 1962 Austin-Healey 3000 MKII BN7 two-seat Roadster is fitted with three SU carburetors and is one of only 335 examples of this configuration produced over a two-year period. One of the cars prior owners retained the car for 26 years and used it as daily transportation, rain or shine, until 1984. For the next 19 years, the car remained in a garage. In 2008, it was given a complete restoration. The original transmission, engine and other mechanical systems were rebuilt. It is finished in black over Roman Red, with a red leather interior with black piping. It rides on period correct tires and chrome wire wheels.

In 2008, this 3000 MKII BN7 Roadster was offered for sale at the Gooding & Company Auction held in Pebble Beach, Ca. It was estimated to sell for $65,000 - $85,000 and offered without reserve. Those estimates were proven accurate when the lot was sold for $88,000, including buyer's premium.
By Daniel Vaughan | Mar 2009
This Austin-Healey was assembled on January 31st of 1962 and dispatched to the United States of February 13th. It left the factory in the same colors that it wears today - Colorado Red with black coves over a red interior with a black hardtop. It is believed that it spent its early life in California, until purchased by its current owner in 1982.

This vehicle is among the last of the 355 Mark II BN7 examples built and one of considerably few that feature both the top shift gearbox and tri-carburetor induction. It has a restored factory hardtop, original manuals, a DVD documenting its restoration and a certificate of authenticity from the British Motor Industry Heritage Trust.

In 2011, this vehicle was offered for sale at the Gooding & Company auction held in Amelia Island, Florida. It was estimated to sell for $75,000 - $90,000 and offered without reserve. As bidding came to a close, the car had been sold for the sum of $75,900, inclusive of buyer's premium.
By Daniel Vaughan | Mar 2011
Donald Healey's first post-war creation was the Nash-Healey hybrid; a vehicle powered by a Nash six-cylinder, riding on a Healey Silverstone chassis, and wearing an aluminum body. His next creation was a show car based on the Austin A90 for the 1952 London Motor Show. The Austin division of BMC jumped on it and the Austin-Healey 100 became a reality. The Austin-Healey 3000 followed in 1959 as the replacement for the Austin-Healey 100-6.

The Austin-Healey 3000 was basically an embryonic version available as a two-seater and a 2+2. Power was from a 2.9-liter straight-six with twin SU carburetors and front disc brakes.

In May of 1961, BMC upgraded their Austin-Healey 3000 with three SU HS4 carburetors, modified valve springs and a new camshaft. Designated the MK II, it was more powerful and less expensive than the Jaguar E-Type.

A 1961 Austin-Healey 3000 had a top speed of 112.9 mph and could race from zero-to-sixty mph in just 10.9 seconds.

In mid-1962, changes to the 'late' MK II included on fewer carburetor and marginal styling updates. In October of 1963, the MK III made its debut.

This 1962 Austin-Healey 3000 MK II was purchased by its previous owner in 1991 and treated it to a restoration from the ground up. It has a numbers-matching engine that was completely rebuilt in the mid-2000s. The car is finished in Colorado red with matching red leather seats and door panels, red carpets, red dash treatment, and a center-mounted shifter. It has traveled just 844 miles since the engine rebuilt.

In 2013, this car was offered for sale at Bonhams Auction in Scottsdale, Arizona. As bidding came to a close, the car had been sold for the sum of $59,800 including buyer's premium.
By Daniel Vaughan | Feb 2013
The Austin Healey 100 was introduced in October of 1952 at the Earls Court Motor Show. The first Austin Healey 100's were known as 100-4 or BN1. The name 100 came-about by being able to break the 100 mph barrier. The BN also had meaning. The B represented the engine class which meant it had between 2000 and 3000 cc. The N represented the body-style configuration, two-seat and open-top. The 100 was powered by a A90, 2660 cc, four-cylinder engine capable of producing 94 horsepower. The manual three-speed transmission was also borrowed from the A90. However, the first gear was blocked off and was fitted with overdrive on the second and third gears to provide extra power.
The name 'Austin Healey' was formed by a partnership comprising of the designer, Donald Mitchell Healey, and the manufacturer, Austin.

During its total production cycle, 10,688 examples of the BN1 were produced.

In October of 1955, the BN2 was introduced. The BN2 was similar to the BN1 in design but now featured larger drum brakes and a new four-speed transmission with overdrive.

During its production run, 3,924 examples of the BN2 were produced.

The Austin Healey 100S was produced in limited numbers, only 55. Their primary purpose was for competing in racing and rally events as well as for development and marketing purposes. They were entered into races such as Sebring, Mille Miglia, and Le Mans. They were copies of special factory test car that Stirling Moss raced in the 1954 12-hour Sebring race where he placed third. The 100S's were produced at the Healey Warwick factory and most were decorated with the American racing colors, white and blue. Of the 55 that were built, only 10 remain unaccounted for. The 100S, when compared with the 100, featured Dunlop disc brakes on all four wheels, different cylinder head and internal engine modifications, four-speed gearbox without overdrive, and a light-alloy body shell.

The 100S was followed by the 100M. The 100M was a Le Mans variation of the BN2 with an increased horsepower rating of 100-110. It featured bigger carburetors and modified distributor. Valve springs and anti-roll bars were added to the suspension. During its production run, 1100 of the Le Mans BN2's were produced.

Over time, about 100 BN2 were later modified but in order to qualify for the Le Mans configuration the vehicles needed to meet specific standards. These standards included a 1.75 inch H6, SU carburetors, cold air box and air tube, Le Mans regulation strap and a factory style louvered hood.

The four cylinder engine was used from 1952 through 1956, after which a BMC six-cylinder engine was used. The car was dubbed the '100 Six'. Three years and a few engine modifications later, the car was named the '3000' and today is known as the 'Big Healey'. Over the production lifespan of the 3000, it could be assembled with multiple options such as a two-seater or 2+2, hard-tops, single or duo-tone paint schemes, overdrive, and more.

In 1962 the body was redesigned with a curved screen and wind up windows. The interior of the vehicle was revamped in 1964 and also received more ground clearance.

The 3000 was produced from 1959 through 1968. The original engine produced 124 horsepower and was capable of about 114 mph. Modifications to the engine throughout the years increased the horsepower to around 148 and the top speed to 121 mph. The size of the car, the power of the engine, and weighing in at around 2400 lbs made this car responsive, competitive and fun to drive.

In all, there were around 73,000 100's and 3000's produced with 58,000 featuring the six-cylinder engine.
By Daniel Vaughan | Mar 2006
For more information and related vehicles, click
here
The Crescendo Effect: As the Days Get Closer, The Cars Get Bigger at Russo and Steele's 15th Anniversary Auction Event!
Scottsdale, Arizona (January 6th, 2015) – For Enthusiasts – By Enthusiasts. ™ This is far more than a tagline at Russo and Steele Collector Automobile Auctions. It's a lifestyle, and we are gearing up to deliver that singular passion to the High Desert of sunny Scottsdale, Arizona for our annual flagship event during the world renowned collector car week. Additionally, Scottsdale marks the kick-off of the year-long celebration of our 15th anniversary. Held over five thrilling and actio...[Read more...]
KIA MOTORS SHOWCASES FUTURE TRANSPORTATION TECHNOLOGY AT 2014 CONSUMER ELECTRONICS SHOW
Advancements in Kia's highly regarded UVO voice-activation telematics system highlighted ◾Thoughtful updates in smartphone integration and voice-activation technologies advance functionality and safety ◾New suite of Electric Vehicle-centered telematics serves as a preview to upcoming introduction of Kia's highly anticipated Soul EV ◾Innovative Kia CUB concept makes North American debut Las Vegas, January 7, 2014 – The journey through Nevada's desert, heading toward the brig...[Read more...]
BARRETT-JACKSON SELECT COLLECTION TO DEBUT IN LAS VEGAS
• Six Rare and Sought-after Vehicles Will Cross the Block at Company's Las Vegas Auction on September 26-28, 2013
LAS VEGAS (September 24, 2013) – Barrett-Jackson, The World's Greatest Collector Car Auctions™, announced today that it will debut the Barrett-Jackson Select Collection at the company's Las Vegas auction, September 26-28, 2013 at the Mandalay Bay Resort & Casino. Featuring a boutique offering of sports cars and pre-war classics, these rare vehicles have the pote...[Read more...]
All-New Jaguar F-Type & 2013 Range Rover Autobiography Named To 25Th Robb Report Annual 'Best Of The Best' List
◾Jaguar F-TYPE V8 S announced as winner of 'Convertible' category ◾Range Rover Autobiography announced as winner of 'Sport Utility Vehicle' category (MAHWAH, N.J.) – June 3, 2013 – Jaguar Land Rover North America announced today that the Jaguar F-TYPE V8 S and 2013 Range Rover Autobiography have been featured among the list of winners in the 'Wheels' section of the 25th annual 'Best of the Best' list by Robb Report magazine. The Jaguar F-TYPE is the winner of the 'Convertible' category, whi...[Read more...]
Buyers in abundance for another strong sale at Brooklands
Amidst some speculative recent market results, the heat was on Historics, but with Brooklands bathed in sunshine, the classic and sports car auctioneer again delivered another strong sale. In total 60 of 103 vehicles were seen away for a sale ratio of 58% and a final sale figure of £1,159,070. As pre-sale publicity predicted, Bentley's blazed a trail, with the star of the show an R-Type Coupé by Abbott of Farnham, which sold for £100,000. A 1937 4¼ litre Sports Special sold for £47,500, wh...[Read more...]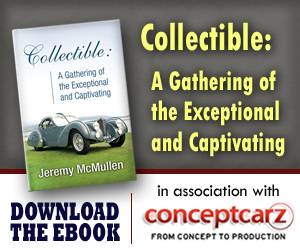 Similarly Priced Vehicles from 1962
Mercury Monterey ($2,670-$3,290)
Pontiac Bonneville ($3,350-$3,625)
Lotus Super Seven ($3,445-$3,445)
Amphicar 700 Amphibious ($3,400-$3,400)
Lotus Seven ($2,995-$3,450)
Ford Model 78 Country Squire ($3,020-$3,200)
Alfa Romeo Giulietta Spider ($3,150-$3,450)
Pontiac Catalina ($2,726-$3,300)
Ford Galaxie ($2,450-$3,356)

Average Auction Sale: $56,449
© 1998-2014. All rights reserved. The material may not be published, broadcast, rewritten, or redistributed.