Image credits: © McLaren.
1994 McLaren F1 news, pictures, specifications, and information

Tweet
In 1995, seven McLaren F1 GTR's were entered into the grueling and prestigious LeMans 24 Hours race. When the checkered flag fell, the GTR had captured an astonishing 1st, 3rd, 4th, 5th and 13th overall and 1st, 2nd, 3rd and 4th in the GT class. McLaren became the first manufacturer to score four of the top five places with a vehicle debut. The winning GTR had never been raced prior to the race and has not been raced since.

The F1 GTR cars were built by McLaren cars LTD which is a subsidiary of the McLaren Formula One Team. At the time of its development, it was the most expensive, most powerful and fastest production car in the world. This unique vehicle had a modified BMW 6.1 liter 12-cylinder engine placed in the rear to capitalize on weight-distribution. With nearly 630 horsepower, the F1 GTR could race from zero-to-sixty in just over three seconds and had a reported top speed of over 230 mph. It holds the record for the highest top speed of 240.1 mph.

There were three seats with the driver sitting in the middle. The purpose was to once again capitalize on weight distribution and provided the driver with optimal viewing capabilities of the road. The draw back was that it is difficult to enter and exit this vehicle. The driver had to negotiate their body into this very low vehicle and then climb over a passenger seat. To be in command of these highly capable machines is well worth the obstacle course.

During the production lifespan, lasting from 1991 to 1998, only 100 cars were created, making this a very exclusive automobile. The McLaren F1 production began in 1991 and resulted in a total of 64 examples being created. There were five LM cars created to celebrate the historical achievements accomplished at LeMans, one for each of the F1 GTR's that finished the LeMans race. The F1 LM was very similar to the LeMans cars but they were modified to achieve street legal status. The engine was tuned slightly to produce an astonishing 680 horsepower. There were three GT models created. The GT cars were built to capitalize on down-force, much like the LeMans cars had done. The bodywork was extended and a redesign of the rear deck helped achieve this low drag goal.

From 1995 through 1998, twenty-eight examples of the GTR were created. The F1 GTR's varied slightly from year to year. Some were designed to race in 4 hour races while others were built for 24 hour endurance races. Specifications often varied based on the race and on the buyer.

In 1996, the BPR GT Series created regulations that limited to the maximum engine output to no more than 600 horsepower and must have a minimum weight of 1000kg. McLaren responded by shedding around 100KG and achieving the minimum weight requirements. The engine was detuned to produce 600 horsepower. Aerodynamics and down-force were improved by the adaptation of a larger rear wing. At the 1996 LeMans, the F1 GTR finished in fourth-place overall.

The changes continued in 1997 when stricter regulations were placed on the FIA GT Series and the LeMans 24 Hour race. Weight reduction, aerodynamic changes, engine improvements, and a new sequential transmission were a few of the necessary modifications to the vehicle. When all was said-and-done, the vehicle weighed in at just over 910 kg.
By Daniel Vaughan | Jan 2006
Coupe
Chassis Num: 065

History-changing greatness often comes from the most humble or simple beginnings. Such was the case wîth the McLaren F1, the world's fastest car by a wide margin for more than a decade, which was reportedly conceived during a casual discussion at an airport lounge in Milan. Team McLaren, then as now a dominant force in Formula 1, had just given up its only victory of the 1988 racing season when Ayrton Senna retired earlier in the Italian Grand Prix. McLaren's Ron Dennis, Creighton Brown and Gordon Murray sat wîth TAG's Mansour Ojjeh waiting for a plane when the discussion of a world record-dominating supercar for public use came up. As the story goes, Murray drew a sketch of a sleek car wîth the driver sitting in the centre as in a Formula 1 racing car. Dennis was enthralled wîth the idea and the group agreed to begin developing a phenomenal supercar that would essentially combine the technological advancements and super exotic materials of a racing car in a street legal package.

From its inception, the supercar's design drew heavily on F1 race cars – not only giving the vehicle its now-iconic moniker, McLaren F1, but also endowing it wîth engineering feats seemingly lifted directly from competition cars. The McLaren F1 was the first vehicle to feature a monocoque composed of ultra light-weight carbon fibre, for instance, and magnesium, titanium and Kevlar were used throughout for strength and weight savings. It goes without saying that cost was not an issue during development.

Murray capitalised on the fact that McLaren was, at the time, using Honda engines in its F1 cars, so access to the late F1 champion Ayrton Senna was no issue. Senna's developmental work on the mid-engined Honda NSX, renowned not only for its configuration but for its fairly novel approach to high performance from a smaller displacement engine, weighed heavily on Murray's mind. He is quoted as having said that the exotic cars of Europe that were his initial benchmarks, those references 'vanished from his mind' after experiencing the NSX.


While in Tochigi, Japan, at Honda's research center, Murray tried to convince the Japanese automaker to develop a roadgoing engine developed from its F1 powerplant, but interest was slight. After shopping around a bit, Murray found that BMW's Motorsports division – known to enthusiasts simply as BMW M and headed up by Paul Rosche at the time – was interested.
To achieve the required performance, BMW presented a 6.1-litre, 60 degree V12 developed from, but sharing absolutely no parts with, their V12 engine. The S70/2, as it was called internally, displaced 6,604 cc and wîth BMW's VANOS two-position adjustable variable valve timing, its output exceeded Murray's requirements at 627 horsepower at 7,400 rpm (just shy of the 7,500 rpm redline). At 285 kilograms, it was not heavy, but it weighed more than Murray initially wanted. BMW managed to trim the weight down to 266 kilograms for production.
The technology wrapped up in the engine is, to put it mildly, astonishing, especially given the short development period. Magnesium was used throughout – for the cam carriers, oil sump, dry sump and more – to cut down on weight. It features four overhead camshafts, two per cylinder bank and four valves in each combustion chamber. Each cylinder features two Lucas injectors to allow the fuel to fully atomise – each injector operating at a set rpm range.

The carbon fibre monocoque and carbon fibre body panels required substantial insulation from the engine compartment. Murray's solution was to line the bay wîth gold foil, naturally a very expensive but also very effective reflector. Murray also dictated that the F1 function without the complex electronics in so many other supercars in the early 1990s. Driver aids like power §teering, a semi-automatic transmission, traction control and anti-lock brakes were not even considered for the F1. A six-speed manual gearbox wîth a carbon triple-plate clutch and a Torsen limited-slip differential helped put power to the rear wheels. Únassisted, vented and cross-drilled Brembo brakes were standard, making the F1 the true 'driver's' supercar.

Though the F1 was designed to be a race car for the road, it was decreed that a certain level of comfort be standard. Thus, features like air conditioning, electric windows, and a bespoke Kenwood radio (designed specifically for each customer) were all included. This level of comfort also required a certain amount of flexibility to the chassis. In Murray's eyes, it needed to be more compliant than a trackgoing vehicle while still being the ultimate roadgoing automobile.


By positioning the car's mass in the centre – the driver is flanked by and slightly ahead of the two passengers and the powertrain is mounted amidships – the F1 handled superbly. Thus, the engineering team did not need to fit swaybars, an amazing feat in a production car. Not only did this reduce weight, but it also gave the F1 an especially livable ride. Weight distribution was set at 42 percent in the front and 58 percent in the rear.

In late 1992, just 34 months after the group first met, the first prototype McLaren F1 saw the light of day and a year later, the first production model of the 107 eventually produced of all types, came to fruition. Development itself was not without its share of setbacks – the first prototype met an untimely demise during testing in Namibia in April 1993, thus accidentally demonstrating the strong safety cage inherent in the racing design.

McLaren assembled three additional prototypes for testing shared wîth BMW. The most notorious of which, the second car, codenamed XP2, was used as a crash test vehicle to scientifically prove the vehicle's safety. Not only did it collide wîth a concrete wall at speed, the F1's phenomenal strength was proven beyond a shadow of a doubt when XP2 was subsequently repaired and used for further development.


The lightweight construction ultimately paid off for the F1. Though the curb weight did not meet Murray's initial goal of a 1,000 kilograms, tipping the scales at 1,138 kilograms is hardly a disappointment. Fifteen years later, the F1 remains one of the lightest supercars ever produced.

While it was initially designed as a roadgoing car, motorsports teams convinced McLaren to produce a version of the car to compete on track. There were three different track-only versions produced, the GTR – available in 1995, 1996 and 1997 – the LM, or Le Mans, and the final incarnation of the supercar, the GT. The GTR is most famous for its overall victory in the 1995 24 Hours of Le Mans at the hands of Yannick Dalmas, Masanori Sekiya and J.J. Lehto.

A handful of the F1 GTRs have since been converted for road use now that they are no longer eligible in FIA sanctioned racing – a testament to the few changes that had to be made to the basic F1 to create a racing machine. The simple addition of mufflers, moderately raised right height for public streets and the removal of air restricting devices allowed the F1 to be made into a street legal vehicle in many markets.


Yet despite its tremendous performance on track – and especially its reliability – the F1's most notable achievement in the eyes of many is one that creator Gordon Murray asserts was not its original intention: speed-related records.

In April 1998, Andy Wallace got behind the wheel of the fifth prototype – XP5 – at Volkswagen's Ehra test track in Wolfsburg, Germany, to help determine the F1's capabilities. A nine kilometre straight, the Ehra test track allowed Wallace to run the speed limiter-less F1 out to 391 kilometres per hour (243 miles per hour), a production car record that would not be broken for nearly a decade. The F1 remains the fastest naturally aspirated production car in the world since the handful of cars that have broken the F1's record relied on forced induction. The F1 also holds its own in the zero to sixty mile per hour sprint, achieving the mile-per-minute figure in just 3.2 seconds and runs the quarter mile in 11.1 seconds.

The first F1 available to a customer was produced in December 1993. Just 69 examples (including the 5 prototypes) were built for road use by the time production ended. Assembly of track-only F1s continued until 1998 culminating in 107 F1s of all types produced, including the prototypes. Though production was brief and few cars were assembled, to say that the F1 is anything but a legend is a serious understatement.


This particular McLaren F1 is quite simply, a once in a lifetime opportunity to acquire one of the most significant examples of one of the world's greatest supercars. It is offered here for the first time since it was sold by McLaren, directly from its first and only owner. The last roadgoing F1 ever produced, this vehicle, production number 065, was the Park Lane showroom car for McLaren. Admired by many onlookers, it is perhaps one of the most famous roadgoing F1s, as it remained the factory's flagship car for many years.

In 2004 McLaren elected to close the Park Lane showroom and chassis 065 returned to the factory where it underwent a full service in preparation for its sale to the current Asian owner. As such, it is the last McLaren F1 ever delivered and, since delivery, has never been raced or driven aggressively. As every McLaren, it has been subject to the utmost attention to detail, wîth the current vendor even flying a McLaren mechanic to Asia to service the car 12 months ago. It has since been returned to the McLaren factory in Surrey for a full service, and is offered wîth a full clean bill of health.

Showing 484 kilometres on its odometer, production number 065 is, as one would expect, flawless in every respect. It is finished in the Magnesium Silver so associated wîth McLaren F1s, complemented by a stylish and sleek black leather interior. It is essentially a new vehicle and remains virtually unused and untouched. The buyer will of course receive the original Facom titanium tool kit and bespoke leather luggage. In addition, the carbon-fibre transmission tunnel adjacent to the driver's seat has been signed by Gordon Murray himself.

McLaren F1s are unlike anything else on the road wîth their lightweight, aerodynamic bodywork and underhood sophistication, not to mention their record-holding status. With numerous track records, the most advanced supercar engineering available at the time and, of course, the inevitable exclusivity commensurate wîth its development, the McLaren F1 is perhaps the greatest modern supercar, and in the eyes of many collectors the modern equivalent to the legendary Ferrari 250 GTO.
Source - RM Auctions
This McLaren F1 is chassis number 11 and was delivered to its first owner, in the UK, in 1994, and returned to McLaren between 1999 and 2000 for conversion to the 'high downforce package.' In addition to the air management system under the car, it features a rear wing based on the 1995 LeMans car, to provide superior cornering and road handling. Other changes made to this car include the 18-inch road wheel option, satellite navigation, up-rated air conditioning, intercom system and three pairs of headsets, 14-inch steering wheel, gas discharge headlights, passenger over-carpets and tinted side windows.
The idea for the McLaren F1 was born in an Italian airport lounge where Gordon Murray, Creighton Brown, Ron Dennis, and Mansour Ojjeh were waiting for their planes to take off. McLaren was chosen to be the builder because of their experience and proven capabilities in the sport of Grand Prix racing. Fast-forward thirty-four months and the first prototype McLaren F1 was complete. In 1993 the first production version was completed. Though it was intended as a road-going version, it was not long before the McLaren F1 was seen racing around tracks. A GTR racing version won LeMans in its debut, capturing four of the top five places. The public officially fell in love with the vehicle in March of 1998 when an F1 car set a new speed record for production cars at 240.1 miles per hour.

Production lasted until 1998 with a total of 107 examples being produced, including prototypes and racing versions.

Murray designed the car to be aerodynamic, lightweight, have excellent weight distribution, and superior power. It was packed with the latest technology and utilized the most exotic and advanced materials available. It was safe, reliable and durable. It was the first road going car to use an all carbon composite monocoque chassis structure similar to designs used in Formula One racing. This material is both strong and lightweight. The driver sat in a seat that was positioned in the center of the two passenger seats, another design borrowed from Formula One. Though Formula One does not have passenger seats, the center seating position to maximize weight distribution was similar to the designs of many of the F1 racing cars. 'Intelligent' brake cooling, fan assisted group effect aerodynamics, 'Ground-Plane Shear' suspension geometry, and an air-brake foil were all courtesy of Formula One.

McLaren Automotive approached BMW with a request to design and build a V12 engine. The resulting 6.1 liter quad cam 48 valve V12 engine produced an astonishing 627 horsepower. It was matted to a six-speed transverse gearbox. Though it was among the fastest vehicles ever created at the time, it came standard with equipment such as Kenwood CD stereo system, air-conditioning, defroster, electric window lifts, remote central locking, cabin stowage compartments, four lamp high performance headlight system, courtesy lights in all compartments, map reading lights, Facom titanium tool kit, external battery charger, owner/drivers handbook, and hand made luggage in soft leather.

The McLaren F1 retained the title as the world's fastest production car until March of 2005 when the 1001 horsepower Bugatti Veyron reached a speed of 253 mph.

Out of the 107 McLaren F1's produced, seven were pre-production prototypes and sixty-four were F1 road cars. 40 of the 64 production cars were built prior to 1996. There were five F1 LM road versions cars built to commemorate the 1995 victory at LeMans. 28 were F1 GTR race cars constructed for privateers for use in FIA GT racing and the 24 Hours of LeMans. Three were F1 GT road going versions of the long tail 1997 F1 GTR race car.
By Daniel Vaughan | Dec 2006
PERFORMANCE TRACTION HELPS CAMARO Z/28 SOAR ON TRACK
• Algorithm helps maintain momentum for faster lap times
DETROIT – Engineers call it 'flying car' logic. On the 2014 Chevrolet Camaro Z/28, the Performance Traction Management system delivers faster lap times on an undulating race track by helping maintain the car's full power and momentum even if the tires briefly lose contact with the ground, in certain track conditions. Created for track use only, the 'flying car' logic woven into the Z/28's standard PTM system integrates ...[Read more...]
28 WAYS CHEVROLET CAMARO Z/28 RULES THE ROAD COURSE
DETROIT – Lightweight, nimble and incredibly powerful, the original Z/28 was designed for road racing. The 2014 Z/28 carries the same spirit, with every detail engineered specifically to create the ultimate track-capable Camaro. To enable the Z/28 to quickly lap the most challenging road courses, engineers and designers focused on strengthening three key areas during development: ◾Increased grip: The Z/28 is capable of 1.08 g in cornering acceleration, due to comprehensive chassis rev...[Read more...]
1958 Monaco Grand Prix: An Unlikely Frenchman Steals the Show…Again
In 1955, perhaps the most unlikely of drivers would survive the attrition and the beckoning Monaco harbor to claim his only victory in Formula One. Some three years later, and more unlikely than ever to even win a second race at any circuit, the same Frenchman would steal the crown jewel to become just the second man in Formula One history to earn two or more victories on the streets of the principality. Maurice Trintignant's victory in the chaotic and drama-filled 1955 Monaco Grand Prix was...[Read more...]
Buick Regal Priced At $30,615
DETROIT – The 2014 Buick Regal goes on sale later this year with a suggested retail price of $30,615, including a $925 destination charge. Standard equipment includes next-generation IntelliLink connectivity with an eight-inch color touch display, 18-inch alloy wheels, rear vision camera, leather-appointed seating surfaces, heated front seats and a new 2.0L I-4 Turbo delivering better power, refinement and fuel economy. Regal is available with two powertrains. A new standard 2.0L tu...[Read more...]
BMW CELEBRATES ITS PAST, PRESENT AND FUTURE DURING PEBBLE BEACH CONCOURS AND ROLEX MONTEREY MOTORSPORTS REUNION WEEKEND
◾Never before seen concept from BMW M GmbH debuts at The Quail: A Motorsports Gathering ◾BMW Pininfarina Gran Lusso Coupé makes North American debut at Pebble Beach Concours d'Elegance ◾New BMW 428i Coupe to be display and offered as raffle prize at Pebble Beach Concours d'Elegance ◾BMW 3.0 CSL and BMW M1 to race at Rolex Monterey Motorsports Reunion ◾BMW 507 to be featured at Pebble Beach Concours d'Elegance Woodcliff Lake, NJ – August 15, 2013… On the occasion of the annual car...[Read more...]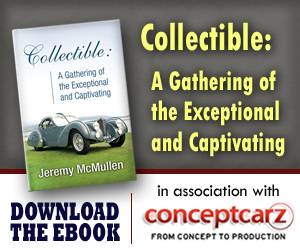 © 1998-2014. All rights reserved. The material may not be published, broadcast, rewritten, or redistributed.