Image credits: © McLaren.
1996 McLaren F1 GTR news, pictures, specifications, and information

Tweet
The McLaren F1 was the world's fastest and most expensive production car, and no expense was spared in providing it with state-of-the-art technology in every detail. McLaren turned to BMW to develop an engine worthy of this supercar and BMW responded with a 6.0-liter, V-12, developing 636 horsepower.

The F1 GTR was the racing version, which differs only slightly from the production car. Several F1 GTRs were entered in the grueling 24-hour race at LeMans in 1995. At the end, it claimed victory as well as third, fourth, and fifth overall, an unprecedented success for a first-time entry. In 1995, McLaren F1 GTRs also won the 1000 kilometer race at Suzuka and the 4-Hours of Silverstone.

In 1996, 1997, and 1998, McLaren GTRs again took on the challenge of LeMans, finishing 4th, 2nd, and fourth overall in 1996, 1997, and 1998 respectively. The car shown, sponsored by BMW of North America, was driven by Nelson Piquet, Danny Sullivan, and Johnny Cecotto, finished 8th overall in 1996.

This is McLaren F1 GTR chassis number 017R. It is one of only nine 1996 spec GTR's produced of a total run of 28. It was delivered to Bigazzi Team SRL to run in the 1996 24 Hours of LeMans race sponsored by BMW of North America. In all, #17R had a three race long career.

Its competition debut was at the Pre-Le Mans race in May of 1996 where it finished in 13th place, driven by Steve Soper and Jacques Laffite. Next, it competed at the Silverstone 4 Hours and finished fourth in the hands of Steve Soper and Nelson Piquet. The third and final competition saw the car race at the 1996 24 Hours of Le Mans. After running as high as third overall, it finished 8th overall. The car was piloted by Nelson Piquet, Danny Sullivan and Johnny Cecotto.

The car carries a naturally aspirated BMW 6.0 liter, four-valve V12 developing 600 horsepower in restricted racing trim. The car was retired, shipped of BMW of North American and remains in original, unrestored condition, except for the addition of a passenger seat so that the car can be used to give rides.

This car is owned by BMW of North America, LLC and is not for sale.
In 1995, seven McLaren F1 GTR's were entered into the grueling and prestigious LeMans 24 Hours race. When the checkered flag fell, the GTR had captured an astonishing 1st, 3rd, 4th, 5th and 13th overall and 1st, 2nd, 3rd and 4th in the GT class. McLaren became the first manufacturer to score four of the top five places with a vehicle debut. The winning GTR had never been raced prior to the race and has not been raced since.

The F1 GTR cars were built by McLaren cars LTD which is a subsidiary of the McLaren Formula One Team. At the time of its development, it was the most expensive, most powerful and fastest production car in the world. This unique vehicle had a modified BMW 6.1 liter 12-cylinder engine placed in the rear to capitalize on weight-distribution. With nearly 630 horsepower, the F1 GTR could race from zero-to-sixty in just over three seconds and had a reported top speed of over 230 mph. It holds the record for the highest top speed of 240.1 mph.

There were three seats with the driver sitting in the middle. The purpose was to once again capitalize on weight distribution and provided the driver with optimal viewing capabilities of the road. The draw back was that it is difficult to enter and exit this vehicle. The driver had to negotiate their body into this very low vehicle and then climb over a passenger seat. To be in command of these highly capable machines is well worth the obstacle course.

During the production lifespan, lasting from 1991 to 1998, only 100 cars were created, making this a very exclusive automobile. The McLaren F1 production began in 1991 and resulted in a total of 64 examples being created. There were five LM cars created to celebrate the historical achievements accomplished at LeMans, one for each of the F1 GTR's that finished the LeMans race. The F1 LM was very similar to the LeMans cars but they were modified to achieve street legal status. The engine was tuned slightly to produce an astonishing 680 horsepower. There were three GT models created. The GT cars were built to capitalize on down-force, much like the LeMans cars had done. The bodywork was extended and a redesign of the rear deck helped achieve this low drag goal.

From 1995 through 1998, twenty-eight examples of the GTR were created. The F1 GTR's varied slightly from year to year. Some were designed to race in 4 hour races while others were built for 24 hour endurance races. Specifications often varied based on the race and on the buyer.

In 1996, the BPR GT Series created regulations that limited to the maximum engine output to no more than 600 horsepower and must have a minimum weight of 1000kg. McLaren responded by shedding around 100KG and achieving the minimum weight requirements. The engine was detuned to produce 600 horsepower. Aerodynamics and down-force were improved by the adaptation of a larger rear wing. At the 1996 LeMans, the F1 GTR finished in fourth-place overall.

The changes continued in 1997 when stricter regulations were placed on the FIA GT Series and the LeMans 24 Hour race. Weight reduction, aerodynamic changes, engine improvements, and a new sequential transmission were a few of the necessary modifications to the vehicle. When all was said-and-done, the vehicle weighed in at just over 910 kg.
By Daniel Vaughan | Jan 2006
RED BULL GLOBAL RALLYCROSS TO COMPETE AT X GAMES AUSTIN
LOS ANGELES, CA (June 4, 2014) — Red Bull Global Rallycross will contest the second round of its 2014 championship on Saturday, June 7, as part of X Games Austin. For the first time, X Games will be held at Circuit of the Americas, the home of Formula One's United States Grand Prix and one of the most advanced grand prix circuits in the world. 'We look forward to participating at X Games this weekend in Austin as part of our multi-year collaboration,' said Colin Dyne, Red Bull GRC CEO....[Read more...]
NELSON PIQUET JUNIOR CONFIRMS RX LITES ENTRY FOR LYDDEN HILL
Former Formula One driver Nelson Piquet Jr will compete in the RX Lites Cup at the second round of the FIA World Rallycross Championship presented by Monster Energy, AUTOSPORT World RX of Great Britain, which takes place at Lydden Hill race circuit this weekend (24-25 May). The Brazilian driver has a glowing CV in motorsport having finished runner-up in the coveted GP2 Series back in 2006 before stepping up to Formula One in 2007 to join the Renault F1 Team for three years. In 2010, Piquet J...[Read more...]
1991 Mexican Grand Prix: Amidst The Turmoil, Patrese Emerges Supreme
In the previous race, Williams-Renault had come up about a mile short. And, after having served the team well from 1987 onwards, Patrese had come up short in his bid to be Williams' number one driver. However, in a city that, at least at that point in time, was turned upside-down with crime and corruption, Patrese would demonstrate he had more than enough in hand to challenge the Formula One field, and his teammate. Back during the 1987 season Nigel Mansell would be driving with Williams when...[Read more...]
BMW CELEBRATES ITS PAST, PRESENT AND FUTURE DURING PEBBLE BEACH CONCOURS AND ROLEX MONTEREY MOTORSPORTS REUNION WEEKEND
◾Never before seen concept from BMW M GmbH debuts at The Quail: A Motorsports Gathering ◾BMW Pininfarina Gran Lusso Coupé makes North American debut at Pebble Beach Concours d'Elegance ◾New BMW 428i Coupe to be display and offered as raffle prize at Pebble Beach Concours d'Elegance ◾BMW 3.0 CSL and BMW M1 to race at Rolex Monterey Motorsports Reunion ◾BMW 507 to be featured at Pebble Beach Concours d'Elegance Woodcliff Lake, NJ – August 15, 2013… On the occasion of the annual car...[Read more...]
BMW TO BE FEATURED AT SARATOGA AUTOMOTIVE MUSEUM
• BMW History and Heritage on four wheels and two on display from May – November, 2013
Woodcliff Lake, NJ – March 8, 2013… BMW's rich heritage will be showcased at the Saratoga Automobile Museum in an exhibition called 'BMW – The Ultimate Driving Machine.' The exhibition, which will feature a retrospective of BMW cars and motorcycles, will run from May 6 – November 3, 2013. The array of BMW automobiles will include road cars and race cars, both from the modern era, as well as p...[Read more...]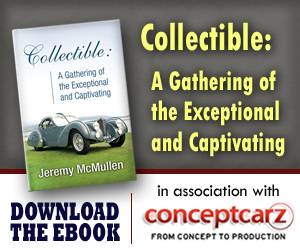 © 1998-2014. All rights reserved. The material may not be published, broadcast, rewritten, or redistributed.