1958 MG MGA news, pictures, specifications, and information

Tweet
In the post-War period, MG built a reputation with amateur racing with the MG TC and TD. In 1955, a team of MGs competed in the 24 Hours of LeMans; the following year, three cars competing in the 12 Hours of Sebring endurance race.

This particular example is a tribute to the MGA race cars. It features right-hand drive, a cut-down Plexiglas windshield, a front racing valance, and a custom rear license plate mounting bracket with a fitted light in the rear. The bumpers have been removed to complete the race look.

In 2010, this car was treated to an interior restoration with re-padded, newly covered leather seats, cowl and door trim, door panels and new carpeting. It is painted in British Racing Green paint with a light tan interior.

In 2011, this vehicle was offered for sale at the Gooding & Company auction held in Amelia Island, Florida. It was estimated to sell for $30,000 - $40,000 and offered without reserve. As bidding came to a close, the car had been sold for the sum of $27,500 inclusive of buyer's premium.
By Daniel Vaughan | Mar 2011
The 1958 MGA Series 1500 was available as either a roadster or a coupe and sold for $2,275 - $2,600. The soft-top roadster could be purchased with a removable hardtop and the coupe version had roll-up glass windows and small vent wings. Power came from an overhead-valve four-cylinder engine that displaced 1489cc and offered 72 horsepower. They came with a four-speed manual gearbox with a hydraulically-operated clutch. There was a rack-and-pinion steering system and four-wheel hydraulic drum brakes.

There were approximately 16,250 MG vehicles sold in the United States in 1958, an increase of 2,754 vehicles over the prior year.
By Daniel Vaughan | Jul 2011
Roadster
Chassis Num: YD3-504
Engine Num: 16G-U-119

x Only 2111 MGA Twin Cam cars were manufactured. This vehicle is the first left-hand car built and the first sent to the United States. The long awaited MGA Twin car was rolled-out in early 1958. The first cars were delivered to established race teams or large dealerships. KJell Qvale, the largest North American MG Dealer with an Extensive race team in California, received #504 in Mid-1958. QVale campaigned #504 for three races.

In 1963, #504 was purchased from a used car lot in Detroit, Michigan. Waterford Hill Race Track, North of Detroit, saw #504 racing again until 1966 when the engine was removed for inspection and normal maintenance. The exciting times of racing ended when #504 was placed in storage for four decades.

The current owner purchased the car in 2007 and its restoration was completed in 2012.
The MGA began production in 1955. The styling and mechanics were different from previous MG models. The public had been given hints of its new design during the 1951 Le-Mans 24 hour endurance race. The car was driven by George Phillips and was actually a TD Midget with body modifications.
The XPAG engine that had power many previous MG's was replaced by a new power-plant. This 1489 cc four-cylinder, B-series engine provided between 68 and 72 horsepower. The BMC B-series unit had made its debut in the MG Magnette saloon and proved to be a reliable and powerful engine.

To create enthusiasm for the cars prior to release, three aluminum bodied prototypes were created and dubbed EX182. They were entered into the Le Mans race where they finished fifth and sixth in their class. This epic achievement gave the MGA racing credibility and mechanical reliability.

The styling of the car was undeniably elegant. Its aerodynamic design and two-seat open-body was stylish and sporty. The vehicle sat very low to the ground providing an excellent center of gravity. This improved the handling and cornering ability. The chassis was a modified TD Midget unit with widely spaced side rails allowing for a low-seating position.

In the rear of the vehicle was a spare wheel mounted on the upper portion of the outside of the vehicle. Underneath was adequate trunk-space for luggage. At the front of the vehicle sat the engine.

Steel disc wheels were standard equipment but centre-locking wire wheels could be substituted at an additional fee. Since the car had an open top, it was subjected to the elements. A hard-top could be purchased making the vehicle more versatile.

A coupe version quickly followed and offered features such as wind-up windows, soft-top version, and other amenities that helped appeal to a wider customer base. To stay competitive on the race track, the MGA twin-cam version was introduced in 1958. This high performance version could be driven to the race track, race, and then be driven home. The engine had been modified with aluminum components, twin overhead camshafts, and dual SU carburetors. These enhancements increased the horsepower rating to 110 and the overall top speed to 115 miles-per-hour. Disc brakes replaced the drums which not only made the car more competitive, it made it safer. Unfortunately, the vehicle suffered from reliability issues and did not hold up well to the strain of racing. So in 1960, MG discontinued its production.

In 1959, MG introduced the MGA 1600's and offered them in coupe and open form. These were the standard MGA cars but with 1588 cc B-series pushrod engines. Drum brakes were used in the rear of the vehicle, but disc brakes were placed in the front.

In 1961, the MGA 1600 MKII was introduced. It featured a 1622 cc. B-series engine that was capable of producing 93 horsepower. 100 miles per hour was easily achieved by the MKII. Minor aesthetic changes were made to the front and rear of the vehicle.

In 1962, MG ceased production of the MGA. Nearly 100,000 examples had been produced during its life span making it the longest-running and best-selling MG. The success of the vehicle was in part to its styling, racing history, performance, and its competitive pricing. Many of the MGA's produced were exported to the United States. In the end and after so many years, the MGA was having trouble staying competitive with models offered by other manufacturers.
By Daniel Vaughan | Jun 2006
BMW INDULGES MOTORSPORT THEME AT LEGENDS OF THE AUTOBAHN 2014
◾Two Sebring winners, one IMSA Bridgestone Supercar Champ and a Formula One car to be featured. ◾North American premiere of BMW M5 30th Anniversary Edition. Woodcliff Lake, N.J. – August 7, 2014 … Today, BMW of North America announced its participation at the fifth-annual Legends of the Autobahn concours. Motorsport is the theme at this year's Legends, an enthusiast club-driven 'Celebration of German Automotive Engineering,' which features free admission for spectators. BMW will arri...[Read more...]
Barrett-Jackson Flavors Its January Scottsdale Auction With NASCAR Treats
• RACING HERITAGE, HIGH PERFORMANCE ARE RECIPES FOR CAR-COLLECTING FEAST
• SPEED™ SET FOR 39 HOURS of LIVE COVERAGE STARTING JAN. 15
The great Henry Ford once said, 'Auto racing began five minutes after the second car was built.' And for more than 60 years, there are few entities that better represent auto racing in America than NASCAR. From the hallowed grounds of Daytona International Speedway, to Sonoma, California's intricate and picturesque road course, the sp...[Read more...]
TOPLINE COLLECTORS PLACE SPOTLIGHT on SPEED'S BARRETT-JACKSON BROADCAST FROM SCOTTSDALE
• TOPLINE COLLECTORS PLACE SPOTLIGHT on SPEED'S BARRETT-JACKSON BROADCAST FROM SCOTTSDALE
• 'LOST' SHELBY DUAL PROTOTYPE, HAGERTY GIVEAWAY & SALON COLLECTION HIGHLIGHT 39 HOURS OF LIVE COVERAGE
The 42nd annual Barrett-Jackson Scottsdale (Ariz.) Collector Car Event, the first of four set for live coverage in 2013, kicks off the auction season in grand style as some of the world's most sought-after machines cross the block starting Tuesday, Jan. 15 at 7 p.m. ET/4 p.m. PT. SP...[Read more...]
Peter Brock and Bob Bondurant to Swap Shelby Stories at Rolex Monterey Motorsports Reunion
Two stalwart names in the colorful history of Shelby American, Peter Brock and Bob Bondurant, will share some of their stories of those early years at the Picnic with Shelby Cobra Saturday, August 18 at the Rolex Monterey Motorsports Reunion. The 30-minute picnic begins at 12:15 p.m. in the Ford Motor Company display, located at Mazda Raceway Laguna Seca's Yamaha Marketplace. Peter Brock was instrumental in Shelby American beginning in 1962. As a young designer, he dove into the entire design...[Read more...]
Third Annual Sonoma Historic Motorsports Festival to Feature Moments in Time
The Sonoma Historic Motorsports Festival, the third annual event under that title, returns to Infineon Raceway in Sonoma, Calif., June 2-3, 2012, featuring 'Moments in Time: a Celebration of the History of Motorsports.' The program for the 26th annual historic-car event organized by General Racing Ltd. in Sonoma will focus on highlights of the 1950s, '60s, '70s and '80s - the eras in which auto racing began to cement its international status as a world-class spectator sport. In addition, 400 his...[Read more...]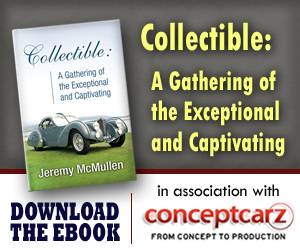 Similarly Priced Vehicles from 1958
MG Magnette ZB ($2,530-$2,530)
Chevrolet Bel Air Series ($2,400-$2,900)
Morgan Plus Four ($2,600-$2,700)
Ford Fairlane 500 ($2,350-$3,140)
Dodge Coronet ($2,410-$2,905)

Average Auction Sale: $27,515
© 1998-2014. All rights reserved. The material may not be published, broadcast, rewritten, or redistributed.