1958 MG MGA news, pictures, specifications, and information

Tweet
In the post-War period, MG built a reputation with amateur racing with the MG TC and TD. In 1955, a team of MGs competed in the 24 Hours of LeMans; the following year, three cars competing in the 12 Hours of Sebring endurance race.

This particular example is a tribute to the MGA race cars. It features right-hand drive, a cut-down Plexiglas windshield, a front racing valance, and a custom rear license plate mounting bracket with a fitted light in the rear. The bumpers have been removed to complete the race look.

In 2010, this car was treated to an interior restoration with re-padded, newly covered leather seats, cowl and door trim, door panels and new carpeting. It is painted in British Racing Green paint with a light tan interior.

In 2011, this vehicle was offered for sale at the Gooding & Company auction held in Amelia Island, Florida. It was estimated to sell for $30,000 - $40,000 and offered without reserve. As bidding came to a close, the car had been sold for the sum of $27,500 inclusive of buyer's premium.
By Daniel Vaughan | Mar 2011
The 1958 MGA Series 1500 was available as either a roadster or a coupe and sold for $2,275 - $2,600. The soft-top roadster could be purchased with a removable hardtop and the coupe version had roll-up glass windows and small vent wings. Power came from an overhead-valve four-cylinder engine that displaced 1489cc and offered 72 horsepower. They came with a four-speed manual gearbox with a hydraulically-operated clutch. There was a rack-and-pinion steering system and four-wheel hydraulic drum brakes.

There were approximately 16,250 MG vehicles sold in the United States in 1958, an increase of 2,754 vehicles over the prior year.
By Daniel Vaughan | Jul 2011
Roadster
Chassis Num: YD3-504
Engine Num: 16G-U-119

Only 2111 MGA Twin Cam cars were manufactured. This vehicle is the first left-hand car built and the first sent to the United States. The long awaited MGA Twin car was rolled-out in early 1958. The first cars were delivered to established race teams or large dealerships. KJell Qvale, the largest North American MG Dealer with an Extensive race team in California, received #504 in Mid-1958. QVale campaigned #504 for three races.

In 1963, #504 was purchased from a used car lot in Detroit, Michigan. Waterford Hill Race Track, North of Detroit, saw #504 racing again until 1966 when the engine was removed for inspection and normal maintenance. The exciting times of racing ended when #504 was placed in storage for four decades.

The current owner purchased the car in 2007 and its restoration was completed in 2012.
The MGA was conceived as a replacement for the tradition 'T'-Seires MGs, and combined a rigid chassis with the 1,489cc B-Series engine that had first appeared in the ZA Magnette. They were given a curvaceous aerodynamic body and were capable of achieving 95 mph. It was becoming more difficult to extract more power from the standard engine, so work was concentrated on a twin-overhead-camshaft cylinder head for the B-Series block. Conceived at Cowley by BMC engineer Gerald Palmer and introduced in 1958, the engine offered an impressive 108 horsepower. The Twin Cam MGA had a top speed which exceeded 110 mph. To cope with the increased performance, Dunlop disc brakes were fitted all round and Dunlop center-lock wheels were adopted.

This early MGA Twin Cam has a documented history. The previous owner used it in the Bahama Vintage Grand Prix. It is believed that this MGA was the ex-David Ash, JS Inksip test car used to film a road test at Lime Rock Park.

MG produced just 2,111 Twin Cam models, making them a rare commodity in modern time.
By Daniel Vaughan | Nov 2014
The MGA began production in 1955. The styling and mechanics were different from previous MG models. The public had been given hints of its new design during the 1951 Le-Mans 24 hour endurance race. The car was driven by George Phillips and was actually a TD Midget with body modifications.
The XPAG engine that had power many previous MG's was replaced by a new power-plant. This 1489 cc four-cylinder, B-series engine provided between 68 and 72 horsepower. The BMC B-series unit had made its debut in the MG Magnette saloon and proved to be a reliable and powerful engine.

To create enthusiasm for the cars prior to release, three aluminum bodied prototypes were created and dubbed EX182. They were entered into the Le Mans race where they finished fifth and sixth in their class. This epic achievement gave the MGA racing credibility and mechanical reliability.

The styling of the car was undeniably elegant. Its aerodynamic design and two-seat open-body was stylish and sporty. The vehicle sat very low to the ground providing an excellent center of gravity. This improved the handling and cornering ability. The chassis was a modified TD Midget unit with widely spaced side rails allowing for a low-seating position.

In the rear of the vehicle was a spare wheel mounted on the upper portion of the outside of the vehicle. Underneath was adequate trunk-space for luggage. At the front of the vehicle sat the engine.

Steel disc wheels were standard equipment but centre-locking wire wheels could be substituted at an additional fee. Since the car had an open top, it was subjected to the elements. A hard-top could be purchased making the vehicle more versatile.

A coupe version quickly followed and offered features such as wind-up windows, soft-top version, and other amenities that helped appeal to a wider customer base. To stay competitive on the race track, the MGA twin-cam version was introduced in 1958. This high performance version could be driven to the race track, race, and then be driven home. The engine had been modified with aluminum components, twin overhead camshafts, and dual SU carburetors. These enhancements increased the horsepower rating to 110 and the overall top speed to 115 miles-per-hour. Disc brakes replaced the drums which not only made the car more competitive, it made it safer. Unfortunately, the vehicle suffered from reliability issues and did not hold up well to the strain of racing. So in 1960, MG discontinued its production.

In 1959, MG introduced the MGA 1600's and offered them in coupe and open form. These were the standard MGA cars but with 1588 cc B-series pushrod engines. Drum brakes were used in the rear of the vehicle, but disc brakes were placed in the front.

In 1961, the MGA 1600 MKII was introduced. It featured a 1622 cc. B-series engine that was capable of producing 93 horsepower. 100 miles per hour was easily achieved by the MKII. Minor aesthetic changes were made to the front and rear of the vehicle.

In 1962, MG ceased production of the MGA. Nearly 100,000 examples had been produced during its life span making it the longest-running and best-selling MG. The success of the vehicle was in part to its styling, racing history, performance, and its competitive pricing. Many of the MGA's produced were exported to the United States. In the end and after so many years, the MGA was having trouble staying competitive with models offered by other manufacturers.
By Daniel Vaughan | Jun 2006
For more information and related vehicles, click
here
Pagani Huayra Carbon Edition Supercar to Display at the 8th Annual Festivals of Speed Orlando
ORLANDO, Florida-September 2013- The Festivals of Speed is returning to Orlando November 29th through December 1st, 2013. The 2013 Festivals of Speed Orlando, Presented by Fields Auto Group, will unite a showcase of the best in automotive, aircraft, marine and motorcycle design along with the finest in culinary and luxury products. Adding to the excitement of the weekend, three-time IndyCar Champion and 1986 Indianapolis 500 winner Bobby Rahal will be in attendance as the honorary chairman. M...[Read more...]
Worlds Fastest P-51 Mustang attending Festivals of Speed
• Racing legend and Indy 500 winner Bobby Rahal will be the Honorary Chairman
• Longtime Race Pilot and Formula One Gold Champion Thom Richard will be attending Festivals of Speed with his P-51 Mustang 'Precious Metal'
• The Worlds Fastest Griffon Powered P-51 Mustang
Ryan Delziel attending Festivals of Speed! Ryan has overall and class wins in some of the most prestigious races in the world including class win at the 24 Hours of LeMans, Class wine / 3rd ov...[Read more...]
BMW CELEBRATES ITS PAST, PRESENT AND FUTURE DURING PEBBLE BEACH CONCOURS AND ROLEX MONTEREY MOTORSPORTS REUNION WEEKEND
◾Never before seen concept from BMW M GmbH debuts at The Quail: A Motorsports Gathering ◾BMW Pininfarina Gran Lusso Coupé makes North American debut at Pebble Beach Concours d'Elegance ◾New BMW 428i Coupe to be display and offered as raffle prize at Pebble Beach Concours d'Elegance ◾BMW 3.0 CSL and BMW M1 to race at Rolex Monterey Motorsports Reunion ◾BMW 507 to be featured at Pebble Beach Concours d'Elegance Woodcliff Lake, NJ – August 15, 2013… On the occasion of the annual car...[Read more...]
Sonoma Historic Motorsports Festival Celebrates Corvette'S 60 Years At Sonoma Raceway
• Fast cars, fine food and wine highlight May 18-19 weekend
• Paul Reinhart is honored guest, popular racing seminar scheduled for second year
SONOMA, Calif. (April 27, 2013) - The Sonoma Historic Motorsports Festival returns to Sonoma Raceway on May 18-19 for the fourth straight year under that title. The program for the 27th annual historic-car event organized by General Racing Ltd. in Sonoma will celebrate the 60th Anniversary of the popular Corvette, created by the ...[Read more...]
YOKOHAMA TIRE CORPORATION GEARS UP FOR THE 2013 MOTORSPORTS SEASON
Plans include a new team in the ALMS GT Class and continued efforts in the GTC and GT3 Challenge series, off-road racing and drifting FULLERTON, CA (March 7, 2013) – From desert racing to drifting, Porsche 911 GT3 to Ferrari 458, Yokohama Tire Corporation (YTC) is busy tuning up for the 2013 racing season. 'This will be an exciting year,' said Andrew Briggs, YTC director of product planning and motorsports. 'We have a new ALMS partner, a historic teaming in off-road and a strong, over...[Read more...]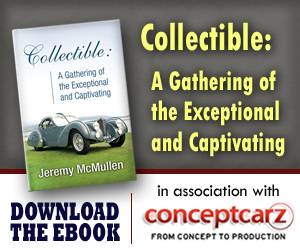 Similarly Priced Vehicles from 1958
MG Magnette ZB ($2,530-$2,530)
Chevrolet Bel Air Series ($2,400-$2,900)
Morgan Plus Four ($2,600-$2,700)
Ford Fairlane 500 ($2,350-$3,140)
Dodge Coronet ($2,410-$2,905)

Average Auction Sale: $27,515
© 1998-2014. All rights reserved. The material may not be published, broadcast, rewritten, or redistributed.