1915 Ford Model T news, pictures, specifications, and information

Tweet
Henry Ford pioneered the moving assembly in in 1913 and was first implemented at his Highland Park plant. Within a short amount of time, production time had been cut by a factory of eight. This speed of assembly produced new problems, such as the drying time of the paint which led to exclusive use of black lacquer as it was the only shade that would dry sufficiently quickly. By 1917, all brass bright work and other forms of ornamentation no longer appeared on the Model T. It would not adorn another Ford product for many years.

This particular example is a 1915 Ford Model T Roadster fitted with the 176.7 cubic-inch four-cylinder L-head engine. There is a two-speed planetary transmission and two-wheel mechanical drum brakes. At some point in the cars past it was given a cosmetic restoration which has since faded. The paint has become dull in places and flaked off in others. The seat leather has become hard and cracked in places. There is tape on the steering wheel rim in several places. The engine works but considering its age it would not be considered reliable.

This car was offered for sale at the Vintage Motor Cars sale at Hershey, PA presented by RM Auctions. It was estimated to sell for $6,000 - $12,000 and offered without reserve. The estimates proved accurate as the lot was sold for a high bid of $12,100 including buyer's premium.
By Daniel Vaughan | Dec 2007
| | |
| --- | --- |
| | Coupelet |
'You can have any color you want,' said Henry Ford in 1908, 'as long as it's black.' Fifteen million Model Ts later, his simple formula was still working. The key to the Model Ts success was its rugged simplicity. The chassis resembled the frame of a horsedrawn wagon. The 176 cubic-inch, four-cylinder, 20 horsepower motor didn't even have an oil pump. Instead, every engine revolution oil was scooped out of pan under the crankcase and sloshed over the moving parts. The simple design made the Model T affordable for the masses, and its starting price, $280, was relatively low. The Ford assembly line was able to produce a Tin Lizzie every two minutes. In a span of only 19 years, Henry Ford had 'put America on wheels.' This car was retrieved from the bottom of a hill near a river in Maine where it had been pushed off the road some 20 years earlier. In 1978, the current owner purchased it and began a restoration resulting in the fine example shown.
In September of 1914, Ford began production of their 1915 Model Ts. The most noticeable styling changes were a flared scuttle and curved rear wings that flowed with the arch of the wheel. The largest mechanical innovation for the new Model T's were the option of electric lighting for the headlamps. These were powered by the engines low-tension magento.

1915 was the year that Ford ceased to offer optional colors. There was just one color and it was black because the paint dried more quickly. Some of the dealers side-stepped this 'only black' rule by painting them in brighter colors once they arrived from the factory. That is what happened with this Mint Green example. This car has a brass radiator; cars after 1916 had a painted radiator. It is fitted with Touring coachwork and is one of 244,181 units sold.

This car has an older restoration that still shows well today. It was offered for sale at the 2007 Bonhams Important Sale of Collectors' Motorcars and Automobilia at the Quail Lodge Resort & Golf Club where it was sold for $7,000 plus premium and tax.
By Daniel Vaughan | Apr 2008
This was the last year (1915) for brass trim on the Model T. A year earlier Ford had adopted its famous 'Any color as long as it's black' slogan. What most people don't remember is the reason for that: black was the fastest-drying paint color - and Henry Ford was all about speeding up production.

For 1915 bodies were essentially similar but the exposed wood firewall was replaced by a sloping, metal cowl. Windshields were now upright; the top section folded to the rear. Basic equipment included headlamps, three oil lamps, (two side and one tail), windshield, top, top boot and horns.

The touring car was by far the most popular body style sold on the Model T chassis. Total production of touring cars in 1915 was 244,181. The price of a touring car was $490.

The Model T went into production in 1908 and by the time production ended in 1927 more than 15 million had been built. During its 20 years of production, the Model T underwent some changes but the basic car remained, such as the four-cylinder, 20 horsepower motor. For 1915, the year this car was built, electric lights were introduced and brass radiator appeared for the last time, replaced in 1916 with a black version.
| | |
| --- | --- |
| | Grocers Truck |
The standard Model T, 4-cylinder motor is used in this truck wîth a few minor changes. Compression ratio is slightly lowered; magento coils and magnets are increased in size to handle electric lights.

This is the car that literally put America on wheels. Through mass-production methods, Henry Ford developed one of the first well engineered, rugged; yet, precise-made, dependable, cheap autos. Distinguishing features include a louvered hood, a metal cowl replacing the cherry wood dash, and discontinuing of the speedometer.
Source - Luray Cavern Museum
This 1915 Ford Speedster was not manufactured by Ford, but it represents what a young blood might do to his Ford car. To achieve more speed the heavy Ford body was removed in favor of two bucket seats, gas tank and not much more.

Some of the accessories this car is equipped with include:
- 6 to 1 high compression head
- 3 to 1, 2-speed Ruckstell rear-end
- Counter balanced crank shaft
- Bosch distributor
- Larger valves
- Aluminum Pistons
- Full pressure oil system
- Pasco wire wheels
- Livingston radiator
- Rocky Mountain brakes
1915 was the year that Ford produced its one-millionth vehicle. The year also saw the beginnings of a tremendous publicity effort by Ford. Ford promised a fifty-dollar return to each purchaser of a car before August. Two new models were offered, and electric lamps also came into use although the side and taillights remained kerosene powered.

This car was purchased in 1963 by the owner's father Bernhard B. Shaffer. The car has never been restored and is as close to original as can be found today. The car even has the original ignition system wîth no electric starter. The upholstery and top however were restored by Kisers of San Diego.

Collection of Dave Shaffer
Source - SDAM
This 1915 Ford Model T Screen Side Delivery wagon was offered for sale at the 2007 RM Auctions held in Meadow Brook where it was estimated to sell between $50,000 - $60,000. The delivery wagon is powered by a 176.7 cubic-inch cast-iron L-Head four-cylinder engine that can produce 20 horsepower. There is a two-speed planetary transmission with reverse, and rear wheel mechanical brakes.

This Delivery Truck, like other commercial Fords, was purchased from the Ford plant as a rolling chassis. It was then sent to a truck builder to be fitted with this truck body. If the customer just wanted the chassis, that was still an option; they could take it home and create their own custom body as needed. It was not until 1917 that Ford began creating their own truck, and would continue to sell the bare chassis for many years to come.

This Screen Side Delivery Truck features coachwork by Parry Company of Indianapolis, Indiana. It has been treated to a restoration that is of the highest standards. It has earned several first place awards in competition and has participated in several touring events.

The restoration was performed in the mid-1980s, which may have been why bidding only reached $35,200 for this beautiful specimen. Either way, the buyer was treated to a bargain as this vehicle was sold well below the vehicles estimate.
By Daniel Vaughan | Aug 2007
1915 was a banner year for the Ford Motor Company when it produced its one-millionth vehicle. This was a remarkable accomplishment considering that production began with the Model A just 12 years earlier, in 1903. The price of a runabout was now just $440, which was down from $850 at its introduction in 1908.

The early history of the Model T is not known. Until recently, it was part of a long-term private collection in Rhode Island. It wears an older restoration and remains in good condition. Power is from a 176 cubic-inch, side-valve L-head four-cylinder engine offering 22 horsepower. There is a two-speed planetary transmission, transverse leaf spring suspension, and hand-operated mechanical brakes.
By Daniel Vaughan | Nov 2014
The Ford Model T has an extensive history in the automotive market lasting for nearly 20 years. It is often called the 'Tin Lizzie' and the 'Flivver' and is credited with 'putting America on wheels.' During the early 1900's, the automobile was very new and the market place was adjusting to having these horseless carriages carry its passengers rather than bicycles or horses. Steam, electricity, and gasoline were the three means of powering the vehicles. Up until about 1915, no one really knew which would be the favorable power-source. Steam provided many benefits such as being quiet, clean, and cheap. Gasoline or kerosene fuel was used to heat water in a boiler; the steam produced was channeled to the cylinders, where the pressure drives the pistons up and down. The shortcomings were that it took a while to start, having to wait for the steam to prepare. It was dangerous, often exploding and causing injury. It had a limited range, lasting about 20-40 miles before requiring a refueling. Electricity was popular but it too had a limited range. It was easy to start and was very popular with the ladies for driving around town. Then there was gasoline, which was dirty and hard to start. It required fueling stations which were sometimes difficult to find in this new and evolving marketplace. The main benefit of the gasoline engine was that it had the most potential and an ever increasing amount of power. It was said that how a vehicle finished on the race track often determined the success of sales. With gasoline engines winning most of the races, the other sources of power were eventually doomed.

There were over 200 automobile manufacturers during the early 1900's. The average production figures for a factory were a couple hundred vehicles a year. This of course varied greatly due to the complexity and prestige of the vehicle being produced. Henry Ford, founder of the Ford Motor Company, produced a vehicle that was affordable, but more importantly, mass produced. By using an assembly line to construct parts, rather than the traditional hand assembly, the process was streamlined. Using an assembly line process was not new, it had been done before in the meat packing industry. William C. Klan had visited a slaughterhouse in Chicago. Upon returning from his visit, he proposed the idea to Peter Martin. A team was assembled and perfected through trial and error. The assembly line did not begin operation on the Model T until 1914. The assembly line process streamlined the production greatly, now averaging just over 90 minutes to assemble a car. During 1914, there were more Ford's produced than all other manufacturers combined. At that point 'you get it in any color you wanted so long as it was black'. Henry Ford favored the black color because it dried the fastest. During the years 1917 through 1923, Ford did not do any advertising, with 9 out of 10 cars being Fords, none was necessary.

He paid his workers a wage proportionate to the cost of the automobile, so they would be able to buy what they produced. By introducing these innovations, his factories were able to out produce and outsell the rest of the industry and mobilize the country. When production of the Model T began, the cost was around $850, around $1200 less than most cars. By the early 1920's, the price of the Model T cost about $300. Ford had found many ways to cut costs and offer the least-expensive product. He instructed his suppliers how to assemble the wood crates that were used to ship him parts. The crates were then dismantled and used within the bodies of the car. The scrapes were made into charcoal and sold under the name 'Kingsford'.

The first Model T was produced on September 27th, 1908 at the Piquette Plant in Detoit, Michigan. There are two classes of the Model T, those that were produced before 1919 and after 1919. The pre-1919 Model T's are known as veteran cars while the later models are called vintage cars. Even though the name Model T was used for almost twenty years, it was much improved both visually and mechanically over the years. At all times, the vehicle could be had in a wide variety of bodystyles. The open touring cars and roadsters were cheaper to produced and thus, produced in greater numbers. The Volkswagen 'Beetle' is the only car model to outsell the Model T Ford.

The Model T was designed by Henry Ford, Childe Harold Wills, Joseph A. Galamb and Eugene Farkas. A 177 cubic-inch four-cylinder motor was placed in the front and powered the rear wheels. The 20 horsepower engine was capable of carrying the vehicle to a top speed of around 45 mph. There were three main bearings and side valves. A ten gallon fuel tank could be found beneath the front seat, mounted to the frame. The engine started by a hand crank located at the front of the vehicle. The crank was very difficult to operate and has been the cause of many broken arms.

The smaller engines were favored by Henry Ford. His Model K had used a six-cylinder engine, but when production ceased around 1908, a six-cylinder engine would not be used again by Ford until 1941. The Model K had not been a sales success. While Ford had wanted to produce small and inexpensive vehicles, his board of directors had persuaded him to produce a larger, luxurious, and expensive model. In 1906, Henry Ford purchased the majority of stock leaving him in control and in charge of the direction of the company. After World War I he purchased the remaining Ford stock so he could dispense with the board of directors entirely. From 1906 through 1908, Ford created the Model N, R and S which eventually evolving into the Model T.

A 'three speed' planetary gear type transmission was used. This had been used in the Model K but was not suited to such a large vehicle. As a result it suffered from frequent breakdowns, but worked fine in the Model T. The 3-speed unit was actually two-speeds forward plus one reverse. With no clutch pedal, shifting was handled by floor pedals that did not require a clutch. Also located on the floor was a third pedal which operated the reverse gear. The throttle was controlled by a lever on the steering column. Neutral was located by the parking brake lever. The other foot pedal applied a band around a drum in the transmission. The parking brake lever operated the band brakes on the outside of the rear brake drums. When the hand lever was pulled back, the brake was engaged and the drive gears were disengaged.

Wooden 'artillery wheels' were standard until 1926 when they were replaced with steel wire wheels. The suspension was a transversely mounted semi-elliptical spring for both the front and rear axle. Brass was used throughout the earlier vehicles for items such as horns, radiators, and headlights. Headlights were acetylene lamps but later switched to electric lights.

Sales peaked in 1924 with over 2 million automobiles leaving the assembly line. By this time, many of Ford's competitors had switched to the same principles that had made the Model T success: a cheap and reliable vehicle built on an assembly line produced in mass quantities. Other manufactures started attracting new buyers by offering amenities, extras, or larger engines. Popular options included windshield wipers, anti-theft locks, and light dimmers. Chevrolet vehicles had three forward gears while the Model T still used only two. Also, since the Model T's were so durable, they were still in functioning order. Meaning that many owners did not need a car or when they did, they usually bought a more luxurious vehicle. The used Model T's were then sold for next-to-nothing. Sales began to dip in 1925 and dramatically in 1926. Production ceased in 1927 for nearly six months while preparations were made for the production of the Model A.

The Model T mobilized a nation, not only the United States, but many other countries. With dealerships and factories setup throughout the world, the Model T was mass produced and easily available to many buyers. Often, the factories were established in other countries to get around an import tax, thus keeping the cost low. The innovative Model T served its purpose. It was inexpensive and reliable, many lasting even to this day.
By Daniel Vaughan | Mar 2006
For more information and related vehicles, click
here
ASTON MARTIN AT THE GUANGZHOU AUTO SHOW - THE NEXT CENTURY OF POWER, BEAUTY AND SOUL
(Guangzhou, 21 November 2013) Luxury sports car maker Aston Martin launches its most extreme sports car – the V12 Vantage S – in China today at 8.1 Hall at the 11th Guangzhou International Auto Show. The famous British brand reveals its most impressive model range ever at Guangzhou, with the exclusive and limited production Centenary Edition Vanquish, luxury four-door sports GT Rapide S, timeless GT DB9, and the iconic One-77 hypercar. The V12 Vantage S, which is now available to order...[Read more...]
BOSCH TECHNOLOGY POWERS 2014 CHEVROLET CRUZE CLEAN TURBO DIESEL
- Cruze Clean Turbo Diesel available now in U.S. and Canada - Bosch predicts more than 60 clean diesel models in N.A. market in 2017 - Vehicle achieves industry-best, EPA-estimated 46 mpg highway FARMINGTON HILLS, Mich. – Bosch, a leading global technology supplier, announced today that its clean diesel technology is featured on the 2014 Chevrolet Cruze Clean Turbo Diesel. Bosch provides the fuel injection system, ceramic glow plugs, engine control module, exhaust gas treatment tech...[Read more...]
Ford Motor Company Fund Donates $1 Million To College For Creative Studies
The College for Creative Studies (CCS) announced today that Ford Motor Company Fund will donate $1 million over five years, strengthening its commitment to one of the world's leading art and design colleges and providing educational opportunities to Detroit youth. The funds are being used to establish the Henry Ford Academy: School for Creative Studies (HFA: SCS) College and Career Transitions Office at CCS, as well as start a Ford Blue Oval Scholarship fund at CCS for graduates of HFA: SCS t...[Read more...]
Active Comfort provides for stress-free driving and recuperation in the car
Mercedes cars take on the role of personal coach What could be better than a personal coach with a tailor-made training programme to enhance your fitness and general well-being, on hand to support you at any time of the day or night? Tomorrow's Mercedes-Benz cars will take on this very role. Active Comfort, defined as 'performance-enhancing comfort', provides for well-being, recuperation and subsequent fitness at the wheel. The experts from Mercedes-Benz Cars and Mercedes-Benz Trucks a...[Read more...]
Edsel Ford's Restored 1934 Model 40 Special Speedster Returns to Amelia Island Concours d'Elegance
It has been 13 years since Edsel Ford's 1934 Model 40 Special Speedster first made headlines when it rolled onto the field at the Amelia Island Concours d'Elegance. The elegant roadster, which was rediscovered in 1999 by the show's founder and Chairman Bill Warner, will return again on Sunday, March 11 to the 17 the annual Concours; this time as part of the collection of the historic Edsel Eleanor Ford House (Ford House) and completely restored to its timeless elegance. The Speedster's ...[Read more...]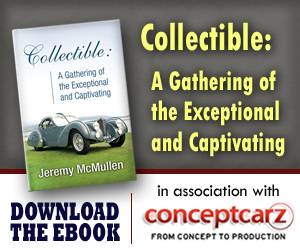 Ford
Monthly Sales Figures
Volume
December 2014
209,679
November 2014
178,221
October 2014
179,014
September 2014
172,261
August 2014
214,028
July 2014
204,373
June 2014
214,793
May 2014
244,501
April 2014
203,552
March 2014
235,198
February 2014
177,286
January 2014
148,671
(More Details)
© 1998-2014. All rights reserved. The material may not be published, broadcast, rewritten, or redistributed.