1939 Ford DeLuxe V8 Model 91A news, pictures, specifications, and information

Tweet
Henry Ford introduced his V8 engine in 1932 during difficult economical conditions of the Great Depression. In true Henry Ford fashion, it was to be produced in large numbers and at a low cost. A new version of the V8 was introduced in 1936; by now the teething problems had been resolved and horsepower rose to 85. In 1936 it was joined by a smaller 135 cubic-inch 60 horsepower version

The exterior styling was courtesy of Eugene 'Bob' Gregory. He was hired by Edsel Ford in 1931 and soon was head of Ford's new design department in 1935. He became responsible for every Ford, Mercury and Lincoln Zephyr design produced up to 1945.

This Convertible Sedan was one of six bodystyles available on the Model 91A for 1939. It had the fewest numbers produced and came lavishly equipped with items such as Lockheed hydraulic brakes.

This car has been treated to a restoration since new. In 2007 it was brought to Carmel, California where it was offered for sale at Bonhams auction, An Important Sale of Collectors' Motorcars and Automobilia. The lot was estimated to sell for $65,000 - $75,000 but failed to find an interested buyer willing to satisfy the vehicles reserve.
By Daniel Vaughan | Sep 2008
| | | |
| --- | --- | --- |
| | | Deluxe Station Wagon |
This vehicle is a 1939 Ford Deluxe Woody Wagon painted in Washington Blue with a chocolate brown interior. It is an original 8 passenger woody with rear seats in excellent condition. It has been treated to a frame-up restoration with the entire wood original from the Ford plant. It has been driven a mere 21,249 miles since new. It is powered by a Ford V8 Flathead engine and mated to a 3-speed manual gearbox on the floor. This was the last year for the 3-speed floor shift controls.

This Woody is equipped with fog lights, side mirrors, banjo steering wheel, radio, clock, spare, wood grain dash, trim rings, wide whitewall tires, and a 12-volt conversion for easier driving.
By Daniel Vaughan | May 2008
This Ford Deluxe Station Wagon is constructed of Birdseye Maple. The 'Birseye' is in reference to its grain patter, resembling a sea of tiny, swirling 'eyes'. It is not a species of tree, but a condition that arises from complex causes and known to occur in several types of trees, including ash, mahogany, beech, walnut and birch. The most common Birdseye is found in Acer saccharin, the sugar maple.

This 'Birdseye' formation is perhaps the result of low soil pH and a sugar deficit within the tree. It is believed that the 'eyes' are created from new shots whose growth has been aborted, leaving tiny knots, forming the birds' eyes, which become covered by the next year's grown ring. The full understanding of the process remains elusive.

The Birdseye Tree is highly prized for making fine furniture, automobile bodies, or trim.

Birdseye trees are often found in the forests of the Great Lakes region of Canada and Michigan. This was the location of Ford's Iron Mountain. Thus, it was commonly used in Ford station wagons. Some of the wagons had 'birdseye' wood, while others did not. It is even believed that Henry Ford may have retained a small inventory of Birdseye wagon parts, and used for orders from special customers or for presentation on a particular occasion.

The original owner of this wagon was a customer in the Hope Ranch section of Santa Barbara. Hope Ranch had become a residential community in the 1920s and remains a semi-autonomous section of the city today. In the 1930s, it had become an upscale community.

Later in life, this car became part of the Nick Alexander. It was given a freshening while preserving many of its original features. The roof is covered in new brown artificial leather. The glass is all original with Ford scripts. The bright-work is in excellent condition, but there is some wear on the tailgate handle. The seats are upholstered with brown leather and there are lap belts for two in the front. The spare tire is mounted behind the driver's seat under a matching cover. The dashboard is newly restored Mahogany woodgrain. The car has a radio, with windshield header antenna.

In 2009, this Ford Deluxe Station Wagon was offered for sale at the Sports & Classics of Monterey auction in Monterey, California presented by RM Auctions. The car was estimated to sell for $150,000-$200,000 and offered without reserve. The lot was sold for the sum of $209,000 including buyer's premium.
By Daniel Vaughan | Dec 2009
Ford produced 6,155 DeLuxe Wagons in 1939. They wore lumber harvested at Ford's own timber mill in Iron Mountain, Michigan. This example has been given a ground-up restoration in Washington Blue. There are rubber running board covers, rides on wide whitewall bias-ply tires, and has painted steel wheels with stainless trim rings and center caps. Ford script bumper-mounted fog lights have been added. Inside is brown leather interior, banjo steering wheel, and exquisite gauges. The engine is a flathead V-8 engine displacing 221 cubic-inches and offering 85 horsepower. There is a three-speed manual transmission and four-wheel hydraulic drum brakes.
By Daniel Vaughan | Nov 2014
The Ford DeLuxe was produced from 1937 through 1940. The styling was influenced by Edsel Ford and borrowed many cues from the Lincoln Zephyr. One of the more noticeable Zephyr influences was the oval headlights that were incorporated into the front fenders. Other front-end features were V-shaped grille and vertical bars. The 221 cubic-inch eight-cylinder engine was carefully hidden under the sweeping bonnet. The 85 horsepower that was produced was sent to the rear wheels through a three-speed manual transmission. The four-wheel hydraulic brakes brought the vehicle to a stop.
By Daniel Vaughan | Nov 2006
HILTON HEAD ISLAND MOTORING FESTIVAL TO FEATURE CARS OF THE RICH & FAMOUS
This year's 'Life' exhibit puts the spotlight on cars with headline heritage HILTON HEAD ISLAND, S.C. – The Hilton Head Island Motoring Festival & Concours d'Elegance, one of the nation's largest and fastest-growing automotive and motorsports enthusiast event weeks, takes a more glamorous approach with its annual 'Life' exhibit and presents Life of the Rich & Famous sponsored by Marriott Vacation Club. Life of the Rich & Famous is the sixth annual 'Life'-themed exhibit on the Fe...[Read more...]
FORD FUND ANNOUNCES $1 MILLION WILLIAM CLAY FORD AUTOMOTIVE DESIGN SCHOLARSHIP
◾Scholarship commemorates the design legacy of William Clay Ford, former chairman of Ford Motor Company's design committee ◾Ford Fund commits $50,000 per year during the next 20 years, giving five automotive design students each $10,000 per year ◾Mr. Ford oversaw design of the iconic Lincoln Continental Mark II, considered by many one of the greatest cars ever built Ford Motor Company Fund will award $1 million in automotive design scholarships during the next 20 years to commemorate the la...[Read more...]
GREG BIFFLE GIVES FORD MOTOR COMPANY 1,000TH NASCAR VICTORY AFTER WINNING AT MICHIGAN INTERNATIONAL SPEEDWAY
◾Ford Motor Company has won 1,000 NASCAR races in the Sprint Cup, Nationwide and Camping World Truck Series combined. ◾Jim Roper won the very first NASCAR-sanctioned stock car race in a Lincoln when he was deemed the winner at Charlotte on June 19, 1949. ◾Ford Motor Company has won 20 manufacturer titles and 13 driver championships in NASCAR's top three series. DEARBORN, MI, (June 16, 2013) – Henry Ford's win over Alexander Winton on Oct. 10, 1901 in what proved to be his only race a...[Read more...]
Edsel Ford's Speedster Stars at 'The Amelia'
Edsel Ford's 'continental car', a custom boattail speedster, will take its rightful place in the Sports Car Class of the 18th annual Amelia Island Concours d'Elegance. In the shape of Edsel's seminal speedster is the genesis of Ford's legendary design department. Edsel Ford was hardly 'a chip off the old block'. The acorn fell well away from the mighty oak that was Henry Ford, founder of the Ford Motor Company. Edsel was not just the President of Ford, he was a car guy to his core. His ta...[Read more...]
Classic Motorcar Holds Grande Salon Auction During Glenmoor Gathering
1912 Edsel Ford Model T Six Cylinder Speedster to Cross the Block CANTON, Ohio - Classic Motorcar Auctions LLC will hold their 3rd annual Grande Salon Auction Sept. 15-16, 2012 during the Glenmoor Gathering event at the historic Glenmoor Country Club in Canton, Ohio. The Grande Salon Auction will feature more than 150 antique, classic and sports cars as well as various automotive memorabilia up for bid. Vehicles will be available for preview on Friday, Sept. 14 from 1-8 p.m. The a...[Read more...]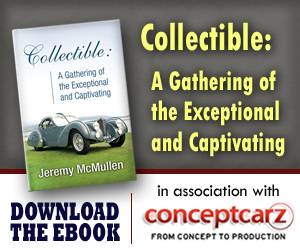 Ford
Monthly Sales Figures
Volume
December 2014
209,679
November 2014
178,221
October 2014
179,014
September 2014
172,261
August 2014
214,028
July 2014
204,373
June 2014
214,793
May 2014
244,501
April 2014
203,552
March 2014
235,198
February 2014
177,286
January 2014
148,671
(More Details)
© 1998-2014. All rights reserved. The material may not be published, broadcast, rewritten, or redistributed.