1949 MG TC news, pictures, specifications, and information

Tweet
The MG TA Midget appeared in the spring of 1936 as a replacement for the MG PB. It featured many components borrowed from Morris. Channel sections replaced the tubular cross-members making the vehicles ride more comfortable. The suspension was provided by leaf springs and beam-axle in the front and rear. The brakes were hydraulically operated drums, a first for MG. The body shell was assembled around the MG traditional way of using a wooden frame. All this added up to a total weight of 1,765 pounds.

A 1292 cc, overhead-valve, pushrod, four-cylinder engine was placed in the front and powered the rear wheels. Outfitted with dual horizontal SU carburetors, the engine produced 50 horsepower. The four-speed manual gearbox was synchromesh, another first for MG.

When first introduced, the two-seater vehicle could be purchased in open and closed configuration. Later, the open coupe, referred to as an Airline Coupe, was replaced with a Drophead style. The Drophead used a soft-top that could open and close depending on the driver and the weather conditions.

In 1939 World War II was beginning. MG was introducing its latest vehicle, the TB Midget. It was basically the same as the TA, but was equipped with a larger, 1250cc, engine. The four-cylinder over-head valve, XPAG power plant was borrowed from the new Morris 10. It produced 45 horsepower and was much more reliable than its predecessor. When the war began, production ceased. MG shifted its focus to creating equipment for military purposes.

At the end of the War, MG introduced the TC Midget. This was essentially a TB with very few modifications. The chassis was modified with rubber bush shackles in place of the sliding trunnion spring mountings. The transmission was the single-plate dry clutch and four-speed synchromesh unit. The engine was the XPAG 1250 cc pushrod engine. It was essential a TB offered in one body style, an open two-seater.

Even though the TC was a rebirth of an old model and used outdated mechanical equipments but modern interior, the TC Midget was very successful. During its four year production run, lasting from 1945 through 1949, more than 10,000 TC's were created.

In 1949, the TC was replaced by the TD Midget. It visually appeared like the previous Midgets, but was very different in mechanical ways. With a new chassis, it was sturdier and provided a comfortable ride. An independent suspension with double wishbones and coil springs were placed in the front. The vehicle was left-hand drive. The engine and transmission were identical to the TC. To comply with newly developed safety concerns and regulations, bumpers were placed on the front and in the rear.

A Mark II version used a more powerful version of the XPAG engine. With larger carburetors and higher compression ratio, the vehicle produced 57 horsepower. The suspension was modified and the interior received bucket seats.

During its four-year production run, the TD experienced even more success than its predecessor. Just like the TC, many of the TD Midgets were exported to the United States.

In 1953, the TD was updated and dubbed the TF. It was given a 1466 cc engine. Production continued through 1955 when it was replaced by the MGA.

Prior to World War I, the future of the company was unknown. Thanks to the success of the TA, the road was paved for MG to continue their prosperous status after the War. The models that followed brought modifications both visually and mechanically. The T-Series, lasting from 1936 through 1955, was a simple and reliable two-seater sports car that was fun to drive.
By Daniel Vaughan | Aug 2005
| | |
| --- | --- |
| | Roadster |
The MG TC, with its large wheels, 4-cylinder engine and sporty stance, has been a long time favorite with sports car enthusiasts and racers. The example shown, finished in Clipper Blue with a tan leather, has been in the same collection for more than twenty years.
Roadster
Chassis Num: 6783

The TC was the first postwar MG, launched in 1945. It was quite similar to the pre-war TB, sharing the same engine with a slightly higher compression ratio of 7.4:1 giving 54.5 bhp at 5200 rpm but using more modern interior elements allowing a wider cockpit.

Mr. DeBrohun's father owned this automobile for 54 years and his parents used this car in their wedding. The car sat for over 40 years in the garage before its restoration. Everything on the car is factory manufactured piece including the rare steering wheel.
| | |
| --- | --- |
| | Roadster |
'SAFETY FAST' was the advertising slogan for this automobile. The M.G. Car Company was started by Cecil Kimber and Sir William Morris in oxford England in 1929. The M.G. name comes from - Morris Garage. The M.G. TC was built from September 17, 1945 to November 29, 1949 and manufactured at the Abington-on-the-Thames facility in England. The TC was the first model introduced after World War II and introduced American's to the English sport car. This TC was manufactured in May, 1948 and one of a total of 10,000 produced. The engine is a 70.3 cubic-inch that develops 54.4 BHP and is capable of a maximum speed of 73 miles per hour.
Roadster
Chassis Num: TC 6626
Engine Num: XPAG 7311

This car was given a restoration during the late 1980s or early 1990s. It is in good condition and finished in British Racing Green paint with a tan interior. The steering wheel, like all TC models, is on the right side of the car.

In 2008, this 1949 MG TC was offered for sale at the 'Sports & Classics of Monterey' presented by RM Auctions. It was estimated to sell for $35,000 - $45,000 and offered without a reserve. Those estimates were proven accurate as the lot was sold for $34,100 including buyer's premium.
By Daniel Vaughan | Jan 2009
The MG T-Type was introduced in 1936. The TA would create the design that would set the style for MG's sports cars for the next two decades. They had an upright chrome grille, deep-cut doors and a slab-shaped petrol tank at the rear. These lightweight two-seater cars with their modified suspensions were very nimble, and a 'works' racing program helped spread the fame. In 1939, the TB was introduced featuring a more powerful, shorter-stroke 1,250cc XPAG engine. At the London Motor Show in 1945, the TC was introduced. The TC was wider, heavier and more refined than the TB.

This example has been given a concours-quality restoration which was completed in 1999 with no expense spared. There is a tan cloth top, tan leather upholstery, Birdseye maple woodwork, and an original three-spoke steering wheel.

In 2009, it was offered for sale at the Vintage Motor Cars of Meadow Brook presented by RM Auctions. It was estimated to sell for $25,000-$35,000 and offered without reserve. The lot was sold for the sum of $30,800 including buyer's premium.
By Daniel Vaughan | Sep 2009
For more information and related vehicles, click
here
AT HOME WITH BENTLEY IN MILAN
Complete range of Bentley Home Collections on show at the prestigious Salon del Mobile • A modern aesthetic sensibility and refined craftsmanship, expressing a synthesis between tradition and innovation • Collaboration with leading Italian interiors company defines luxury lifestyle direction for homes and offices (Crewe, 8 April 2014) – Bentley Motors introduces its complete Home Collection for the first time at Salon del Mobile 2014, designed and manufactured in collaboration with L...[Read more...]
BMW X4 SPORTS ACTIVITY COUPE AND M4 CONVERTIBLE MAKE WORLD DEBUT AT 2014 NEW YORK INTERNATIONAL AUTO SHOW
◾New BMW 4 Series Gran Coupe and BMW ALPINA B6 xDrive Gran Coupe to make North American debuts ◾Updated BMW X3 Sports Activity Vehicle also makes North American debut including first BMW Advanced Diesel X3 model for the US ◾BMW Concept X5 eDrive showcases new dimension of BMW EfficientDynamics technology Woodcliff Lake, NJ – April 3, 2014 6:00pm EDT/3:00pm PDT. . . The all-new BMW X4 Sports Activity Coupe as well as the BMW M4 Convertible make their world debuts at the 2014 New Yor...[Read more...]
SUBARU ANNOUNCES PRICING FOR 2014 WRX AND WRX STI
Cherry Hill, N.J. - Subaru of America, Inc. today announced pricing for the 2014 WRX® and WRX STI®. Subaru's iconic line of sport models have seen their sales increase by nearly 40-percent year-to-date and have a starting MSRP of $25,995. The 2014 Subaru WRX delivers the biggest performance value in its competitive set. The WRX offers more power than rivals like the Ford Focus ST and Volkswagen GTI, neither of which offers all-wheel drive. In the WRX, a 2.5-liter turbocharged/intercooled fo...[Read more...]
Italian thoroughbreds to feature prominently at Bonhams Quail Lodge auction
Numerous iconic and desirable models from Ferrari, Lancia, Lamborghini and more contribute to growing anticipation for this approaching sale San Francisco – Bonhams is delighted to announce its impressive assembly of Italian sports cars for its fast approaching 16th annual Carmel motorcar auction on August 16th. After announcing earlier this spring the consignment of some truly exceptional and noteworthy Italian cars – most notably the one-off 1954 New York Auto Show, 1953 Fe...[Read more...]
Lost Mercedes - Surfaces At Bonhams
One owner, unrestored, supercharged 'S' Type Mercedes to be sold by Bonhams at Goodwood Revival this autumn One of the greatest and most important motor car finds of the last decade, the 'Lost Mercedes' is to be offered at Bonhams Goodwood Revival sale on Saturday 15th September 2012. Bonhams announced today that it has been commissioned to sell a recently discovered 1928 Mercedes-Benz 26/120/180 'S' Type Sports Tourer which almost without precedent for motor cars of this type and d...[Read more...]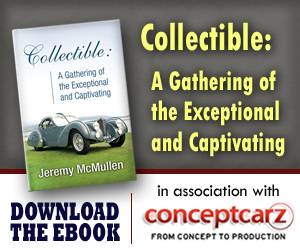 © 1998-2014. All rights reserved. The material may not be published, broadcast, rewritten, or redistributed.