1973 Lotus Europa news, pictures, specifications, and information

Tweet
In 1957, after ten years of designing and building racecars, Colin Chapman decided to build Lotus' first passenger car. Although the Elite was not a huge success, Chapman continued to develop sports cars. In 1967, Lotus introduced the mid-engined Europa. Though the car was a success, buyers were asking for more power and better rear visibility. So Chapman obliged by putting a 1.6 liter Lotus engine in slightly redesigned body, and introduced the Lotus Europa Special.

With the Lotus Company's long standing involvement in racing, everything about the Special is geared towards high performance. The §teering is light and very direct, the low drag body is made out of fiberglass and the car's cornering abilities are awe-inspiring. The car is very stable and although the seats are not easy to get into, the driving position is comfortable and non-claustrophobic. The car features two gas tanks, one on each side, that total 15 gallons, and the car gets 25 or more miles per gallon. The Special also has improved aft sight lines, more leg and foot room, and better soundproofing.

Donated to the SDAM by Martha True
Source - SDAM
The Lotus Europa was built from 1966 through 1975 and was one of the first vehicles to use a mid-engine rear-wheel drive layout. During its production lifespan, around 9,300 examples were produced. Ron Hickman, the directory of Lotus Engineering, produced drawings in 1963. The vehicle sat low and was designed as a replacement for the popular Lotus 7.

The first series constructed was the Type 46 Series 1, also known as S1. The Type 47 was the competition sports car. Colin Chapman, the owner of Lotus Cars, designed the Europa around his 'minimalist' beliefs, meaning the vehicle was only given the materials that it needed and all efforts were made to reduce the overall weight of the vehicle. The vehicle was to be inexpensive performance machine. The chassis was constructed of steel while the body was fiberglass. The fiberglass body was bonded to the chassis meaning repair was difficult. The windows and seats were fixed and not adjustable. The steering and pedals were adjustable. An OHV 1470 cc four-cylinder Renault engine and gearbox were used to power the vehicle. The front brakes were discs while in the back were drums. In total, around 650 examples of the S1 were created.

In April of 1968 the next installment, the Series 2, was introduced. Also known as the Type 54, or S2, it brought about luxurious and revised interior amenities such as adjustable seats, wood trim, and much-needed electric windows. The 1470 cc Renault engine was borrowed from the Type 46. In 1969, in an effort to export to the US market and to comply with United States federal regulations and standards, the Type 65, also known as S2 Federal, was created. The S2 Federal featured a Renault 1565 cc engine and modifications to the body for compliant with US D.O.T. standards.

In 1971 Lotus introduced the Type 74 Europa TC, meaning Twin-Cam. Outfitted with a 1558 cc twin-cam engine and a Renault five-speed manual gearbox, the vehicle was capable of producing just over 100 horsepower. The body was enlarged to provide extra interior room for passengers. In total, around 1580 examples were produced.

In 1973, Lotus introduced the Europa TC Special. It was given a Austin five-speed manual gearbox and a Lotus Big Valve engine that produced 126 horsepower. Zero-to-sixty took just seven seconds while top speed of the 740 kg machine was 123 mph. In total, 3,130 examples were produced.

In 1975, production ceased.
By Daniel Vaughan | Oct 2012
For more information and related vehicles, click
here
CHEVROLET TO SHOW CHAPARRAL VISION GRAN TURISMO CONCEPT
• Boundary-pushing, Chevy-powered race cars changed motorsports design
DETROIT – When racers Jim Hall and Hap Sharp founded Chaparral Cars in 1962, few could have guessed how they would shake up the conformities of the racing world – and fundamentally change it. Through pioneering applications of aerodynamics and aerospace technology, and a partnership with Chevrolet Research and Development, Chaparral Cars advanced the science of racing cars. It also triumphed on the track o...[Read more...]
All-new Alfa Romeo 4C Debuts at the 2014 New York Auto Show, Marks the Iconic Italian Brand's Return to North America
•2014 New York Auto Show debut of all-new 2015 Alfa Romeo 4C coupe and limited-edition 4C Launch Edition marks the Italian sports car brand's return to the North American market •Mid-engine proportions and inspiration from the brand's racing traditions highlight Alfa Romeo 4C's purposeful design for maximum performance •Alfa Romeo engineers leveraged advanced materials and technological solutions from Formula 1, including a carbon fiber monocoque, aluminum chassis structures and a composite bo...[Read more...]
1958 Monaco Grand Prix: An Unlikely Frenchman Steals the Show…Again
In 1955, perhaps the most unlikely of drivers would survive the attrition and the beckoning Monaco harbor to claim his only victory in Formula One. Some three years later, and more unlikely than ever to even win a second race at any circuit, the same Frenchman would steal the crown jewel to become just the second man in Formula One history to earn two or more victories on the streets of the principality. Maurice Trintignant's victory in the chaotic and drama-filled 1955 Monaco Grand Prix was...[Read more...]
1964 Nurburgring 1000 Kilometers: Survive for One Last Victory
During the late 1950s, Richie Ginther would begin a relationship with John von Neumann and this partnership would result in one of the most dominant periods of American sportscar racing in which Ginther and Porsche would be virtually unbeatable. Nearly a decade later, that same combination would again join forces to provide one more moment of glory. By the mid-1950s Porsche had developed its 550. This was a small car more than capable of dominating its class and consistently able to challenge...[Read more...]
MIKE RYAN'S BANKS SUPER-TURBO PIKES PEAK FREIGHTLINER A UNIQUE BIG ONE TO WATCH IN PIKES PEAK OPEN DIVISION
Colorado Springs, June 20--------The Freightliner Cascadia Pikes Peak Special racing machine of Mike Ryan (Santa Clara, CA) is truly like no other entry in the Pikes Peak Open division during the 91st edition of the Pikes Peak International Hill Climb on June 30. Ryan, a veteran driver, finished ninth (12:39.960) last year on the Peak in the division, but has his sights set on a higher finish this year with this amazing vehicle. The winner was rookie French driver Romain Dumas, who bri...[Read more...]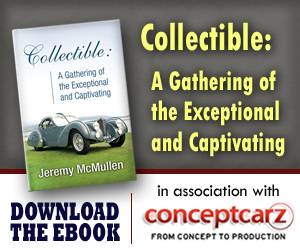 Similarly Priced Vehicles from 1973
Chevrolet Corvette C3 ($5,690-$5,920)
Triumph Stag ($5,800-$5,800)
Datsun 240Z ($4,690-$4,690)
BMW 2002 ($4,500-$6,605)
Porsche 914 ($4,500-$5,000)
Volvo 1800 ES ($5,145-$5,145)
Buick Riviera ($5,220-$5,220)
Pontiac Grand Prix ($4,585-$4,960)
Alfa Romeo Spider Veloce ($5,260-$5,260)
Ford Thunderbird ($5,575-$5,575)

Average Auction Sale: $23,575
© 1998-2014. All rights reserved. The material may not be published, broadcast, rewritten, or redistributed.