1950 Jaguar XK-120 news, pictures, specifications, and information

Tweet
This is a very early 'steel' car with aluminum bonnet, boot lid and doors which has chrome side lights, short convertible top with fixed windows, tall dash pot carburetors, flat top distributor, boat propeller fan and many other features. The car has its original engine and all accessories, original transmission and running gear and original body bonnet, boot lid and doors.

The car under went a two-year frame off restoration, which was completed in June of 1999. Since that time the car has won many firsts at concours events across the country.
This 1950 Jaguar XK120 Roadster was offered for sale at the 2007 RM Auctions held at Meadow Brook where it was estimated to sell between $70,000 - $90,000. This car is powered by a 3442 cc twin overhead cam six-cylinder engine that is capable of producing 160 horsepower. It has a four-speed manual gearbox and four-wheel drum brakes. Since new, this car has been treated to a complex restoration. It is finished in red with tan Connolly leather interior. On all four corners are the correct steel wheels and fender spats. In the back can be found a period correct stainless steel exhaust system.

The Jaguar Xk120 Series was very reminiscent of the 'French Curves' of the pre-War era from marque's such as Delahaye and Bugatti. The styling was by William Lyons, owner of Jaguar, and was revolutionary and bold. His chief engineer, William Heynes, was tasked with designing the mechanical components. The XK120 was offered in three different body styles including roadsters, fixed head, and drop head.

The XK120 is always a popular vehicle no matter where it goes. At auction, this again proved to be true, as bidding climaxed at $82,500 including buyers premium and was sold.
By Daniel Vaughan | Aug 2007
The Jaguar XK120 was meant to be a low production model, but it was considerably more desirable and popular than expected, resulting in higher-than-expected production numbers. It was to have ash-framed alloy coachwork, but this was later replaced by steel after 240 examples had been produced. The alloy had been too expensive to produce.

This car with chassis number 670119 is a left-hand drive vehicle. It was manufactured on February 8th of 1950 and sold by Max Hoffman in New York. It is fitted with the lightweight, alloy-bodied coachwork and one of the few to have survived into modern times.

It is believed that modifications were made by the factory to prepare this for competition. It does not have welding scars from the rear trunk shelf, meaning the back was not raised to accommodate a spare. There is no skirt recess on the rear fender and no lead in the arch. It has a 9.0:1 compression ratio, larger valves, modified camshafts, and twin sand-cast 2-inch SU carburetors. Rather than bucket seats, this car is equipped with LeMans specification racing seats. The aero screen is also a LeMans items. On all four corners are original racing brake drums and Borrani hubs and wire wheels.

From 1985 to 2005 the car was part of the Walter Hill Collection. It was sold at Bonhams' Goodwood Revival Meeting Sale in September of 2005. It was originally painted pale blue but now wears a sand color.

In 2007 it was brought to the Bonhams Auction, An Important Sale of Collectors' Motorcars and Automobilia, held at the Quail Lodge Resort & Golf Club in Carmel, California. The lot was sold for $180,000 plus premiums and taxes.
By Daniel Vaughan | Apr 2008
The Jaguar XK120 was launched at the 1948 London Motor Show as a test bed and show vehicle to highlight the new Jaguar XK engine. The car caused a sensation, which persuaded William Lyons to put it into production as a standard model. The first 57 right-hand drive cars and 183 left-hand drive cars were hand produced in lightweight aluminum alloy between 1948 and 1950. The XK120 was one of the most beautiful cars in the world at a time of great austerity; the curvaceous aluminum was hand tooled and built up over an ash frame. The later steel-bodied XK120s sold in vast numbers and secured Jaguar's fine reputation as a major manufacturer of race and sports cars in the 1950s.
Alloy Roadster
Chassis Num: 670054

It is believed that the original owner of this Alloy Roadster was Hollywood icon Clark Gable. It was originally painted Suede Green from the factory, and took on a particular shade of silver gray after arriving in California. This color was the Gable's preferred choice for all his cars including the Jaguar Mark V he had been driving prior to the acquisition of his new XK-120.

The car spent four decades in the ownership of the late Joe Cotrofu of Rancho Palos Verdes, CA. This car has been described as the 'most original unrestored alloy body XK-120 in existence.' The original interior is Suede Green and the original side curtains are tan in keeping with the tan roadster top although original specs indicated a black top.

In 2009, this car was offered for sale by Bonhams at the Exceptional Motorcars and Automobilia at the Quail Lodge in Carmel, CA. It was estimated to sell for $250,000 - 300,000, but failed to find a willing buyer capable of satisfying its reserve.
By Daniel Vaughan | Nov 2009
This Jaguar XK120 is the 288th example built and is therefore one of the early steel-bodied examples produced after the end of alloy-body production. The car was restored to the original color combination of Pastel Blue with two-tone French Blue and Gray interior. The car rides on period-correct tires manufactured by Coker Classic Tires. This Jaguar has been driven less than 100 test miles since the restoration.

In 2012, this vehicle was offered for sale at RM Auctions sale in Scottsdale, Arizona. It was estimated to sell for $175,000-$200,000. Bidding reached $125,000 but was not enough to satisfy the vehicle's reserve. It would leave the auction unsold.
By Daniel Vaughan | Feb 2012
Alloy Roadster
Chassis Num: 660040

This Jaguar XK120 is one of six works-prepared lightweight aluminum-bodied XK120s readied for the 1950 competition season. It was allocated to Jaguar team driver Leslie Johnson, who was joined by Jon Lea for the car's first outing at the Mille Miglia, where it finished in fifth place. In June of 1950, it was entered at Le Mans and was running in third place after 21 hours when its clutch gave out and it failed to finish. Throughout its competition career, it entered all the major sports car races in Europe while also setting records. At the Montlhery circuit in France, Johnson and Stirling Moss gained the record for the first production car to average over 100 mph for 24 hours at an average speed of 107.46 mph. The car is shown here in its 1950 Le Mans configuration.
Steel bodied Roadster
Chassis Num: 670405

This Jaguar XK120 was built in the summer of 1950 as a left hand drive Roadster. It was finished in silver over red upholstery with a gunmetal top. The original distributor was Thomas Plimley of Vancouver, Canada. The first owner was the founder and President of the Montreal Jaguar Owner's Club and was first registered in Montreal, Quebec, in 1951. This XK120 was fitted with European 'tripod' headlamps and a heater. Because the Montreal Jaguar dealer also sold new Packards, a Packard under-seat heater was neatly installed upside-down beneath the dashboard.

After the original owner's death in the mid-1990s, the car was acquired by its second owner, Mr. Dean Watson. The current owner acquired the car in 2008 with just over 77,000 miles recorded, and took it home to British Columbia.

The car is original with its red leather upholstery, convertible top, and tonneau cover. The spare tire is believed to be the one it left the factory with. The car even has its rare Glasspar plastic hardtop.
By Daniel Vaughan | Jan 2014
The Jaguar XK120 was designed to be a prestigious vehicle and produced in low numbers. The designation '120' represented the vehicles top speed of 120 miles-per-hour. At the time, it was the fastest production car in the world.
The British automotive industry was greatly influenced by World War II. Many manufacturers went out of business due to the lack of funds, fuel and supply shortages, or their factories had been destroyed during the war. In order to stay in business, a solid production line was required that could compete with its class of vehicles. William Lyons, owner of Jaguar, did so by creating a new class - one that was faster, more reliable, stylish, and cheaper than any other vehicle on the market.

To gain industry recognition, Lyons knew that he needed a show car that was revolutionary and bold. Lyons handled the styling while his chief engineer, William Heynes, was tasked with designing the mechanical components. When the vehicle was displayed at Earls Court, the reaction was overwhelming. Originally, Lyons planned to make between 100 and 200 examples. After the public reaction to the car and to keep up with demand, he decided to change the body from hand-formed aluminum to all-steel construction.

The body of the car was reminiscent to the 'French Curves' produced by manufacturers such as Bugatti and Delahaye of the early 1930's and 1940's. They were created in three different body styles, roadster, fixed head, and drop head (convertible).

The vehicle was powered by a 160 horsepower, 3.4 liter, inline-six cylinder engine. Peak horsepower was achieved at 5000 RPM. The 120-mph was the promised speed, the top speed of the vehicle was around 126-132 mph depending on the trim of the vehicle.

The vehicle was designed as a touring car. However, many of the vehicles were raced. Their main weaknesses were their drum brakes which wore quickly, and their steering which was heavy and less responsive when compared to other purpose-built racing vehicles.

In 1951, Jaguar entered the grueling 24-hour of Le Mans endurance race. Three XK120C, the 'C' representing 'competition', were entered. One of the three entrants won the event.

In 1952, an XK120 was driven continuously for seven days and nights around a track located in Montlhery, France. After more than 16,000 miles in one week, the vehicle once again proved its endurance capabilities.

In 1954 production ceased. Over 12,000 examples were produced.
By Daniel Vaughan | May 2008
For more information and related vehicles, click
here
Gooding & Company's Two-Day Pebble Beach Auctions Realizes More Than $106 Million
• 30 cars sell above $1 million
• 16 new auction records set for Ferrari, Aston Martin and Porsche marques
Pebble Beach, Calif. (August 18, 2014) – Gooding & Company, the auction house acclaimed for its world-class automotive auctions and record-breaking results, realized more than $106 million at its Pebble Beach Auctions over the weekend. During the two-day sale, the auction house sold 107 of 121 lots, which resulted in an 88% sale rate, with an average price of $990,...[Read more...]
Tom Fritz Creates The 19Th Annual Amelia Island Concours D'elegance Poster
The posters for the Amelia Island Concours d'Elegance have become collectible car art and the 2014 edition is no exception. Today the Concours revealed that the 19thannual event poster was created by famed hot rod artist Tom Fritz and honors Jochen Mass on the 25th anniversary of his victory in the 1989 24 Hours of Le Mans driving his Mercedes-Benz Sauber C9. The beautiful piece takes creative cues from the first Amelia poster in 1996, well-known for honoring the record-setting drive of Sir Stir...[Read more...]
LE MANS WINNER JOCHEN MASS NAMED 2014 AMELIA ISLAND CONCOURS HONOREE
There are scores of victories on Jochen Mass' hefty racing resume, but the one that stands out in bold print is the win in France on a June weekend a quarter century ago. Mass shared one of the mighty Mercedes-Benz powered Sauber C9 Silver Arrows in the 1989 24 Hours of Le Mans. Mass, co-drivers Stanley Dickens and Manuel Reuter led a Mercedes sweep of the classic enduro with a 1-2-5 Mercedes-Benz powered finish. Mass & Co. were the slowest of the three Silver Arrow C9s in qualifying. Despit...[Read more...]
Extremely Rare 166 Inter Berlinetta, Ferrari's First Road Model, to Headline Russo and Steele's Highly Anticipated Monterey Auction Event
Throughout its storied history, California's Monterey Peninsula has played host to a pantheon of the greatest competition-inspired road cars ever conceived and built. This year, Russo and Steele's outstanding early consignments for Monterey will include a truly significant offering in the form of Ferrari's very first road-going Sports/GT series, the 166 Inter. Only 37 were produced in all, with just eight – exemplified by the striking Berlinetta offered here, numbered 037 S – fitted with elegant...[Read more...]
Italian Sports And Racing Exotics Head To RM's Eagerly Anticipated Monterey Sale
• RM Auctions announces stunning early roster of blue-chip Italian exotics for its flagship Monterey sale, August 16–17 in California • No less than 21 Ferraris already consigned alongside two spectacular Maseratis • Eight Ferraris offered without reserve from the Estate of William H. Tilley • Additional early highlights include a fabulous 1931 Duesenberg Model SJ Murphy Convertible Coupe and a 1935 Hispano-Suiza K6 Brandone Cabriolet • Frequently updated list of entries available online a...[Read more...]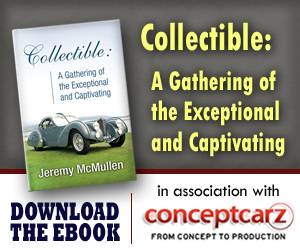 Jaguar
Monthly Sales Figures
Volume
October 2014
1,007
September 2014
1,142
August 2014
1,184
July 2014
1,187
June 2014
1,263
May 2014
1,304
April 2014
1,035
March 2014
1,816
February 2014
1,552
January 2014
1,347
December 2013
1,544
November 2013
1,446
(More Details)
© 1998-2014. All rights reserved. The material may not be published, broadcast, rewritten, or redistributed.