1957 Buick Caballero Estate news, pictures, specifications, and information

Tweet
The Buick Century Caballero Estate Wagon was positioned by Buick near the upper end of the market. It featured the unique Buick styling cues, powered by the Century's powerful V8 engines, and given a long list of amenities and luxury items. They were quick and refined machines. However, the Caballero was produced for only a short time, lasting from 1957 through 1958. The car had high construction costs which resulted in Buick canceling the Caballero along with the Century name the following year. The Century nameplate would be later revived and adorned on Buick vehicles while the Caballero name has laid dormant.

This 1957 Buick Century Caballero Wagon was offered for sale at the 2007 RM Auctions held in Meadow Brook. The car was estimated to fetch between $80,000 - $100,000. It is powered by a 364 cubic-inch V8 engine that is capable of producing an estimated 300 horsepower. The car has a three-speed gearbox and four-wheel drum brakes. It is one of the few surviving examples of the Caballero and is one of the finest of its kind. The car has been treated to both a cosmetic and mechanical restoration. It is finished in red and white paint with four-wire wheels and period-correct whitewall tires. The upholstery is finished in red and white. The car is equipped with power windows and seats, which were standard at the time.

The estimated value proved to be very accurate and the bidding agree with those figures. The car found a new owner with the selling price of $93,500.
By Daniel Vaughan | Aug 2007
With styling inspired by the Centurion 'dream car' from 1956, Buick fielded an all-new line of cars for 1957. This distinctive new automobile was instantly identifiable, with its graceful interpretation of Buick's traditional 'Sweep Spear side trim, full wheel openings and dipper rear beltline. Vertical grille bars, 'Venti-Port' trims on front fenders and vertical rear tail lamps were all in keeping with recent Buick design trends.

The daring Century Caballero Estate Wagon - GM's finest and most expensive station wagon - wore Buick's new styling especially well. Especially noteworthy is the full four-door hardtop 'pillar-less' construction. Buick station wagon bodies were constructed by the Ionia Body Company, an independent supplier to GM located near Flint. The Caballero utilized a 300 horsepower version of the Buick V8, enlarged to 364 cubic-inches for 1957, and Dynaflow automatic transmission with a new Variable Pitch feature. 'When time and good judgment demand it, you can switch the pitch by flooring the pedal and call forth a brand-new safety burst of power like you've never seen before,' enthused Buick copywriters. The 'Horizontal Redline' speedometer would closely monitor forward progress.

This Caballero is painted in 'Mint Green and Dover White' two-tone paint and was restored over twenty years ago by a previous owner who found the tired, but rust-free car in Simi Valley, California. The current owner acquired it in 2005.
Buick introduced the Caballero in 1957, integrating the Riviera's four-door pillarless sedan styling into a station wagon. Though GM produced several station wagon models during this period, the Caballero is the only vehicle to feature such a design.

The Buick Caballero had a revised front fascia and was equipped with the company's new 'Nailhead' V-8. The vertical-valve motor offered 300 horsepower on the Century models, and 325 horsepower with the optional high-performance 'tri-power' carburetion.

For 19587, the Buick was restyled once again, eliminating their classic fender portholes and the two-tone color treatment of the sweep spear. 1957 was the final year to feature these revered styling cues.

Production of the Buick Caballero lasted for just two years.

This particular example was given a restoration by the late Mike Fennel. Along with having restored several Pebble Beach-awarded prewar classics, he also served as the Blackhawk Collection's technical manager for 35 years.

This car is finished in a two-tone scheme of teal over white, and a new interior of pearl white leather with blue piping. The car was given slight 'hot rod' treatment which included lowering its ride height and removing the door handles.

The car is powered by the 401 cubic-inch Nailhead V8 engine fitted with three 2-barrel 'Tri-Power' carburetors and offering 325 horsepower. There is an automatic 700R4 transmission with disc brakes in the front and drums in the rear.
By Daniel Vaughan | Apr 2014
BUICK TURNS 110: MOST SIGNIFICANT BUICK OF EACH DECADE
DETROIT – Remaining in business for 11 decades requires constant innovation, so choosing one model to represent a decade of significance can be a catalyst for debate. Among the hundreds of models designed and engineered for Buick, the 11 below stand out as the most significant for their respective decades since May 17, 1903. Let the debate begin. ◾1903-1912: The first Buick ever is quite significant, so Buick's first decade honor goes to the 1904 Model B. The first one of the line was so...[Read more...]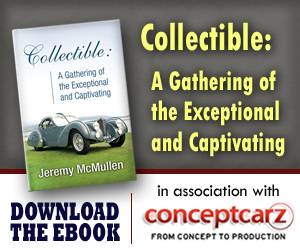 Buick
Monthly Sales Figures
Volume
September 2014
17,466
August 2014
22,143
July 2014
17,683
June 2014
21,403
May 2014
19,957
April 2014
19,214
March 2014
20,428
February 2014
19,192
January 2014
13,278
December 2013
15,379
November 2013
15,072
October 2013
17,555
(More Details)
© 1998-2014. All rights reserved. The material may not be published, broadcast, rewritten, or redistributed.