1958 Edsel Citation news, pictures, specifications, and information

Tweet
One common misconception should be put aside before the discussion of any Edsel product. Edsels were not actually terrible cars. With that out of the way, everything else you've heard about Ford's disastrous Edsel division has been true. Edsel represented one of the most phenomenal flops in the history of consumerism. The company, over the course of just two miserable years, was arguably turned into the most spectacular failure ever experienced by the American auto industry. If the designers of the Hindenburg had instead chosen market research as their careers, they would have been eagerly recruited by the team that was responsible for giving the go-ahead to autodom's most explosive marketing blunder, named Edsel.

It's easy to see what went wrong when Ford brought out the new Edsel nameplate: everything. The Edsels were upscale cars that had the misfortune of being introduced as the American economy was in a recession. This key fact sealed the Edsel's fate, but most of the blame in the tragedy of Edsel can be placed on abominable marketing techniques.

Edsel's ad campaign seemed to have been designed by a talented politician. The cars promised everything, and delivered nothing. Even with their dismal quality control they really weren't awful automobiles, but they never had any chance of reaching the stupendously high expectations that their marketing strategy fostered.

Edsel generated substantial levels of hype throughout the United States long before any photographs of the company's vehicles were shown. People were whipped into excited frenzies, frantic and desperate as they waited to glimpse the automobile that everyone was talking about. Ford had pumped a great amount of money into Edsel to get its fledgling brand rolling, much of it going towards market research. Ford felt comfortable and confident as it built up public expectations in anticipation of Edsel's arrival because Ford was convinced—convinced—that they knew exactly what America wanted in a car. Well, Ford was wrong.

September 4, 1957—the day the Edsels would be unveiled to curious Americans across the country—was cleverly declared 'E-Day' as another marketing ploy. The new Edsel dealerships hosted 3,000,000 Americans on E-Day, leading them inside showrooms to peek at Edsels hidden behind curtains. The response was general apathy. Few cared for the face of Edsel, with its vertical horse collar grille, and many felt duped by marketing efforts that had promised a revolutionary car. Edsel may have had a funny grille and a new name, but it was certainly no revolution. All the hype backfired, and the Edsel name turned into a joke. Of course, the marketing aces behind the project had a great idea to counter slow sales and generate more interest in Edsel—offer test drivers the chance to win a free pony! Needless to say, sales levels never reached Ford's high expectations. It was announced in late 1959 that Edsel was to be put out of its misery.

Despite the company's two-year lifespan and abysmal sales numbers, many different Edsel models were produced. In 1958, the first model year for Edsel, the top-of-the-line offering was the Citation. It came in three body styles. There were two-door and four-door hardtops, both with classy pillarless side glass. The hardtops were priced at $3,500 and $3,580, respectively, though an impressive options list could raise the sticker in a hurry. The other body style in which the Citation could be ordered was the convertible. At $3,766, this was the priciest and most stylish Edsel that could be purchased. It weighed over 4,300lbs, was 219in long, and had a massive 80in width. The Citation convertible represented vehicular excess at its finest and fattest.

Standard power for the Citation was courtesy of the E-475 V8. Unlike most American automakers, which numbered their engines according to cubic inch displacement, Edsel named its engines after their torque ratings. The E-475, then, produced a mammoth 475ft-lbs of torque, all at just 2,600rpm. Power was also impressive, with 345hp available at 4,600rpm. The E-475 was a typical American V8, with a pushrod-actuated overhead camshaft per cylinder and a massive 410ci displacement. The compression ratio was 10.5:1.

All Citations were equipped with a 3-speed automatic transmission to transmit their massive loads of torque to the rear wheels. Called the Teletouch Automatic, the transmission was operated via pushbuttons mounted at the center of the car's steering wheel. This novelty feature was interesting, but little else. The Teletouch system had no conceivable benefits over a column-shift design, and aside from the fancy buttons the transmission was just a run-of-the mill automatic. Reliability problems plagued the Teletouch, and it was replaced throughout the Edsel line by a column-shift for 1959.

The Citation was not a particularly impressive vehicle, nor was it a bad car. Its styling was not very distinctive or attractive, but with its defiant vertical grille it at least wasn't downright bland. The Citation, viewed only as a transportation device, was simply another average American car. No longer can an Edsel be viewed as just a car, though. The marketing disaster that defined Edsel provided an unflattering reason for collectors to take Edsels seriously. Furthermore, Edsels have become very rare, and their exclusivity, combined with their (in)famous story, has made them very valuable cars. An excellent Citation convertible is now worth up to $100,000. It took fifty years and more unbridled irony than a PETA-sponsored turkey hunt, but a car that nobody wanted has now become a car that nobody can afford.

Sources:

'1958 Edsels.' Edsel.com Web. 19 Jan 2010. .

Carlson, Peter. 'The Flop Heard Round the World.' Washington Post (2007): Web. 19 Jan 2010. .
By Evan Acuña
The 1958 Edsel came in two sizes - big & bigger! The 'senior' series cars are the Citation and Corsair models. They were built on the large Mercury-based frame. The 'Junior' series cars are Rangers, Pacers and station wagons Bermuda, Villager and Roundup, which were built on the smaller Ford-based frame.

This brand new model, the Edsel Citation Convertible, was the top of the line of four models for 1958. Its engine featured 345 horsepower with 10.5 compression, and the car weighed in at 4311 pounds. Only 930 of this convertible model were produced and they had several unique features such as transmission pushbuttons in the center of the steering wheel and a built-in dash compass.

This car is an example of the top of the line Edsel, which Ford Motor Co introduced in September, 1957. Only 930 Edsel Citation Convertibles were produced, of which less than 150 still exist.

Edsel was the first car with an entirely electric system for shifting gears. The car could be ordered with an impressive list of over 80 options that could boost the base price of $3,800.00 to over $5,000.

They were powered by a 410 cubic-inch engine, generating 345 horsepower. Currently, a fully restored Citation Convertible, such as this one, are selling from $70,000 to $80,000.

The Edsel was more expensive than other comparable cars, and the price of the loaded, top-of-the-line models that were first on the showroom floor scared away many buyers. To purchase this car new, it would have cost $3,766. In three model years, Edsel Division produced 110,847 Edsels. Today less than 6,000 Edsels survive, and each one is a cherished classic. The 1958 Edsel advertising said it best - 'Once you've seen it, you'll never forget it. Once you've owned it, you'll never want to change.'

This low mileage car is mostly original with only some replacement of chrome and possibly a repaint by the previous owner of the vehicle.
Edsel was its own brand that regretfully proved to be Ford's flop of the 1950s. Edsel launched a 1958 model range available in Ranger, Pacer, Corsair and Citation trim. There also were Edsel station wagons called Roundup, Villager and Bermuda. These model names have been used since, some by manufacturers other than Ford.

This red-and-white 1958 Citation convertible was one of only 930 such drop-tops built that year.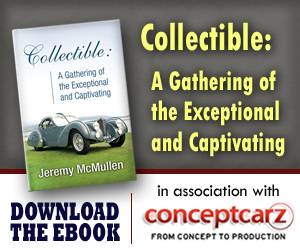 Similarly Priced Vehicles from 1958
Chevrolet Corvette C1 ($3,600-$3,600)
Porsche 356A ($3,200-$5,900)
Edsel Pacer Series B ($2,698-$3,765)
Mercury Voyager ($3,630-$3,630)
Buick Series 50 Super ($3,642-$3,787)
Ford Thunderbird ($3,628-$3,912)
Mercury Series 85A Montclair ($3,235-$3,600)
Mercury Montclair Turn Pike Cruiser ($3,500-$3,600)
Oldsmobile Super 88 ($3,110-$3,620)
Alfa Romeo Giulietta Veloce ($3,670-$3,670)
Pontiac Bonneville Series 25 ($3,480-$3,590)

Average Auction Sale: $45,108
© 1998-2014. All rights reserved. The material may not be published, broadcast, rewritten, or redistributed.