1965 Austin-Healey 3000 news, pictures, specifications, and information

Tweet
The 'big' Healey, often nick-named the 'Squealy' (for obvious reasons), is perhaps the archetype sixties British sports car. Interestingly enough, it was manufactured by neither Austin nor Healey, but by sub-contractor Jensen Motors. Jensen had previously built both the Gypsy (an attempt at a Land Rover competitor) and the A40 Sports for Austin. In the late 1950s they assembled their own 541R (also with the 3-liter six-cylinder C-series engine fitted to the Austin-Healey 3000) that gave way to the CV8 in 1962 (CV8 means Chrysler's 6-liter V8).
In 1952, at the Earl's Court Motor Show, Donald Healey introduced the car that bore his name. It was called the Healey 100, because it had a calculated speed just over 100 mph. Geoff Healey, with the assistance of Barry Bilby, designed the chassis. The engine was a four-cylinder Austin A90 unit that was tuned to produce 90 horsepower.

The Austin-Healey became the 100-6 in 1956, due to a 2.6-liter, six-cylinder engine. The engine was mated to a four-speed manual transmission and given better brakes. In June of 1959, a new version of the BMC six-cylinder Type C engine appeared that displaced 2.9-liters and offered 124 horsepower. The Austin-Healey became the 3000 MK1.

In May of 1961, Austin-Healey introduced a triple-carburetor version of the 3000 called the MK II. This setup offered 132 horsepower, but the triple carburetors required too much care in tuning for many owners. In March of 1962, it was announced that the twin carburetor setup would return with the slightly redesigned 3000 MK III Convertible.

The final generation of the 'Big Healey' came equipped with a 2.9-liter single overhead cam six-cylinder engine that offered nearly 150 horsepower and was coupled to a four-speed manual transmission that had an overdrive unit. The suspension was comprised of coil springs up front and semi-elliptic springs and a solid rear axle.

The Austin-Healey received styling enhancements which also improved the aerodynamics. A wraparound windscreen was installed, and the doors now had roll-down windows (replacing the side-curtains). With a stiffer anti-roll bar up front along with modified shock settings, the vehicles had improved handling.

Under the bonnet, the engine offered 148 horsepower and 173 foot-pounds of torque. Beginning with the 1964 model year, a repositioned exhaust system gave greater ground clearance.

This particular Austin-Healey 3000 MK III BJ8 has been given a concours-quality restoration. It left the factory painted red with a black hood and trim. It is currently finished in sage Green exterior and a Biscuit color interior.
By Daniel Vaughan | Feb 2014
With a blue-over-blue color scheme, this attractive MKIII 3000 BJ8 was given a recent nut-and-bolt restoration in the early 2000s. There are front disc brakes, an overdrive transmission and a 2912 cc six-cylinder overhead valve engine offering 150 horsepower.

In 2009, this Austin Healey was offered for sale at the Gooding & Company auction held in Scottsdale, Arizona. It was expected to sell for $55,000 - $75,000 and offered without reserve. As bidding came to a close, the lot had been sold for the sum of $55,000 including buyer's premium.
By Daniel Vaughan | Apr 2009
This 1965 Austin-Healey 3000 BJ8 MK III was offered for sale at the 2007 RM Auctions held in Amelia Island, Florida. The car was offered without reserve and estimated to sell between $90,000 - $110,000. The car is powered by a 2912cc overhead valve six-cylinder engine capable of producing 150 horsepower. There is a four-speed manual gearbox with overdrive and a front disc and rear drum brakes.

This car has been treated to a complete restoration with many of the components being rebuilt or replaced. It is a British Motor Industry Heritage Trust certified matching number car. It is finished in Colorado Red.

The BJ8 was introduced in 1963 and remained in production until 1967. The BJ8 brought many improvements over its predecessor, the BJ7. The BJ8 included a twin two-inch SU HD8 carburetors on the six-cylinder engine capable of producing 150 horsepower and 173 foot-pounds of torque. The exhaust system was new and practical. It was repositioned which gave it greater ground clearance. The BJ7 had introduced roll-up windows in the Austin-Healey and continued in the BJ8.

At auction, the estimated value proved to be accurate as the car was sold for $96,250.
By Daniel Vaughan | Aug 2011
The current owners purchased this vehicle from its original owners (from Denver, Colorado). Apparently he felt that rocker panels can never have enough Bondo, Nylons and Newspaper. Options include Electric overdrive, front disc brakes, power brake booster, roll-up windows, convertible top, burled walnut dash, and telescoping steering wheel. It has a 6-cylinder engine that displaces 3000cc.
This 1965 Austin-Healey 3000 BJ8 Mark III Sports Convertible was offered for sale at the 2007 RM Auctions held at Meadow Brook. The car was estimated to sell for $65,000 - $85,000. It is finished in Healey Blue with a Navy Blue top and interior. Under the bonnet is a six-cylinder overhead-valve engine that displaces 178 cubic-inches. There is a four-speed manual gearbox and disc brakes in the front.

A group up rotisserie restoration to concours standards was undertaken on this car. The interior was redone and the body paint was professionally stripped to the bare metal. The mechanical components were also restored.

At auction, bidding reached $55,000 but was unable to satisfy the reserve. The vehicle was left unsold.
By Daniel Vaughan | Aug 2007
The Austin Healey 100 was introduced in October of 1952 at the Earls Court Motor Show. The first Austin Healey 100's were known as 100-4 or BN1. The name 100 came-about by being able to break the 100 mph barrier. The BN also had meaning. The B represented the engine class which meant it had between 2000 and 3000 cc. The N represented the body-style configuration, two-seat and open-top. The 100 was powered by a A90, 2660 cc, four-cylinder engine capable of producing 94 horsepower. The manual three-speed transmission was also borrowed from the A90. However, the first gear was blocked off and was fitted with overdrive on the second and third gears to provide extra power.
The name 'Austin Healey' was formed by a partnership comprising of the designer, Donald Mitchell Healey, and the manufacturer, Austin.

During its total production cycle, 10,688 examples of the BN1 were produced.

In October of 1955, the BN2 was introduced. The BN2 was similar to the BN1 in design but now featured larger drum brakes and a new four-speed transmission with overdrive.

During its production run, 3,924 examples of the BN2 were produced.

The Austin Healey 100S was produced in limited numbers, only 55. Their primary purpose was for competing in racing and rally events as well as for development and marketing purposes. They were entered into races such as Sebring, Mille Miglia, and Le Mans. They were copies of special factory test car that Stirling Moss raced in the 1954 12-hour Sebring race where he placed third. The 100S's were produced at the Healey Warwick factory and most were decorated with the American racing colors, white and blue. Of the 55 that were built, only 10 remain unaccounted for. The 100S, when compared with the 100, featured Dunlop disc brakes on all four wheels, different cylinder head and internal engine modifications, four-speed gearbox without overdrive, and a light-alloy body shell.

The 100S was followed by the 100M. The 100M was a Le Mans variation of the BN2 with an increased horsepower rating of 100-110. It featured bigger carburetors and modified distributor. Valve springs and anti-roll bars were added to the suspension. During its production run, 1100 of the Le Mans BN2's were produced.

Over time, about 100 BN2 were later modified but in order to qualify for the Le Mans configuration the vehicles needed to meet specific standards. These standards included a 1.75 inch H6, SU carburetors, cold air box and air tube, Le Mans regulation strap and a factory style louvered hood.

The four cylinder engine was used from 1952 through 1956, after which a BMC six-cylinder engine was used. The car was dubbed the '100 Six'. Three years and a few engine modifications later, the car was named the '3000' and today is known as the 'Big Healey'. Over the production lifespan of the 3000, it could be assembled with multiple options such as a two-seater or 2+2, hard-tops, single or duo-tone paint schemes, overdrive, and more.

In 1962 the body was redesigned with a curved screen and wind up windows. The interior of the vehicle was revamped in 1964 and also received more ground clearance.

The 3000 was produced from 1959 through 1968. The original engine produced 124 horsepower and was capable of about 114 mph. Modifications to the engine throughout the years increased the horsepower to around 148 and the top speed to 121 mph. The size of the car, the power of the engine, and weighing in at around 2400 lbs made this car responsive, competitive and fun to drive.

In all, there were around 73,000 100's and 3000's produced with 58,000 featuring the six-cylinder engine.
By Daniel Vaughan | Mar 2006
For more information and related vehicles, click
here
BARRETT-JACKSON'S SCOTTSDALE 2014 SALON COLLECTION TO OFFER DIVERSE DOCKET OF WORLD'S MOST SOUGHT-AFTER COLLECTIBLES
Rare and Desirable Vehicles Plus One Fully-Operational Carousel Will Cross the Auction Block at Company's Monumental Scottsdale Auction, Jan. 12-19, 2014 SCOTTSDALE, ARIZ. (Dec. 18, 2013) – Barrett-Jackson, The World's Greatest Collector Car Auctions™, announced today a group of exceptional vehicles representing 85 years of automotive history will cross the auction block as part of the world-renowned Salon Collection. The collection will be offered during the company's 43rd Ann...[Read more...]
POTEET, CIZEK EARN TOP AWARDS AT GOODGUYS 16TH PPG NATIONALS
Columbus, OH – Tennessee's George Poteet and Nebraska's Ron Cizek collected the top two awards at the Goodguys 16th PPG Nationals in Columbus, Ohio last weekend. Under brilliant sunshine and in front of record crowds, Poteet's vintage NASCAR-inspired '69 Torino won the Goodguys 2013 Optima Batteries Street Machine of the Year while Cizek's popular Ridler award-winning '40 Ford coupe collected the Goodguys 2013 Classic Instruments Street Rod of the Year title. For Cizek, it's the second ma...[Read more...]
Auctions America Readies for Highly Anticipated Spring Carlisle Collector Car Weekend
• Auctions America returns to Carlisle, Pennsylvania for its annual Spring Carlisle sale, April 25-26 • Two-day sale lifts the gavel on a diverse roster of approximately 300 quality collector cars • Notable highlights include a rare 1959 Chevrolet Corvette 'Big-Brake' Fuel-Injected Roadster, a 1970 Chevrolet Chevelle SS LS5 Convertible and a 1999 Bentley Azure Convertible • Sale held during Carlisle Events' highly anticipated Spring Carlisle Collector Car Swap Meet & Corral weekend, April 24...[Read more...]
Barrett-Jackson Flavors Its January Scottsdale Auction With NASCAR Treats
• RACING HERITAGE, HIGH PERFORMANCE ARE RECIPES FOR CAR-COLLECTING FEAST
• SPEED™ SET FOR 39 HOURS of LIVE COVERAGE STARTING JAN. 15
The great Henry Ford once said, 'Auto racing began five minutes after the second car was built.' And for more than 60 years, there are few entities that better represent auto racing in America than NASCAR. From the hallowed grounds of Daytona International Speedway, to Sonoma, California's intricate and picturesque road course, the sp...[Read more...]
TOPLINE COLLECTORS PLACE SPOTLIGHT on SPEED'S BARRETT-JACKSON BROADCAST FROM SCOTTSDALE
• TOPLINE COLLECTORS PLACE SPOTLIGHT on SPEED'S BARRETT-JACKSON BROADCAST FROM SCOTTSDALE
• 'LOST' SHELBY DUAL PROTOTYPE, HAGERTY GIVEAWAY & SALON COLLECTION HIGHLIGHT 39 HOURS OF LIVE COVERAGE
The 42nd annual Barrett-Jackson Scottsdale (Ariz.) Collector Car Event, the first of four set for live coverage in 2013, kicks off the auction season in grand style as some of the world's most sought-after machines cross the block starting Tuesday, Jan. 15 at 7 p.m. ET/4 p.m. PT. SP...[Read more...]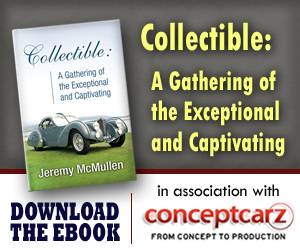 © 1998-2014. All rights reserved. The material may not be published, broadcast, rewritten, or redistributed.