Image credits: © Jaguar.
1957 Jaguar XKSS news, pictures, specifications, and information

Tweet
here
McQueen's Famous 1956 Jaguar Coming to Pinehurst Concours
VILLAGE OF PINEHURST, N.C. (April 16, 2014) – A 1956 Jaguar XKSS owned by movie legend Steve McQueen, now housed at the world famous Petersen Automotive Museum in Los Angeles, will make the cross country trip from California to North Carolina and be displayed at the 2014 Pinehurst Concours d'Elegance. McQueen, called 'The King of Cool,' became the highest paid movie star in the world in 1974 and starred in such movies at 'Bullitt,' 'The Great Escape' and 'Papillon.' McQueen, who was al...[Read more...]
RRDC VOTES IN 37 NEW MEMBERS FOR 2013
HILLIARD, Ohio (Nov. 7, 2013) - Thirty-seven race-car drivers and motorsports professionals have been voted into the Road Racing Drivers Club in 2013. The group includes 13 Regular Members from the open-wheel and sports-car racing ranks, 20 Associate Members and four Honorary Members. The current roster of RRDC members now numbers 440. Voting was held among all current RRDC members. 'This year's crop of new Regular Members truly represents the spirit of the RRDC, as each driver has de...[Read more...]
Mazda Raceway Laguna Seca to Host 2014 SCCA National Championship Runoffs
MONTEREY, Calif. (July 10, 2013) – The Sports Car Club of America today announced the host sites of the next three SCCA® National Championship Runoffs®, including the first visit for amateur road racing's top event to Mazda Raceway Laguna Seca in 2014. Daytona International Speedway, in 2015, and Mid-Ohio Sports Car Course, in 2016, will also hold events over the next three years. The return to the west coast and Monterey's Mazda Raceway Laguna Seca comes 50 years after the inaugural ...[Read more...]
Sonoma Historic Motorsports Festival Celebrates Corvette'S 60 Years At Sonoma Raceway
• Fast cars, fine food and wine highlight May 18-19 weekend
• Paul Reinhart is honored guest, popular racing seminar scheduled for second year
SONOMA, Calif. (April 27, 2013) - The Sonoma Historic Motorsports Festival returns to Sonoma Raceway on May 18-19 for the fourth straight year under that title. The program for the 27th annual historic-car event organized by General Racing Ltd. in Sonoma will celebrate the 60th Anniversary of the popular Corvette, created by the ...[Read more...]
The WeatherTech® CHICAGO REGION SCCA JUNE SPRINTS®
Winning the Sports Car Club of America (SCCA) June Sprints at Road America has been every sports car driver's dream since the thrilling first event in 1956. That's when a tall, curly-haired chicken farmer from Texas named Carroll Shelby drove all night to make the race, jumped into the cockpit of a Ferrari 121 LM without even changing out of his work clothes - striped farmer's overalls - and won the 152-mile feature. No one back then knew that his win would set the tone for his momentous racing ...[Read more...]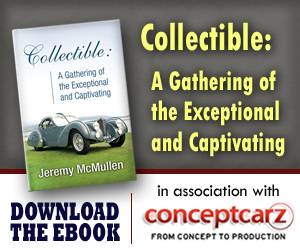 Jaguar
Monthly Sales Figures
Volume
March 2014
1,816
February 2014
1,552
January 2014
1,347
December 2013
1,544
November 2013
1,446
October 2013
1,515
September 2013
1,313
August 2013
1,723
July 2013
1,613
June 2013
1,637
May 2013
1,435
April 2013
1,141
(More Details)
© 1998-2014. All rights reserved. The material may not be published, broadcast, rewritten, or redistributed.