Image credits: © Jaguar.
1957 Jaguar XKSS news, pictures, specifications, and information

Tweet
here
RRDC VOTES IN 37 NEW MEMBERS FOR 2013
HILLIARD, Ohio (Nov. 7, 2013) - Thirty-seven race-car drivers and motorsports professionals have been voted into the Road Racing Drivers Club in 2013. The group includes 13 Regular Members from the open-wheel and sports-car racing ranks, 20 Associate Members and four Honorary Members. The current roster of RRDC members now numbers 440. Voting was held among all current RRDC members. 'This year's crop of new Regular Members truly represents the spirit of the RRDC, as each driver has de...[Read more...]
MAZDA6 TAKES SIXTH WIN
August 10, 2013 (ELKHART LAKE, Wisc.) Momentum is a powerful thing. The SpeedSource Mazda6 SKYACTIV-D Clean Diesel team scored their sixth straight Grand-Am GX class win to extend the manufacturers championship points lead for Mazda. Taking the win was Joel Miller and Tristan Nunez in their #00 VisitFlorida.com Racing Mazda6. The #70 Castrol Edge Mazda6 of Sylvain Tremblay and Tom Long qualified on the pole and led early before being delayed with a power-steering problem. The middle...[Read more...]
SCCA JUNE SPRINTS RETURN TO ROAD AMERICA
• LOCAL RACERS ARE NOT IN IT FOR THE MONEY AS THE WEATHERTECH® CHICAGO REGION SCCA JUNE SPRINTS® RETURN TO ROAD AMERICA
ELKHART LAKE, Wis., June 10, 2013 - The tradition for many local SCCA racers around this time of year is something like this, they leave their job early on a Friday, load up their race car, parts and tools into a trailer, grab a cooler of food and hit the road for one of the nation's premier amateur sports car racing events at Road America. Their ultima...[Read more...]
Mazda Racers Salute Their Number One Supporter: Mom
May 9, 2013 (IRVINE, Calif.) When racers talk about the need to have the complete package to win – balanced chassis, powerful and reliable powertrain, great tires, a brilliant engineer, perfect pitstops by a tireless crew, and a mega-budget, we sometimes forget where many racers receive their most unwavering support: Mom. With Mother's Day being one of the few days of the year with virtually no motorsports on TV, we asked a few of our Mazda racers to reflect on how their Moms contribute...[Read more...]
Road America announces 2013 event dates for The HAWK with Brian Redman
Building on the success of this year's The HAWK with Brian Redman, officials from Road America announced today that one of the largest vintage racecar gatherings in the United States, featuring over 50 classes of cars racing in several groups will return on July 18-21, 2013. A mid-summer classic including everything from a special concourse on Friday and Saturday along the streets of Elkhart Lake, to a Historic CAN-AM with an impressive field of cars is expected to gather in celebration of CAN-A...[Read more...]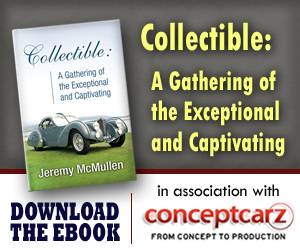 Jaguar
Monthly Sales Figures
Volume
February 2014
1,552
January 2014
1,347
December 2013
1,544
November 2013
1,446
October 2013
1,515
September 2013
1,313
August 2013
1,723
July 2013
1,613
June 2013
1,637
May 2013
1,435
April 2013
1,141
March 2013
1,408
(More Details)
© 1998-2014. All rights reserved. The material may not be published, broadcast, rewritten, or redistributed.