1968 Jaguar XKE E-Type news, pictures, specifications, and information

Tweet
This vehicle is a 1968 Jaguar E-Type Series 1 1/2 Roadster. There were only 771 examples of the Series 1.5 Roadster ever made. The Series 1 1/2 added many improvements in drivability including a 4.2-liter engine upgrade and improved synchromesh gearbox. The cockpit was enlarged and the convertible top was more leak-proof. The cooling system increased in capacity which eliminated overheating in warm climates.

This 1968 Jaguar E-Type has been treated to a nut-and-bolt concours quality restoration. It was offered for sale at the 2007 RM Auctions held at Meadow Brook where it was estimated to sell between $70,000 - $90,000. At auction, the high bid of $62,500 failed to satisfy reserve and the car was left unsold. In 2008 it was brought to the Automobiles of Amelia presented by RM Auctions where it had the same estimated value. It was sold for a high bid of $60,500 including buyer's premium.
By Daniel Vaughan | Apr 2008
Jaguar's E-Type, or XKE for the American market, has earned its status as one of the most attractive cars to ever traverse the pavement. Its shape is as low and sleek as they come and stands as one of car design's all time greats. It has long been praised for its delicate grace and perfect proportions. Its designer was no romantic, though, and he scoffed at the idea of even being called a stylist.

When Malcolm Sayer penned the lines of the E-Type, he had neither beauty nor elegance in mind. He was a scientific man and cared little about such paltry concepts. What he envisioned, and what Jaguar ultimately created, was a vehicle set up to glide effortlessly through the air with the form necessary to encapsulate world class mechanicals.

Malcolm Sayer shrugged off the title of designer, and considered himself an 'aerodynamicist.' His work was practical, following a philosophy that theoretically placed form behind function on the list of priorities. But in a car whose function was flawless, a perfection of form was sure to follow. Thus the Jaugar E-Type, one of the greatest automotive ironies, was claimed by Sayer as the first production car to be drawn 'mathematically' and claimed by the public as pure poetry in sheet metal.

The E-Type was first shown at the 1961 Geneva Auto Show. Its American name of XKE was somewhat strange, given the car's distance from prior XK models. The XK150, which was basically the predecessor of the E-Type, had dramatically different lines and 400lbs of additional heft when compared to its replacement. Still, the E-Type was initially powered by one of the engines of the old XK family. The 3.8L inline six first used in the Geneva debutant was the highest performing variant offered in the XK150. Powering the light and aerodynamic E-Type, it was good for nearly 150mph. Though it wasn't as fresh as the rest of the car, the E-Type's engine was an excellent unit that, with 265bhp, made comparable power to the larger six and even the V12 that would eventually replace it.

With its superb design and well rated driving characteristics, the E-Type was able to serve Jaguar over a remarkably long production run. Produced through 1974, it deserves every bit of the praise it receives for being a timeless automobile.

Production was broken up into three series. The Series I was produced from 1961 to 1968. First offered with the aforementioned 3.8L six, Jaguar switched to a 4.2L unit based off the same design for the E-Type's 1965 model year. The revised engine with its new intake manifold and radiator produced an identical power rating of 265bhp, but its torque was up 23ft-lbs to 283. Also new for the 1965 model year was an all-synchromesh 4-speed gearbox. Other smaller improvements helped make 1965-1968 the best years for the Series I. For 1966, Jaguar added a 2+2 coupe to a model lineup that had previously consisted of just the 2-place convertible and coupe.

Continuing to offer the choice of three body styles, the E-Type Series II debuted in 1969. Whereas the 1965 model year revisions were definite improvements lauded by all, the features that comprised the Series II were not looked upon happily by enthusiasts. With safety regulations in mind, most of which originated in the United States, the Series II adopted a full-width front bumper that ran beneath headlights that had been pushed further towards the front of the car. New taillights were bigger and blockier, residing in a new location beneath the rear bumper. Larger front turn signals were also incorporated.

The Series II lasted for only a few years, replaced by the Series III. Both series were available for 1971, with the Series II getting phased out entirely in the American market during 1972. The Series III was the least pure of the E-Types. Its large egg crate grille and bigger hood bulge were less refined than the originals. Its higher weight and an engine strangled by emissions equipment brought the Series III further from its roots. At least the brand new V12 powering the Series III was a good design, a 5.3L piece constructed entirely of aluminum and using four Zenith carburetors. Its power gains were negligible, though, due to the increasingly strict emissions standards that killed off most performance cars of the 1970's. Despite the shortcomings of the Series III, the E-Type remained one of the better-looking and more sophisticated cars on the market until its discontinuation after 1974.

Jaguar replaced the E-Type with the XJ-S, which had an even longer life than its predecessor. When the XJ-S (called XJS towards the end of its run) was finally replaced, Jaguar looked back to the E-Type for stylistic inspiration. The new model, brought out for 1996, was called the XK8. Its highly regarded design brought back the low, sleek curves of the E-Type and helped kickoff a new generation of 'retro' designs.

Sources:

Gunnell, John. Standard Catalog of Jaguar 1946-2005. Iola, WI: Krause Publications, 2007. Print.

Wilson, Quentin. The Ultimate Classic Car Book. First. New York: Dorling Kindersley, 1995. Print.
By Evan Acuña
This matching-numbers 1968 Jaguar E-Type Roadster has been comprehensively restored. It has been finished in its original color combination of Golden Sand with a tan interior and a Biscuit top. During the restoration, the car was stripped to bare metal, metal finished and leaded; all body parts and chrome were fitted to the car, prepared for primer, sealer, paint, base coat and clear coat and then color-sanded and buffed to a fabulous finish.

This is the only E-Type ever fitted with a Biscuit soft top from the factory.

In 2012, the car was offered for sale at the RM Auction in Scottsdale, Arizona. It was estimated to sell for $120,000-$130,000. As bidding came to a close, the car had been sold for the sum of $123,750 inclusive of buyer's premium.
By Daniel Vaughan | Feb 2014
The Jaguar E type, also known as the XK-E, brought style and performance together to create a mass-produced supercar. The road-going sports car was conceived in 1956 as a replacement for the D-type. In March of 1961 the E-Type was officially introduced to the world at the Geneva, Switzerland Motor show.
It's design was created by an aerodynamic engineer named Malcolm Sayer. The front engine, rear-wheel drive vehicle featured a moncoque body and a tubular front chassis. The six-cylinder double-cam engine had three SU carburetors and produced 265 horsepower. The suspension was independent with disc brakes on all four wheels. It brought together the best or aerodynamics, coupled with the latest technology and propelled by a potent engine. The vehicle was not only fast, it offered excellent performance and handling. Some of the most common complaints it received were the cabin being too cramped and it suffered from poor ventilation.

The E-Type was a popular vehicle. It was fast, performed well, and was competitively priced. Due to the United States safety and emission regulations, some of the horsepower was lost. The headlamp covers were also removed prior to the close of the 1960's.

A 4.2-liter engine and synchromesh gearbox was introduced in 1964. In 1966, the 2+2 coupe was introduced and featured a longer wheelbase. The Series II cars were not as quick as its predecessors. The Series III, however, was a different story. Powered by a V-12 engine they were once again able to propel the E-Type over 145 miles per hour.

Production for the E-Type ceased in 1975, after 72,520 examples being produced. It was replaced by the XJ-S; a vehicle that was larger, heavier, and not as visually appealing.
By Daniel Vaughan | Mar 2006
For more information and related vehicles, click
here
The Crescendo Effect: As the Days Get Closer, The Cars Get Bigger at Russo and Steele's 15th Anniversary Auction Event!
Scottsdale, Arizona (January 6th, 2015) – For Enthusiasts – By Enthusiasts. ™ This is far more than a tagline at Russo and Steele Collector Automobile Auctions. It's a lifestyle, and we are gearing up to deliver that singular passion to the High Desert of sunny Scottsdale, Arizona for our annual flagship event during the world renowned collector car week. Additionally, Scottsdale marks the kick-off of the year-long celebration of our 15th anniversary. Held over five thrilling and actio...[Read more...]
BARRETT-JACKSON SELECT COLLECTION TO DEBUT IN LAS VEGAS
• Six Rare and Sought-after Vehicles Will Cross the Block at Company's Las Vegas Auction on September 26-28, 2013
LAS VEGAS (September 24, 2013) – Barrett-Jackson, The World's Greatest Collector Car Auctions™, announced today that it will debut the Barrett-Jackson Select Collection at the company's Las Vegas auction, September 26-28, 2013 at the Mandalay Bay Resort & Casino. Featuring a boutique offering of sports cars and pre-war classics, these rare vehicles have the pote...[Read more...]
2014 CALLAWAY SILVERADO AND SIERRA DEVELOPMENT - IN PROCESS
OLD LYME, CONNECTICUT (July 02, 2013)– Callaway engineers are hard at work developing the company's latest Supercharged versions of 2014 GM SportTrucks, after receiving their first 2014 Chevrolet Silverado and GMC Sierra trucks this past week. 2014 Silverado and Sierra product development, testing and validation will be conducted over the next few months. Supercharged 5.3L and 6.2L models are projected to be available later this year, in every GM-built cab and bed combination. Expe...[Read more...]
SEAT takes centre stage at the Spirit of Montjuic
SEAT continues to be heavily involved in the world of classic cars, and from April 12 to 14 the Spanish brand's classic vehicles will be attending one of the most important events for classic car lovers and car enthusiasts in general – the Sprit of Montjuïc Catalunya Classic Revival – which will be held at the Circuit de Catalunya. Just like last year, SEAT will be taking centre stage at the 2013 Spirit of Montjuïc. The brand will be exhibiting a major part of its history as Spain's main car...[Read more...]
Buyers in abundance for another strong sale at Brooklands
Amidst some speculative recent market results, the heat was on Historics, but with Brooklands bathed in sunshine, the classic and sports car auctioneer again delivered another strong sale. In total 60 of 103 vehicles were seen away for a sale ratio of 58% and a final sale figure of £1,159,070. As pre-sale publicity predicted, Bentley's blazed a trail, with the star of the show an R-Type Coupé by Abbott of Farnham, which sold for £100,000. A 1937 4¼ litre Sports Special sold for £47,500, wh...[Read more...]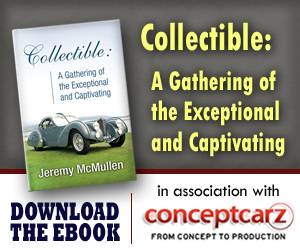 Jaguar
Monthly Sales Figures
Volume
December 2014
1,683
November 2014
1,253
October 2014
1,007
September 2014
1,142
August 2014
1,184
July 2014
1,187
June 2014
1,263
May 2014
1,304
April 2014
1,035
March 2014
1,816
February 2014
1,552
January 2014
1,347
(More Details)
© 1998-2014. All rights reserved. The material may not be published, broadcast, rewritten, or redistributed.