1904 Oldsmobile Model R news, pictures, specifications, and information

Tweet
| | |
| --- | --- |
| | Runabout |
This first Ú.S. mass-produced automobile. Ransom E. Olds was an early giant in the automotive , and his company has been one of the few to last the trials of the years. The transmission is a two-speed planetary unit, and final drive is by chain and sprocket.
Source - Luray Cavern Museum
This 1904 Oldsmobile Model R Curved Dash 'Pie Wagon' has been featured on the cover of the July/August 1965 issue of the Antique Automobile. The term 'Pie Wagon' is not the official Oldsmobile designation, however it is appropriate for this vehicle particularly because of its large, 500-pound, cargo enclosure suited for bakery deliveries. The official designation is a 'Light Delivery Wagon.'

This vehicle was discovered by Stone Mountain Museum founder Tommy Protsman in the early 1950s. It was missing its bodywork from the beltline up, but largely intact in its other details. The vehicle was to a professional restoration and upon completion, it earned an AACA National First Prize in 1963, and a Senior National First Prize in June of 1964.

This Light Delivery Wagon rides on black 12-spoke wheels with 'No Skid' tires. There are a set of Badger Brass Solar Model 56 kerosene headlights, taillight, brass handrails and a brass railing on the footboard with 'Oldsmobile' integrated within it. The interior features period correct button-tufted upholstery and two storage compartments beneath the seat.

The 95.4 cubic-inch, single-cylinder engine produces 7 horsepower and there is a two-speed planetary transmission. The 66 inch wheelbase is suspended in place by a solid front axle and live rear axle. Braking is by mechanical brakes on the differential and the transmission.

In 2009, this Model R was offered for sale at the Automobiles of Amelia Island Auction presented by RM Auctions. The vehicle was estimated to sell for $100,000 - $125,000. As bidding came to a close, the lot had been sold for $72,600 including buyer's premium.
By Daniel Vaughan | Mar 2009
The Oldsmobile Model R Curved-Dash Runabout was a vehicle that was nearly snuffed from history before it was even introduced to the world. Ransom Eli Olds had experimented with steam and electric propulsion but ultimately decided on the internal combustion engine. His curved-dash model was completed in 1900 and ready for market in early 1901. However, a fire at the factory delayed the start of production with only one prototype rescued.

Production resumed shortly thereafter and the first runabout was available to the public in the late summer. The runabouts weighed a mere 650 pounds and sold for $650.

Power was from a horizontal single-cylinder engine placed under the seat and mated to a two-speed planetary transmission. Steering was by a center tiller and suspension was comprised of a long leaf spring on each side connecting the front and rear axles. The body was made of wood and attached to the top of the springs. Any rocking motion was eliminated by the small transverse full-elliptic springs in front. The following year, truss rods were added. Improvements were made throughout its lifespan, which lasted until 1907.

The cars were instantly popular, becoming the best selling motorcar in America in 1903.
By Daniel Vaughan | Dec 2007
For more information and related vehicles, click
here
Andy Warhol'S 1979 Bmw M1 Art Car To Be Center Piece At Saratoga Automobile Museum
• BMW History and Heritage on four wheels and two on display from May – November, 2013
Woodcliff Lake, NJ – May 17, 2013… Andy Warhol's 1979 BMW M1 Art Car will be the center piece of the exhibition 'BMW – The Ultimate Driving Machine', which opens this weekend at the Saratoga Automobile Museum. The exhibition will also feature the BMW 3.0 CSL which won the Daytona 24 Hour race in 1976. The exhibition, which features a retrospective of BMW cars and motorcycles, will run until ...[Read more...]
Concours Dealer Super Car Class At The Concours d'Elegance of America
WHAT IS A 'DEALER SUPER CAR?' In the muscle car world, the term 'Dealer Super Car' has specific and very important meaning. There are basically two distinct types, one considerably more valuable and desirable. Original Dealer Built Super Cars: The cream of the crop built to order for a customer through a new car dealership and sold new. Yenko Chevrolet, Nickey Chevrolet, Mr. Norms Grand Spaulding Dodge, Baldwin-Motion and Royal Pontiac are some of the most recognized. ...[Read more...]
BMW TO BE FEATURED AT SARATOGA AUTOMOTIVE MUSEUM
• BMW History and Heritage on four wheels and two on display from May – November, 2013
Woodcliff Lake, NJ – March 8, 2013… BMW's rich heritage will be showcased at the Saratoga Automobile Museum in an exhibition called 'BMW – The Ultimate Driving Machine.' The exhibition, which will feature a retrospective of BMW cars and motorcycles, will run from May 6 – November 3, 2013. The array of BMW automobiles will include road cars and race cars, both from the modern era, as well as p...[Read more...]
FULL STEAM AHEAD FOR HISTORICS
• Stanley Steamer takes centre stage for spring sale
Brooklands will provide the backdrop for the ultimate MPV – built long before the category was even invented – when a 1917 20hp Stanley Mountain Wagon crosses the 'block' on Saturday March 9th for Historics' spring sale. Having sold their dry plate photographic business to Eastman Kodak, twin brothers Francis E. Stanley and Freelan O. Stanley decided to set up the Stanley Motor Carriage Company in order to manufacture steam powe...[Read more...]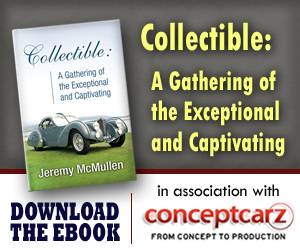 © 1998-2014. All rights reserved. The material may not be published, broadcast, rewritten, or redistributed.