1925 Rolls-Royce Silver Ghost news, pictures, specifications, and information

Tweet
Production of the Silver Ghost's began in 1907 and would continue for nearly two decades. The name 'Silver Ghost' was taken from the silver Baker-bodied tourer built for Managing Director Claude Johnson. It had been christened the 'Silver Ghost', a name that would soon become legendary and a house-hold name.

In 1919, Rolls-Royce acquired a factory in Springfield, Massachusetts. Brewster, along with other prestigious coachbuilders, were tasked with building bodies for the Silver Ghost. A number of these coach-built bodies left the factories under the hallmark of Rolls-Royce Custom Coach Work.

This car, chassis number S304RK, originally wore a Pickwick division limousine body, as described by John Webb deCampi's book Rolls-Royce in America. In modern times, the car carries a Piccadilly roadster body. Both of these bodies were created by Rolls-Royce Custom Coach Works. It was a common practice to re-use the chassis when the owner brought it back to the factory. The outdated body would be removed and a new body would be fitted. The chassis were often in great condition and traveled only a small number of miles, making them excellent candidates for re-use.

This car was purchased by Dr. Atwood in 1987. It is painted in two shades of red and there is a tan canvas top. The seat and door panels are finished in brown leather and there is matching brown carpets.

Between 1921 to 1926, there were 1,703 Silver Ghosts produced in Springfield. Power was from an L-head inline six-cylinder engine that offered 40/50 horsepower. This car has a three-speed manual transmission, four-wheel mechanical brakes, and a wheelbase size of 143.5-inchs

In 2009, this Piccadilly Roadster was offered for sale at the Automobiles of Arizona presented by RM Auctions. The lot was estimated to sell for $80,000 - $110,000 and offered without a reserve. The lot was sold for the sum of $132,000, including buyer's premium.
By Daniel Vaughan | Apr 2009
This attractive Rolls-Royce features custom coachwork by Merrimac Body Company, which was the largest supplier of bodies to the American-based Rolls-Royce manufacturing operation in Springfield, Mass. (1920-1931).

The car was retrofitted at the Rolls-Royce Springfield factory with four-wheel brakes (mechanical), vertical radiator shutters, 7.00 x 21 'balloon' tires and hydraulic shock absorbers. In addition, the top was lowered.

In May 2007 the current owner drove the car more than 7,000 miles on tours in the United States and in the Alps. The car has participated in the Silver Ghost Centennial in England and Scotland as well as Extreme Mountain Driving in the French and Swiss Alps.
This 1925 Silver Ghost, serial #364RK, was purchased new on August 2nd of 1926, by Mr. Henwar Rodakiewitz of Buzzard's Bay, MA. This car was his daily driver for over 50 years. In an interview with CBS television in 1972, Mr. Rodakiewitz commented that he has 325,000 miles on the odometer. This car, dubbed 'Celeste,' has made over a dozen trips through Canada, the U.S. deep South to the West Coast over all kinds of roads, some of which were barely passable.

Rolls-Royce rebuilt the engine at 90,000, 170,000 and 240,000 miles and it is due for another rebuild now. the car has seen numerous paint jobs, etc., but still retains its original Piccadilly Roadster body which was built by Merrimac Body Co. of Merrimac, MA. It is rare today to see a car, such as this, with nearly 400,000 documented miles in its original form. The only exception is the double bar bumpers and modern Hall head lamps that Henwar added for safety.
This Silver Ghost Riviera Town Car, serial number 390XH, is one of the most opulent Rolls-Royces. The Riviera design was considered the epitome of Brewster coachwork. Fine carriage lamps are mounted behind the mahogany trimmed chauffeur's compartment while the passenger compartment is upholstered in tan broadcloth embellished with an elaborate petit-point design. All hardware is gold-plated and the wood garnish moldings are inlaid in a floral marquetry pattern of rare woods handcrafted in Venice, Italy, by order of the original owner.

Brewster was purchased by Rolls-Royce in 1925, and the Springfield factory would fit the chassis with temporary seats and drive them from the Massachusetts plant to the Brewster factory in Long Island to be bodied.

The car was restored in the late 1960s and was part of the Dr. Earl Heath collection for many years.
| | |
| --- | --- |
| | Town Car |
This automobile was and still is tops in the 'prestige field.' This vehicle was personally owned by Rudolph Valentino, of the silent screen era. The body paint was intentionally alligatored when new to create the effect of leather-covered body.
Source - Luray Cavern Museum
This right-hand drive Springfield Silver Ghost Piccadilly Roadster is one of the last right-hand drive Springfield cars. It was delivered on April 15th of 1925 to Samuel S. Conrad, owner of a Boston department store and a celebrated yachtsman. It was beautifully finished in turquoise and green with a black beltline and fenders. Many Rolls-Royce bodies of the period were named after fashionable areas of London like Pall Mall, Mayfair, and Piccadilly - and this body is one of the sportiest. A restoration was begun on this Silver Ghost in 1979 and finished in time for the 2013 Pebble Beach Concours d'Elegance.
This Springfield Silver Ghost was delivered new on 9/12/25 with a Pall Mall Phaeton body built by RRCCW Merrimac. In 1932, the Pall Mall body was removed and a Playboy Roadster body built by Brewster & Co. of New York was put on this chassis. At that time some of the nickel plated components such as the headlights were updated by being chrome plated.

The Playboy Roadster is a very attractive design with its low windshield and swooping rear deck with a rumble seat. These were popular as a second body for used Rolls-Royces with an out-of-date limousine body.

Playboy Roadsters are quite rare. There were only 15 built for the Silver Ghost chassis and not all of those survive today.

The current owners are the eighth owners and have had the vehicle since 2001.
This Piccadilly Roadster has completed over 30,000 miles by the current owners since 1988. It has toured throughout the United States, all the Canadian Provinces, New Zealand, Austria, the United Kingdom, France, Belgium, Hungary, Italy and Germany.

This Silver Ghost was built in Springfield, Massachusetts, where it acquired a Brewster Body. It was last restored in 1952.
Named by Autocar magazine as 'the best car in the world' in 1907, the Rolls-Royce 40/50 Silver Ghost was produced both at the Derby, England, factory from 1907, and from 1921 until 1926 by the Springfield, Massachusetts, factory. The name 'Silver Ghost' originally applied only to one car: chassis number 60551, registered AX 201, to emphasize its smooth, quiet, 'ghost-like' running. The name was taken up by the press, however, and it stuck.

The Silver Ghost sports a 453 cubic-inch straight-6 engine producing approximately 48.6 horsepower, a Royce 2-Jet Type carburetor, 3-speed manual transmission, mechanical rear brakes, live-axle front suspension with semi-elliptical springs and live-axle rear suspension with centilever leaf springs.

This example is one of the 'Springfield Ghosts,' of which about 1,700 were manufactured. It was built on the slightly shorter, 144-inch wheelbase as opposed to the 150.5 inch wheelbase. Their drum headlights, tubular bumpers, and left-hand drive for models produced in 1925 and 1926 distinguish them from their English cousins. The Springfield cars are also more uniform in their bodywork, as most of them - unlike this example - were bodied by Brewster.

It is the 31st Ghost to be equipped with left-hand drive, and one of only 46 Pall Mall Tourer bodies produced by the Merrimac Body Company in 1925. Originally used as a demonstration car for the New York City dealership, it was priced at $12,903 and was eventually sold to an A. Hardart of Pelham, New York in March 1927. The current owners acquired it in 2013.
In 1906 a new model, the 40/50 horsepower, was developed wîth a longer chassis and a six-cylinder engine. The popularity of the new Rolls-Royce grew quickly as it developed a reputation for smoothness, silence, flexibility and, above all, reliability. In 1907 a writer from the 'Autocar' described riding in the Rolls-Royce 40/50 hp as '....the feeling of being wafted through the countryside.' Engineers at Rolls-Royce coined the word 'waftability' to encapsulate that sensation. Today it is a word that cannot be found in any direction but it is a key design and engineering criterion.

The twelfth 40/50 produced had all its fittings silver-plated and the coachwork painted in aluminum paint. This car became known as the Silver Ghost and is probably the most famous car in the world. The name was later adopted for all the 40/50 hp car and had an immediate international impact, enhanced by the coachbuilders of the day, who could produce bodies of breathtaking beauty. The Silver Ghost was, quite simply, in a class of its own.

The motor car's versatility is legendary. It overwhelmingly won every reliability trial and distance record, dominated the great Alpine Trial of 1913 and won the Spanish Grand Prix of that year.


In May 1907, Claude Johnson drove the car to Scotland and back. This run was a precursor to the Scottish Reliability Trial for which the motor car was later awarded a gold model by the RAC.

The original idea was to drive 10,000 miles without stopping the engine, but the Silver Ghost proved so reliable that the target was raised to 15,000 miles. Despite a stall at 629 miles, when rough roads shook the petrol switch to the off position, the Silver Ghost ran faultlessly for 40 days and nights.

A further challenge was designed by Napier for Rolls-Royce to compete against them in a run from London to Edinburgh followed by high-speed runs at Brooklands. But the challenge was to complete the distance without changing gear, as opposed to how far you could travel. The car, driven by Ernest Hives, averaged 24.3 mpg between London and Edinburgh and attained a speed of 78.2 mph at Brooklands.


As an armored car in the First World War The Silver Ghost delivered exemplary service to the extent that Colonel T.E Lawrence (Lawrence of Arabia) is quoted as saying, 'A Rolls in the desert is above rubies'.

In more elegant guise the Silver Ghost was the choice of the rich and famous across the globe. Kings, queens, maharajas, tsars and emperors owned them. The demand for the Silver Ghost was so high that manufacture was started in the Únited States in 1921 and continued in production wîth worldwide success until 1925.
Source - Rolls-Rocye Motor Cars Limited
The Rolls-Royce vehicles have always been the pinnacle of design, technology, and ambiance. The loudest noise that could be heard by occupants of their vehicles was said to be the clock. In 1904 engineer Frederick Henry Royce joined with the entrepreneur and businessman, the Honorable Charles Stewart Rolls. This union became known as the Rolls-Royce Company.

The Silver Ghost became available in 1906 and brought with it quality and technology to a level that had never been seen before on a motor vehicle. Most engines of the time had long and flexible crankshafts that were prone to vibration and noise. The Rolls-Royce engines had large bearings and pressurized oiling systems, secured by seven main bearings. This was then enclosed in a strong aluminum alloy crankcase eliminating much noise and creating a pleasurable driving experience for the occupants of the vehicle. The crankshaft had an accuracy of .00025 on its bearing surface. They were hand polished to remove any surface cracks left by the grinder. Instead of using noisy chains to drive the ignition, Royce used gears. Phosphor bronze and nickel steel were used in the construction of the timing gears which were then ground and polished by hand. The engine was further shortened by casting in triplets. Cooling problems and leaks were eliminated by the removable cylinder blocks and fixed heads. A Royce designed twin jet carburetor gave the engine all the breathing it required.

The Rolls Royce vehicles could accelerate from zero to top speed without shifting. Shifting during the early 1900's was a chore, with the lower gears never being smooth. It was not until top gear was achieved that the automobiles would operate properly. The Rolls-Royce Ghosts would accelerate as though they were being pulled. This feature, coupled with the vehicles silent operation amplified the vehicles prestige and was the ultimate driving experience of its day.

When first introduced, the Ghosts were given a four-speed gearbox with a direct drive third and an overdrive fourth. As time passed, the overdrive was dropped. The chassis was mostly conventional. Royce had fine-tuned the chassis to standards much higher than most marque's of the day. The body was held in place by a live rear axle carried in three quarter elliptical springs. In the front there was a solid axle supported by semi-elliptic leaf springs. Braking was by a food pedal connected to a transmission brake. A hand brake operated twin rear drums.

Where Royce excelled in engineering, Rolls excelled in promoting and marketing. In 1906 a Ghost was entered in the Tourist Trophy Race, one of the most prestigious races of the time. The Ghost emerged victorious - well, much more than that. It had beaten the next nearest competitor by 27 minutes. Next, Rolls and Royce entered a Ghost in a 15,000 mile reliability run in 1907 which it did without incident. Upon its return to the Rolls-Royce shop, it took a small amount of money, about two-pounds or roughly ten-dollars by today's exchange rates, to restore the vehicle back to new condition.

The Silver Ghosts were entered in the Austrian Alpine Trials where the hoods were sealed shut to prevent any maintenance. The Silver Ghosts again dominated the competition and traversed the Alpine passes which were impassable for many motor cars.

This marketing worked and soon the Rolls-Royce vehicles became legendary and renowned for their durability, reliability, and style. To improve upon the prestige even further, Rolls supplied the Silver Ghosts to British royalty, a move that made sure the vehicles were seen in the right places by the right people.

The first Rolls-Royce distributor in the United States was Walter Martin of New York City, who was also a Cadillac distributor. As Cadillac continued to improve the ambiance of their vehicles, Martin naturally gave them more attention as the logistics of company location was in their favor. Rolls-Royce, on the other hand, was an ocean apart.

Over the early years of Rolls-Royce production, Brewster would become more effective in bringing Rolls-Royce chassis to America than Martin. Brewster imported several dozen chassis to supply its coachwork clients.

In 1913, the business manager for Rolls-Royce, Claude Johnson, formed a factory depot in New York and rented space from Brewster. Baker's US agent, Robert W. Schuette was appointed as Rolls-Royce distributor. At the time, Schuette also represented Fleetwood, Holbrook, Brewster, and Quinby. Around 100 Rolls-Royce's were imported over the next two years by Schuette, with around half of them bodied by Brewster.

As the First World War began to escalate, the production of Rolls-Royce automobiles slowed considerably. The factory's attention was turned to cars for military clients. Engines were produced for aircraft. By 1916, there were no more new Rolls-Royces available. Schuette and Brewster were still able to satisfy US demand for Rolls-Royce's by buying up existing chassis, renovating, and then fitting them with new coachwork.
By Daniel Vaughan | May 2008
For more information and related vehicles, click
here
FORD VOLUNTEER PROJECTS EXPAND IN MIDDLE EAST AS EMPLOYEES GO FURTHER IN NINTH ANNUAL FORD GLOBAL WEEK OF CARING
◾More than 13,000 Ford employees, retirees and dealers will work on 310 community service projects in 26 countries for the ninth annual Ford Global Week of Caring ◾Projects expand in the Middle East as volunteers in Ford's newest region join the global effort ◾Volunteers are putting a special emphasis on projects that support and protect water resources, in keeping with Ford Motor Company's corporate water strategy Next week, 20 employees from Ford South Africa's Struandale Engine Plant wil...[Read more...]
FORD BRINGS CUSTOM TRANSIT CONNECT WAGONS TO MAKER FAIRE 2014; MAKERS GET A CHANCE TO MEET THE UNMINIVAN
◾Two new custom Ford Transit Connect Wagons, Hackmobile and Happy Mutant Mobile, will be on display at Maker Faire – an all-ages event for the do-it-yourself enthusiast ◾Ford and MAKE magazine teamed up in the construction of Hackmobile, the ultimate Transit Connect Wagon for the do-it-yourselfer, and Happy Mutant Mobile, which was personalized for the Web-based magazine Boing Boing ◾All-new Ford Transit Connect Wagon, the #unminivan, is available as a five- or seven-seat vehicle that can be p...[Read more...]
SUCCESSFUL DEBUT FOR CALIFORNIA T IN DUBAI
Maranello, 27 March – Great success for the launch of the Ferrari California T at the Dubai International Financial Centre, in the United Arab Emirates. The new Maranello V8 turbo has all the characteristics of elegance, sportiness, versatility and exclusivity that marked the extraordinary cars with this name in the history of Ferrari from the 50s until today. The car has immediately fascinated all the guests and most of them has asked to be portrayed next to the last born in Maranello. T...[Read more...]
VOICES: BMW TEAM RLL IS READY FOR THE ROLEX 24 AT DAYTONA
Woodcliff Lake, N.J. – Jan. 23, 2014 . . . BMW Team RLL brings a power-packed driver lineup to the 52nd Rolex 24 at Daytona to pilot the two BMW Z4 GTLM racing machines. Bill Auberlen, Joey Hand, Maxime Martin and Andy Priaulx will share the black No. 55 car. John Edwards, Dirk Müller, Graham Rahal and Dirk Werner will co-drive the white No. 56 machine. Among them Auberlen has two class wins (1997 GT3, 1998 GT3) and Müller one (1998 GT1) while Hand and Rahal co-drove to the 2011 overal...[Read more...]
McLAREN P1™ JOINS THE EXCLUSIVE SUB-SEVEN MINUTE CLUB AT THE NÜRBURGRING
◾The McLaren P1™ achieves its one remaining performance target ◾An average speed in excess of 178 km/h (111 mph) necessary to achieve the required lap time around the 20.8km (13 mile) circuit ◾Short film celebrating the team's achievement at the Nürburgring is available to view and embed at: http://youtu.be/E9IWiTpWeiM The McLaren name was born on the racetrack and, 50 years on, is the most successful name in global motorsport. That desire and determination to push for every extra tenth of...[Read more...]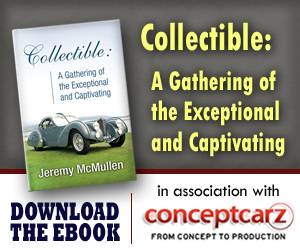 Rolls-Royce
Monthly Sales Figures
Volume
December 2014
75
November 2014
75
October 2014
75
September 2014
75
August 2014
75
July 2014
75
June 2014
75
May 2014
75
April 2014
75
March 2014
75
January 2014
86
(More Details)
© 1998-2014. All rights reserved. The material may not be published, broadcast, rewritten, or redistributed.