1903 Ford Model A Two news, pictures, specifications, and information

Tweet
| | |
| --- | --- |
| | Runabout |
The Model A Two was the first production automobile for the Ford Motor Company. The car weighed 1,250 pounds and could reach 30 miles per hour. Like many early automobiles, the A had a horse-buggy appearance. Ford reintroduced the 'Model A' in 1928 as the replacement for the multi-million selling T.
Source - AACA Museum
The Ford Model A was introduced in 1903. It was a vehicle meant to embody principles that Henry Ford deemed important - simplicity, economy and high volume.

Producing automobiles was an expensive task, and Ford's cash balance was very low in July of 1903. The company's credibility with investors was exhausted, and income was slow. The survival of the company came down to July 13, 1903, when three customers made the first payments to the company. Of those three vehicles purchased, only one has survived, with only five owners since it left Detroit. The Model A Tonneau with chassis number 30 was sold to Herber L. McNary of Britt, Iowa.

The years that immediately followed were rough for the Ford Motor Company. It would take several years and many false starts before Ford's vision of his automobile business would finally come to reality.

The Ford Model A was powered by an opposed two-cylinder engine that displaced 100 cubic-inches and produced around eight horsepower. It rode on a 72-inch wheelbase and weighed roughly 1,250 pounds depending on the coachwork.

The first three purchasers of the Ford product were Dr. E. Pfenning who sent his full payment of $850 ($750 for the Model A Ford and $100 for the tonneau body) by the 13th of July. The Indiana Automobile Company sent a $300 deposit and Herbert L. McNary sent a $170 deposit against an $880 order for a Model A with Tonneau and $30 of Ford options. The total money received - $1,320 - would help keep the Ford Motor Company in business. The next fifteen months that followed, 1,700 Model A Fords would roll out of the Mack Avenue plant.

Dr. Pfenning got chassis number 11, Indiana Automobile received chassis number 9, and Mr. McNary got #30. There was apparently, no sequence to the numbers of the cars. Thus, there is no way to determine which vehicle was completed first.

The Ford cars were built in batches in one large assembly room. Parts were attached to the different chassis, and when they were finished (in no particular order), the cars were test driven before being brought in for improvements.

Mr. herbert L. McNary was a butter maker at a creamery in Britt, Iowa. The car would be kept in their care for about fifty years until - after much negotiation - it was acquired by Harry E. Burd of Waterloo, Iowa. Burd had it restored by Lloyd Sievers.

In 1961, the car was sold to a Swiss Ford dealer. It would remain in Europe, on display at Ford's European headquarters in Cologne and in other locations, until the previous owner acquired it in 2001. In 2007, it was acquired by the late Mr. John M. O'Quinn.

In 2010, this car was offered for sale at the 'Sports & Classics of Monterey' presented by RM Auctions. The car was estimated to sell for $600,000 - $800,000. The car would leave the auction unsold. The high bid of $325,000 was not enough to satisfy the cars reserve.
By Daniel Vaughan | Jun 2011
Henry Ford had two affiliations with an automobile company prior to incorporating the Ford Motor Company in June of 1903. The first company he worked with was the Detroit Automobile Company, which went out of business in January of 1901. The second company was the Henry Ford Company which soon resulted in a troubled relationship with the board of directors. Henry Ford left the company before car production began, in August of 1902. That company was recapitalized and renamed Cadillac. At this point in history, Henry Ford had the rights to his name, some designs, and $900.

The Ford Motor Company's first car was the 1903 Ford Model A and it came in two models, a two-seat runabout and a four-seat tonneau. The Tonneau could be purchased with an optional top. Popularity was strong, and less than two years time, the company produced 1,750 cars.

The Model A, weighing 1,200 pounds, was powered by an 8-horsepower, horizontally-mounted 2-cylinder engine mounted amidship and attached to a planetary transmission with two forward speeds plus revers.

This example is serial number 206, and was produced around September of 1903 at the Mack Avenue plant in Detroit. It was given several accessories including a horn, side and tail lamps, decorative rails and wicker side baskets.
Runabout with Tonneau
Chassis Num: 574

After leaving his second failed car company, Henry Ford created his third new horseless carriage business, the Ford Motor Company. His second failed car company was renamed by investors to Cadillac and produced a 1903 model that closely mimicked the 1903 Ford.

The engines and chassis (less tires, wheels, and body) of the new Fords were built and supplied by the Dodge Brothers Machine Shop. Unable to pay the Dodge Brothers, Henry Ford gave them 10-percent of the shares in his fledgling auto company. They soon became the world's largest supplier of automotive parts until Ford squeezed them out. In 1914, they began to build Dodge Brothers Motor Cars, which was acquired in 1928 by W.P. Chrysler, former president of Buick Motors.

This 1903 Ford Model A Runabout is powered by a two-cylinder engine offering 8 horsepower and resting on a 72-inch platform. It carried an original factory price of 950.
By Daniel Vaughan | Dec 2011
The name Model A was first used by Ford in 1903 and also known as the Fordmobile. This was the first vehicle produced by the Ford Motor Company and its first owner was Dr. Ernst Pfenning of Chicago, Illinois who purchased the Model A on July 23, 1903. Production of the first generation Model A lasted from 1903 through 1905 with 1750 examples being produced.

Automobile production was new and experiments with design, techniques, and technology were still being experimented with. Many early producers of the automobile had been in either the coachbuilding business or the bicycle business. Upon the invention of the automobile, they switched to the production of horseless carriages.

Henry Ford had $28,000 in investment capital to begin his new business. Upon completion of his first motorcar, he had spent all but $223.65. The Model A's were available as either a two-seater runabout or a four-seater tonneau. A flat-2 engine was horizontally-mounted midship and capable of producing 8 horsepower. A three-speed planetary transmission was matted to the engine. Dimensions and weight varied but the advertised top speed of the vehicle was about 45 miles per hour. The base price was $750 and was available with options such as a rear seat for $100. A rubber roof would set the buyer back an additional $30 while the leather roof was $50.

The Model A was replaced by a sequence of 'letter cars' until Ford produced the perfect combination of accordability and reliability with the Model T. It was mass produced and by 1914 the adaptation of the assembly line streamlined the process even further. By the 1920s, Ford had mobilized the United States with their customers wanting more and willing to pay more for it. Chevrolet's were becoming popular because they were similar to the Ford but offered a few extra amenities at a slightly higher but still reasonable price. Near the close of the 1920's and after sales began to slip, Ford realized that a replacement was needed.

So as production came to a close for the Model T, Henry Ford halted all production for six months to retool the equipment and prepare for the production of the Model A. The second generation of the Ford Model A began on October 20th, 1927. Sale of the Model A began on December 2nd, 1927 and was offered in four colors. The Model had been available in the United States only in black because it dried the fastest.

The public eagerly awaited the sale of the Model T's replacement and were not disappointed. It was a stylish and elegant vehicle, which had been designed by Henry Ford's son, Edsel. In comparison to its predecessor, it was more sophisticated and complex.

The cost of the second generation Model A, produced 24 years after the original Model A was sold for $365 less, with price ranging from $385 through $570. The car was powered by an L-head 4-cylinder engine with just over 200 cubic-inches in displacement. A three-speed sliding gear transmission with 1 reverse speed was used. Top speed was achieved a little over sixty-miles per hour with the average fuel mileage being rather exceptional at over 40 MPG.

Just like the Model T, the Model A was available in multiple configurations such as the top of the line Fordor in either 2 or 3 window, Victoria, Station Wagon, Truck, Town Car, Convertible Cabriolet, Phaeton, Business Coupe, Sport Coupe, Roadster Coupe, and Coupe to name a few.

During the production lifespan of the Model A, lasting until August 31, 1931, Ford produced 4,320,446 Model A's. It was replaced by the Model B.
By Daniel Vaughan | Mar 2006
For more information and related vehicles, click
here
World's Oldest Ford Vehicle Returns Home To Kick Off Henry Ford 150TH Celebration in 2013
•Oldest surviving Ford production car, a 1903 Model A, recently purchased at auction by Bill Ford; car unveiled as part of an employee event to kick off the 150th anniversary celebration of Henry Ford's birth in 2013 •Community picnic, special program at Maker Faire are key events leading up to the 150th birthday of Henry Ford on July 30, 2013 •New dedicated website, www.henryford150.com, launches to host an interactive timeline of Ford's life, a calendar of activities and information, and e...[Read more...]
Snowy Sunday Brings NAIAS 2014 to Successful Finish
• NAIAS exceeds attendance of 800,000 for the first time since 2003
Detroit, Mich., Jan. 26, 2014 - The 2014 North American International Auto Show (NAIAS) came to a close today after an astounding two week celebration of vehicle unveilings, new technology, and the public show itself, which celebrated its 25th anniversary as an international event. Today's gate of 102,153 brings total ticketed attendance of the 2014 show to 803,451. The last time the show broke 800,000 was in 20...[Read more...]
The Fox Body Mustang: A Return To Form
'Thou shall never do a slantback front end.' That was the commandment from Gene Bordinat, Ford's vice president of design, 'Henry Ford II only wants vertical front ends, and he'll show us the door if we ever try anything like it.' This mantra hung over the early development of the third-generation of Ford's wildly successful Mustang. In 1975 Ford designers began the job of redesigning the iconic pony car for the coming 1980s. The car and country had been through a roller coaster 20-year perio...[Read more...]
Star Automobiles Set To Astonish And Amaze At 7Th Annual Barrington Concours D'Elegance
BARRINGTON, ILL. – July 3, 2013 – The 7th Annual Barrington Concours d'Elegance will feature a wide variety of vehicle classes, including some of the most celebrated pre and post war collectible cars in the world, with stars and stunning examples from each group. An array of exquisite examples of automotive excellence will be shown on July 12-14, 2013, at the Makray Memorial Golf Club in Barrington, Ill. The Concours will celebrate over 100 fine autos with displays detailing the history o...[Read more...]
Lingenfelter Collection Garage Crawl To Take Place Saturday, June 15 During 26Th Annual Eyeson Design
BRIGHTON, Mich. - Ken Lingenfelter, owner of Lingenfelter Performance Engineering, will open the doors of his famed Lingenfelter Collection by hosting a Garage Crawl during the 26th Annual EyesOn Design week of activities. All proceeds from EyesOn Design events, this year themed 'Revolution over Evolution,' will benefit the Detroit Institute of Ophthalmology. Lingenfelter, who serves on the EyesOn Design Board, will also exhibit select vehicles from his collection in the EyesOn...[Read more...]
Limited-Edition Ford Racing History Artwork Unveiled at SEMA; Limited-Edition Print Sales to Benefit JDRF
•Special limited-edition Ford Racing history artwork is unveiled at the annual SEMA show as part of the Ford press conference •Famed automotive artist Sam Bass created the artwork at the request of Edsel B. Ford II, with proceeds from sales of limited-edition autographed prints benefiting JDRF •Drivers and Ford race vehicles featured on the special artwork include Henry Ford (Sweepstakes), Trevor Bayne (No. 21 Fusion), Dan Gurney/A.J. Foyt (Ford Mark IV), Bob Glidden (NHRA Thunderbird), Jack...[Read more...]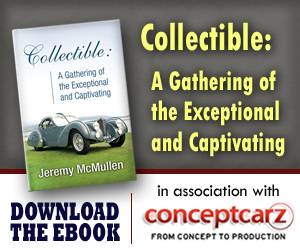 Ford
Monthly Sales Figures
Volume
February 2014
177,286
January 2014
148,671
December 2013
210,074
November 2013
183,722
October 2013
184,854
September 2013
178,693
August 2013
213,078
July 2013
186,796
June 2013
228,174
May 2013
239,280
April 2013
204,969
March 2013
229,335
(More Details)
© 1998-2014. All rights reserved. The material may not be published, broadcast, rewritten, or redistributed.