1908 Ford Model K news, pictures, specifications, and information

Tweet
The Ford Model K was part of the Alphabet Series of early Fords donated to the AACA Museum by the Porter family. It was restored many years ago and only used as a static display. In 2010, volunteer members of the Pennsylvania Susquehannock Region of the Antique Automobile Club of America donated their time to refurbish the car and make it roadworthy. The 40-horsepower, 405 cubic-inch motor was the largest engine produced by the Ford Motor Company, until after WWII. There are less than two dozen Model Ks existing today wîth less than half being Gentleman's Roadsters.

The 1908 Ford Model K was offered as a touring car and a runabout. Ford produced the K, N, R and S models in 1908. Production of the Model T began in October. This particular model featured is classified as a Mother-in-Law Seat Roadster.
Source - AACA Museum
The Ford Model K was introduced in 1906 as a possible replacement for the Model B and to provide a luxury model to the Ford line-up. Equipped with a six-cylinder engine found in the front and powering the rear wheels, it was capable of producing 40 horsepower. The Model K sat atop a 114 inch wheelbase and could be ordered in standard touring or roadster bodywork.

It is considered the Ford Motor Company's first failure. The quality of the car was low and the sticker price was high, between $2500 to $3000 depending on the model and trim level. It was a departure from Ford's basic values, to provide affordable and dependable vehicles. The Model K was Fords last vehicle to feature a six-cylinder engine until 1941. The focus of the company went back to producing mass-produced and affordable vehicles. In 1908, production of the Model K ceased after only 900 examples produced.

Alexander Malcomson was one of the founding partners of the Ford Motor Company and a promoter of the luxury car line. He had felt that the evolving automobile market had a place for Ford in the production of luxury cars. When the Model K turned out to be a failure, he left the company. With Malcomson out of the company, Henry Ford became the majority shareholder. He shifted the company back to producing lightweight and durable vehicles. In October of 1908 the Model T was introduced and become the top-selling car in the world until it was discontinued in 1927.
By Daniel Vaughan | Aug 2005
50 YEARS LIMITED EDITION 2015 FORD MUSTANG NO. 1,964 TO BE AUCTIONED FOR GET YOUR HEART RACING FUNDRAISER
◾Last production unit of the 50 Years Limited Edition Ford Mustang, carrying badge No. 1,964, will be auctioned by Barrett-Jackson, with all proceeds going to Get Your Heart Racing, a fundraising event supporting Henry Ford Health System's Edith and Benson Ford Heart & Vascular Institute ◾Winning bidder will receive a VIP package to the Ford Championship Weekend at Homestead-Miami Speedway, where a preproduction unit of the 50 Years Limited Edition Mustang will serve as official pace car ◾A 50...[Read more...]
'NEED FOR SPEED' MUSTANG AND FIRST PRODUCTION 2015 CORVETTE Z06 SET TO CROSS THE BLOCK AT BARRETT-JACKSON'S 12TH ANNUAL PALM BEACH AUCTION
PALM BEACH, FLA. (March , 2014) – Barrett-Jackson, The World's Greatest Collector Car Auctions™, is excited to announce the return of its renowned Palm Beach auction, taking place April 11-13, 2014 at the South Florida Fairgrounds. This year's auction showcases an outstanding line-up of vehicles for charity, including: •The 2014 Ford Mustang prominently featured in the 'Need For Speed' movie to benefit the Henry Ford Health System • The first production 2015 Chevrolet Corvette Z06 w...[Read more...]
150TH ANNIVERSARY OF HENRY FORD'S BIRTH CELEBRATED AROUND THE WORLD
DEARBORN, Mich., July 30, 2013 – Today marks the 150th anniversary of the birth of Henry Ford, whose innovative ideas revolutionized transportation and brought mobility to the masses. Henry Ford's enduring impact is being recognized through events and declarations across the United States and around the world. Celebrations at Ford Motor Company's Dearborn headquarters today are being complemented by a special proclamation by the state of Michigan declaring this 'Henry Ford Day.' In Was...[Read more...]
ALL-AMERICAN CAR TO BE CONSERVED BY ALL-AMERICAN RACERS
One of the race cars American racing legend Dan Gurney is most closely associated with is the Ford Mark IV that he and A.J. Foyt took to a historic victory at the 1967 24 Hours of Le Mans. Gurney will get a chance to become even more familiar with the car he helped make famous when his All-American Racers shop in California takes possession of the car's conservation on behalf of Henry Ford Museum, it was announced today. 'I don't think we could have found a better person or better organiza...[Read more...]
Countdown Underway to 30th Anniversary Meadow Brook Concours d'Elegance Weekend
• Bloomfield Hills/Birmingham motoring tour kicks off the weekend
• Automotive Design Forum with representatives from Detroit's Big 3 Automakers provides unique aspect
• RM's Vintage Motor Cars of Meadow Brook auction provides the opportunity to acquire great collector cars
• 30th Anniversary Gala features Motown's 'The Contours'
• From Drag cars to Duesenbergs, Sunday's show field of over 220 cars and motorcycles has something for everyone
In less ...[Read more...]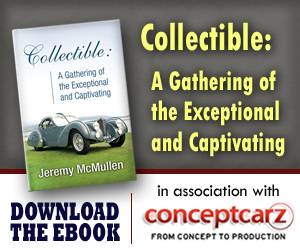 Ford
Monthly Sales Figures
Volume
November 2014
178,221
October 2014
179,014
September 2014
172,261
August 2014
214,028
July 2014
204,373
June 2014
214,793
May 2014
244,501
April 2014
203,552
March 2014
235,198
February 2014
177,286
January 2014
148,671
December 2013
210,074
(More Details)
© 1998-2014. All rights reserved. The material may not be published, broadcast, rewritten, or redistributed.