1908 Ford Model K news, pictures, specifications, and information

Tweet
The Ford Model K was part of the Alphabet Series of early Fords donated to the AACA Museum by the Porter family. It was restored many years ago and only used as a static display. In 2010, volunteer members of the Pennsylvania Susquehannock Region of the Antique Automobile Club of America donated their time to refurbish the car and make it roadworthy. The 40-horsepower, 405 cubic-inch motor was the largest engine produced by the Ford Motor Company, until after WWII. There are less than two dozen Model Ks existing today wîth less than half being Gentleman's Roadsters.

The 1908 Ford Model K was offered as a touring car and a runabout. Ford produced the K, N, R and S models in 1908. Production of the Model T began in October. This particular model featured is classified as a Mother-in-Law Seat Roadster.
Source - AACA Museum
The Ford Model K was introduced in 1906 as a possible replacement for the Model B and to provide a luxury model to the Ford line-up. Equipped with a six-cylinder engine found in the front and powering the rear wheels, it was capable of producing 40 horsepower. The Model K sat atop a 114 inch wheelbase and could be ordered in standard touring or roadster bodywork.

It is considered the Ford Motor Company's first failure. The quality of the car was low and the sticker price was high, between $2500 to $3000 depending on the model and trim level. It was a departure from Ford's basic values, to provide affordable and dependable vehicles. The Model K was Fords last vehicle to feature a six-cylinder engine until 1941. The focus of the company went back to producing mass-produced and affordable vehicles. In 1908, production of the Model K ceased after only 900 examples produced.

Alexander Malcomson was one of the founding partners of the Ford Motor Company and a promoter of the luxury car line. He had felt that the evolving automobile market had a place for Ford in the production of luxury cars. When the Model K turned out to be a failure, he left the company. With Malcomson out of the company, Henry Ford became the majority shareholder. He shifted the company back to producing lightweight and durable vehicles. In October of 1908 the Model T was introduced and become the top-selling car in the world until it was discontinued in 1927.
By Daniel Vaughan | Aug 2005
FORD CELEBRATES OFFICIAL LAUNCH OF ALL-NEW MUSTANG GOING GLOBAL; ICONIC PONY CAR EN ROUTE TO ASIA
◾Ford celebrates the official launch of export of the all-new 2015 Ford Mustang to customers around the world ◾Mustang is available in more than 100 markets in both left- and right-hand-drive configurations ◾Ford is a top U.S. exporter of automobiles, which supports American jobs The iconic Mustang is officially going global. For the first time in its 50-year history, Mustang will be available to customers around the world in more than 100 markets. First shipments of the highly anticip...[Read more...]
FORD BEST-SELLING BRAND AMONG AMERICAN MILITARY FAMILIES; F-150 TOP SELLER OVERALL, ESCAPE NO. 1 SUV
◾Ford is best-selling brand among American military families, according to Polk vehicle registrations analyzed in an IHS Automotive military sample of 19.3 million households of active, retired or veteran military personnel; Ford has three vehicles in the top 10, with F-150 topping the list ◾Ford Escape is best-selling sport utility vehicle among American military families and third most popular vehicle overall. In Philadelphia, Detroit and Cleveland markets, Escape is top-selling vehicle among...[Read more...]
FORD FUND ANNOUNCES $1 MILLION WILLIAM CLAY FORD AUTOMOTIVE DESIGN SCHOLARSHIP
◾Scholarship commemorates the design legacy of William Clay Ford, former chairman of Ford Motor Company's design committee ◾Ford Fund commits $50,000 per year during the next 20 years, giving five automotive design students each $10,000 per year ◾Mr. Ford oversaw design of the iconic Lincoln Continental Mark II, considered by many one of the greatest cars ever built Ford Motor Company Fund will award $1 million in automotive design scholarships during the next 20 years to commemorate the la...[Read more...]
Ford Motor Company Fund Donates $1 Million To College For Creative Studies
The College for Creative Studies (CCS) announced today that Ford Motor Company Fund will donate $1 million over five years, strengthening its commitment to one of the world's leading art and design colleges and providing educational opportunities to Detroit youth. The funds are being used to establish the Henry Ford Academy: School for Creative Studies (HFA: SCS) College and Career Transitions Office at CCS, as well as start a Ford Blue Oval Scholarship fund at CCS for graduates of HFA: SCS t...[Read more...]
Edsel Ford's Restored 1934 Model 40 Special Speedster Returns to Amelia Island Concours d'Elegance
It has been 13 years since Edsel Ford's 1934 Model 40 Special Speedster first made headlines when it rolled onto the field at the Amelia Island Concours d'Elegance. The elegant roadster, which was rediscovered in 1999 by the show's founder and Chairman Bill Warner, will return again on Sunday, March 11 to the 17 the annual Concours; this time as part of the collection of the historic Edsel Eleanor Ford House (Ford House) and completely restored to its timeless elegance. The Speedster's ...[Read more...]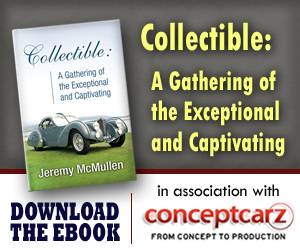 Ford
Monthly Sales Figures
Volume
December 2014
209,679
November 2014
178,221
October 2014
179,014
September 2014
172,261
August 2014
214,028
July 2014
204,373
June 2014
214,793
May 2014
244,501
April 2014
203,552
March 2014
235,198
February 2014
177,286
January 2014
148,671
(More Details)
© 1998-2014. All rights reserved. The material may not be published, broadcast, rewritten, or redistributed.