1910 Maxwell Model Q news, pictures, specifications, and information

Tweet
Although the company's cars are seldom seen today, Maxwell was a significant manufacturer of the early 20th century. The car earned its solid reputation through performances in many reliability tours. In fact, a Maxwell was driven from New York City to San Francisco by four women in 1909 (an unheard of event prior to that time). In 1910 Maxwell ranked third in Ú.S. sales behind Ford and Buick. The company survived until 1924 when Walter P. Chrysler merged it wîth his new Chrysler Corporation.
Source - AACA Museum
'Maxwell - Simply Perfect - Perfectly Simple' - The Maxwell (Maxwell-Briscoe Company) was built in Tarrytown, NY from 1905 to 1925, until it became part of the Chrysler Corp. In 1909, 22 year old Alice Ramsey and three female companions drove from New York City to San Francisco in a grueling 59 days - the first woman to ever undertake the transcontinental route. In 1915 a Maxwell set a Coast-to-Coast record of 10 days and 16 hours.

The engine in this 1910 Roadster is a 22 horsepower T-head, 4-cylinder unit capable of carrying the car to 53 miles per hour.
In the early 1900s, Benjamin Briscoe felt he was backing the wrong builder in David Dunbar Buick. With two-thirds of the $150,000 needed coming from associate J.P. Morgan, he decided to build the two-cylinder car created by Jonathan Maxwell. Ten examples were created in 1904, before skyrocketing to 823 the following year. In 1906, Maxwell won a survey conducted in the Journal of the American Medical Association. The Maxwell was deemed the car of choice for doctors, resulting in Maxwell adding a 'doctor's model' based on the specifications requested by physicians making house calls.

By 1910, Maxwell was ranked third in the industry ranking after producing approximately 20,500 vehicles.

This Model Q Touring car is powered by a four-cylinder engine with the cylinders cast in pairs. The 22 horsepower is controlled via a two-speed planetary transmission with shaft drive. There are rear-wheel mechanical brakes and the wheelbase measures 93 inches. It features such period brass accoutrements as a matched pair of Gray & Davis acetylene headlamps, a matching pair of Westchester Square kerosene side lamps and a polished brass radiator. Other features include a Stewart speedometer and a Waltham clock.

The body is finished in black with red pinstripe accents and mounted on a red chassis with black pinstripes. There is tufted tan leather upholstery, a tan top and an electric starter.

In 2011, this vehicle was offered for sale at the Hershey Auction presented by RM Auctions. It was estimated to sell for $30,000 - $40,000. As bidding came to a close, the vehicle had been sold for the sum of $46,200 including buyer's premium.
By Daniel Vaughan | Dec 2011
Jack Benny made the Maxwell a household name when he used Maxwells as a comedic prop on his popular radio and TV shows from the 1930s until the 1960s. He and Maxwell also gained exposure in commercials.

Maxwell was founded by Jonathan D. Maxwell and Benjamin Briscoe, and started production in 1904 (With financial assistance from J.P. Morgan). The first factory was in Tarrytown, N.Y. and rapidly expanded. By 1910 it was number three in sales (behind Ford and Buick), producing 20,500 cars. In 1910 they produced four chassis, the Models AA, Q, E, and G. The Model Q had a 93 inch wheelbase, a four-cylinder 'T' head 22-hosrepower engine, and a three-speed transmission. It was offered in three body styles - the Roadster at $900, the Surrey at $950 and the Touring at $1,000. By the late teens sales had dropped off and they were in debt due to overexpansion. In 1921 Walter P. Chrysler gained a controlling interest in the company becoming its president. He discontinued the Maxwell in 1925 and formed the Chrysler Corporation.

This Maxwell Q-2 Surrey, the 2 indicating two could sit in the rear seat, has been owned by the current owner for 10 years, having purchased it from the three daughters of the previous owner. It had been restored in the 1960s but it needed a re-restoration which he did with the help from some talented friends. He had already restored his other two Maxwells.

The Model Q-2 was powered by a four-cylinder T-head motor that developed 22 horsepower. It was built on a 93-inch wheelbase chassis. Interestingly, the flywheel is in the front. It has separate intake and exhaust camshafts.

The Maxwell slogan was unique: 'Perfectly Simple. Simply Perfect.'
The Maxwell automobile company produced automobiles from 1904 through 1925. The operation began in Tarrytown, New York under the name of Maxwell-Briscoe Company. The name was chosen after its founders, Jonathan Dixon Maxwell and the Briscoe Brothers Metalworks. Jonathan Maxwell had gained experience while working for Oldsmobile and Benjamin Briscoe was one of the early industry pioneers. Their factory was the former location used for John Brisben Walker's Mobile Steamer.

The twin-cylinder Maxwell runabouts were popular due to their competitive price tag and durable engines.

In 1907 a fire destroyed the Tarrytown, NY factory. A new location was chosen in New Castle, Indiana and the Maxwell Company created what was, at the time, the largest factory in the world. The factory would be used by Chrysler until its demolition in 2004.

By 1909 the company was third in the industry in terms of production figures. During that year Alice Huyler Ramsey and three female friends made an all-girl coast-to-coast journey in a Maxwell. This was unheard of and unthinkable for an all woman crew at the time, which made the accomplishment even more memorable and astonishing.

The Maxwell company became apart of the United States Motor Company, formed in 1910. It was the only profitable company in the union. The United States Motor Company failed due to conflicts between two of its backers and disbanded in 1913. Maxwell was the only surviving marque to emerge from the failed company.

In 1913, the Maxwell assets were purchased by Walter Flanders who reorganized the company as the Maxwell Motor Company, Inc. The operation was moved to Detroit, Michigan with other facilities located in Dayton, Ohio.

In the post World War I era recession, many manufacturers were devastated by a poor and slow moving economy. Maxwell found themselves in peril after over-extending themselves resulting in large amounts of debt and over half of their production unsold. In 1921, Walter P. Chrysler took a controlling interest in Maxwell and the company was re-incorporated in West Virginia with Walter Chrysler as the chairman. Chrysler, a name associated with Buick and Willys-Overland Company, had stepped in to sort out quality problems and boost sales. Around the same time, Maxwell was merging with the ailing Chalmers Automobile Company. Production of the Chalmers Company ceased in late 1923.

In 1925 Walter Chrysler formed the Chrysler Motor Corporation and the Maxwell line was phased out and its assets were absorbed by Chrysler. The Chrysler automobiles in 1926 were basically four-cylinder Maxwells from the year before.
By Daniel Vaughan | Jun 2008
Automobiles with Exceptional Provenance Highlight Gooding & Company's Pebble Beach Auctions
SANTA MONICA, Calif. (July 10, 2014) – Gooding & Company, celebrated for its world-class automotive auctions and record-breaking results, will begin its second decade as the official auction house of the Pebble Beach Concours d'Elegance® on August 17 and 18. Gooding & Company is pleased to share a hand selected group of consignments from our Pebble Beach Auctions with exceptional provenance. Exciting entries include an extremely rare 1939 Alfa Romeo Tipo 256 Cabriolet with spectacular one...[Read more...]
PRISTINE VOLVO P1800ES SELLS FOR RECORD PRICE AT BONHAMS AUCTION
Bonhams Auctioneers has sold a 1973 Volvo P1800ES Sport Wagon for the record sum of 92,400 USD. It was at an auction at the Greenwich Concours d´Elegance in Connecticut, USA that the Swedish classic with just 13,000 miles on the odometer was sold. 'As far as we know, this is a new world record for a classic Volvo', a representative for Bonhams said. This P1800ES has spent its entire life in Keene, New Hampshire, and been used very little by its three owners, the first of them keeping the car ...[Read more...]
MERCEDES-BENZ 2014 G63 AMG: THE ULTIMATE G-CLASS
The latest technology for the AMG off-road icon: the new 2014 G63 AMG impresses with a state-of-the-art powertrain, expressive new design and improved efficiency. All this is largely attributable to the AMG 5.5-liter V8 biturbo engine delivering 536 hp and the AMG SPEEDSHIFT PLUS 7-speed automatic transmission. Every new AMG high-performance vehicle offers an outstanding mix of 'more power from less fuel' – and the G63 AMG is no exception. The 'strong man' in the AMG model range has been furt...[Read more...]
Maserati Trofeo Mc World Series Returns To Sonoma After Successful Debut Of Ghibli Sedan Over Pebble Beach Weekend
Englewood Cliffs, NJ, August 21, 2013- Maserati is proud to announce that the Maserati GranTurismo MC Trofeo World Series will make its North American stop for a second year at Sonoma Raceway the weekend of August 21st. Last year, famed actor and accomplished race driver Patrick Dempsey and top stuntman, and Hot Wheels X Games Double Loop World Record holder, Greg Tracy competed in the GranTurismo MC Trofeo to the delight of thousands of fans in attendance. Thanks to the success of last y...[Read more...]
FULL STEAM AHEAD FOR HISTORICS
• Stanley Steamer takes centre stage for spring sale
Brooklands will provide the backdrop for the ultimate MPV – built long before the category was even invented – when a 1917 20hp Stanley Mountain Wagon crosses the 'block' on Saturday March 9th for Historics' spring sale. Having sold their dry plate photographic business to Eastman Kodak, twin brothers Francis E. Stanley and Freelan O. Stanley decided to set up the Stanley Motor Carriage Company in order to manufacture steam powe...[Read more...]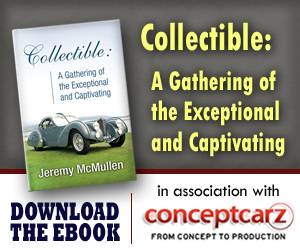 © 1998-2014. All rights reserved. The material may not be published, broadcast, rewritten, or redistributed.