1924 Moon 6-50 news, pictures, specifications, and information

Tweet
Joseph Moon was an Ohio farmer who started a buggy business in St. Louis in the late 19th century. His first automobile, built in 1905, was a five-passenger touring car. Únlike most of his contemporaries, Moon began wîth a new design, rather than motorizing an existing horse-drawn buggy platform. Never an giant, Moon offered an 'assembled automobile' composed of major components manufactured by outside firms. The Moon was advertised as 'The Ideal American Car,' a claim supported by refinements such as hydraulic brakes and demountable tires and rims.
Source - AACA Museum
Automobile Production for the newly formed Moon Company began in 1905. The company was run by Joseph Moon, whose early creations were driven by a shaft-drive, proprietary four-cylinder engine. The car had a touring bodystyle with seating for up to five passengers. The design had been courtesy of Louis Mooers whose resume included work for the Peerless Company.

The company was based in Saint Louis, Missouri and built a reputation for building both cars and trucks. The company remained in business until 1930 when the Great Depression brought its history to an end. It was purchased by Ruxton Automobile. The Moon Company's best year was in 1925 with 10,271 vehicles sold.

The early Moon production automobile sold for around $3000, which was a rather steep price tag at the time. By 1910, Moon had created another model line which was less expensive and more affordable. Sales increased greatly in 1913, to 1540 vehicles, when Moon began offering their first six-cylinder model. Three years later, six-cylinder automobiles were all Moon produced.

Moon continued to offer a solid product through the 1920s and grew a reputation for having a durable, reliable, and quality automobile. The engines were now Continental six-cylinder units which improved the vehicles performance and durability. In 1924, Lockheed hydraulic brakes were offered. That same year, production rose to 7,500 units.

In 1926, an eight-cylinder Diana was introduced. The product was unreliable and did not live up to expectations; this experience greatly diminished the company's reputation. A few years later, the Moon nameplate would disappear due to global economical conditions and a stiff marketplace. The factories were sold in the early 1930s and converted to produce matches.

The company's best production year was in 1925 with less than 10,300 examples produced. The total production of Moon automobiles is not as high as many other marque's of that era. Only a few Moon automobiles have survived to modern times, and of that number, only some are fully original and in restored condition. Coming across one of these elegant automobiles, with their squared, Rolls-Royce type grill, is truly a treat.

This 1924 Moon 6-50 Touring automobile was offered for sale at the 2007 RM Auctions held in Amelia Island, Florida. It was offered without reserve and estimated to sell between $35,000 - $50,000. The car is powered by a 195.6 cubic-inch six-cylinder engine with a three-speed manual gearbox. The body sits on a 115-inch wheelbase and there are hydraulic brakes located at all four corners. It is one of the few Moon vehicles that have survived the test of time and has been treated to a complete restoration.

The original owners kept the vehicle for nearly seventy years before it was passed to its next owners. It is finished in a two-tone gray and navy color scheme. The interior is finished in matching gray leather.

At auction, this wonderful piece of history was sold for $38,500.
By Daniel Vaughan | Mar 2007
Launched in St. Louis in 1905, the Moon enjoyed its best sales year in 1924 and 1925, when more than 7,500 cars were sold both years. Although they were assembled cars, the Moons were fine, well built automobiles.

They featured a Rolls-Royce-type radiator design that contributed to the car's smart look. The model 6-50 was the mid-price Moon, powered by a six-cylinder engine that developed 50 horsepower (hence, the 6-50 designation).

The sporty two-passenger roadster shown here sold for $1,295. The last Moon was built in 1929, as the company was trying to build the short-lived Ruxton and Windsor automobiles.
THE VOLKSWAGEN GOLF AND GOLF GTI ARE NAMED TO CAR AND DRIVER'S 2015 '10BEST' LIST
• This marks the ninth consecutive year that vehicles from the Golf lineup have earned a prestigious '10Best' award
Los Angeles, CA — Volkswagen of America, Inc. is pleased to announce today that Car and Driver magazine has named the Volkswagen Golf and Golf GTI to its 2015 '10Best' list. Taking home a ninth consecutive '10Best' award in a competition against 60 vehicles, the Golf and Golf GTI were praised for exceptional versatility, dynamics and value. 'The Volkswagen Gol...[Read more...]
CHRYSLER GROUP IN 2015, UNDER THE HOOD: MORE POWER, GREATER EFFICIENCY AND EXCEPTIONAL VALUE
◾Introducing the HEMI® Hellcat – Chrysler Group's most powerful V-8 ever; 18th new engine added to Company lineup in less than five years ◾Celebrated TorqueFlite family grows by one with most robust eight-speed automatic in Chrysler Group history; 15th new transmission ◾TorqueFlite transmissions – projected to save current Chrysler Group customers more than 700 million gallons of gasoline – now available across entire Dodge full-size car lineup ◾Debut of new, high-efficiency, lightweight axle...[Read more...]
NEW VOLKSWAGEN GOLF R MAKES ITS U.S. DEBUT AT THE 2014 NORTH AMERICAN INTERNATIONAL AUTO SHOW
Most powerful production Golf ever for the North American market • New car has an estimated 290 horsepower, but is more fuel efficient than previous Golf R • EA888 TSI® 2.0-liter engine propels DSG® equipped Golf R from 0 to 62 mph in 4.9 seconds • Car features new 4MOTION® all-wheel-drive system • Golf R will go on sale in the U.S. in the first quarter of 2015 Herndon, January 8th, 2014 — The North American International Auto Show will see the U.S. debut of the latest Golf R, th...[Read more...]
1964 Nurburgring 1000 Kilometers: Survive for One Last Victory
During the late 1950s, Richie Ginther would begin a relationship with John von Neumann and this partnership would result in one of the most dominant periods of American sportscar racing in which Ginther and Porsche would be virtually unbeatable. Nearly a decade later, that same combination would again join forces to provide one more moment of glory. By the mid-1950s Porsche had developed its 550. This was a small car more than capable of dominating its class and consistently able to challenge...[Read more...]
MODEL YEAR 2014: MORE EFFICENT, DOWNSIZED ENGINES AND AN EXTENDED R-LINE RANGE HEAD THE CHANGES
New 1.8-liter turbocharged and direct-injection TSI® engine to feature in Jetta, Beetle, and Passat, replacing the 2.5-liter five cylinder. R-Line® range expands to five models. • Jetta SE and SEL models are fitted with new 170-horsepower 1.8-liter engine, offering a manufacturer predicted highway fuel economy improvement of 16 percent • All Jetta models now have independent rear suspension • VW Car-Net™ connected services introduced across a broad range of models • New 1.8-liter engine in...[Read more...]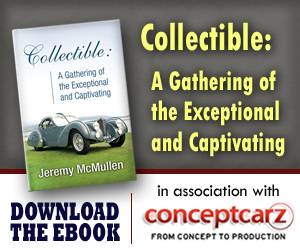 Similarly Priced Vehicles from 1924
Graham-Paige Truck ($1,570-$1,570)
Hupmobile Series R ($1,175-$1,750)
Studebaker Light Six ($996-$1,505)
Studebaker Special Six ($1,395-$1,485)
Chrysler Model B-70 ($1,195-$3,725)
Hudson Super Six ($1,395-$2,250)
Barley Model 6-50 ($1,395-$1,850)

Average Auction Sale: $38,500
© 1998-2014. All rights reserved. The material may not be published, broadcast, rewritten, or redistributed.