1929 Packard 633 news, pictures, specifications, and information

Tweet
1929 was a big year for Packard, as all of their vehicles were now fitted with straight-eight engines. The Standard Eight replaced the Six, though it kept its two chassis lengths with a slight, half-inch increase. The Model 626 rode on a 126.5-inch wheelbase while the 633 was given a 133.5-inch platform. Mounted under the bonnet was a 319.2 cubic-inch engine that produced 90 horsepower. There was a three-speed selective transmission with a single plate clutch, shaft drive and hypoid differential.

There were three bodystyles available on the 626 and seven for the 633. This example is a 633 Runabout that was built on September 9th of 1929. It was sent from the factory to the Berkeley distributor. It is believed that the California Packard distributor, Earle C. Anthony, originally sold this car. Four decades later, it was part of the Ron VanKregten collection and it still retained its original engine and components. This includes the original McCord radiator, the correct Northeast Electric distributor, and a Stewart vacuum.

In 2009, this 633 Runabout was offered for sale at the Gooding & Company auction in Scottsdale, Arizona. The car was estimated to sell for $80,000 - $125,000 and was offered without reserve. The lot was sold for the sum of $48,400 including buyer's premium.
By Daniel Vaughan | Apr 2009
| | |
| --- | --- |
| | Sedan |
For 1929, Packard offered four distinct series of automobiles, each designation having a parallel to the car's wheelbase - the 626 and 633 Standard Eights, the 640 Custom Eight and 645 Deluxe Eight series.

The new Standard Eight series replaced the Packard Six, which was discontinued. One of the most popular Packard models was the 633 seven passenger sedan. It was ideally suited for both family and business use. While not having the pizzazz of a roadster or touring car, this was Packard's 'bread and butter' model.

This Packard sedan is especially unique since it retains most of its original features. It has never been restored. Few vintage cars remain in this condition today.
The Packard Motor Car Company was founded in Warren, Ohio in 1899 but moved to Detroit in 1903. There, it earned a reputation as one of the finest motorcars built in America and used the advertising slogan, Ask the Man Who Owns One.

1929 was Packard's most successful year. More than 54,000 vehicles were sold during the model year. It was the first year of production for the Standard Eight in-line engine. Four basic series were available: 626, 633, 640 and 645. Chrome plating was now used and the Moto-Meter was replaced by an inside temperature gauge.

The Packard Model 633 was their mid-priced car and positioned to compete with Cadillac's very successful LaSalle brand. The Model 633 rode on a 133 inch wheelbase and was powered by a 319 cubic-inch straight eight engine producing 90 horsepower. This new engine used a unique crankshaft design and firing order that balanced the reciprocating forces, thus eliminating vibration. It was lighter than the V12, offered more horsepower, had better fuel economy and its inline configuration allowed the Packard to continue the 'long hood' design themes that were popular and characteristic of the Classic era.

This five passenger Phaeton was sold by the Erie, Pennsylvania Packard dealer Culbertson-Moorehouse on June 15th of 1929. It appears to have been assembled after November 1928 as this date appears on component parts. It was reportedly owned by different generations of the original owners until 1988 before being purchased by the current owner in 1991. Optional equipment on this car includes: pilot ray light, dual side mounts with mirrors, C.M. Hall spotlight, double rearview mirror, rear mounted trunk, dual taillights, eight artillery wheels and Adonis radiator cap. Base price for the Packard 633 Phaeton was $2,535.00.
This long wheelbase 1929 Packard wears a coach-built phaeton body. Wealthy customers often bought bare chassis from luxury car makers and had custom bodies installed by companies like Brunn and Dietrich. This vehicle features a separate cowl and windshield designed to protect rear seat passengers from wind and debris during spirited driving. The straight eight cylinder power plant replaced the V-12 in 1923 and would power Packard cars until the 1930s. The Packard family coat of arms appeared on the radiator emblem for the first time in 1929.
Source - AACA Museum
BARRETT-JACKSON'S SCOTTSDALE 2014 SALON COLLECTION TO OFFER DIVERSE DOCKET OF WORLD'S MOST SOUGHT-AFTER COLLECTIBLES
Rare and Desirable Vehicles Plus One Fully-Operational Carousel Will Cross the Auction Block at Company's Monumental Scottsdale Auction, Jan. 12-19, 2014 SCOTTSDALE, ARIZ. (Dec. 18, 2013) – Barrett-Jackson, The World's Greatest Collector Car Auctions™, announced today a group of exceptional vehicles representing 85 years of automotive history will cross the auction block as part of the world-renowned Salon Collection. The collection will be offered during the company's 43rd Ann...[Read more...]
63rd Pebble Beach Concours d'Elegance Names 1934 Packard 'Best of Show'
The competition showcased 248 cars, including 48 from abroad PEBBLE BEACH, Calif. (August 18, 2013) -- A 1934 Packard 1108 Twelve Dietrich Convertible Victoria owned by Joseph and Margie Cassini III of West Orange, New Jersey, was named Best of Show at the 63rd Pebble Beach Concours d'Elegance, held Sunday on the 18th fairway of Pebble Beach Golf Links at Pebble Beach Resorts. The event showcased 248 cars from 36 states and 12 countries and raised $1,277,007 for charity. 'This Pack...[Read more...]
MACCACHREN SWEEPS STADIUM SUPER TRUCKS ROUND NO. 6
St. Louis, Mo. (June 8, 2013) – After the first five events primarily on the west coast, SPEED Energy Stadium SUPER Trucks brought the 600 hp high flying machines inside the Edward Jones Dome in St. Louis, Mo., for a night of urban off-road action. Rob MacCachren, Aaron Basl, and Sheldon Creed were able to conquer the multiple challenges of the tacky Missouri clay to record wins in Round No. 6 of SST Competition. Rob MacCachren, of Las Vegas, Nev., driving the No. 21 Traxxas truck made...[Read more...]
Bonhams to offer the renowned Oldenburg family collection of classic automobiles at Scottsdale
More than 30 American, British and Italian cars of various vintages head to Scottsdale, Arizona Bonhams is honored to have been chosen to represent the highly esteemed Oldenburg Family Automobile Collection at its second annual Scottsdale Auction in January. The extensive collection of more than 30 cars from the prominent horse breeding family includes multiple models of the same marque, including Ferrari and Jaguar. The Italians Leading the impressive assembly are ...[Read more...]
Carroll Shelby, Ford Family for More Than Half a Century
Carroll Shelby was a member of the Ford family for the better part of 60 years, producing stunning performance vehicles from concepts to production models. He once said his energy and passion for performance products were always strongest when he was working with Ford. Shelby most recently collaborated with the company on the 2013 Ford Shelby GT500 Mustang, the most powerful production V8 in the world. Working with SVT engineers at Sebring and the Arizona Proving Grounds, at times he drov...[Read more...]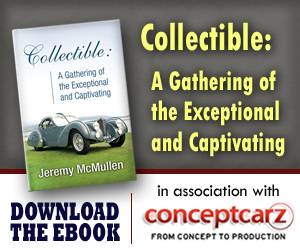 © 1998-2014. All rights reserved. The material may not be published, broadcast, rewritten, or redistributed.