1929 Stearns-Knight J-8-90 news, pictures, specifications, and information

Tweet
The Stearns-Knight was one of the highest priced cars of its era. At $5,600 it was nearly 10 times the cost of a typical Ford or Chevrolet. The Stearns, however, was far from a typical car. Stearns-Knight was acquired by Willys-Overland in 1925; the new owners retained the Stearns hallmark of a while line on the inside of the front grill. They also maintained the Stearns identity rather than incorporating the marque into the larger Willys-Overland Corporation. Stearns-Knight maintained its reputation for quality right up to the company's demise in 1930.
Source - AACA Museum
Frank Ballou Stearns, at the age of seventeen dropped out of school to purse a career at building automobiles. The year was 1897 and the popularity of cars was slowly beginning to form. Stearns quickly showed potential by building a superb model. It was powered by a four-cylinder engine that never really fired evenly. So he reverted back to a single-cylinder unit and gave it a very large bore and stroke in order to achieve the same horsepower output of the four. The prototype, featuring chain-drive, was completed in 1896. His father was so impressed he provided some financial backing and allowed his son to move the production from the basement of their house to their barn. The barn was converted into a machine shop and the F.B. Stearns & Co. was formed in 1898, with the help of Ralph and Raymond Owen of Cleveland, Ohio.

In 1899 about fifty examples of the Stearns automobile were purchased. They were single-cylinder cars with around 8 horsepower available from the two-cycle engine and equipped with tiller steering and Stanhope configuration.

The following year produced similar sales figures. An improved vehicle was introduced featured a ten-horsepower engine that had a bore of 6.25-inches and a stroke of 7-inches. The price tag was set at $1200. Over the years the design, mechanical components, and complexity continued to evolve. The tiller was replaced with a steering wheel in 1901. That same year production was moved to a rented facility located at Euclide Avenue and Lakewood in Cleveland, Ohio.

Demand for the Stearns automobile continued to grow; agents were sent to New York and Pittsburgh to generate interest in those markets.

The Owen brothers left the company to start an Oldsmobile distributorship in 1900. Two years later the '&' was dropped and the company became known as F.B. Stearns Company.

In 1902 the Stearns Company introduced a two-cylinder car that produced around 20 horsepower and sold for $3,000. The single-cylinder Suburban was still available with either a phaeton or tonneau body.

In 1904 a 316 cubic-inch smooth running engine was introduced; it was the largest American automobile with a four-cylinder engine of its day.

By 1911, the true legacy of the company was formed when they adopted the Knight sleeve valve engine, becoming the Stearns-Knight Company. They engines were very quiet and had smooth operation. The price of the vehicle reflected this luxury and the company became one of the prestigious car manufacturers in America, with price tags that came close to a Packard.

In 1917 Frank Stearns retired from the company due to ill health. After spending some time away from his company he began experimenting again with engines and eventually produced a two-stroke overhead cam diesel engine. This was later sold to the United States Navy.

The company continued to prosper due to their styling and durability. Though their nitch in the market was in high-end cars, they shifted down-market in 1914 to compete on a wider scale. Sales continued to be strong for a number of years until they were bought by John North Willys, the owner of the Willys-Overland Company, in 1925. Under Willys direction, the company continued to produce high-end cars until they were forced to dissolve the company as the Great Depression depleted the market.
By Daniel Vaughan | Dec 2007
Touring
Chassis Num: 11926

The Stearns Knight had its origins in 1898 as the F.B. Stearns Co. They used conventional poppet valve engines until 1911 when they adopted the Knight sleeve valve engine and the name changed to Stearns-Knight. Instead of poppet valves, sleeve valve engines used sliding sleeves in the bores with ports cut into them. These ports lined up to open into the cylinders for the intake and exhaust gases and had the advantage of being quieter than poppet valves and eliminated the need for periodically grinding valves. However, they had the disadvantages of higher oil consumption, greater cost, and difficulty cranking the engine in cold weather.

In 1925 Stearns Knight was purchased by Willys Overland who also produced the Willys Knight using a Knight sleeve valve engine. The Model J was the top-of-the-line designed to compete in the luxury car market selling in the $5,000 to $6,000 range. It had a 145-inch wheelbase and its 8-cylinder, 385 cubic-inch sleeve valve engine produced 120 horsepower. It was made for only 2 years and only 123 were made in 1928 and 265 in 1929. Only 11 are known to exist today making it among the rarest of all classic cars. It is estimated that only 12 were made with touring bodies and no originals are known to exist today.

This touring car was created from a surviving parts car sedan using Stearns factory specs, drawings and photographs and required 5,000 hours of restoration over 2 years.
Convertible Victoria
Coachwork: Brunn

This Brunn & Company custom bodied Stearns-Knight Convertible Victoria is the top-of-the line 'J' model. Only six have survived and this is the only open example. Powered by a unique and massive 1,260 lb. sleeve-valve engine, which is capable of propelling this 6,000 lb. car to over 100 mph. It was sold new at the L.A. Auto Show in February 1929 for $10,000 to the original owner who kept it for 3 decades. Only 10 months after purchase the F.B. Stearns Company closed its doors forever. The Stearns marque competed with Duesenberg, Rolls-Royce and Mercedes at the high end of the luxury market.

This car was found in a barn in Northern California, after 85 years of service and over 237,000 miles, and purchased from the second owner. The current plan is to preserve this wonderful time machine in its current state.
RM Auctions Continues Strong 2013 Auction Season with $9.6 Million Hershey Sale
• RM Auctions generates more than $9.6 million in total sales, with 90 percent of all lots sold, at its annual Hershey, Pennsylvania, sale • Top-sellers: superlative 1933 Chrysler CL Imperial Convertible Roadster achieves $704,000; 1910 Pierce-Arrow 48-SS Seven Passenger Touring, offered for first time in six decades, brings $687,500 • Estate collection of Jim Miller realizes $1,265,000, with numerous lots exceeding estimate • Full results available online at www.rmauctions.com B...[Read more...]
63rd Pebble Beach Concours d'Elegance Names 1934 Packard 'Best of Show'
The competition showcased 248 cars, including 48 from abroad PEBBLE BEACH, Calif. (August 18, 2013) -- A 1934 Packard 1108 Twelve Dietrich Convertible Victoria owned by Joseph and Margie Cassini III of West Orange, New Jersey, was named Best of Show at the 63rd Pebble Beach Concours d'Elegance, held Sunday on the 18th fairway of Pebble Beach Golf Links at Pebble Beach Resorts. The event showcased 248 cars from 36 states and 12 countries and raised $1,277,007 for charity. 'This Pack...[Read more...]
CHRYSLER GROUP LLC AND FIAT S.P.A. ANNOUNCE MOST ACCESSORIZED VEHICLES AND TOP-SELLING ACCESSORIES
Mopar Offers More Than 25,000 Accessories Worldwide •Ram 1500, Jeep Wrangler and Dodge Challenger are most accessorized vehicles in North America •Side steps, Jeep Wrangler tops and floor mats are best-selling accessories in North America •Fiat 500, Fiat 500L and Jeep Grand Cherokee among most accessorized vehicles in other global regions •Top-selling accessories announced for Europe, Middle East, Africa, Asia Pacific and Latin America February 11, 2013 , Auburn Hills, Mich....[Read more...]
Magnificent Series of Coachbuilt Classics To Grace RM's Amelia Island Concours D'Elegance Sale
• RM Auctions returns as the official auction house of the Amelia Island Concours d'Elegance, March 9, 2013 • Single-day sale features breathtaking roster of more than 80 investment-quality collector cars • Notable highlights include an outstanding series of coachbuilt classics headlined by a multi-million-dollar 1935 Duesenberg Model SJ Walker-LaGrande Convertible Coupe and a trio of Cords from the personal collection of Jim Fasnacht • Frequently updated list of entries available online at r...[Read more...]
American Classics Top RM's $6.8 Million Michigan Sale
A majestic 1930 Duesenberg Model SJ Convertible Victoria, J272, formerly owned by noted band leader Paul Whiteman of 'Rhapsody in Blue' fame, garnered top dollar at RM's Michigan sale yesterday, selling for a strong $957,000 before a packed house. One of just 16 examples bodied with convertible Victoria coachwork by Rollston, the stunning Duesenberg led a magnificent group of top-selling American classics at the single-day sale, held in conjunction with the famed Concours d'Elegance of Americ...[Read more...]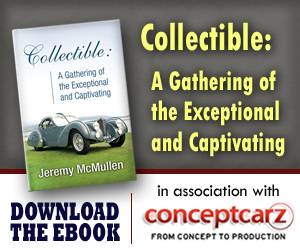 Similarly Priced Vehicles from 1929
Packard 645 Deluxe Eight ($4,600-$6,022)
Cadillac 341B ($3,300-$6,705)
Lincoln Model L ($2,995-$7,395)
Stutz Model M ($3,000-$6,900)
Pierce Arrow Model 126 ($3,750-$5,750)
Stearns Model H8-90 ($5,500-$5,500)
© 1998-2014. All rights reserved. The material may not be published, broadcast, rewritten, or redistributed.