1936 Ford Model 68 news, pictures, specifications, and information

Tweet
Total Ford production in 1936 was 972,812. During the 10 year period ( 1932-1942), the '36 model was the largest number assembled.

The 1936 moved the engine forward 8.5 inches, body 5.5 inches wider, front springs moved forward of axle and rear spring rear of axle, resulting in what Ford called 'center poised ride.' Fenders were rounder, grille, hood, wheels were with more flowing lines resulting in a more fashionable car. The engine had a replaceable bearing with ventilated crankcase.

This Ford Tudor Sedan, when found in a garage, had been disassembled for 35 years. The owner spent one year and two months performing a frame-up restoration. The car has trophied at all five car shows since the restoration.
The engine is a Flat Head V8, 221 CID, generating 85 HP. 792,000 Fords were built in 1936 and 11,000 of them being Cabriolets.

The car has a Leather interior; rumble seat; Steward Warner gasoline heater; radio; clock in mirror. This was the last year for outside mounted spare tire and freestanding headlights. It has a 6 volt electrical system and mechanical brakes.
The 1936 Ford retained the same basic body of the 1935 wîth a new front-end and redesigned rear fenders. This Deluxe model includes bright work around the grill, head lamps and built-in, dual horns. Únlike the less expensive Roadster, the V8 Cabriolet offered roll-up windows for a weather tight interior. Passengers riding in the rumble seat faced the elements on their own.

792,000 Fords were built in 1936 and 11,000 of them being Cabriolets. This was the last year for outside mounted spare tire and freestanding headlights.
Source - AACA Museum
The 1930's marked important changes in the automotive industry and important changes to Ford. Now past the Model T and Model A, Ford competed rather well with Chevy for the sales lead. New styling, a new engine, and changes overall to ride and appearance made these Fords quite popular.

The look was updated with a new grill, and now a number of new bodystyles. The Phaeton was a popular body, especially for those who still liked to ride with the wind in their face.

Ford made continued changes throughout the 1930's, but these earlier models marked a directional change for Ford that helped lead the company to the leadership position it enjoyed for many years.
From the time of its introduction in 1932 to sometime in 1936, Henry Ford had produced three million '21 Stud' flathead V-8 engines. For 1936, the engine displaced 221 cubic-inches and was rated at 85 horsepower. It was mated to a three-speed manual transmission and had braking by four-wheel hydraulically-actuated drum brakes. Advertising of the era touted a comfortable ride, rigid X-Frame, a stiff and lightweight crankshaft, aluminum piston and heads, and hardened valve seats.

Henry Ford owned his own forest, known as Iron Mountain, where he grew maple, birch, gum, and basswood. This was used for his station wagons, commonly known as the 'Woodies'. Framing and structure in these cars were of hard maple. Henry was very adamant about not allowing knots in the product. The side panels were of cross-grained exterior birch or gum plywood. Roof slats were made of basswood.

This 1936 Ford Station Wagon features front windows and side curtains for all other windows. There is a rare period radio, spotlight, dual white wall tires with trim rings, three-row seating, and metal spare tire cover. The 1936 Fords were fitted with equipment such as safety glass, dual sun visors, dual tail lights, dual hors, and even a cigar lighter.

This vehicle is chassis number 82797048 and has Murray Body Number 790-3523. It has a wheelbase that measures 112-inches and a live axle suspension with transverse leaf springs.

In 2009, this Model 68 'Woody' Station Wagon was offered for sale at the Houston Classic Auction presented by Worldwide Auctioneers in Seabrook, Texas. It was estimated to sell for $75,000 - $90,000. The lot was sold for the sum of $63,000, not including buyer's premium.
By Daniel Vaughan | May 2009
| | |
| --- | --- |
| | Deluxe 5-Window Coupe |
One of the popular songs of the late 1920's was 'Henry's Made a Lady Out of Lizzie.' 'Lizzie,' of course, was Ford's Motor T, popularly known as the 'Tin Lizzie.'

The 'new Ford' was introduced in October 1927 after months of anxious anticipation by the motoring public. The new car had some similarities to the Model T but was a very different automobile. Without doubt, the car's appearance was strongly influenced by the Lincoln motorcar, prompting many to refer to the new Ford as a 'baby Lincoln.'

Most significantly, the Model A was the first Ford that was truly designed - and Edsel Ford played a major role. By 1931, he had hired the company's first true designer, E.T. 'Bob' Gregorie, who became Ford's first design chief.
| | | |
| --- | --- | --- |
| | | Station Wagon |
Ford 1936, Ford retained the basic body designs for 1935 but added a new front end design, most notably the grille. Wire wheels were replaced by pressed steel 'artillery' wheels.

A variety of body styles were available for 1936, including the wood-bodied station wagon shown here. Total Ford production in 1936 was 791,812 units; of that number, 7,044 were station wagons.

This station wagon features a recent, complete restoration that was completed in 2008. The car has been the recipient of numerous awards, including best of class and best of show. The car has the original doors, but the top and tailgate were replaced.
Mr. Irv Warren was a long time owner of this car, mostly keeping it storage since the mid-1960s. It was purchased by Mr. Bruce Blackwell years later for the sum of $11,000. The car was in good condition, but was in need of a restoration. Mr. Blackwell had intentions of performing a restoration, bringing it back to stock configuration. His mind would later change after learning that this was an early 1950s Southern California mild custom. The decision was made to perform a simple refresh of the car, returning it to its early custom condition. It was painted Cordoba Tan and reupholstered in brown leather. The engine is a Flathead Ford V8 fitted with dual carburetors and offering 125 horsepower.

In 2009, the car was offered for sale at the Gooding & Company auction held at Pebble Beach, CA. It was expected to sell for $80,000 - $120,000 and offered without reserve. The lot was sold for the sum of $50,600, inclusive of buyer's premium.
By Daniel Vaughan | Jan 2010
Ford produced 5,555 examples of the four-door Phaeton which accounted for less than 1% of the company's model year production. This Deluxe example has been given a restoration and finished in black with brown leather interior with a three-spoke banjo-style steering wheel.

In 2011, the car was offered for sale at the Gooding & Company auction held in Amelia Island, Florida where it was estimated to sell for $70,000 - $90,000. As bidding came to a close, the car had been sold for the sum of $39,600 inclusive of buyer's premium.
By Daniel Vaughan | Apr 2011
Ford Motor Company survived the Great Depression and for the period 1932 to 1942, 1936 had the highest sales: 972,812 units were sold. Along with other open models, Ford produced 20,000 open cars in 1936. This was well in excess of the 8,000 produced by Chevrolet and Plymouth combined.

The Deluxe model featured an 85 horsepower, 221 cubic-inch V8 with a three-speed manual transmission. Only 3,862 were Deluxe Roadsters, the lowest production of any model Ford offered in 1936.

This vehicle is painted in a color offered in the spring of 1936; Light Fast Maroon. It features accessory spyder hubcaps. The vehicle was purchased from the widow of Dick Stickley. Mr. Stickley was a Ford Motor Company trim engineer and the first chairman of the Detroit Autorama held at the University of Detroit fieldhouse.
| | | |
| --- | --- | --- |
| | | Deluxe 3-Window Coupe |
Ford Motor Company produced 972,812 units in 1936, second only to Chevrolet. 1936 also marked the year in which Ford manufactured its twenty millionth vehicle and its three millionth V-8 engine. The Deluxe model featured an 85 horsepower, 221 cubic-inch V-8 with a three-speed manual transmission. This was Ford's first V-8 engine to have replaceable main bearings. The engines were manufactured concurrently with poured main bearing engines through the end of 1936.

This vehicle has an optional in dash electric clock and spider hub caps. It also features an optional rumble seat. Unique to 1936 is the method of access to the rumble seat. The front seat hinge lifts up and the passenger climbs through.
This Ford Station Wagon is fitted with the Deluxe Accessory Group and is finished in Desert Sand. It was formerly part of the Paul J. Meyer 1936 Ford Collection. Mr. Meyer purchased this Ford in 1995 from Early Ford V-8 Club member Arnel Kimmett, who restored the woodwork, refinished the steel bodywork, replaced the top, and fitted the LeBaron Bonney upholstery. Mr. Meyer was the fourth owner; the original owner is believed to have been the Florsheim family who used the vehicle at their Littleton, Colorado estate.

After Mr. Meyer's passing, the car was acquired by the current owner.
By Daniel Vaughan | Nov 2014
The 1936, in most respects, were a continuation of the best-selling 1935 models, with a number of appearance changes that made them seem almost completely new. The 1936 Fords were given a front-end restyle by Holden 'Bob' Koto, of Briggs Manufacturing Company. Koto enjoyed a career that spanned nearly four decades, later helped Dick Caleal model the 1949 Ford and worked for Raymond Loewy on the 1953 Studebaker.

During the 1930s, market preference continued to shift toward closed bodies. Some manufacturers continued to offer open models while some canceled them entirely. Ford, however, continued to offer a wide range of open cars in their catalogue. All were available only with Deluxe trim, and the models included a roadster, phaeton, two cabriolets, and two convertible sedans. Total soft-top production at Chevrolet and Plymouth failed to reach 8,000 combined. Ford, meanwhile, managed nearly 20,000 open cars. 5,601 of those were the four-door convertible sedan.

This Convertible Sedan is finished in Sky Green. The car was in the care of Mr. Jack Hogan when it was treated to a restoration, bringing it back to its original factory appearance. The body was refinished in its original and rare color, while the front seat upholstery and top fabric were redone in exact matches to the original materials. Mr. Hogan had purchased the car from Alice Henderson, the daughter of its long-time owner, a schoolteacher from Pocatello, Idaho.

Currently, the car shows 45,114 miles on the odometer.

The car's restoration earned it an AACA Senior Award in national competition. It won its Grand National Dearborn Award in 2004 and the Dearborn Emeritus on numerous occasions.
By Daniel Vaughan | Nov 2014
FORD FUND ANNOUNCES $1 MILLION WILLIAM CLAY FORD AUTOMOTIVE DESIGN SCHOLARSHIP
◾Scholarship commemorates the design legacy of William Clay Ford, former chairman of Ford Motor Company's design committee ◾Ford Fund commits $50,000 per year during the next 20 years, giving five automotive design students each $10,000 per year ◾Mr. Ford oversaw design of the iconic Lincoln Continental Mark II, considered by many one of the greatest cars ever built Ford Motor Company Fund will award $1 million in automotive design scholarships during the next 20 years to commemorate the la...[Read more...]
150TH ANNIVERSARY OF HENRY FORD'S BIRTH DECLARED 'HENRY FORD DAY' BY MICHIGAN LEGISLATURE
◾The 150th birthday of Henry Ford – July 30, 2013 – is declared 'Henry Ford Day' in the state of Michigan ◾Celebration honoring Henry Ford's 150th birthday to be held on Saturday, July 27, at Henry and Clara Ford's historic home, Henry Ford Estate/Fair Lane in Dearborn, Mich. ◾Henry Ford Estate Inc., a nonprofit that shares governance with Edsel & Eleanor Ford House, takes ownership of the Dearborn estate DEARBORN, Mich., July 25, 2013 – The enduring impact of Henry Ford and the 150t...[Read more...]
GREG BIFFLE GIVES FORD MOTOR COMPANY 1,000TH NASCAR VICTORY AFTER WINNING AT MICHIGAN INTERNATIONAL SPEEDWAY
◾Ford Motor Company has won 1,000 NASCAR races in the Sprint Cup, Nationwide and Camping World Truck Series combined. ◾Jim Roper won the very first NASCAR-sanctioned stock car race in a Lincoln when he was deemed the winner at Charlotte on June 19, 1949. ◾Ford Motor Company has won 20 manufacturer titles and 13 driver championships in NASCAR's top three series. DEARBORN, MI, (June 16, 2013) – Henry Ford's win over Alexander Winton on Oct. 10, 1901 in what proved to be his only race a...[Read more...]
Edsel Ford's Speedster Stars at 'The Amelia'
Edsel Ford's 'continental car', a custom boattail speedster, will take its rightful place in the Sports Car Class of the 18th annual Amelia Island Concours d'Elegance. In the shape of Edsel's seminal speedster is the genesis of Ford's legendary design department. Edsel Ford was hardly 'a chip off the old block'. The acorn fell well away from the mighty oak that was Henry Ford, founder of the Ford Motor Company. Edsel was not just the President of Ford, he was a car guy to his core. His ta...[Read more...]
Classic Motorcar Holds Grande Salon Auction During Glenmoor Gathering
1912 Edsel Ford Model T Six Cylinder Speedster to Cross the Block CANTON, Ohio - Classic Motorcar Auctions LLC will hold their 3rd annual Grande Salon Auction Sept. 15-16, 2012 during the Glenmoor Gathering event at the historic Glenmoor Country Club in Canton, Ohio. The Grande Salon Auction will feature more than 150 antique, classic and sports cars as well as various automotive memorabilia up for bid. Vehicles will be available for preview on Friday, Sept. 14 from 1-8 p.m. The a...[Read more...]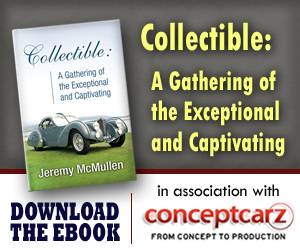 Ford
Monthly Sales Figures
Volume
December 2014
209,679
November 2014
178,221
October 2014
179,014
September 2014
172,261
August 2014
214,028
July 2014
204,373
June 2014
214,793
May 2014
244,501
April 2014
203,552
March 2014
235,198
February 2014
177,286
January 2014
148,671
(More Details)
© 1998-2014. All rights reserved. The material may not be published, broadcast, rewritten, or redistributed.