1940 Ford Deluxe news, pictures, specifications, and information

Tweet
The Ford Model B remained in production until 1932 but it was often overlooked due to its eight-cylinder sibling which offered 65 horsepower for just $50 more. The base V8 Ford was the Model 18 Roadster which sold for $460.

The first versions of the V8 were not without their faults. It took a few years to iron out the vehicles problems such as overheating and poor lubrication. Within a short amount of time, the problems were resolved and the V8 quickly etched their way into the market place as a dominant and low cost vehicle that offered more standard horsepower at a lower price than the competition.

In 1933 the horsepower was boosted by 10 and now registered at an impressive 75. That figure was increased by another 10 in the following year.

Throughout the mid 1930's, the styling of the V8 Ford gradually changed, thanks in part to the new president of the Ford Motor Company, Edsel Ford. The most obvious and appreciated change was the grille which became more curvaceous and modern.

In 1939 the cars were reluctantly given Lockheed Hydraulic brakes. The slow adaptation of this technology was due to Henry Ford's reluctance to change. With these new brakes the car was able to stop as well as they were able to accelerate.

This 1940 Ford Deluxe Convertible Coupe was offered for sale at the 2006 Gooding & Company Auction held in Pebble Beach, Ca. It was estimated to sell for $90,000-$120,000 and offered without reserve. Many of the pre-war Ford V8 vehicles have been heavily modified in modern times by hot rodders. This is one of the few that have escaped their grips and has remained in original conditions. It has been restored to its factory specifications and is equipped with its original engine and transmission. It is finished in Maize yellow and trimmed with a brown leather interior and brown convertible top. The car has its original heater and a working clock and radio.

This car was offered for sale but was left unsold.
By Daniel Vaughan | Feb 2011
Convertible Coupe
Chassis Num: 5691271

This 1940 Ford Deluxe Convertible Coupe was offered for sale at the 2007 RM Auctions, held in Amelia Island, Florida. It was offered without reserve and estimated to sell between $65,000 - $85,000. The car is a Model 01A powered by a L-head 221 cubic-inch V8 engine capable of producing 85 horsepower. There is a three-speed manual gearbox and four-wheel hydraulically-actuated drum brakes. It is finished in burgundy with a burgundy interior and a tan top. It has been recently restored which included a repaint and a new interior and top.

At auction, the car was sold, selling just under the estimated value, fetching $60,500.
By Daniel Vaughan | Apr 2007
The first year Ford introduced their station wagons, nearly 5,000 examples were sold. These were initially open-air cars with side-curtains in case of bad weather. Roll-up glass front windows did not become available until 1935. By 1937, full glass enclosures could be ordered as optional equipment; the following year it became standard.

The first 'in-house' wagons built by Ford did not appear until 1929 when they were listed in their commercial line. They proved to be very popular and by 1947, Ford had become the leader in wood-bodied station wagons with 16,000 units being produced annually. Most automakers commissioned outside builders and suppliers like Cantrell or US Body and Forging to build their wagons. Henry Ford's obsession with efficiency led him to bring the task in-house.

Assembly of complete wagon bodies was moved to a newly created Ford plat at Iron Mountain in the summer of 1939. The initial intent was to produce 75 station wagons per day. Within a short period of time, the number escalated to 100 units per day and exceeding quality standards.

The role of the wood-bodied station wagons began to change during the 1930s. They became popular on the estates of wealthy customers which helped in gaining distinction. They could often be seen driven by the gardener, chauffeur or tradesman.

By 1939, Ford was offering the wagon as either a Standard or Deluxe model. When Ford introduced their new line of 1940 models on October 6th of 1939, they advertised them as 'the style leader in its price class.' The designs were courtesy of designer E.T. 'Bob' Gregorie who created the elegant streamlined look on the Fords.

Ford offered two powerplants in the 1940 station wagon line. Most of the Deluxe wagons were given the 221 cubic-inch v8 horsepower which had 85 horsepower on tap. This was a necessary unit as the wagons tipped the scale at 3,260 pounds making them the heaviest vehicle available in the Ford catalog. With additional payload and all eight seats filled, the V8 engine would get a very good workout.

A few cars were given a larger, 239 cubic-inch Mercury V8 engine which had slightly more horsepower, at 95 bhp. It is believed that just over 350 examples were outfitted with this powerplant. This 1950 Ford Deluxe Station wagon is one of those examples. It has a black body with varnished mahogany paneling. The inter features leather seats and plenty of room for up to eight passengers. It has an older restoration that still shows well today.

In 2007 it was brought to the Gooding & Company auction held in Pebble Beach, California and estimated to sell for $140,000 - $190,000. Those estimates proved nearly accurate, as the lot was sold for $132,000 including buyer's premium.
By Daniel Vaughan | Apr 2008
The maple, ash, and basswood lumber for the woodie wagons were grown and milled in Ford's own northern Michigan forests and mills. By the 1940s, Ford's Iron Mountain facility employed thousands of highly skilled workers and was nearly as integrated as the famous Rouge plant.

The 'woodie' wagons became a status symbol as the cost of wooden bodies soon exceeded those of metal construction. The DeLuxe station wagon remained the priciest Ford offering at $950. A mere 8730 examples were built.

This woodie wagon was the recipient of an extensive two-year restoration that was completed by Alan Vivanco Restorations between 1999 and 2001. It is painted in a deep maroon finish with a correct long grain leather top. The woodwork was restored by Doug Carr of the Wood N' Carr, and was again refreshed in 2007 by David Hawks of Jupiter, Florida. This vehicle is equipped with a chrome grille guard, bumper extensions and a windscreen-mounted radio antenna. There are wide whitewall tires, body color steel wheels, and chrome DeLuxe hubcaps and trim rings.

The interior of this car is light brown leather upholster and rubber floor mats with a two-tone dash, steering wheel, and Art Deco-inspired instruments and controls. There is a standard dash-mounted clock and an optional radio.

In 2008 this 1940 Ford Deluxe Station Wagon was brought to RM Auctions 'Vintage Motor Cars of Meadow Brook' where it was estimated to sell for $100,000-$125,000. Bidding exceeded those expectations, settling at $143,000 including buyer's premium. The lot was sold.
By Daniel Vaughan | Sep 2008
The first owner of this 1940 Ford Deluxe Station Wagon was Mr. G.L. Thunberg in Santa Rosa, California. It wears body number 11725 which suggests it was the last 1940 Station Wagon built at Ford's Iron Mountain plant. The car remained in the Thunberg's care until 1964, when they sold it to its current owner. The car current shows 47,000 original miles and is in great condition. It has darker gumwood panels as opposed to the usual birch.

In 2004, the car was treated to a body-on refurbishing which included a new varnish, new paint, new running boards, and new top material. Much of the interior was left unchanged. The engine compartment has been restored to factory-new conditions and shows about 5,000 miles on the engine. A Columbia two-speed axle, vacuum brake booster, and a 12-volt system were aftermarket upgrades that have been fitted to make the car even more enjoyable. Options on this car include a radio, antenna, dealer-applied hood under-seal, and extendable side-view mirrors.

In 2008, this vehicle was offered for sale at the 'Sports & Classics of Monterey' presented by RM Auctions where it had an estimated value of $110,000 - $130,000. It was sold for a high bid of $136,400 including buyer's premium.
By Daniel Vaughan | Jan 2009
This 1940 Ford Deluxe Station Wagon with Matching Trailer has been restored since new. Period accessories include optional wheel trim rings, a radio and a third-row seat at the rear of the vehicle. There is a matching wood-bodied travel trailer, which is one of just seven examples that were built by Wayne Davis in the late 1990s, at his Southlake, Texas facility.

The engine is a Flathead V8 displacing 221 cubic-inches and producing 85 horsepower. There is a three-speed manual transmission and four-wheel hydraulic drum brakes.

In 2009, this car was offered for sale at the Vintage Motor Cars of Hershey presented by RM Auctions where it was estimated to sell for $175,000 - $200,000. The lot was sold for the sum of $170,500, including buyer's premium.
By Daniel Vaughan | Oct 2009
| | |
| --- | --- |
| | Deluxe Convertible Coupe |
The 1940 Ford was a continuation of the basic style introduced in 1937. A major change would take place the following year, just before all American manufacturers converted to wartime production. The Deluxe Line consisted of six body styles. This car offered sealed beam headlights - a new standard adopted by most manufactures in 1940.
Source - AACA Museum
Ford advertised its 1940 models as 'the style leader in its price class.' The station wagon came both standard and Deluxe. Most woodies - they were relatively heavy, at over 3,000 pounds because of the weight of mahogany - were powered by the 221-cubic-inch flathead V8 which pushed out 85 horsepower. Some, however, came with the Mercury 239 cubic-inch motor and about 95 horsepower. Ford built their E.T. 'Bob' Gregorie-designed woodies at their Iron Mountain plant and by 1947 annual output was around 16,000 units.
One of the most handsome cars built by Ford Motor Company was its 1940 model, styled by E.T. 'Bob' Gregorie, the first design chief at Ford Motor Company.

Gregorie joined Ford in 1931 and quickly established himself as an extremely talented designer, working directly with Ford's president, Edsel Ford.

The Ford Deluxe styling for 1940 was distinctive from other Ford series. It was powered by a 221 cubic-inch V8 that developed 85 horsepower. Factory base price of the 1940 Deluxe convertible was $850.

This Ford Deluxe convertible has been recognized with several top awards in national Ford competitions, attesting to the quality of its restoration.
This 1940 Ford DeLuxe Woodie Station Wagon was given a frame-off restoration which was completed in 2013. It is finished in the correct Cloud Mist Gray, which is famously rather more green than gray, and features fully restored/replaced Michigan-grown maple wood sourced from Cincinnati Woodworks.

This Deluxe Wagon has had just one owner since 1986.
By Daniel Vaughan | Dec 2014
The Ford DeLuxe was produced from 1937 through 1940. The styling was influenced by Edsel Ford and borrowed many cues from the Lincoln Zephyr. One of the more noticeable Zephyr influences was the oval headlights that were incorporated into the front fenders. Other front-end features were V-shaped grille and vertical bars. The 221 cubic-inch eight-cylinder engine was carefully hidden under the sweeping bonnet. The 85 horsepower that was produced was sent to the rear wheels through a three-speed manual transmission. The four-wheel hydraulic brakes brought the vehicle to a stop.
By Daniel Vaughan | Nov 2006
For more information and related vehicles, click
here
FORD FUND ANNOUNCES $1 MILLION WILLIAM CLAY FORD AUTOMOTIVE DESIGN SCHOLARSHIP
◾Scholarship commemorates the design legacy of William Clay Ford, former chairman of Ford Motor Company's design committee ◾Ford Fund commits $50,000 per year during the next 20 years, giving five automotive design students each $10,000 per year ◾Mr. Ford oversaw design of the iconic Lincoln Continental Mark II, considered by many one of the greatest cars ever built Ford Motor Company Fund will award $1 million in automotive design scholarships during the next 20 years to commemorate the la...[Read more...]
MERCEDES-BENZ 2014 G63 AMG: THE ULTIMATE G-CLASS
The latest technology for the AMG off-road icon: the new 2014 G63 AMG impresses with a state-of-the-art powertrain, expressive new design and improved efficiency. All this is largely attributable to the AMG 5.5-liter V8 biturbo engine delivering 536 hp and the AMG SPEEDSHIFT PLUS 7-speed automatic transmission. Every new AMG high-performance vehicle offers an outstanding mix of 'more power from less fuel' – and the G63 AMG is no exception. The 'strong man' in the AMG model range has been furt...[Read more...]
150TH ANNIVERSARY OF HENRY FORD'S BIRTH DECLARED 'HENRY FORD DAY' BY MICHIGAN LEGISLATURE
◾The 150th birthday of Henry Ford – July 30, 2013 – is declared 'Henry Ford Day' in the state of Michigan ◾Celebration honoring Henry Ford's 150th birthday to be held on Saturday, July 27, at Henry and Clara Ford's historic home, Henry Ford Estate/Fair Lane in Dearborn, Mich. ◾Henry Ford Estate Inc., a nonprofit that shares governance with Edsel & Eleanor Ford House, takes ownership of the Dearborn estate DEARBORN, Mich., July 25, 2013 – The enduring impact of Henry Ford and the 150t...[Read more...]
POTEET, CIZEK EARN TOP AWARDS AT GOODGUYS 16TH PPG NATIONALS
Columbus, OH – Tennessee's George Poteet and Nebraska's Ron Cizek collected the top two awards at the Goodguys 16th PPG Nationals in Columbus, Ohio last weekend. Under brilliant sunshine and in front of record crowds, Poteet's vintage NASCAR-inspired '69 Torino won the Goodguys 2013 Optima Batteries Street Machine of the Year while Cizek's popular Ridler award-winning '40 Ford coupe collected the Goodguys 2013 Classic Instruments Street Rod of the Year title. For Cizek, it's the second ma...[Read more...]
Edsel Ford's Speedster Stars at 'The Amelia'
Edsel Ford's 'continental car', a custom boattail speedster, will take its rightful place in the Sports Car Class of the 18th annual Amelia Island Concours d'Elegance. In the shape of Edsel's seminal speedster is the genesis of Ford's legendary design department. Edsel Ford was hardly 'a chip off the old block'. The acorn fell well away from the mighty oak that was Henry Ford, founder of the Ford Motor Company. Edsel was not just the President of Ford, he was a car guy to his core. His ta...[Read more...]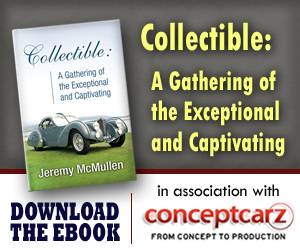 Ford
Monthly Sales Figures
Volume
December 2014
209,679
November 2014
178,221
October 2014
179,014
September 2014
172,261
August 2014
214,028
July 2014
204,373
June 2014
214,793
May 2014
244,501
April 2014
203,552
March 2014
235,198
February 2014
177,286
January 2014
148,671
(More Details)
© 1998-2014. All rights reserved. The material may not be published, broadcast, rewritten, or redistributed.