1965 Pontiac Tempest LeMans news, pictures, specifications, and information

Tweet
In 1965 the GTO was not yet a separate series, but it was distinguishable from its Tempest sibling by its blacked-out grilles, bold grille, single hood scoop, V-shaped badges behind the front wheel openings, and lettering on its rear side fenders and trunk lid. Under the bonnet was the 421-style cylinder heads which were modified to improve the flow of gases.

This 1965 Pontiac GTO was sent to Reedman Pontiac in Bristol, Pennsylvania in May. By 1982 the car was in the care of its fourth owner where it would remain for the following twenty-three years. During that time it was treated to a full frame-off restoration and refinished in red in PPG single stage urethane. It was given a new gas tank, stainless steel fuel and brake lines, and all new bushings, ball joints, and necessary parts. It retains it original 389 cubic-inch V8 engine. The interior has red vinyl seats, panels, matching carpets and many new hardware.

This 1965 Pontiac GTO Convertible was offered for sale at the Vintage Motor Cars sale at Hershey, PA presented by RM Auctions. It was estimated to sell for $80,000 - $120,000. It was offered with a reserve and sold for the high bid of $81,400 including buyer's premium.
By Daniel Vaughan | Dec 2007
Featuring a 376 horsepower, 421 cubic-inch (the most powerful GM engine produced that year), high output engine, an all new all-synchro four-speed manual transmission with Hurst floor shift, Positraction, heavy duty springs and shocks, dual exhausts, chromed air cleaner and rocker covers, bucket seats, full carpeting, the 1965 Pontiac 2+2 was a fierce beast on the road.

The owner purchased this as his first new automobile on February 14, 1965. This 58,000 mile automobile is all original and totally unrestored.
The 1965 Pontiac GTO finished in Nightwatch blue and blue interior was offered for sale at the 2006 RM Auction in Monterey, Ca. It was offered without reserve and estimated to sell between $40,000-$50,000. It is a PHS documented original GTO powered by a 389 four-barrel engine and automatic transmission. It has power steering and brakes. It has traveled under 83,000 miles since new and has been treated to a professional restoration. At the conclusion of the auction the vehicle had been sold for $33,000.

The car returned a year later to the same auction, carrying the same estimated value and offered without reserve. This time the car was sold for a much higher price of $49,500 including buyer's premium.
By Daniel Vaughan | Dec 2007
1965 was the year that John Z. Delorean became the general manager of Pontiac, succeeding Peter Estes, who had begun the rejuvenation of the Pontiac brand.

The 1965 Tempests were characterized by vertically stacked headlamps, more deeply recessed grilles, crisper side body sculpturing and larger wheel openings. Throughout the 1960's the Tempest maintained its popularity.

The one-millionth Tempest was built late in the 1965 production year (in April 1965 the ten millionth Pontiac was built.) In 1965, production of Tempest LeMans convertibles totaled 13,897 units with a factory price of $2,736.
Introduced in the 1964 model year as a model of the intermediate Tempest, the GTO was still not considered a separate series in 1965. Special lettering, badging and the hood scoop readily identified the model. The GTO is historically credited with establishing the rush of mid-size muscle cars which would soon be pouring forth from Detroit.

Pontiac's legendary 389 cubic-inch V-8 powered many GTOs, including this example. Its 360 horsepower moved it right along, looking purposeful with its 'dog dish' wheel covers and red stripe tires. A frame-off restoration was completed on this car in 2009 and it has been the recipient of many marque-specific awards since.
With the huge and unexpected success of the GTO package in 1964, Pontiac knew they had to work to keep the momentum going. With a mild restyle, the 1965 GTO would be named Motor Trend's Car of the Year. New features include stacked headlights and a split recessed grille along with wraparound taillights. The GTO package would remain an option for the Tempest and would again include the 389 cubic-inch V-8 engine with a choice of the standard single 4-barrel or the optional Tri-Power triple carburetor setup. A single simulated hood scoop would clearly identify the intensions of the owner and be a trademark of the GTO for many years.

This car epitomizes what a GTO is all about with the big 389 cubic-inch 4-barrel, 335 horsepower V-8 engine backed by a Hurst-shifted 4-speed manual transmission. The gleaming Montero Red finish, redline tires and the new optional Rally 1 wheels certainly make a bold statement.

Assembled at the Fremont, California plant, this matching numbers car does not have power steering or power brakes, making it a car built to run.

The second year for the GTO proved to again be an undisputed success, with over 75,000 units leaving the assembly line. Of course, 1965 brought on additional competition with comparable performance versions of the Chevelle, Cutlass 442 and Buick G.S. to name a few, but the GTO would continue to carry the Pontiac performance torch.
The Pontiac GTO, in all respects a muscle car, debuted in 1964 and continued until 1974. John Zachary DeLorean, best known for the Delorean automobiles, was the individual who forced the development of the legendary GTO. The vehicle was very successful because it was able to capitalize on a segment of the market that had not been fully realized. Most of the muscle cars during this time were full-size cars. They had large engines, but due to the weight they were usually slow to accelerate. Pontiac offered a combination of 389 cubic-inch engines in their mid-size Tempest line and called it a GTO. The name GTO comes from Ferrari. It means Gran Turismo Omolgato.
The GTO package included the V8 engine, premium tires, special hydraulic lifters, dual exhaust, manual three and four-speed transmission with a Hurst shifter, heavy-duty clutch, improved suspension, a 3.23:1 rear axle ration, dual hood scoops, GTO emblems, and bucket seats. The 389 cubic-inch engine was rated at 325-348 horsepower depending on the configuration and modification of the engine. The 428 ft-lbs of torque was even more astonishing. Placing this mammoth engine in a mid-size sedan created a vehicle that was untouchable. It was available in both the coupe or convertible body styles. Pontiac sold nearly 32,500 GTO's during the first year.

For 1965, the Tempest GTO received cosmetic and mechanical updates. The engine was modified and was now producing between 335 and 360 horsepower with a torque rating at 431 ft-lbs. The headlights of the vehicle were modified; they were now in stacked configuration. The dual hood scoop was replaced with a single hood scoop. Over 75,000 examples were sold in the second year.

A dealer cold air induction kit for the Tri-Power cars helped stimulate sales and increased the horsepower of the vehicle. The induction kit made use of the hood scoop and brought about the Ram Air package.

For 1966, the GTO became its own model. There were styling changes mostly concentrating on the roof and the rear lights. The engines were unchanged, however, during the middle of the year the multi-carburetor setup was no longer offered. The GTO was still more popular than ever, selling 96,946 examples during 1966.

In 1967, a new 400 cubic-inch engine was introduced. The horsepower rating was between 255 and 360 horsepower depending on the configuration. The torque rating was between 397 and 438 ft-lbs. Minor styling changes occurred, mainly the grill and the rear of the vehicle. During the 1967 model year, nearly 82,000 GTO's were sold.

In 1968, the wheel base was expanded to 112 inches and now sat atop General Motors split wheelbase A-body. Major styling changes occurred. A rubber bumper, labeled the Endura, adorned the front of the car. Hidden headlights were optional equipment. The engine choices remained the same but the horsepower and torque was increased. The 440 was not producing between 265 and 360 horsepower while the torque ranged from 397 through 445 ft-lbs.

In 1969, the competition was becoming fierce. To compete, Pontiac offered a package on the GTO that included body paint, rear spoiler, decals, and a 366 horsepower, Ram Air III V8. A Ram IV V8 could also be purchased, increasing the horsepower rating to 370. Still a very successful year for Pontiac, there were more than 72,000 GTO's sold.

In 1970, the GTO once again received styling changes. There were now four exposed headlamps. The rear engine was

redesigned and the body received new creases. The base engine was dropped. A 455 cubic-inch engine was introduced. The 400 cubic-inch engine produced between 350 and 370 horsepower. The 455 cubic-inch V8 produced between 360 and 500 horsepower. Sales were still strong, but dropping. A little more than 40,000 GTO's were sold.

In 1971, sales continued to drop. Only about 10,000 were sold. GM announced that due to rising emission and safety regulations, compression ratings would have to be reduced and all engines would need to run on unleaded fuel. The horsepower ratings began to decrease. Due to a heavier chassis, introduced a few year prior, and lower horsepower ratings, the vehicle was losing its ability to be competitive. More bad news for the GTO; this was its last year as an independent model. The front end of the vehicle received minor styling updates.

In 1972, the Judge and convertible options were no longer offered. The horsepower ratings continued to go the same direction as the sales figures: down. A little over 5,800 vehicles were sold. The horsepower output was between 250 and 300. The 400 and 455 cubic inch engines were both offered.

In 1973, only 4806 GTO's were sold. The engine horsepower decreased as well, now 230 through 250. Its muscle car status was officially gone.

The 1974 production year was the last for the GTO. It was now an option on the Ventura model line-up. It came as a coupe or a hatchback. A 350 cubic-inch engine was the only one being offered. With a 200 horsepower rating, the car was dying a slow and very painful death. A little over 7000 vehicles were sold with the GTO option.

There were a few reasons for the GTO's decline. The muscle car era was coming to a close - or just being redefined and awaiting a revitalization. Government and safety regulations were becoming more strict. There were tough fuel regulations which severely limited the output of the engines but promoted better fuel economy. Insurance charges increased making these machines out-of-reach for many consumers. The cars became heavier, and heavier. The engine sizes decreased; The cost of ownership increased. The muscle car era was destroyed.
By Daniel Vaughan | Aug 2006
For more information and related vehicles, click
here
JOEY LOGANO COMPLETES FORD RACING SWEEP AT BRISOL MOTOR SPEEDWAY WITH IRWIN TOOLS NIGHT RACE WIN
Ford Finishing Order: 1st – Joey Logano 2nd – Brad Keselowski 6th – Ricky Stenhouse Jr. 7th – Carl Edwards 10th – Greg Biffle 18th – Michael McDowell 23rd – David Ragan 25th – David Gilliland 34th – Marcos Ambrose 41st – Aric Almirola · Joey Logano's win is his fourth with Ford Racing and sixth of his NASCAR Sprint Cup Series career. · This marks the first time Ford Racing has swept a NASCAR Camping World Truck, NASCAR Nationwide, NASCAR Sprint...[Read more...]
CONSECUTIVE WIN FOR JD CLASSICS AT GOODWOOD REVIVAL
◾JD Classics' win Freddie March Memorial Trophy once again for Jaguar Heritage Racing with ex-Fangio C-type Maldon, Wednesday 18 September 2013: On 13-15 September 2013 JD Classics entered three cars at the Goodwood Revival, including the ex-Fangio C-type in a bid to defend the Freddie March Memorial Trophy, which the team won last year for Jaguar Heritage Racing. The sell-out event attracted 148,000 spectators and JD Classics featured in the first race of the weekend, the Freddie M...[Read more...]
Tanner Foust Going For Rallycross Gold At X Games Driver Determined After Unforgiving Bristol Race
BRISTOL, Tenn. (July 22, 2013) - Rockstar Energy Drink driver Tanner Foust is looking to become the only driver ever to repeat an X Games Rallycross gold medal win when GRC action resumes in Los Angeles in two weeks. It was an unforgiving day of racing for Foust this weekend at the fifth championship stop in Bristol, Tenn., where the so-called 'Last Great Colosseum' was transformed from a half-mile NASCAR oval into a rallycross battleground. 'I was pretty hungry for it,' said Foust....[Read more...]
Global Rallycross Confirms 2013 Schedule Featuring International Expansion
Los Angeles, Calif. (June 11, 2013) – Global Rallycross (GRC) confirms its 2013 schedule will total nine rounds including races on three different continents in conjunction with Global X Games events in Foz do Iguaçu (Brazil), Barcelona (Spain) and Munich (Germany). As one of the fastest growing forms of motorsport, rallycross combines the best aspects of circuit racing, off-road racing and rally competition. The series is made up of four Global X Games events and five GRC events to...[Read more...]
Buyers in abundance for another strong sale at Brooklands
Amidst some speculative recent market results, the heat was on Historics, but with Brooklands bathed in sunshine, the classic and sports car auctioneer again delivered another strong sale. In total 60 of 103 vehicles were seen away for a sale ratio of 58% and a final sale figure of £1,159,070. As pre-sale publicity predicted, Bentley's blazed a trail, with the star of the show an R-Type Coupé by Abbott of Farnham, which sold for £100,000. A 1937 4¼ litre Sports Special sold for £47,500, wh...[Read more...]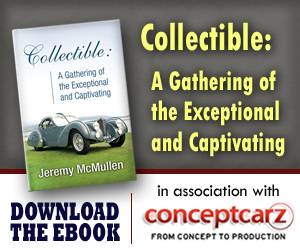 © 1998-2014. All rights reserved. The material may not be published, broadcast, rewritten, or redistributed.