Image credits: © Dodge.
2004 Dodge Sling Shot Concept news, pictures, specifications, and information

Tweet
Auburn Hills, Mich., Jan 04, 2004 - Dodge Sling Shot is a boldly distinctive new sports car vision from Dodge - one that's practical, adaptable and, above all, affordable.

Designed from the ground up to be a driver's car, wîth the kind of look, feel and responsive drivability that enthusiasts demand, the Sling Shot concept was designed wîth fuel efficiency being a key part of its basic design.

Dodge Sling Shot is designed for open-air driving wîth a main roof panel and side rails over the passenger area that can be stored in the trunk (Sling Shot has two storage areas), while a canvas roof panel can slide back and out of the way like a roll top desk for open-air driving.

Efficient, Responsive and Fun to Drive - Genuine Dodge Character

Sling Shot features a rear-mounted, 3-cylinder, gasoline engine that is tuned to deliver 100 bhp and 0-60 mph time of about 10 seconds due to power to weight ratio of 17.4 lbs/bhp. A five-speed gearbox, rack-and-pinion §teering, four-wheel independent suspension and four-wheel disc brakes complete the driver-oriented characteristics contributing to the Sling Shot's efficient, responsive and fun-to-drive personality at the same time delivering up to 45 mpg.

A 'Machined' Interior Look

The Dodge Sling Shot concept has an interior design influenced by the legacy of Dodge and Chrysler's performance past - when 'blown' HEMI engines dominated the American landscape. Starting out wîth engine bits for inspiration, Sling Shot's interior designers combined these elements into an artful blend of visual excitement and tactical pleasure.

'Sling Shot is a dynamic, creative look at the never-ending quest to offer visually exciting design, structural integrity, operating efficiency and the all-important fun-to-drive quotient in an affordable, entry level sports car,' said Trevor Creed, Senior Vice President - Chrysler Group Design.
Source - Dodge Media
Mecum Marathon – Results From Kissimmee 2014
Walworth, WI - January 31, 2014 -- The largest collector car auction in the world lived up to its moniker once again with Mecum's Kissimmee, Fla., event, held Jan. 17-26, offering a grand total of 2,750 cars and more than 3,000 items of Road Art throughout the 10 days of heated bidding and hard-hammering sales. Auction sales reached a hefty $63,435,490 in total with 1,759 of the vehicles exchanging hands for a sell-through rate of 64 percent. Despite nationwide weather conundrums resul...[Read more...]
RARE CHRYSLER LA COMTESSE CONCEPT APPEARS AT AMELIA 2014
After decades in obscurity Chrysler's La Comtesse Concept Car will re-debut at the 19th annual Amelia Island Concours d'Elegance on March 9, 2014. The Fifties introduced new automotive chemical and paint technologies that helped summon a sea change in the way cars were purchased. It was a subtle component of Detroit's marketing equation, but color had risen near the top of the car buyer's priority list. The important fact was that women invariably chose the color of the new family car....[Read more...]
Steve McQueen Chevrolet Styleline Leads Exciting List of Celebrity Rides At Auctions America's Ford Lauderdale Sale
• Auctions America kicks off its 2013 calendar, March 22 – 24, 2013 in Fort Lauderdale, Florida • Regarded as South Florida's premier collector car auction, multi-day sale expected to feature more than 550 quality collector cars • Star attraction: 1951 Chevrolet Styleline DeLuxe Convertible formerly owned by Steve McQueen to be offered at no reserve • Additional highlights include a diverse assortment of 1950s convertibles from 'The Gauthier Collection', 1967 Dodge Coronet WO23 Hemi Super Sto...[Read more...]
Sold! Barrett-Jackson's 5000 Series Generates More Than $29.2 Million In Scottsdale
Original 1966 TV Batmobile Sells for $4.62 Million at The World's Greatest Collector Car Auctions™ and New World Records are Set January 19, 2013 •LOT #5037 The Original Batmobile is the highest selling car at the company's annual Scottsdale Auction •LOT #5019 1947 Talbot-Lago T-26 Grand Sport sets a new world record for the model •LOT #5034 1956 Chrysler Diablo Concept Convertible sets a new world record for Chrysler concept cars Scottsdale, Ariz. (Jan. 20, 2013) – Barr...[Read more...]
Barrett-Jackson Breaks Sales And Attendance Records At Its Spectacular 5th Annual Las Vegas Auction
The World's Greatest Collector Car Auctions™ Brings Together Auto Enthusiasts from Near and Far Barrett-Jackson, The World's Greatest Collector Car Auctions™, announced today that it generated more than $23 million in sales of rare, high-end collectible vehicles, exotics, customs, classics and Shelbys during its 5th annual Las Vegas auction. The auction company increased its overall hammer average from 2011, proving that the car market is stronger than ever. Automobilia sales reached m...[Read more...]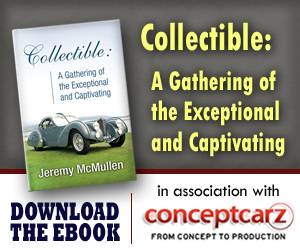 Dodge
Monthly Sales Figures
Volume
December 2014
46,578
November 2014
42,108
October 2014
41,512
September 2014
44,020
August 2014
49,895
July 2014
43,118
June 2014
50,314
May 2014
57,923
April 2014
53,463
March 2014
60,575
February 2014
49,744
January 2014
34,905
(More Details)
© 1998-2014. All rights reserved. The material may not be published, broadcast, rewritten, or redistributed.