1962 Jaguar E-Type XKE news, pictures, specifications, and information

Tweet
Using the knowledge learned on the track with the D-Type, Jaguar's new E-type was given a monocoque passenger compartment and tail section, a tube-framed engine bay and a tilting bonnet. They were given a well-appointed interior, a 3.8-liter six-cylinder engine and a compliant suspension. With sweeping lines and aggressive styling the E-Type was an ideal two-place sports car.

This Series I 3.8-Liter Roadster is finished in red over black leather. The car is originally from Texas and Arizona. It has been disassembled, the paint was stripped, and the car was fitted and then repainted, color-sanded and buffed. New rubber seals and hardware were installed along with a new interior, including leather seats, door panels, carpet and the convertible top. The engine, transmission, rear end, suspension, hydraulic system, fuel system and the cooling system were overhauled. An aluminum radiator, electronic ignition system, auxiliary fan and 16-inch wire wheels have been added to enhance the driving manners of this iconic E-type.

Powering the car is a 3781cc dual overhead camshaft inline six-cylinder engine delivering 265 horsepower. There is a four-speed manual gearbox, independent suspension, and four-wheel disc brakes.

In 2012, the car was offered for sale at the RM Auction in Scottsdale, Arizona. It was estimated to sell for $115,000-$125,000. Bidding reached $97,500 but was not enough to satisfy the vehicle's reserve. It would leave the auction unsold.
By Daniel Vaughan | Feb 2012
Roadster
Chassis Num: 875618
Engine Num: R1878-9

The 1962 Jaguar XKE E-Type Series I Roadster finished in Hunter Green and tan trim, carpets, and convertible soft top was offered for sale at the 2006 Worldwide Group Auction. It was expected to fetch between $90,000-$100,000. It has traveled just under 40,000 miles since new. It has also been treated to a restoration. At the end of the auction the vehicle was left unsold.
By Daniel Vaughan | Nov 2006
This 1962 Jaguar Series I E-Type Roadster was offered for sale at the 2007 RM Auctions held in Amelia Island, Florida where it was estimated to sell between $110,000 - $130,000. The car is powered by a 3781cc double overhead camshaft six-cylinder engine with three SU carburetors and capable of producing 265 horsepower. There is a four-speed manual gearbox and four-wheel disc brakes. Since new, the car has been treated to a complete restoration and has been judged a 100 point JCNA National Champion in 2005 and 2006. It has traveled less than 500 miles since the restoration and has been kept in a temperature and humidity controlled environment. It has the correct tool roll and Shelly screw jack.

This car has been featured in books such as the Standard Guide to British Sports Car as well as being shown at concours and various events. It is a multiple Best of Show and Best of Class winner.

At auction, the car's excellent restoration and concours winning reputation inspired a winning bid of $143,000.
By Daniel Vaughan | Apr 2007
This 1962 Jaguar XKE-Type Series 1 Roadster is a matching numbers example that was given a comprehensive and sympathetic restoration. It is finished in the correct color of Cotswold Blue, has a black leather interior, original chrome trim, glass, and other major fittings. It has traveled just 50 miles post restoration which was completed in July of 2008.

There were just 5,249 examples of the Series 1 3.8-liter roadster delivered to the US from 1961 - 1964. In 2008, this XKE-Type Series 1 Roadster was offered for sale at the Hilton Head Sports & Classic Car Auction presented by Worldwide Auctioneers. It had an estimated value of $90,000 - $110,000. As the gavel fell for the third and final time, bidding had failed to satisfy the reserve and the lot was left unsold.
By Daniel Vaughan | Nov 2008
This early E-Type Jaguar fixed head coupe is original and unrestored, with the exception of a respray in its original anthracite color during the 1980s. The XKE was introduced in 1961, and the models through 1967, like this 1962 example, are considered 'Series 1' cars. Before 1964, a 3.8-liter engine was fitted. Easy-to-spot Series 1 cues include glass-enclosed headlight nacelles, a relatively small front nose opening compared to later cars, and the placement of the rear lights above the bumper at the back of the car. The aluminum interior trim that appears in this car signifies an XKE from rest of production.
This 1960 Jaguar XKE Series 1 Roadster was originally purchased in California and underwent a 3,500 hour restoration. It scored a perfect 100 points in Jaguar Club of North American Judging.

This fully-restored Jaguar was the Jaguar Club of North America national champion for two consecutive years. The original owner was Robert Talbot of Talbot's Clothing in Carmel, California.
By Daniel Vaughan | Sep 2010
This car was originally delivered to Southern California and believed to have been raced in SCCA in the late 1960's and early 1970's. Retired to a garage in Oregon in the 1970's where a restoration was aborted until July of 2005. Since then it has had a thorough restoration has been undertaken by David Ferguson of Images. The Quail 2006 Showing is the first for the car.
The Jaguar E-Type began production in 1961 and was powered by the 3.8 liter six-cylinder engine from the XK150. Eventually, the engine was enlarged to 4.2 liters. It remained in production until 1974.

This Jaguar E-Type is a right-hand drive example that was provided by the factory to Briggs Cunningham to race in the 1962 LeMans 24 Hour, where he and Roy Salvadori drove it to a second in class and fourth overall. The following year, it raced/ at Sebring, then was retired into Cunningham's collection.

The current owner acquired the car in 1986.
The Jaguar E type, also known as the XK-E, brought style and performance together to create a mass-produced supercar. The road-going sports car was conceived in 1956 as a replacement for the D-type. In March of 1961 the E-Type was officially introduced to the world at the Geneva, Switzerland Motor show.
It's design was created by an aerodynamic engineer named Malcolm Sayer. The front engine, rear-wheel drive vehicle featured a moncoque body and a tubular front chassis. The six-cylinder double-cam engine had three SU carburetors and produced 265 horsepower. The suspension was independent with disc brakes on all four wheels. It brought together the best or aerodynamics, coupled with the latest technology and propelled by a potent engine. The vehicle was not only fast, it offered excellent performance and handling. Some of the most common complaints it received were the cabin being too cramped and it suffered from poor ventilation.

The E-Type was a popular vehicle. It was fast, performed well, and was competitively priced. Due to the United States safety and emission regulations, some of the horsepower was lost. The headlamp covers were also removed prior to the close of the 1960's.

A 4.2-liter engine and synchromesh gearbox was introduced in 1964. In 1966, the 2+2 coupe was introduced and featured a longer wheelbase. The Series II cars were not as quick as its predecessors. The Series III, however, was a different story. Powered by a V-12 engine they were once again able to propel the E-Type over 145 miles per hour.

Production for the E-Type ceased in 1975, after 72,520 examples being produced. It was replaced by the XJ-S; a vehicle that was larger, heavier, and not as visually appealing.
By Daniel Vaughan | Mar 2006
For more information and related vehicles, click
here
OAK TREE GRAND PRIX AT VIR. PORSCHE MOTORSPORTS PRE-EVENT NOTES
While the Porsche 919 Hybrid competes for overall victories at Le Mans and in the FIA World Endurance Championship, the likelihood of a GT Le Mans (GTLM) class entry of winning against the Prototype (P) class in the TUDOR United SportsCar Championship is slim. However, for the first time this year, and in recent memory, the Porsche 911 RSR will have a chance at the overall race win when the Oak Tree Grand Prix at VIR takes place on Sunday, August 24. The two-hour and 45-minute event marks the fi...[Read more...]
Derek Hill to Drive Rare Maserati Tipo 151 in Rolex Monterey Motorsports Reunion
MONTEREY, Calif., June 23, 2014 — American race driver Derek Hill, son of World Champion Phil Hill, will strap himself behind the wheel of the lone surviving Maserati Tipo 151, of which only three were ever constructed, to race in the Rolex Monterey Motorsports Reunion August 14-17 at Mazda Raceway Laguna Seca. Maserati is this year's featured marque and will officially celebrate its 100th anniversary at the motorsports gathering. Entered by Fratelli Auriana Racing from the collection...[Read more...]
PETER SACHS RECEIVES RRDC'S 2013 BOB AKIN AWARD
DAYTONA BEACH, Fla. (Jan. 24, 2014) - Peter Sachs, a retired successful SCCA, IMSA, USRRC and vintage racer, received the 2013 Bob Akin Award from the Road Racing Drivers Club at a dinner prior to the running of the Rolex 24 At Daytona, the season opener of the 2014 TUDOR SportsCar Championship. Each recipient of this honor, considered the top award in motorsports for amateur, vintage/historic or semi-professional drivers, is selected by Akin's son Bobby, RRDC members Brian Redman and ...[Read more...]
TOPLINE COLLECTORS PLACE SPOTLIGHT on SPEED'S BARRETT-JACKSON BROADCAST FROM SCOTTSDALE
• TOPLINE COLLECTORS PLACE SPOTLIGHT on SPEED'S BARRETT-JACKSON BROADCAST FROM SCOTTSDALE
• 'LOST' SHELBY DUAL PROTOTYPE, HAGERTY GIVEAWAY & SALON COLLECTION HIGHLIGHT 39 HOURS OF LIVE COVERAGE
The 42nd annual Barrett-Jackson Scottsdale (Ariz.) Collector Car Event, the first of four set for live coverage in 2013, kicks off the auction season in grand style as some of the world's most sought-after machines cross the block starting Tuesday, Jan. 15 at 7 p.m. ET/4 p.m. PT. SP...[Read more...]
Carroll Shelby, Ford Family for More Than Half a Century
Carroll Shelby was a member of the Ford family for the better part of 60 years, producing stunning performance vehicles from concepts to production models. He once said his energy and passion for performance products were always strongest when he was working with Ford. Shelby most recently collaborated with the company on the 2013 Ford Shelby GT500 Mustang, the most powerful production V8 in the world. Working with SVT engineers at Sebring and the Arizona Proving Grounds, at times he drov...[Read more...]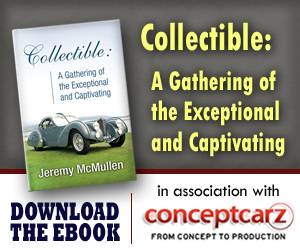 Jaguar
Monthly Sales Figures
Volume
December 2014
1,683
November 2014
1,253
October 2014
1,007
September 2014
1,142
August 2014
1,184
July 2014
1,187
June 2014
1,263
May 2014
1,304
April 2014
1,035
March 2014
1,816
February 2014
1,552
January 2014
1,347
(More Details)
© 1998-2014. All rights reserved. The material may not be published, broadcast, rewritten, or redistributed.