1971 BMW 2002 news, pictures, specifications, and information

Tweet
BMW's 'Neue Klasse' four-cylinder sedans of the early 1960s helped return the company to profitability, along with inspiring a design that would continue through the mid-1970s. The BMW 2002 was based on the 1602 and was available in two-door sedan and three-door touring guise. The 2002 was the reported brainchild of New York BMW importer Max Hoffman.

The BMW 2002 joined the catalogue for 1968 and continued through 1976. For customers seeking an open air experience, BMW subcontracted the work to Karosserie Baur, which converted 200 cars to full-cabriolet form through 1971, followed by some 2,300 Targas.

This 1972 BMW 2002 Cabriolet wears coachwork by Karrosserie Baur. It was produced during the final year of the Baur-performed BMW conversions. The car has the original round tail lamp, a manual gearbox, and was originally finished in Golf (yellow) and imported from Greece to the United States and New York City, where it was owned by a BMW enthusiast. The car was eventually acquired by Dr. Norman Druck M.D., an Otolaryngologist practicing in St. Louis, Missouri. There, the car received body repairs including the replacement of the rocker panels and a refinish in Granada red.

The next owner was a well-known individual in the BMW Car Club of America circles. At the time, only one other example was known by BMW marque aficionados to exist in the United States. He acquired the car in 1996 and, over the next two years, the car was freshened. Following completion, the cabriolet was shown at the 1999 SCCA Concours d'Elegance where it received a Second Place award.

In January 2002, the car was sold to another BMW collector.

The car is powered by a 1990cc single overhead cam four-cylinder engine breathing through a single Solex twin-choke carburetor and offering 100 horsepower. There is a four-speed manual gearbox and disc brakes in the front with hydraulic drums in the rear.
By Daniel Vaughan | Apr 2014
Those manufacturers that had found a niche in the market place to survive the Great Depression were forced once again to figure out how to stay in business after World War II. BMW stayed successful with their affordable and efficient bubble car, named the Isetta. They also produced luxury cars such as the 507 and aircraft parts.
In 1959, BMW was on the brink of bankruptcy. Their Isetta vehicle had sold well for a period of time but it was quickly loosing ground to the VW Beetle. A vehicle that had similar features such as excellent fuel economy and practicality, but offered more room for passengers.

Harald and Herbert Quandt provided financial backing to BMW to produce a four-door car which came known to be Neue Klasse or 'New Class'. This happened to be the savior for the struggling company. In 1962 the vehicle was debuted and dubbed the 1500. It featured a four-cylinder engine. In total, 24,000 of the 1500's were produced.

The 1800 was introduced near the end of 1963. It had a four-cylinder, 1773cc engine that was capable of producing 90 horsepower. Variants such as the 1800 Ti and 1800 Ti/SA soon followed.

In 1964 the 1600 replaced the 1500. The 1600 was a responsive, four-door sedan that received excellent reviews from the automotive tests all over the world. The 1600-2 was soon introduced. It was a sportier, two-door version of the four-door 1600 that offered more horsepower and sat atop shorter 98.4 wheelbases, thus decreasing the overall weight of the vehicle and improving performance. The 1600-2 featured a 1573cc (1600) cc engine. The additional '2' represented the number of doors. A 105 horsepower 1600Ti soon followed. BMW was once again inching closer to its sports-car roots; a heritage it had not visited since the 1930's.

Helmut Werner Bonsch and Alex von Falkenhausen, both employee's of BMW's, had independently experimented with a 2.0 liter engine in the 1602 body. The combination was a success.

In 1966, the sale of 1600's in the United States began to escalate. The press had done much to stimulate desire for this small and responsive vehicle. The problem was that the sportier version, the 1600ti, was unable to pass the US Federal exhaust emissions regulations and thus, unable to be sold in that market. This was due to its twin-carburetor engine. The solution was to sell the 2-liter version which was able to pass the emissions regulations. So, in 1966, the 2002 was introduced.

During the life span of the 2002, which ranged from 1968 through 1976, there were three generations. The first generation was from 1968 through 1971. The second generation was built from 1971 through 1973. The third generation was built from 1973 through 1976.

From 1968 through 1976, BMW produced around 80,000 vehicle for the US market.

The vehicle produced from 1968 through 1973 can be identified by their round tail lights. Vehicle built after that and through 1973 had larger bumpers and sat atop a wider trac.

A turbo version of the 2002 was introduced but due to safety concerns, only produced in limited numbers. Less than 2000 were made; all were left-hand drive.
By Daniel Vaughan | Jul 2006
Auctions America Continues Successful 2013 Season with its Annual Fall Carlisle Sale
• Auctions America rounds out its 2013 auction season in Carlisle, Pennsylvania, October 3-4 • Two-day Fall Carlisle sale, held in conjunction with the Carlisle Events Collector Car Swap Meet & Corral, features a diverse roster of 300 classics, exotics, muscle cars, hot rods, and customs • Auction highlights include a desirable 1967 Chevrolet Corvette 427/435 Roadster, a 1969 Chevrolet Camaro Z-28 RS Sport Coupe, and a 1960 Mercedes-Benz 190SL Roadster • Full event details and a frequentl...[Read more...]
Auctions America Readies for Highly Anticipated Spring Carlisle Collector Car Weekend
• Auctions America returns to Carlisle, Pennsylvania for its annual Spring Carlisle sale, April 25-26 • Two-day sale lifts the gavel on a diverse roster of approximately 300 quality collector cars • Notable highlights include a rare 1959 Chevrolet Corvette 'Big-Brake' Fuel-Injected Roadster, a 1970 Chevrolet Chevelle SS LS5 Convertible and a 1999 Bentley Azure Convertible • Sale held during Carlisle Events' highly anticipated Spring Carlisle Collector Car Swap Meet & Corral weekend, April 24...[Read more...]
VICARI AUCTION COMPANY OFFERS RARE '62 & '63 Z06 CORVETTES AT 2013 CRUISIN' NOCONA
In a recent rare find, two classic Chevrolet Corvettes (one '62 and one '63) - stored for decades-are being made available by the Vicari Auction Company. Both vehicles will cross the block during 2013 Cruisin' Nocona, a north Texas collector car auction and classic car poker cruise set for April 19th and 20th in historic Nocona, Texas. The Corvettes are virtually all-original, and have been stored in Texas by a classic-vehicle aficionado and collector since the 1980s. 'These...[Read more...]
Barrett-Jackson Flavors Its January Scottsdale Auction With NASCAR Treats
• RACING HERITAGE, HIGH PERFORMANCE ARE RECIPES FOR CAR-COLLECTING FEAST
• SPEED™ SET FOR 39 HOURS of LIVE COVERAGE STARTING JAN. 15
The great Henry Ford once said, 'Auto racing began five minutes after the second car was built.' And for more than 60 years, there are few entities that better represent auto racing in America than NASCAR. From the hallowed grounds of Daytona International Speedway, to Sonoma, California's intricate and picturesque road course, the sp...[Read more...]
TOPLINE COLLECTORS PLACE SPOTLIGHT on SPEED'S BARRETT-JACKSON BROADCAST FROM SCOTTSDALE
• TOPLINE COLLECTORS PLACE SPOTLIGHT on SPEED'S BARRETT-JACKSON BROADCAST FROM SCOTTSDALE
• 'LOST' SHELBY DUAL PROTOTYPE, HAGERTY GIVEAWAY & SALON COLLECTION HIGHLIGHT 39 HOURS OF LIVE COVERAGE
The 42nd annual Barrett-Jackson Scottsdale (Ariz.) Collector Car Event, the first of four set for live coverage in 2013, kicks off the auction season in grand style as some of the world's most sought-after machines cross the block starting Tuesday, Jan. 15 at 7 p.m. ET/4 p.m. PT. SP...[Read more...]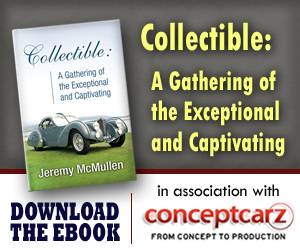 Similarly Priced Vehicles from 1971
Buick Skylark ($2,845-$3,520)
Triumph TR6 ($3,275-$3,275)
Dodge Challenger ($2,725-$3,270)
Dodge Charger ($2,710-$3,775)
Buick Gran Sport ($3,285-$3,476)
Mercury Cougar ($3,290-$3,875)

Average Auction Sale: $16,430
BMW
Monthly Sales Figures
Volume
December 2014
41,526
November 2014
31,019
October 2014
30,602
September 2014
25,586
August 2014
27,214
July 2014
26,409
June 2014
30,201
May 2014
29,602
April 2014
25,202
March 2014
32,107
February 2014
22,017
January 2014
18,253
(More Details)
© 1998-2014. All rights reserved. The material may not be published, broadcast, rewritten, or redistributed.