1953 Packard Caribbean news, pictures, specifications, and information

Tweet
From its earliest beginnings right around the turn of the 20th century, Packard-built vehicles would be perceived as luxurious and plush, meant for the upper-class of society. And while the company would feature some fantastic roadsters and runabouts, it would still be considered one of the three 'P's' of American Motordom royalty along with Peerless and Pierce-Arrow. However, after World War II, the world would change and Packard would find itself in some rather unusual company needing to change, or die.

After decades of being considered one of the most lavish and opulent of America's automotive industry, Packard would find itself in trouble, holding on for dear life in a nation that had almost changed overnight.

World War II had changed the landscape of the United States and most of the world. Living life would be mantra heading into the 1950s. The world had just come out of a long, dark depression of destruction and death and it wanted to start enjoying life all over again. This meant excitement, adventure and generally having fun. Packard did not represent fun. It represented stuffed-shirts and a luxury that screamed 'don't touch!'

Roles would change after World War II. While before the war the millionaire may have been pleased to be chauffeured around. After the war, the mood would change. Millionaires were more likely to want to drive the car than let the chauffeur have all the fun. In reality, what was happening is that the common man was abandoning companies it could afford and went looking for more expensive models. However, their style of driving, and intentions, would be anything upper-class.

In reality, Packard needed to change. It needed to let loose and mingle amongst the common folk. But it had had so many decades of mingling amongst the apparent elites of society that it really didn't know how to change, but it was quickly going to become expendable if the company didn't do anything. Admittedly, the company needed a 'halo' car.

The halo effect is an assumption, or bias, based upon perception of certain traits. Very simply, the halo effect could be best described using the example of something physically attractive being perceived as being better, more desirous, but is based on nothing more than a perceived notion. And Packard's halo effect on the public would be its Caribbean Convertible.

In 1953, Packard would introduce its Caribbean. In 1952, Packard would produce its Pan-American concept car and it would be on display at the 1952 New York International Motor Sports Show. Though not entirely, this concept car would serve as some foundation for the Caribbean. The Caribbean would be part of the Cavalier line from Packard which had a price tag that would be considered mid-range. However, with Mitchell-Bentley providing the convertible bodies, the Caribbean would be notably different than the Cavalier.

The focus of the Caribbean was on producing a more sporty car. Therefore, the car would lack a good amount of trim and other brightwork, especially on the side of the car. The car would show a little emotion with its full-wheel cut-outs and rocker panels trimmed in chrome. This would help give the car a more modern feel with a little edge and sportiness. The car would certainly be a stunner and it seemed the halo effect would work.

It seemed Packard had gotten it right. It had the luxurious amenities of beautifully trimmed chrome, wire wheels, plush leather interior and a continental kit that made it truly one of the company's best. It even looked sporty with a faux hood scoop. But old habits die hard and the old side of Packard would come back and would ruin the party.

Packard enjoyed sales that exceeded Cadillac and Oldsmobile. But in 1954, the safe and stuffy tradition of Packard would come creeping back into the car's design. The wheel cut-outs would be flattened on the following year's design and chrome would come back in abundance taking away the sporty edge the car initially had. This would be further demonstrated by the fact a hardtop model of the car would also be made available, but the vast majority that would be sold would actually be the convertible. This 'numbing' of the design would lead to sales dropping significantly and further causing the hemorrhaging to continue.

The final act would come with a merger with Studebaker in 1956. Packard had released an updated model of the Caribbean in 1955. The updates would be extensive and promising, but the company was out of time. This would lead to a merger with Studebaker in 1955 and 1956. The merger, and Studebaker itself, would cause the process of developing a new model of the Caribbean to slow almost to a halt. The company would decide rather late to produce an evolution of the Caribbean, but it would come out swinging with a 374 cu. in. V-8 that produced over 300 horsepower. As it was, Packard didn't necessarily come out swinging. It was going down swinging. While perhaps the best of the Caribbean model, the 1956 edition would come too late to help save the company. And in the end, the public would see through the expected halo effect and would see Packard for what it was.

In January of 2012, at the RM Auction in Arizona, a 1953 Packard Caribbean Convertible would be made available for sale. Chassis number 2678 would have a mysterious early life. However, it would be one of the rare examples of the Caribbean Convertible in that it came with special-order black paint that elegantly finished the car and gave a striking contrast to the chrome. To match, the interior would include black and white leather upholstery. Powered by a 327 cu. in. 180 hp inline eight-cylinder, this particular model of the Caribbean Convertible beautifully demonstrates the halo effect Packard was going for with its sporty convertible.

Chassis 2678 had, at one time, been owned by the Packard specialist Tom Crook. Since 2003, the car has been part of Karl Blade's collection. An older previous restoration to the car had been completed some time in its past, but in 2006, Al Prueitt and Sons would give the car a thorough touch up. During that time the car would be disassembled and entirely stripped of its finish. The car would then be completely refinished. In addition to the finish, new window glass would be installed. The chrome would be re-plated and new radial tires would be fitted.

These restored elements would go well with the power options already on the car which included hydraulic windows, hydraulic seat and top and power steering and brakes. Once the transmission and the engine would be entirely rebuilt the restoration work would be done, and at a cost of more than $102,000.

The car would be shown at the Packards International National Meet in 2007 and would earn a perfect score and an award for Best Paint and Best in Class in Postwar—Open. The car would also receive the Packards International Circle of Excellence certificate, what many consider to be a coveted achievement to earn.

Expected to earn between $100,000 and $125,000, this certainly would be one of the 'halo' Packard Caribbean Convertibles that wouldn't just cause one to perceive why the 1953 model of the Packard Caribbean Convertible was so popular. The car would provide the evidence needed to support the assumption.

Sources:
'Feature Lots: Lot No. 203: 1953 Packard Caribbean Convertible', (http://www.rmauctions.com/FeatureCars.cfm?SaleCode=AZ12&CarID=r136&fc=0). RM Auction. http://www.rmauctions.com/FeatureCars.cfm?SaleCode=AZ12&CarID=r136&fc=0. Retrieved 6 January 2012.

'Collectible Classic: 1953-1956 Packard Caribbean', (http://www.automobilemag.com/features/collectible_classic/0802_1953-1956_packard_caribbean/index.html). Automobile. http://www.automobilemag.com/features/collectible_classic/0802_1953-1956_packard_caribbean/index.html. Retrieved 6 January 2012.

'1956 Packard Caribbean', (http://auto.howstuffworks.com/1956-packard-caribbean.htm). Demystifying the World. http://auto.howstuffworks.com/1956-packard-caribbean.htm. Retrieved 6 January 2012.

Wikipedia contributors, 'Packard', Wikipedia, The Free Encyclopedia, 30 December 2011, 05:54 UTC, http://en.wikipedia.org/w/index.php?title=Packard&oldid=468488808 accessed 6 January 2012

Wikipedia contributors, 'Packard Caribbean', Wikipedia, The Free Encyclopedia, 15 December 2011, 22:39 UTC, http://en.wikipedia.org/w/index.php?title=Packard_Caribbean&oldid=466069274 accessed 6 January 2012

Wikipedia contributors, 'Halo effect', Wikipedia, The Free Encyclopedia, 1 January 2012, 22:39 UTC, http://en.wikipedia.org/w/index.php?title=Halo_effect&oldid=469010880 accessed 6 January 2012

Wikipedia contributors, 'Packard Cavalier', Wikipedia, The Free Encyclopedia, 4 December 2011, 23:33 UTC, http://en.wikipedia.org/w/index.php?title=Packard_Cavalier&oldid=464121188 accessed 6 January 2012

By Jeremy McMullen
The Packard Caribbean Convertible of 1953 was inspired by the Pan-American show car. It was put into limited production with only 750 examples being produced. It featured classic Kelsey-Hayes wire wheels, low hood scoop, and full cutout rear wheel housing.

This 1953 Packard Caribbean Convertible has been in the care of its owner for twenty years and has been well maintained with regular maintenance. It has been treated to a complete restoration; following the restoration it was shown at several shows where it won the coveted Best of Show Award on several occasions. The exterior is finished in burgundy paint with chrome used throughout. The interior is finished in burgundy and ivory leather. All mechanical components are original, including the eight-cylinder engine that displaces 327 cubic-inches and produces 180 horsepower. This car has a three-speed manual gearbox and four-wheel disc brakes. It is well equipped with options such as power windows, power top, and power brakes.

At auction the car was offered without reserve and estimated to sell between $65,000 - $85,000. The estimated value proved to be accurate as this well preserved vehicle was sold for $75,350.
By Daniel Vaughan | Aug 2007
The inspiration of the prestigious Caribbean was Packard's Pan American show car, displayed at the 1952 New York Auto Show.

In order to ensure exclusivity, 1953 Caribbean production was limited only 750 units and the base price was a stout $5,210. All were constructed by the Mitchell-Bentley Company from production Packard convertibles. Extensive modification included de-chroming, a hood scoop, extended quarter panels, wire wheels, and a rear-mounted 'continental kit' spare tire.

Power was provided by a 327 cubic-inch version of the venerable Packard side-valve inline eight and the Packard designed Ultramatic automatic transmission.

The Gulf Green Metallic Packard Caribbean shown was acquired by the current owners in 2002. During the period 2003-2006, it was the recipient of a complete restoration.
This 1953 Packard Caribbean Model 2678 is number 688 of 750 examples built. It had a base price of $5,209 and was a custom built, two-door convertible. Power is from an eight-cylinder L-head engine that produces 180 horsepower. It has a single exhaust, rear wheel drive, Ultramatic transmission, two-speed torque converter with lock-up, power steering and brakes, power seats, windows and antenna, and an AM radio with signal seek. There is a twenty-gallon fuel tank and the car average 11/15 mpg. Top speed is achieved at around 100 mph and it goes from zero-to-sixty in about 17 seconds. This car is painted in Matador Maroon with a white top and matching seat bolsters. It was factory installed (made by Hudelson - Whitebone Company) with a Continental kit.

The Caribbean was an outgrowth of the 1952 Pan American Show/Concept car and was designed to compete against Cadillac's Eldorado (in 1953 it outsold the Eldo 750 to 532). Packard shipped partially completed convertibles to custom car builder Mitchell Bentley Corp. in Ionia, Michigan where there were transformed into a Caribbean and then completed. All engineering and mechanics are pretty much standard Packard. The open wheels and tires, undercoated sides, hood scoop and extended rear fenders and tail plus inset continental tires are unique to these cars. The belt line even mimics the famous 'Darrin Dip' design elements.

This particular car has about 75,000 miles since new. It was purchased from the estate of a long-time Packard collector (it was 1 of 4 Caribbean's he had) who didn't like it and only drove it 2,000 miles in 28 years. It took a year of driving to get the engine cleared out after being so dormant, but it now runs in the true Packard tradition.

There were four standard colors, and this example is finished in Matador Maroon (it was repainted in the 1970s). The Maroon and white leather interior is the original. The Packard Registry estimates there are about 88 of these cars remaining.

With its clean lines, many consider the 1953 version to be the best looking and most collectible of the 4 years the models were offered.
The Packard Pan American show car was shown at the 1952 New York International Motor Sports Show and it was met with much consumer excitement. Packard assigned young designer Dick Teague the task of transforming the Pan American show car into a production automobiles based on the 250 convertible. The result was the Caribbean and only 750 examples were produced during its introductory year of 1953.

This particular example is a rare Series Model #2631 and has many unique elements such as a fully radiused rear-wheel cutouts and chrome wire wheels. It was once in the possession of collector William Pettit and part of his Museum of Motoring Memories in Natural Bridge, Virginia. It was sold in December of 2005 and was then disassembled for freshening, building upon its previous frame-off restoration. It was repainted and the chrome was re-plated and given a new top, carpets, tires and wire wheels.

This car is finished in Catalena Cream and has a Cranberry leather interior. It has a 327 cubic-inch eight-cylinder engine and a rare three-speed manual transmission with overdrive. There are four-wheel hydraulic brakes and front independent suspension.

In 2009, this Caribbean Convertible was offered for sale at the Gooding & Company auction in Scottsdale, Arizona. The car was estimated to sell for $120,000 - $150,000 and was offered without reserve. Bidding failed to satisfy the reserve and it was left unsold.
By Daniel Vaughan | Apr 2009
Packard introduced the Caribbean model for the 1953 model year, inspired by Packard's Pan American show car from the previous year. The Caribbean was essentially a customized Packard Mayfair, with an air intake on the hood in place of the Packard mascot, a continental kit (for the spare tire), cut-out rear wheel openings and chrome wire wheels. The top and windows are operated hydraulically.

This Caribbean was acquired by the current owner from the son of the original owner, in Rochester, New York. When the owner paid the asking price the seller included a 1953 Packard sedan parts car at no extra cost! It took five years to restore the Packard to its current condition.
Inspired by Richard Arbib's 1952 Packard Pan American show car built by Henney, Packard introduced the convertible Caribbean in 1953. It features circular rear-wheel cutouts, 'Continental kit' outside spare tire and chrome wire wheels, plus most every optional amenity in the book. It cost a lofty $5,210 and was deliberately limited to 750 copies - for snob appeal - but the Caribbean was as well received as Cadillac's new 1953 Eldorado.

The 4,265-pound car rides on a 122-inch wheel-base. It is powered by an in-line, 8-cylinder, 327 cubic-inch engine that develops 180 horsepower.

Mitchell-Bentley Corp. of Ionia, Michigan built the 750 Caribbeans, which could be ordered in Polaris Blue, Gulf Green Metallic, Matador Maroon Metallic or Sahara Sand. At $5,210 each, the Caribbean was the most expensive of the non-Patrician Packards for 1953.
This Packard Caribbean is finished in its original shade of Gulf Green Metallic (a color unique to this model), and was the 61st example to roll off the production line in Iona, Michigan. The car was delivered to Seattle, Washington on May 8th of 1953 and purchased by James 'Jim' F. Hodges. The car has remained near Seattle its entire life.

In 1955 the Packard was purchased by Mary Christina Nuckols. After she could no longer drive the car, it was put on blocks in her garage. Discovered by the current owner in the mid-1980s, it was not until 2004 that he was finally able to convince her to part with the Packard.

Upon purchase, the car was given a sympathetic refurbishing to 'driver' standard. Eventually, the car was completely restored to show-level condition. The cost of the restoration was $97,000. After the work was completed, the car received awards at the Steamworks Concours d'Elegance in Vancouver, BC in 2006 and the Hillsborough Concours d'Elegance in Hillsborough, CA in 2008.

In 2012, the car was offered for sale at the Quail Lodge Sale in Carmel, CA presented by Bonhams Auction. The car was estimated to sell for $95,000 - $110,000 but was unable to find a buyer willing to satisfy its reserve. It would leave the auction unsold.
By Daniel Vaughan | Oct 2012
The Packard Caribbean was an exclusive and limited production vehicle with just 750 examples produced. Introduced in November of 1952 with the rest of the 1953 line, it styling was derived directly from the Packard pan American show car of 1952. Mitchell-Bentley Corporation modified standard Packard convertible bodies to achieve the elegant European appearance of the Caribbean. Adding it to their clean appearance, the cars were de-void of regular side trim and special full-wheel cutouts and rocker panels edged in chrome. In the back was a Continental kit nicely nestled between lengthened rear fenders.

This car was formerly part of the Art Astor Collection. It was a California car for 20 years prior to acquisition by the current owner. It wears an older restoration that has had recent work to correct minor imperfections in the body and paint. The restored chrome shows minimal surface scratching. There is a white vinyl convertible top and maroon paint along with a vinyl interior.

The car features an AM radio with a power antenna, a heater, power steering, power brakes, a power driver's seat, and a power top and windows. The mileage is shown as 14,400 which is believed to be the distance covered since the earlier restoration.
By Daniel Vaughan | Dec 2013
One of the signature cars of the 1950s, the Caribbean was built on the Packard 400 chassis. It featured Packard's own overhead valve V8 engine with displacement of 375 cubic inches producing 310 horsepower. An exclusive limited-production automobile, the regal Packard Caribbean was manufactured from 1953 until 1956. Offered in either convertible or hardtop form, the sleek Caribbean came with many lux options and features. The Caribbean was marketed by the Packard Motor Car Company as a 'halo' vehicle to promote sales for the entire brand. The styling of the Caribbean was inspired from the Pan American Packard show car of the previous year. From 1953 until 1955 the model was available only as a convertible with a hardtop model being added in 1956, the final year.

With it full cutout rear wheel housing and glam side trim, the 1953 Caribbean was a truly eye catching sight. As part of the Packard Cavalier model range, the model featured a chrome band outline that stretched along the whole length of the vehicle that also helped to define the car's wheel openings. The wheelbase measured at 127 inches, with an overall length of 218.5 inches and width of 78 inches. Standard on the Caribbean was a sporty steel continental spare tire. A distinctive, low leaded-in hood scoop was featured on the hood.

On the inside of the Caribbean was standard power-assisted steering, which was incredibly rare at this time. The interior of this model featured rich leather upholstery, dual heaters and defrosters, power brakes, power windows and seats and three-way radio with an electric antenna. Mitchell-Bentley Corporation of Ionia, Michigan was responsible for the elegant styling of the Caribbean body. Owners could choose from limited colors Maroon Metallic, Sahara Sand, Polaris Blue and Gulf Green Metallic. A small variety of special-ordered automobiles were built in Black or Ivory.

Optional on the first year model was the Ultramatic transmission and power windows. For the first year on the market a total of 750 models were produced. Today these are highly collectible and restored models can go as high as six-figure amounts.

In 1954 the Caribbean rose to senior Packard level. It continued to feature plenty of its own distinctive styling features though the full rear-wheel cut outs were removed. Chrome and stainless trim became a lot more generous and now allowed for two-tone paint combinations. New this year was a four-way power seat. The Caribbean received heavier 'finned' headlight housings, much like the Patrician. This was one of the styling cues that set these senior Packard's from their lower priced siblings. This year the Caribbean featured the 359 cubic-inch straight eight senior engine used in the last manifestation of Packard's straight eight engine. Four hundred of these 1954 models were produced, making this the most rare year for the Caribbean.

For 1955 the Caribbean line received the V8 engine and implemented the Senior Packard line styling completely. The Caribbean was offered in either two or three-tone paint patterns. The old Packard Senior body was transformed into a suave, contemporary design by designer Richard Teague. Packard's torsions level suspension went to the Caribbean and the single hood scoop was split into two units. For this year a total of 500 units were produced.

The final full-sized Packard built, the 1956 Packard Caribbean was built as well as the most lush and modern car in the 1956 lineup. The final year for the Caribbean, 1956 brought about the model being broken into its very own luxury series. A hardtop model was added to the lineup. Only slight updates were made between the two model years to differentiate the models and they included trim updates and grille texture changes. The grille now matched the one found on the concurrent Patricians while the rear treatment that featured Packard's cathedral style taillights resumed.

New this year, the headlights adopted much more exaggerated hoods. For 1956 a total of 263 hardtops and 276 convertibles were produced. Only 10 exclusive convertible models were equipped with air conditioning from the factory. The 1956 model sold new for $5,995, which was the most expensive model Packard produced this year. It was available in original colors of Dover White, Maltese Gray and Scottish Heather. New features this year included twin traction differential with limited slip designed for all weather conditions. Additional new safety features included wrap around parking and taillights, side marker lights, and automatic torsion leveling system for optimal nighttime visibility.

The 1956 model featured a huge 374-cubic inch V8 engine with an impressive 310 horsepower rating. Extravagant standard features included gold-ton 'Caribbean' scripts, power windows, Ultra-matic automatic transmission with push-button controls and a Wonderbar radio. Additional features included novel reversible seat cushions with brocade on one side and leather on the other.

Unfortunately Packard was facing deep financial troubles with drowning sales. Packard's Detroit assembly and engineering operations production ended and the Caribbean model was discontinued. Despite all of the financial troubles surrounding the Packard line, the exquisite Caribbean Convertible has remained the unblemished queen of the marques line.


Sources:
http://en.wikipedia.org/wiki/Packard_Caribbean
By Jessica Donaldson
The Packard Caribbean was a limited-production automobile produced from 1953 through 1956. It was inspired by the Pan American concept car that Packard had displayed at the 1952 New York Auto Show. It was available in convertible and hardtop form. Originally, only the convertible was offered but in 1956 the hardtop was introduced. The vehicle was outfitted with as many amenities available at the time and overseen by Packards stylist, Dick Teague. The interior was adorned in leather trim and was equipped with dual heaters and defrosters, three-way radio with electric antenna, power brakes, windows and seats. Even power-assisted steering was standard, a rarity at the time.

Under the hood lurked an outdated Packard 327 cubic-inch inline eight-cylinder side-valve engine capable of producing 180 horsepower. In 1954, the horsepower rating was increased to 212. A new V8 engine was introduced in 1955 and the horsepower rating skyrocketed to over 300. The 'Twin-Ultramatic' transmission was controlled through push-buttons in the middle of the dash and the Suspension was torsion bars inter-connected from the front to the rear.

The 1953 and 1954 version had a continental spare wheel fixed atop the rear bumper pan. A hood scoop gave the vehicle a sporty persona while the wire-spoke wheels gave it a hint of European styling. Two-tone paint schemes and chrome accent strips gave the vehicle a distinct appearance.

In 1954 Packard merged with Studebaker to try to compete, (stay in business), against the large mass-production automobile giants. By 1956, their body supplier, Brigg, sold out to the Chrysler Corporation. Packard moved the body manufacturing to a Detroit factory where it struggled with supply and quality issues. Chrysler had their C-300 and Cadillac their Eldorado, both were moving in on Packard's territory.

The Caribbean exclusivity was guaranteed by their steep sticker prices. 400 examples were sold in 1954, and between 1955 through 1956, 500 examples were sold. This exquisite vehicle made it into production just before the Packard name became part of the past.
By Daniel Vaughan | Aug 2013
For more information and related vehicles, click
here
BARRETT-JACKSON SALON COLLECTION TO HIGHLIGHT SCOTTSDALE AUCTION
•(Lot #5087), a 1949 Talbot-Lago T-26 Grand Sport Franay headlines Barrett-Jackson's Salon vehicle lineup •An exquisite 1929 Alfa Romeo 6C 1750 SS (Lot #5083) will be among the auctions most notable consignments •One of 300, a stunning silver 1955 Mercedes-Benz 3000 SL Gullwing (Lot #5075) will cross the Scottsdale auction block SCOTTSDALE – Jan. 5, 2015 – Barrett-Jackson, The World's Greatest Collector Car AuctionsTM, will feature a rare docket of exquisite Salon vehicles during its...[Read more...]
MERCEDES-BENZ 2014 G63 AMG: THE ULTIMATE G-CLASS
The latest technology for the AMG off-road icon: the new 2014 G63 AMG impresses with a state-of-the-art powertrain, expressive new design and improved efficiency. All this is largely attributable to the AMG 5.5-liter V8 biturbo engine delivering 536 hp and the AMG SPEEDSHIFT PLUS 7-speed automatic transmission. Every new AMG high-performance vehicle offers an outstanding mix of 'more power from less fuel' – and the G63 AMG is no exception. The 'strong man' in the AMG model range has been furt...[Read more...]
Mercedes-Benz Pays Homage to a Regional Classic at the 2013 Greenwich Concours d'Elegance
The all-new 2014 E-Class Wagon Debuts Alongside a 1957 300c Mercedes-Benz USA debuts the all-new 2014 E-Class Wagon alongside one of its predecessors, a pristine 1957 300c at the 18th Annual Greenwich Concours d'Elegance from June 1-2, 2013. The event features rare vehicles from past and present and benefits Americares, the private, non-profit relief and humanitarian aid organization. With the background of the breathtaking Greenwich seaside, Mercedes-Benz highlights one of the Nort...[Read more...]
Magnificent Series of Coachbuilt Classics To Grace RM's Amelia Island Concours D'Elegance Sale
• RM Auctions returns as the official auction house of the Amelia Island Concours d'Elegance, March 9, 2013 • Single-day sale features breathtaking roster of more than 80 investment-quality collector cars • Notable highlights include an outstanding series of coachbuilt classics headlined by a multi-million-dollar 1935 Duesenberg Model SJ Walker-LaGrande Convertible Coupe and a trio of Cords from the personal collection of Jim Fasnacht • Frequently updated list of entries available online at r...[Read more...]
Carroll Shelby, Ford Family for More Than Half a Century
Carroll Shelby was a member of the Ford family for the better part of 60 years, producing stunning performance vehicles from concepts to production models. He once said his energy and passion for performance products were always strongest when he was working with Ford. Shelby most recently collaborated with the company on the 2013 Ford Shelby GT500 Mustang, the most powerful production V8 in the world. Working with SVT engineers at Sebring and the Arizona Proving Grounds, at times he drov...[Read more...]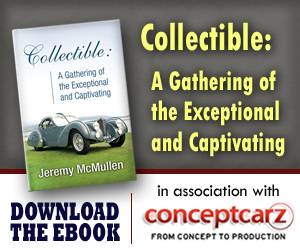 © 1998-2014. All rights reserved. The material may not be published, broadcast, rewritten, or redistributed.