1962 MG MGB news, pictures, specifications, and information

Tweet
For the 1964 12 Hours of Sebring, the British Motor Corporation (BMC) put their support behind the race team of San Francisco BMC dealer Kjell Qvale. The English Company sent three MG Bs, fitted with race prepared engines, lightweight panels and competition parts. Joe Huffaker, Qvale's competition manager, added his expertise and talents to the cars by further tuning and preparing them for the race.

This light blue car wearing race number 48 was driven by Jim Adams and Merle Brennan to an impressive fourth-in-class finish and 22nd overall in its racing debut at the 12 Hours of Sebring event. After Sebring, the car was sold to William Schmidt of California, who continued to add to its racing resume by competing in the Sports Car Club of America (SCCA) Production Class. To comply with the SCCA rules, the lightweight aluminum body parts were removed and so were the Weber carburetors. All of the parts were retained by Schmidt and subsequently passed along to later owners.

In 1968, the car was sold to William R. Smith of California who used it in SCCA events. It was sold in 1974 to Mac Townsend of California who did not race the car during his 10 years of ownership. In 2002, the owner at the time began a restoration, bringing it back to its 1964 Sebring configuration. The original lightweight hood, front fenders, deck lid and door panels were fitted. Its mechanical components were also brought back to original configuration. Upon completion, the car was shown at the HMSA Sebring Reunion at Laguna Seca in 2004 and also appeared in Classic Motorsports, Vintage Race Car Journal and Sports Car International magazines.

In 2009, this MG B Lightweight Competition car was offered for sale at the Gooding & Company auction held in Scottsdale, Arizona. It was expected to sell for $100,000 - $150,000. Sadly, bidding failed to satisfy the cars reserve and the lot was left unsold.
By Daniel Vaughan | Apr 2009
By the end of the 1950's, the MGA was starting to feel its age and a replacement car was needed. The replacement was expected to focus on performance and comfort. The MGB introduced improvements over the prior MG model that including roll-up windows and glove compartments, to name a few.
In 1957, Frua, an Italian stylist, was commissioned to style a new car. What was original conceived as a closed car, evolved into a roadster. The MGB was in production from 1962 through 1980. Originally thought to be in production for only 5 years, turned into 18 years. During that time nearly 389,000 roadsters and more than 125,250 GT's were produced.

A 1798 cc powerplant was chosen to power the vehicle. With the 95 horsepower engine, the MGB easily exceeded 100 mph.

There were three main bodystyles for the 'B' throughout its lifetime. The vehicle could be fitted as an open roadster, a GT, and the V8 version. Along with the body-style variations, there were official, and unofficial, designations that characterize the vehicles evolution.

The Mark I, never an officially designated, was from 1962 through 1968. During this time, the MGB GT was introduced. The GT added a closed version of the standard body. The roof added extra weight but improved its performance due to aerodynamic features the roadster version was unable to capitalize upon.

In 1963, overdrive became available as optional equipment.

The Mark II followed in 1976 and continued through 1969. It was offered in GT and open forms. The main features distinguishing the MKII's was a modified, synchromesh gearbox with revised ratios, and reverse-lamps on the valance panel. An automatic gearbox became available as optional equipment for the MGB and continued until 1973.

In 1967, MG introduced the MGC. This was intended as a replacement for the Austin-Healey 3000.

The Mark III was another unofficial designation, built from 1969 through 1974. The MKIII's featured rubber faced over-riders, British Leyland badges, vinyl seats, Rostyle wheels, and recessed grille. The recessed grille was later replaced by a black plastic mesh grille.

In 1972, the GT version came standard with cloth seats.

To conform to US emission and safety regulations, the American version of the 'B' car featured a split rear bumper.

From 1975 through the 1980, the MGB's featured rubber bumpers. The bumpers appeared to be plastic; however, they were constructed from steel and covered by polyurethane. The bumper was needed to comply with American 5 mph crash tests. The vehicles height also increased by 1.5 inches to conform to standard bumper height requirements. This caused over-steer and body-roll. Modifications to the suspension in an attempt to rectify the problem helped, but did not cure the problem.

The MGB GT V8 was introduced in 1973. The Rover, 3532 cc, aluminum V8 engine was capable of producing 137 horsepower. The engine was light, increasing the overall weight of vehicle only slightly. It fit snug in the engine compartment. Minor modifications to the bulkhead and the introduction of a low-rise exhaust manifold were needed. With the V8 powerplant, the MGB was a true sports/touring vehicle. Unfortunately, it was short lived. In 1976, production of the V8 MGB ceased. It is believed that the fuel crisis of the 1970's compounded with a limited supply of Rover engines was the cause of the short life span.

The MGB delivered exceptional performance, handling, and fuel economy for its day. With over a half-of-a-million examples produced, it is one of the most popular and successful sports cars of all time.
By Daniel Vaughan | Apr 2009
For more information and related vehicles, click
here
MAZDA RACER LIAM DWYER READY TO RACE AGAIN
U.S. Marine Staff Sargent Seeking To Repeat Lime Rock Win August 19, 2014 (IRVINE, Calif.) – When Hollywood scripts a racing movie, they tend to go overboard. Having an injured U.S. Marine Staff Sargent winning a professional race, in only his second start, just miles from where he grew up, on the third anniversary of his 'Alive Day', after 50 surgeries since that injury, on Memorial Day weekend. Who would believe that? Believe it, as that's exactly what happened to Liam Dwyer and h...[Read more...]
RESTORED 1970 BMW ALPINA 2002TI RETURNS TO THE TRACK AT 2014 ROLEX MONTEREY MOTORSPORT REUNION
On the heels of the launch of the BMW ALPINA 2015 B6 xDrive Gran Coupe to the US market, one of ALPINA's early cars will compete in the Rolex Monterey Motorsport Reunion. Woodcliff Lake, N.J. – August 5, 2014 …Today BMW announced that it will run its newly restored 1970 BMW ALPINA 2002ti in the annual Rolex Monterey Motorsport Reunion at Mazda Raceway Laguna Seca next week. The car will be raced by Road & Track Executive Editor and vintage racer Sam Smith. This racing 2002ti ...[Read more...]
Looks, Rarity, Performance: The Ultimate Connoisseur's Ferrari at RM Monterey...
LOOKS, RARITY, PERFORMANCE: THE ULTIMATE CONNOISSEUR'S FERRARI, 275 GTB/C SPECIALE HEADLINES RM AUCTIONS' FLAGSHIP MONTEREY SALE • RM Auctions offers the first of only three 1964 Ferrari 275 GTB/C Speciales, chassis 06701, at its flagship Monterey, California sale, August 15-16 • With its two sibling cars unlikely to ever become available, 06701's offering is a historic and unrepeatable opportunity to acquire one of the world's most important automobiles • Exceptional 275 GTB/C Speci...[Read more...]
Sports and Racing Rarities Lead Early Highlights For RM's Two-Day Arizona Sale
• RM Auctions returns to the Arizona Biltmore Resort & Spa in Phoenix from January 16–17 to kick off its 2014 collector car season • Expanded to two days in 2014, the well-established sale will celebrate its 15th year by lifting the gavel on approximately 120 handpicked motor cars • Early highlights span the spectrum of the market, led by a superb trio of sports and racing Porsches • Annual sale kicks off RM's 2014 international auction calendar, which includes the company's highly anticipate...[Read more...]
MAZDA CELEBRATES RACING SUCCESS IN NYC
October 1, 2013 (New York, New York) After closing out a dynamic 2013 Rolex Grand-Am GX season with nine-straight wins, the Mazda Motorsports team proceeded to New York City for the annual post-season awards celebration. Mazda teams and racers received multiple awards and recognitions during the Grand-Am awards gala, highlighted by Mazda winning the 2013 Grand-Am GX Manufacturers Championship. In twelve races, the SpeedSource Mazda team scored nine wins, five for the #00 VISITFLORID...[Read more...]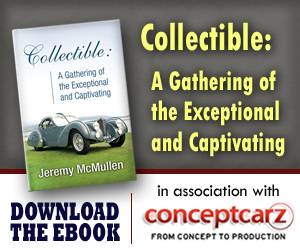 © 1998-2014. All rights reserved. The material may not be published, broadcast, rewritten, or redistributed.