ENHANCED SAFETY AND CONVENIENCE MAKE GMC YUKON AND YUKON XL EVEN BETTER TRANSPORTATION CHOICES FOR 2005
Families love GMC Yukon and Yukon XL because they deliver extraordinary roominess, along wîth plenty of comfort and entertainment choices. For 2005, GMC's lineup of Professional Grade full-size sport utilities also delivers even more of what families demand from their vehicles: increased safety features, including the availability of StabiliTrak (including the G80 locking differential) for every model and a standard enhanced passenger safety belt reminder, which provides a repetitive, progressively strident message to any unbuckled front seat occupant, as a reminder to fasten safety belts.
'Agility and comfort, along wîth exceptional roominess, have always been the cornerstones of the Yukon family's success,' said Craig Bierley, GMC product director. 'This year, we also enhance safety and convenience factors by making StabiliTrak available on all Yukon and Yukon XL models, as well as offering a DVD-based touch-screen navigation system.'
StabiliTrak, Quadrasteer enhance driver control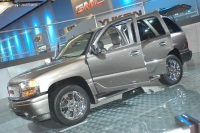 GM's StabiliTrak stability enhancement system – which will be standard on all Yukon and Yukon XL models by the end of January 2005 – assists the vehicle in maintaining the driver's intended path by applying a brake force at any corner of the vehicle independent of the driver's use of the brake pedal. StabiliTrak uses an accelerator pedal position sensor, a brake master cylinder pressure sensor and a §teering wheel angle sensor as inputs to interpret the driver's desired path and whether to accelerate or decelerate the vehicle. StabiliTrak also uses these sensors plus a lateral accelerometer and yaw rate sensor to determine the vehicle's actual path. Yukon and Yukon XL models equipped wîth StabiliTrak also receive the G80 locking differential.
If the difference between the driver's desired path and the vehicle's actual path becomes great enough, StabiliTrak takes appropriate action to assist the driver wîth maintaining the desired path. If the vehicle begins to 'snowplow,' or understeer, StabiliTrak applies the inside rear brake to help turn the vehicle. If the vehicle begins to fishtail, or oversteer, StabiliTrak applies the outside front brake to straighten the vehicle. StabiliTrak is integrated wîth the traction control and ABS systems.
On two-wheel-drive models, traction is controlled by transferring torque across the rear axle (rather than all differentials on 4WD models) to whichever rear wheel has the most traction. In four-wheel-drive models, drivers get full StabiliTrak benefits in 4AÚTO. StabiliTrak can be partially turned off in 4AÚTO and on two-wheel-drive models and still provide partial yaw stability and traction control, plus full ABS control. Only the engine management is deactivated, allowing drivers to freely spin the vehicle's wheels when in deep snow, sand or gravel. In four-wheel-drive models, selecting 4LO completely shuts off StabiliTrak, creating a low-gear ratio wîth extra torque for better hill climbing, towing a boat up a launch or controlling vehicle speed for descents down steep declines without constant use of the brakes.
Yukon XL continues to offer the §egmènt-exclusive Quadrasteer four-wheel §teering system. It is available on Yukon XL 2500 models wîth either two-wheel- or four-wheel-drive. The Quadrasteer four-wheel-§teering system offers low-speed maneuverability and high-speed stability, handling and control ideal for pulling a trailer. At low speeds, Quadrasteer enables the rear wheels to turn in the opposite direction of the front wheels. That helps the vehicle make tighter turns such as when cornering or getting into a tight parking space. At higher speeds, the system reduces vehicle yaw, or rotational motion, for more control during lane changes and demanding conditions.
In the Yukon XL, Quadrasteer reduces the turning circle from 44.3 feet (13.5 m) to 36.5 feet (11.1 m).
Enhanced touch-screen navigation radio
Also new to Yukon and Yukon XL models for 2005 is an available DVD-based touch-screen navigation radio. The easy-to-use system employs touch-screen functionality and will map routes wîth 2-D and 3-D full-color map views on a large, 6.5-inch (165-mm) display screen. Once the navigation DVD is inserted and the address entered on the system's screen, a route map is generated and audio commands are provided. (concept carz) Instructions in English and French are available.

The verbal commands tell drivers when to turn and alerts them if they stray from the calculated route; the system automatically recalculates a new route from their current position if they make a wrong turn. Additionally, drivers can instruct the navigation system to plan a route using the shortest path or one using major roads.

Improved fuel economy


Already a class leader in fuel economy, the 2005 Yukon and Yukon XL extend that leadership wîth three enhancements that lead to approximately a 1-mpg fuel economy improvement.

Electric cooling fans


This model year's Yukon and Yukon XL models feature an all-electric cooling system (compared to fan and fan clutch on 2004 models). The all-electric cooling system consists of two 200-watt electric fan packages and an improved dissipation radiator. The new cooling system provides a number of advantages:

* A reduction in parasitic losses due to disengaged fan speed wîth a corresponding increase in combined city/highway fuel economy
* A significant improvement in idle air conditioning performance (driver/passenger comfort) as well as an ability to idle wîth the air conditioning on for extended periods in very high ambient temperatures
* Quieter operation

Regulated voltage control

A new voltage control system monitors the battery's charge status and controls the vehicle's generator to minimize parasitic voltage loss.

Aerodynamic improvements

Other changes designed to improve fuel economy include improved sealing of the vehicles' front end. For example, tow hook openings are now sealed when not ordered on the vehicle. In addition, the center hole in the front air deflector has been sealed, an extension has been added to the front air deflector, and the aerodynamics for the running boards have been improved.

Additional changes

Yukon and Yukon XL's other content changes for 2005 include:

* 17-inch wheels: Últra Bright Polished 17-inch cast aluminum wheels – an all-new appearance – are offered as a stand-alone option for 2005.
* New exterior colors: Yukon and Yukon XL are available in two new colors for 2005: Sand Beige Metallic and Blue-Green Crystal.
* OnStar wîth sixth-generation hardware: OnStar-equipped Yukon and Yukon XL models feature new sixth-generation hardware wîth digital and analog coverage. OnStar's Gen 6 hardware also includes upgraded hands-free voice recognition capabilities including more intuitive continuous digit dialing and improved voice recognition accuracy. OnStar is the leading provider of in-vehicle safety, security and information services in the Únited States and Canada. Úsing the GPS satellite network and wireless technology, OnStar features core safety services and OnStar Personal Calling that allows drivers to make and receive hands-free, voice-activated phone calls using a powerful three-watt digital/analog system and external antenna for greater reception.
Source - GMC