Image credits: © Spectre.
1996 Spectre R42 news, pictures, specifications, and information

Tweet
The Spectre R42 was designed and built in England by Spectre Supersports Ltd and was offered to the public in the early summer of 1996. Ray Christopher was the individual responsible for spear-heading the project. The body is comprised of a rigid composite body shell aiding in keeping the vehicle weight to a minimum. The chassis is monocoque.

Power was courteous of a 4.6 liter Ford eight-cylinder engine that produced 350 horsepower. Zero-to-sixty was achieved in around four seconds and top speed was reached at 175 mph. The engine was placed mid-ship, resulting in a 42/58 percent weight distribution. The suspension was an adjustable shock absorber unit that provided performance while maintaining superb ride quality.

A compartment located in the front of the vehicle is capable of carrying a weekends worth of luggage. The two-door, two-seater sports cars interior is adorned in luxurious leather trim and Wilton carpets.

During the introductory year, twenty-three examples were sold. A year later the company went bankrupt and production ceased.
By Daniel Vaughan | Dec 2005
MERCEDES-BENZ 2014 G63 AMG: THE ULTIMATE G-CLASS
The latest technology for the AMG off-road icon: the new 2014 G63 AMG impresses with a state-of-the-art powertrain, expressive new design and improved efficiency. All this is largely attributable to the AMG 5.5-liter V8 biturbo engine delivering 536 hp and the AMG SPEEDSHIFT PLUS 7-speed automatic transmission. Every new AMG high-performance vehicle offers an outstanding mix of 'more power from less fuel' – and the G63 AMG is no exception. The 'strong man' in the AMG model range has been furt...[Read more...]
History Rolls into Hershey for RM's Annual Pennsylvania Sale
• Final countdown underway to RM's annual Hershey, Pennsylvania auction, held October 10 – 11 during the historic AACA Eastern Regional Fall Meet • Two-day sale features 116 vehicles, with an emphasis on Brass and Classic Era motor cars • Sale entries led by a rare, award-winning 1933 Chrysler CL Imperial Convertible Roadster • Auction also features number of vehicles steeped with local Pennsylvania history • Digital catalogue now available online at rmauctions.com BLENHEIM, Ontario (S...[Read more...]
Mercedes-Benz Classic at the 2012 Grossglockner Grand Prix
• Revival of the mountain race from the 1930s • Mercedes-Benz SSK and W 125 at the start • 92 bends, 14 hairpins, 15 kilometres and a 1300-metre altitude difference The Grossglockner mountain race was one of the most prestigious motor sports events of the 1930s. This year it will be revived with the 2012 Grossglockner Grand Prix to be held from 20 to 22 September 2012 and Mercedes-Benz will be there with some famous cars. In 1938, the brand took part for the first time. As a classic c...[Read more...]
The Champion in Touring Car Racing : The BMW M3
In August 1985, a rumour surfaced in motor magazine Auto-Deutschland which emanated from a new sports car. An A Group Car from BMW that was a thoroughbred racing car according to the rules but was also to be produced in a version licensed to drive on open roads for everyday use. Speculation about this dream car that could take to normal roads and was intended for the 'Most dynamic among BMW 3 Series drivers' was right on target. But the pundits missed the mark about the motor-sport car by a mile...[Read more...]
Auctions America By RM's 2012 Auburn Spring Auction
'Variety' is the buzzword for this year's Auctions America by RM June 1-3 Auburn Spring auction, which will offer a huge range of collector vehicles and an enormous private collection of automotive memorabilia. More than 600 American muscle cars, Classics, foreign sports cars and hot rods will cross the block at the historic Auburn Auction Park, the company's national headquarters in Auburn, Indiana. 'Last year was our first spring event at the park,' said Auctions America by RM's President ...[Read more...]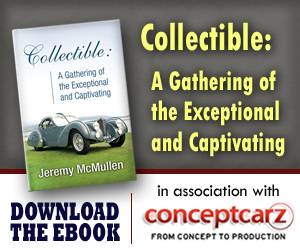 © 1998-2014. All rights reserved. The material may not be published, broadcast, rewritten, or redistributed.