Image credits: © Mercedes-Benz.
2005 Mercedes-Benz SLR Mclaren news, pictures, specifications, and information

Tweet
Top speed 207 mph. 0-60 in under 3.8 seconds. The SLR McLaren is a milestone automotive achievement, as much for its staggering power and performance as its Formula 1 inspired engineering and design.

DaimlerChrysler has entered into an agreement for the design and production of the Mercedes-Benz SLR wîth McLaren Cars Ltd. The two companies will invest a total of approx. EÚR 200 million in this project.

The vehicle will reflect the heritage, philosophies and styling of Mercedes-Benz and will be produced utilizing the latest state-of-the-art manufacturing techniques at the new TAG McLaren facilities currently under construction in Woking, England. The market launch of this super sports car is scheduled for 2003.


Through the concept of the Mercedes-Benz SLR, DaimlerChrysler and McLaren intend to ensure the transfer of technology and image from their successful Formula 1 partner-ship to series production, while at the same time reviving the myth of the Silver Arrows wîth this super sports car.

In the opinion of experts, the §egmènt of top-class sports cars - at which the Mercedes-Benz SLR is aimed - will almost double during the next five years and reach an annual volume of about 2,500 units. DaimlerChrysler expects to be able to meet up to 20 percent of the demand in this §egmènt. The major markets for the Mercedes-Benz SLR will be the ÚSA, Europe, Japan and the Middle East.

Bodywork made of high-performance materials
With the decision in favor of series production of the Mercedes-Benz SLR, the Stuttgart-based brand returns to the §egmènt of the legendary Gran Turismo. The two-seater will continue the tradition of the legendary Silver Arrows from Mercedes-Benz, wîth ground-breaking technical innovations adopted from Formula 1.


Like the current McLaren Mercedes racing car which carries the three-pointed star, the super sports car will have a bodywork made of an intelligent combination of carbon fibre and other high-performance materials which ensure maximum rigidity and occupant protection at a weight that will set the standards in this category. Exemplary handling stability and safety will be provided by features such as optimum aerodynamics, advanced electronic control systems and fibre-reinforced ceramic brakes.

Top-class values in terms of torque and road speed
The Mercedes-Benz SLR will be powered by a V8 engine wîth an output of more than 400 kW/544 HP. The car has a target weight of 1,400 kilograms (3,080 pounds), which will permit top-class acceleration and speed. Equipped wîth a supercharger and a special water-based charge air cooler, the engine will develop a maximum torque of more than 700 Newton meters upwards of 4000/min.
Source - Mercedes Benz
The Mercedes-Benz SLR was given a supercharged AMG-tuned V8 engine and the phenomenal ESP traction control. Zero-to-sixty took just 3.6 seconds, and with its large brake calipers and carbon-ceramic rotors, it provided equally impressive stopping power.
To highlight the engineering strengths of the SLR, Mercedes-Benz designed an aerodynamic body that took its styling cues from the firm's contemporary Formula 1 cars and well-established classics. It had an imposing hood, butterfly doors, and carbon fiber construction. The Mercedes-Benz SLR McLaren was the ultimate representation of the classic front-engine, rear-wheel-drive GT.

This Crystal Laurite Silver SLR with red leather interior was sold by Mercedes-Benz of Beverly Hills, California, to a local collector in mid-2006 and has remained in his collection ever since. The McLaren has been driven just 122 total miles. Included with the car are the manuals, extra key, and a wide array of factory booklets and documents, as well as its original car cover and factory-supplied, plug-in battery support module. It still rides on its original Michelin Pilot Sport tires, and its four SLR-specific alloy wheels, each with a distinct part number.

In total, there were just 2,000 examples of the SLR produced. The 5439cc single overhead cam supercharged V* engine has a sequential multi-port fuel injection system and produces 617 horsepower. There is a five-speed AMG Speedshift R automatic transmission and four-wheel carbon-ceramic disc brakes.
By Daniel Vaughan | May 2013
For more information and related vehicles, click
here
120 years of motor sport at Mercedes-Benz take centre stage at the Goodwood Festival of Speed 2014
'Addicted to Winning': at this year's Goodwood Festival of Speed, Mercedes-Benz looks back on some fascinating racing victories of the last 120 years •The unique motor sport heritage of the Mercedes-Benz brand is being celebrated with an exclusive installation by sculptor Gerry Judah •Mercedes-Benz and Gran Turismo®6 jointly celebrate '120 years of motor sport' Stuttgart. – The thrilling victories of the Mercedes-Benz Silver Arrows mark the peaks of the history of motor sport for...[Read more...]
Historic Trophy Nürburgring 2014: Magic moments on the Nordschleife and Grand Prix circuit
•'Racing Tailfin' and 190 E 2.5-16 Evolution II enrich historic motor sport •'30 years of the Nürburgring GP track inaugural race' revival with the original winning vehicle, the Mercedes-Benz 190 E 2.3-16 •Mercedes-Benz DTM legends: seven former DTM racing drivers with three classic DTM vehicles •Mercedes-Benz SSK in the 'Elephant Race' Stuttgart. – At the Historic Trophy Nürburgring 2014 (30 May to 1 June 2014) Mercedes-Benz Classic is set to steal the limelight with an impressive ...[Read more...]
1989 24 Hours of Le Mans: Mass and Mercedes Slay its Dragons
It had been nearly 35 years since Mercedes-Benz had made an appearance at Le Mans as a factory team. It had been longer than that since the German manufacturer had taken victory in the famed event. To return to the top the manufacturer needed speed, but they would also need experience. Jochen Mass was their ideal candidate. Mass had enjoyed a competitive, but short, Formula One career. He would earn victory in the 1975 Spanish Grand Prix at the impressive Montjuic Park Circuit. Unfo...[Read more...]
Goodwood Festival of Speed 2013: auction of Mercedes-Benz W 196 R one of highlights at world's 'largest motorised garden party'
• Mercedes-Benz Classic presents great moments in motor-racing history at Goodwood • Motorsport festival celebrating its 20th anniversary • Auction of only privately owned post-war Silver Arrow by Bonhams sure to cause a stir Stuttgart – This year's Goodwood Festival of Speed in West Sussex, England, includes the auction of a Mercedes-Benz Type W 196 R Grand Prix racing car on 12 July 2013. The auction will be one of the highlights of a weekend dedicated to motor sport. Mercedes-Benz...[Read more...]
Chinese Grand Prix: Qualifying
The MERCEDES AMG PETRONAS team locked out the front row of the grid for the Chinese Grand Prix at the Shanghai International Circuit today with Nico Rosberg putting the F1 W03 on pole position, and Michael Schumacher qualifying in third place, although he will start the race from second position. • Nico scored his maiden Formula One pole position this afternoon, with an advantage of over half a second • Michael qualified third and will start tomorrow's race from second place following a gr...[Read more...]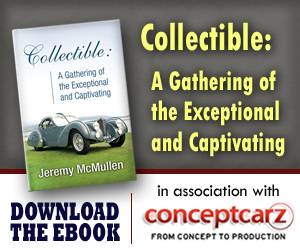 Mercedes-Benz
Monthly Sales Figures
Volume
October 2014
30,733
September 2014
29,523
August 2014
28,958
July 2014
29,406
June 2014
28,707
May 2014
26,617
April 2014
28,281
March 2014
29,316
February 2014
22,609
January 2014
23,892
December 2013
35,835
November 2013
36,386
(More Details)
© 1998-2014. All rights reserved. The material may not be published, broadcast, rewritten, or redistributed.