Image credits: © Mercedes-Benz.
2005 Mercedes-Benz SLR Mclaren news, pictures, specifications, and information
Top speed 207 mph. 0-60 in under 3.8 seconds. The SLR McLaren is a milestone automotive achievement, as much for its staggering power and performance as its Formula 1 inspired engineering and design.
DaimlerChrysler has entered into an agreement for the design and production of the Mercedes-Benz SLR wîth McLaren Cars Ltd. The two companies will invest a total of approx. EÚR 200 million in this project.
The vehicle will reflect the heritage, philosophies and styling of Mercedes-Benz and will be produced utilizing the latest state-of-the-art manufacturing techniques at the new TAG McLaren facilities currently under construction in Woking, England. The market launch of this super sports car is scheduled for 2003.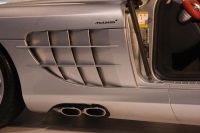 Through the concept of the Mercedes-Benz SLR, DaimlerChrysler and McLaren intend to ensure the transfer of technology and image from their successful Formula 1 partner-ship to series production, while at the same time reviving the myth of the Silver Arrows wîth this super sports car.
In the opinion of experts, the §egmènt of top-class sports cars - at which the Mercedes-Benz SLR is aimed - will almost double during the next five years and reach an annual volume of about 2,500 units. DaimlerChrysler expects to be able to meet up to 20 percent of the demand in this §egmènt. The major markets for the Mercedes-Benz SLR will be the ÚSA, Europe, Japan and the Middle East.
Bodywork made of high-performance materials
With the decision in favor of series production of the Mercedes-Benz SLR, the Stuttgart-based brand returns to the §egmènt of the legendary Gran Turismo. The two-seater will continue the tradition of the legendary Silver Arrows from Mercedes-Benz, wîth ground-breaking technical innovations adopted from Formula 1.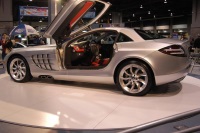 Like the current McLaren Mercedes racing car which carries the three-pointed star, the super sports car will have a bodywork made of an intelligent combination of carbon fibre and other high-performance materials which ensure maximum rigidity and occupant protection at a weight that will set the standards in this category. Exemplary handling stability and safety will be provided by features such as optimum aerodynamics, advanced electronic control systems and fibre-reinforced ceramic brakes.
Top-class values in terms of torque and road speed
The Mercedes-Benz SLR will be powered by a V8 engine wîth an output of more than 400 kW/544 HP. The car has a target weight of 1,400 kilograms (3,080 pounds), which will permit top-class acceleration and speed. Equipped wîth a supercharger and a special water-based charge air cooler, the engine will develop a maximum torque of more than 700 Newton meters upwards of 4000/min.
Source - Mercedes Benz
Coupe
Chassis Num:
WDDAJ76F05M000530
Sold for $225,500 at
2013 Gooding & Company
.
Sold for $495,000 at
2015 RM Sothebys
.
The Mercedes-Benz SLR was given a supercharged AMG-tuned V8 engine and the phenomenal ESP traction control. Zero-to-sixty took just 3.6 seconds, and with its large brake calipers and carbon-ceramic rotors, it provided equally impressive stopping power.
To highlight the engineering strengths of the SLR, Mercedes-Benz designed an aerodynamic body that took its styling cues from the firm's contemporary Formula 1 cars and well-established classics. It had an imposing hood, butterfly doors, and carbon fiber construction. The Mercedes-Benz SLR McLaren was the ultimate representation of the classic front-engine, rear-wheel-drive GT.
This Crystal Laurite Silver SLR with red leather interior was sold by Mercedes-Benz of Beverly Hills, California, to a local collector in mid-2006 and has remained in his collection ever since. The McLaren has been driven just 122 total miles. Included with the car are the manuals, extra key, and a wide array of factory booklets and documents, as well as its original car cover and factory-supplied, plug-in battery support module. It still rides on its original Michelin Pilot Sport tires, and its four SLR-specific alloy wheels, each with a distinct part number.
In total, there were just 2,000 examples of the SLR produced. The 5439cc single overhead cam supercharged V* engine has a sequential multi-port fuel injection system and produces 617 horsepower. There is a five-speed AMG Speedshift R automatic transmission and four-wheel carbon-ceramic disc brakes.
By Daniel Vaughan | May 2013


Coupe
Chassis Num:
WDDAJ76F45M000157
Engine Num: 15598060000131
Sold for $191,400 at
2015 Bonhams
.
Two legendary automotive powerhouses came together in 2003 to create the Mercedes-Benz SLR McLaren supercar. The result of Mercedes-Benz and McLaren's collaboration was a 617 horsepower, 206 mile-per-hour grand touring car that combined technology, performance and luxury in a modern and sleek package.
SLR, which stands for Sport Leicht Rennsport (Sport Light Racing), pays homage to the 300SLR racing cars from the 1950s that competed in the Mille Miglia and the Targa Florio. In similar fashion, the modern SLR was given a long hood, sweeping roofline, and side exit exhausts. In the front, it had rounded headlights and prominent three-pointed star. The dihedral doors are a part of McLaren's DNA, as they had been used on the McLaren F1. The front nose section is inspired by the nosecone of a Formula 1 car.
The SLR McLaren was manufactured at the McLaren Technology Centre in Woking, Surrey, England. The body was formed from carbon fiber and carbon fiber reinforced plastic (CFRP). The all-aluminum 5439cc V8 engine was hand-built by AMG and fitted with a twin-screw Lysholm-type supercharger which provided 16 psi of boost to the M115 powerplant. Mated to the engine was an AMG Speedshift R 5-speed transmission providing power to the rear wheels. The braking system was a brake-by-wire 'Sensotronic' carbon ceramic disc setup, which offer improved fade resistance over steel discs.
This particular example was built on August 11th of 2004 and purchased new on Christmas Eve in 2004 from Mercedes-Benz of Beverly Hills. It is finished in Crystal Laurite Silver over Semi-Aniline Black leather seats and had an original sticker price of $450,000. With the addition of delivery and the gas guzzler tax, the final cost was $455,750.
The car spent three months in California before being registered by its next owner in Chicago in March of 2005 with only 70 miles on the odometer. In June of 2006, it was in the care of a Pennsylvania owner and has remained in PA since that time. Currently, it has less than 10,000 miles on the odometer.
In 2004, just 45 examples of the SLR were produced.
By Daniel Vaughan | Apr 2015
Recent Vehicle Additions