1956 GMC Firebird II Titanium Concept news, pictures, specifications, and information

Tweet
The Firebird II, which was a highlight of General Motor's 1956 Motorama, is the family firebird. A four-seater with a titanium body, the Firebird II features a 200-horsepower Whirlfire GT-304 gas turbine engine, all-power accessories and a fully integrated air conditioning system, similar to current systems found in cars today. The Firebird II was GM's attempt to make a luxury turbine powered vehicle with acceptable performance and fuel economy.

A four-seat, family car and the second of two Firebird II's, its exterior bodywork was made of titanium. The only known automobile to have been constructed from this material. The 200 bhp gas turbine was fed through a regenerative system which allowed the entire engine to operate nearly 1,000 degrees Fahrenheit cooler, and also power the Firebird's accessories. The Firebird II marked the first use of four-wheel disc brakes, and it was also equipped with fully independent suspension, its sophisticated guidance system, intended to be used with 'the highway of the future,' utilized an electric wire, embedded into a roadway, to send signals to guide future cars and avoid accidents. It is presented in it's recently refurbished finish as it was first seen by Motorama attendees more than 50 years ago.
In the early 1930s, General Motors had done a reasonable amount of research on the feasibility of gas turbine engines in vehicles, but it wasn't until the early 1950s that they actually began building an actual engine. Emmett Conklin led the project.

A series of three concept vehicles that were designed by Harley Earl, the GM Firebird was built by General Motors for the 1953, 1956 and 1959 Motorama auto shows. These vehicles were inspired deeply by innovations in fighter aircraft design at the time. These designs were never intended for production, but instead to showcase the extremes in both technology and design that GM was able to achieve. Still making regular car show appearances today, these concepts were very recently placed on display at the Henry Ford Museum in Dearborn, Michigan.

The Firebird XP-21 was created in 1953 by the research team and was eventually referred to as the Firebird I, basically a jet airplane on wheels. The first gas turbine powered vehicle tested in the U.S. the design was incredibly impractical, and featured a bubble topped canopy over a single seat cockpit. This first concept also had a bullet shaped fuselage that was made completely of fiberglass, short wings and a vertical tail fin. The entire vehicle weighed 2,500 lbs and had a 370 hp Whirllfire Turbo Power gas turbine engine which had two speeds, and expelled jet exhaust at around 1,250 °F.

Conklin was originally the only person that was qualified to drive the concept, and he tested it up to 100 mph. Unfortunately, when he shifted into second gear, the tires lost their traction under the extreme engine torque and he immediately slowed down the vehicle due to fear or an imminent crash. Later, race car driver Maury Rose tested the vehicle at the Indianapolis Speedway. This concept vehicle was never intended to test the speed potential or power of the gas turbine, but basically the 'practical feasibility' of its use. The braking system features drums on the outside of the wheels to facilitate fast cooling unlike the standard drum systems, and the wings had aircraft style flaps for slowing from high speed.

The second of the three gas-turbine powered experimental Firebirds that were developed by GM during the 1950's, the Firebird II was in an attempt for alternative means of automobile propulsion. It was publicly unveiled at the GM Motorama of 1956 at the NY city's Waldorf-Astoria Hotel. It was a revolutionary form of family transportation that was destined for travel along the 'Safety Autoway' of the future. The Firebird II was a much more practical design, and was a four-seat family vehicle. Featuring a low and wide design, the II featured large dual air intakes in the front, a vertical tail fin and a high bubble canopy top.

Harley's vision for the Firebird II was that of a four-seat family vehicle that was comfortable and enjoyable to drive. He created two identical bodies for the Firebird III, one made of titanium and one of fiberglass.
The entire exterior of the one vehicle was constructed of titanium at it was the first time this lightweight metal was used in the construction of a motorcar. At Earl's insistence, the titanium body was left unpainted and was brush-finished to a satin luster. With an engine output of 200 hp, the team figured out a way to solve the exhaust heat problem, feeding it through a regenerative system which allowed the whole engine to operate at nearly 1,000 °F cooler, and also to power the accessories. This vehicle the first to utilize four wheel disc brakes, with a fully independent suspension along with a sophisticated guidance system, intended to be used with the 'the highway of the future', as an electrical wire would be embedded into a roadway that would send signals that could aid future vehicles and avoid accidents.

Aerodynamic, the Firebird II featured a low tapered nose to the dorsal fin deck and duel tanks suspended from the rear fender on either side of the car. When a magnetic key was inserted into a slot on the body panel, sections under the transparent canopy automatically lifted up from the doors. The Firebird II featured a luggage compartment that could hold up to eight pieces of specially styled lightweight fitted luggage. The compartment that was just placed below the rear deck also rose to waist height easily with just the flip of a switch. The inside of the Firebird II came with four individually adjustable, reclining lounge seats that provided maximum passenger comfort and also snack tables for use during automated travel.

Constructed in 1958, the Firebird III was finally unveiled at Motorama in 1959. Much like its counterparts, this third model was yet another overly extravagant prototype with a titanium exterior and seven short wings and tail fins that were extensively tested in a wind tunnel. The III was a two-seater powered by a 225 hp Whirlfire GT-305 gas turbine engine and a two cylinder 10 hp gas engine to power all of its accessories. The outside featured a double bubble canopy and various technical advances that made it much more practical. These advancements included cruise control, air-conditioning and anti-lock brakes.

Other revolutionary advances in the design included special air drag brakes, very similar to those found on aircrafts, these emerged from flat panels in the bodywork of the vehicle to slow it down from high speeds. An automated guidance system was also placed in the vehicle, to avoid accidents and 'no hold' steering, which was controlled by a joystick that was positioned between the two seats. The Firebird III featured a much more futuristic design and driving it was much like flying a plane.
By Jessica Donaldson
For more information and related vehicles, click
here
NEXT-GENERATION CORVETTE TO DEBUT IN DETROIT IN JANUARY 2013
•New Crossed Flags logo illustrates the character of the all-new, 'C7' Corvette, which features only two parts from the C6 Chevrolet confirmed that the seventh-generation Corvette will debut the evening of Sunday, Jan. 13, 2013 in Detroit. To kick off the countdown to the debut, Chevrolet debuted the new Crossed Flags logo for the new, 2014 Corvette. 'The all-new, seventh-generation Corvette deserved an all-new emblem,' said Ed Welburn, GM vice president of global design. 'The new Crossed...[Read more...]
NEXT-GENERATION CORVETTE TO DEBUT 1.13.13 IN DETROIT
New Crossed Flags logo illustrates the character of the all-new, 'C7' Corvette BRASELTON, Ga. – Chevrolet today confirmed the seventh-generation Corvette will debut on Sunday evening, Jan. 13, 2013, in Detroit. To start the countdown to 1.13.13, Chevrolet is showing the new Crossed Flags logo for the new 2014 Corvette. 'The all-new, seventh-generation Corvette deserved an all-new emblem,' said Ed Welburn, GM vice president of global design. 'The new Crossed Flags design ref...[Read more...]
Rare, Historic Cadillacs On Display At Pebble Beach
Custom 'none-of-a-kind' Fleetwood V-16s from 1930s featured Aug.16-19 A pair of one-of-a-kind Cadillac Fleetwood V-16s that were available but never ordered by customers during the Great Depression will be among the cars on display at the annual Pebble Beach Concours d'Elegance in Carmel, Calif., this week. Cadillac's exhibit, open to the public Aug. 16-19 at Peter Hay Hill, features Cadillac's newest cars, along with the two custom-built Fleetwood Convertibles from 1934 and 1937. ...[Read more...]
Pebble Beach Concours d'Elegance Introduces Its First Sport Customs Class
One-off Sport Customs designed to turn heads while tooling down Main Street USA will roll onto the 18th fairway of Pebble Beach Golf Links for the 2012 Pebble Beach Concours d'Elegance on August 19. This year, for the very first time, the Pebble Beach Concours d'Elegance is hosting an entire class dedicated to Sport Customs. 'These are one-of-a-kind cars built in the US, on modified American production chassis with American engines by individuals, designers and craftsmen,' explains auto...[Read more...]
GM Design: 85 Years of Making Art That Moves You
As GM Design celebrates its 85th birthday this month, the 1,900 men and women in GM's 10 global design centers are focused on the future, united in their vision to entice consumers to fall in love and see vehicles as they do: art that moves you. 'Our global team is united around its passion for designing vehicles that make an emotional connection with customers,' said Ed Welburn, GM vice president, Global Design. 'What was true 85 years ago is still true today: A designer's role is to create...[Read more...]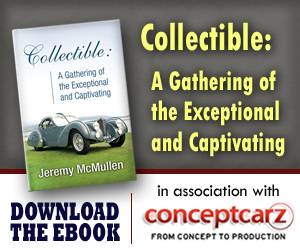 GMC
Monthly Sales Figures
Volume
December 2014
53,038
November 2014
43,854
October 2014
38,540
September 2014
38,269
August 2014
47,700
July 2014
48,081
June 2014
43,550
May 2014
45,039
April 2014
39,314
March 2014
41,173
February 2014
35,562
January 2014
27,733
(More Details)
© 1998-2014. All rights reserved. The material may not be published, broadcast, rewritten, or redistributed.