Image credits: © Chrysler.
1941 Chrysler Town and Country news, pictures, specifications, and information

Tweet
Barrel-Back Woodie Wagon
Chassis Num: 7699598

1941 marked the introduction of Chrysler's distinctive 'Town and Country Car', a new concept in estate vehicles. The name was coined by Paul Hafer of the Boyerton Body Works, who observed that the front looked 'Town' while the rear appeared 'Country.'

Built on March 14, 1941, and originally owned by Warner Bros. Studio, the car has appeared in several 'Our Gang' and Charlie Chaplin movies. It carried an original price tag of $1475, FOB Detroit. Over the years, this handsome station wagon has been awarded First in Class at Pebble Beach and received the annual preservation award of the Walter P. Chrysler Club.

Serial number 7699598 (Body number 1170) has a 121.5 inch wheelbase, 112-Horsepower six-cylinder 'Spitfire' engine (with Fluid Drive 'Vacumatic' transmission) and carried a $1475 price tag, F.O.B. Detroit.

It was built 14 March 1941 and delivered to Alhambra, California. Original owned by Warner Brothers Studios, it appears in several Our Gang and Charlie Chan movies.

The Town & Country 'station wagon' was manufactured for 1941 and 1942 only; after World War II, convertibles, sedans and hardtops were manufactured instead. Of the 797 nine-passenger station wagons built in 1941, barely a handful or two survive.

The current owner spent seven years acquiring parts and employed many skilled craftsmen to return the car to its original splendor. It has been displayed in the United States, Germany and England.
This 1941 Chrysler Town & Country Barrel-Back Woodie Wagon was offered for sale at the 2007 RM Auctions held in Amelia Island, Florida. It was estimated to sell for $175,000 - $225,000. It is powered by a 250 cubic-inch Spitfire six-cylinder engine capable of producing 114 horsepower. There is a semi-automatic gearbox and four-wheel hydraulic drum brakes.

The Town & Country Estate Wagon was first introduced in 1939. It was elegant and luxurious and intended for both the city and country driving - thus the name. The wood body design was intended to have the same basic lines as the steel-bodied sedans. The bodies were created from two types of woods, including the structural wood of white ash with contrasting panels in a Honduran mahogany.

Production continued until the early 1940s when the onset of World War II brought civilian production to a close. For 1941, production totaled 997 examples of these hand-built vehicles. 797 were nine-passenger cars and 200 were six-passenger cars.

This car has been treated to a complete restoration. The wood was replaced with correct white ash and Honduran mahogany. It is finished in maroon exterior color and trimmed in red leather. In 1996, the car was invited to the Pebble Beach Concours d'Elegance where it was awarded a winner in the Wood Estate Wagon class.

At auction, the car was sold for $170,500.

In 2009, the car returned to auction, this time at Gooding & Company's auction held at Pebble Beach, CA. It was expected to sell for $175,000 - $250,000. The lot was sold for the sum of $192,500, inclusive of buyer's premium.
By Daniel Vaughan | Jan 2010
| | |
| --- | --- |
| | Sedan |
The Town & Country came standard with a 241.3 cubic-inch straight-six engine offering 108 horsepower. There was an optional 323.5 cubic-inch eight-cylinder unit that offered 135 horsepower. The sixes were given a 121.5 inch platform and the wood body work was built by Chrysler with white ash by Pekin Wood Products in Arkansas. The station sedan sold for $1,395 and 996 were sold in 1941.

This Town & Country was purchased new by the owner's grandfather and remained in the family until the early 1970s. The owner undertook a three year search to find the car and purchased it in the early 1990s.
Produced only from 1941 through 1950, the first woodie wagon with an all-steel roof was designated the Town & Country. This 4-door sedan luxury vehicle was built for either city or estate transportation, and was available for 6 or 9 passenger versions.

Due to World War II, production of the Town & Country was halted in December, 1941. A mere 1,000 models were produced during 1941 and 1942. In 1942 the sheet metal was updated, and the design of woodie remained similar to its previous look.

Following the war, the new wave of Town & Country woodies were produced in much larger numbers as coupes, convertibles, sedans. The first production hardtops ever produced by any manufacture, seven 2-door hardtops were also manufactured by Chrysler. The final Town & Country woodie models were produced only as 2-door hardtops only for the last year.

In the last year of its production, a box type woodie station wagon was offered by both Chrysler and Desoto. Plymouth and Dodge also released box type woodie wagon throughout the 1930's and 1940's. In 1950, production of the original Town & Country was ended.
By Jessica Donaldson
For more information and related vehicles, click
here
THE NEW AMG 4.0-LITER V8 BITURBO ENGINE
Powerful, innovative and efficient July 25, 2014 - Affalterbach -- Mercedes-AMG presents a new technological masterpiece: the AMG 4.0-liter V8 biturbo engine is a new development at the sporting heart of the new Mercedes-AMG GT car. This innovative eight-cylinder unit stands out for its sublime power delivery, the purposeful lightweight construction, as well as its high efficiency and environmental compatibility. With peak power of up to 375 kW (503hp) and maximum torque of up t...[Read more...]
SALUTE TO STYLE, POWERED BY GLORIOUS ROLLS-ROYCE MERLIN ENGINES
◾From a Rolls-Royce Handlye Special to a Spitfire and a high-tech speedboat: Salute to Style gathers the many applications of the original Merlin engine, a piece of British history and engineering ◾Power and beauty on the road, water and in the air The Capital's bijoux summer party, Salute to Style at The Hurlingham Club, presents a trio of displays that share the same historic powerplant to propel them on air, road and water. A hand-built Handlye Special Rolls-Royce, sporting the 27-litr...[Read more...]
COMPETITION BLUE CHOSEN AS WINNER OF 'SRT VIPER COLOR CONTEST'
November 14, 2013 , Auburn Hills, Mich. - Fans have voted and today Chrysler Group's SRT brand has announced that Competition Blue wins as the designation for the new exterior color on the 2014 SRT Viper. Patryk Skarzynski from Chicago submitted Competition Blue in the 'SRT Viper Color Contest.' More than 11,000 names for the new blue exterior paint color were submitted and Skarzynski was the first to submit Competition Blue as an entry in the contest. In addition to having his name be...[Read more...]
Mercedes-Benz USA Announces Pricing for 2014 SLS AMG Black Series and C63 AMG Edition 507
MONTVALE, N.J. – Mercedes-Benz USA (MBUSA) today announced pricing for the 2014 SLS AMG Black Series coupe and the 2014 C63 AMG Edition 507 sedan and coupe. Both models are part of an exclusive lineup of high-performance AMG models available at all U.S. Mercedes-Benz dealers. The Manufacturer's Suggested Retail Pricing for the MY14 SLS AMG Black Series is $275,000 (plus $1,800 for destination and delivery). Pricing for the MY14 C63 AMG Edition 507 sedan will begin at $70,000 (plus $925 fo...[Read more...]
Magnificent Series of Coachbuilt Classics To Grace RM's Amelia Island Concours D'Elegance Sale
• RM Auctions returns as the official auction house of the Amelia Island Concours d'Elegance, March 9, 2013 • Single-day sale features breathtaking roster of more than 80 investment-quality collector cars • Notable highlights include an outstanding series of coachbuilt classics headlined by a multi-million-dollar 1935 Duesenberg Model SJ Walker-LaGrande Convertible Coupe and a trio of Cords from the personal collection of Jim Fasnacht • Frequently updated list of entries available online at r...[Read more...]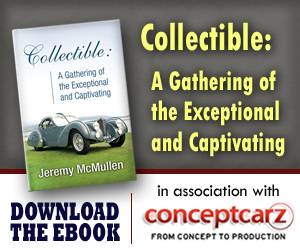 Chrysler
Monthly Sales Figures
Volume
June 2014
24,026
May 2014
22,592
April 2014
21,967
March 2014
26,140
February 2014
25,230
January 2014
21,113
December 2013
20,270
November 2013
21,024
October 2013
23,452
September 2013
25,251
August 2013
28,678
July 2013
19,978
(More Details)
© 1998-2014. All rights reserved. The material may not be published, broadcast, rewritten, or redistributed.