1952 Cunningham C3 news, pictures, specifications, and information

Tweet
Briggs Cunningham may have been born in Cincinnati, Ohio, right in the heartland of America, but he could have been right at home in Modena, or Maranello, Italy, such was his approach to automobile-making.

Besides being considered the builder of what many consider to be America's first sports car and earning a 4th place at the 1952 24 Hours of Le Mans, Cunningham understood well the axiom of 'win on Sunday, sell cars on Monday'.

Enzo Ferrari had started out building race cars but would soon come to realize the need to build cars for the street in order to fund his racing aspirations. Furthermore, he quickly realized the current climate suggested the common person wanted the same kind of performance in their street cars as that which they had witnessed at the races. This would eventually lead to a whole new world of the luxurious sports car.

All of these stages Cunningham understood quite well. He fancied Cunningham automobiles to be Ferrari of North America. Therefore, Briggs wouldn't just have ideas for race cars rattling around in his mind. He also had notions of luxurious performers bearing the Cunningham name.

Following the expensive and luxury-light C-1, Briggs would receive some very important help. Cunningham would contact Carrozzeria Vignale based in Turin, Italy. He would propose to them his idea of building a luxurious performer. What he wanted from them was a classic body to grace his C-2 chassis. It would be known as the C-3

What Cunningham suggested was by no means a cheap and straight-forward process. This required Cunningham rolling chassis to be shipped to Turin where they would be fitted with Vignale bodies, and then, shipped back to the United States. However, Briggs believed the coachmaker to hold the key to his notion of a road-going sports car. Besides, it couldn't be any worse than the $15,000 C-1 no one wanted.

Compared to American cars of the time, the C-3 was certainly European in its size and looks. However, when compared to Ferraris and Maseratis of the same time period, the car was still much bigger.


It is not entirely clear just how many of the C-3s would be built by Cunningham. The number suggested by Briggs himself would be just around 30. One of those would be chassis 5210.

In early April of 1952, chassis 5210 would make its way across the Atlantic to Vignale in Turin. Five months later, the chassis would return with its Vignale body. The end result would be a two-tone livery consisting of metallic grey and metallic blue. Inspection of the interior would reveal a C-3 quite similar to the others completed by Vignale. However, this particular example would include a winged emblem. The car would also be the first of the C-3s to receive suspension revisions by 'Red' Byron.

Upon arriving back at Cunningham factory, 2510 would remain as a company demonstrator to serve as a vision of Briggs' intentions for his small company. Its Vignale body would lead to the car being featured in an October issue of Mechanix Illustrated in 1953 and then in The Modern Sports Car. Throughout the first couple of years of returning to Cunningham, 2510 would undergo some changes to its hubcaps, gear-selector quandrant and horn. Then, in 1953, the car would be sold to Edmond DuPont.

DuPont would keep the Cunningham C-3 in his possession until 1960 when it was sold to Wilmington Automotive Activities Inc. Before it was sold again in 1962, the car would undergo more changes. The original paint would be changed to blue and white and the original bumpers would be removed. Eventually, the car would pass to George Sterner, and, then, to Ed Jurist and his Vintage Car Store in Nyack, New York.

In 1967, David Deuble would purchase the car and would immediately set to work removing the original seats and repainting the car in American racing livery. In that condition, the car would be sold in 1975 to A. Vail Frost who would prepare to have the car undergo a complete restoration. Unfortunately, this process would not be able to begin until 2002. Still, the work would be completed in 2004 with a majority of original parts used in the process. One of the major finishing touches to the car would be to repaint the car in its original two-tone livery. The results would be rewarding, literally.

Throughout 2005 to 2007, the Cunnningham C-3 would earn Best of Show and First in the Sports Car class at the Kentucky Concours d'Elegance. It would also earn the Star Award at the 2006 Burn Foundation Concours, as well as, the Most Outstanding Hemi at Amelia Island that same year.

The C-3 would be sold again in 2007 and would be treated to further restoration and maintenance. Then, in 2009, 2510 would take part in the Colorado Grand and would complete the distance without any problems. Since then, the bumpers have been refitted presenting a nearly identical look to that which arrived from Turin back in 1952. It is fitting then that Cunningham's demonstration car would appear in its near original condition to continue in its representative role for America's first sports car manufacturer.

Presented at the Gooding & Company auction in Scottsdale, Arizona, the Cunningham C-3 was drawing pre-auction estimates of between $450,000 and $550,000.

Sources:
'1952 Cunningham C-3 News, Pictures, Specifications and Information', (http://www.conceptcarz.com/vehicle/z8712/Cunningham-C3.aspx). Conceptcarz.com: From Concept to Production. http://www.conceptcarz.com/vehicle/z8712/Cunningham-C3.aspx. Retrieved 14 January 2014.

'Cunningham Sports Cars: 1953 C-3', (http://www.briggscunningham.com/home/sportscars/c3-html/). Briggs Cunningham American Racing Tradition. http://www.briggscunningham.com/home/sportscars/c3-html/. Retrieved 14 January 2014.

'Lot No. 21: 1952 Cunningham C-3 Coupe', (http://www.goodingco.com/vehicle/1952-cunningham-c3/). Gooding & Company. http://www.goodingco.com/vehicle/1952-cunningham-c3/. Retrieved 14 January 2014.

Lloyd, Barbara. 'Briggs Cunningham, 96, Racecar Pioneer and Sailing Champ', (http://www.nytimes.com/2003/07/05/sports/briggs-cunningham-96-racecar-pioneer-and-sailing-champ.html). The New York Times. http://www.nytimes.com/2003/07/05/sports/briggs-cunningham-96-racecar-pioneer-and-sailing-champ.html. Retrieved 14 January 2014.

By Jeremy McMullen
In the early 1950s, Briggs S. Cunningham built racecars at his West Palm Beach factory. His goal was to produce an American racecar that could compete in the famous LeMans.

In 1952, he built a road car based on his C-2R racer and called it the C-3. The C-3, a two-door hardtop, is powered by an overhead-valve 331 cubic-inch, 220 horsepower, Chrysler engine. The car was designed by Giovanni Michelotti and bodied by Vignale Carrozzeria. The car weighed 2,800 lbs., sold for $10,000 to $11,442, and could attain a top speed of 138 mph. They had a tubular steel chassis and an independent front suspension and a complex De Dion-type rear. Less than 30 of these vehicles were produced.

There were just three Cunningham C-2Rs built and raced by Team Cunningham in 1951. All three Cunningham C-2Rs competed at Le Mans and continued to race with success in the US throughout 1951, driven by Phil Walters, John Fitch and Cunningham himself before being refitted as road cars and sold through Roger Barlow's International Motors in Los Angeles.

In 1951, Cunningham introduced the road-going C-3 model. This example, chassis number 5206X, is the only Cunningham C-3 coupe constructed entirely in Cunningham's West Palm Beach workshop. It is also the only example that was envisioned by Briggs for racing and touring. The chassis is recorded in Cunningham production records as 'Work Order 6' and was the sixth Cunningham sports car constructed. The chassis is nearly identical to the C-2 competition cars with the addition of a roll bar built into the chassis. It was originally given the same independent front suspension and De Dion rear end as the competition cars. Under the bonnet, the 331 cubic-inch Chrysler Hemi engine was fitted with the competition modifications that included four Zenith carburetors on the Cunningam log manifold which gave it 220 horsepower. There is a Cadillac three-speed manual transmission and two-speed rear axle - the same setup as the competition C-2Rs.

While still under construction, the car was sold to Cunningham friend Carl Kiekhaefer. When completed, the car was painted Brewster Green with a pleated leather bench seat, dash and two-tone door panels covered in tan. It was equipped with a radio as well as the same full instrumentation, full bumpers and modified grille as refitted to the competition C-2s prior to their sale.

Kiekhafer retained the car for only a short time, as it was not a very accommodating road-going car. The car was returned to the Cunningham shop in exchange for the first Vignale-bodied C-3 completed, which was also numbered s/n 5206.

The second owner of this car was George Schrafft of Boston and Florida. Before the car was delivered, it was fitted with a number of factory modifications which included replacing the bench seat with racing-style bucket seats. The De Dion rear end was exchanged for a live rear axle, and the original magnesium disc wheels were substituted with gear-drive wire wheels.

The car remained in Schrafft's care until 1958, when it was sold to Henry Desormeau who owned the car for 41 years. It was eventually given a restoration that included repainting it in the classic Cunningham colors of white with blue stripes. The work was completed shortly before Desormeau passed away in 1999.

Since there are two Cunningham vehicles with the 5206 serial number, a suffix 'X' was later assigned to this C-3 West Palm Beach coupe to differentiate the two cars.

In 2011, the car was offered for sale at the Monterey, CA sale presented by RM Auctions. It was estimated to sell for $675,000 - $875,000. Bidding reached $550,000, but was not enough to satisfy the car's reserve. It would leave the auction unsold.
By Daniel Vaughan | Oct 2011
Briggs Swift Cunningham was a sports car driver who raced at tracks like Sebring and Le Mans, he raced Cadillac, Corvettes and Jaguars. In 1951 he then started to build his own cars, Cunninghams, including the C-3 with a powerful Chrysler Hemi engine.

The 1952 C-3 Cunningham arrived in the USA. Alfredo Vignale's Carrozzeria Vignale Coachworks in Turin, Italy was building the bodies. The design was similar to the Ferrari 212 and 225 models. It is believed that 19 coupes and 4 cabriolets were built.

This is the car described and photographed in Mechanix Illustrated October, 1953, featured in Modern Sports Car and road tested by Phil Stiles.

The C-3's ladder-type chassis had independent front suspension and a coil sprung Chrysler rear axle located by parallel trailing arms. Leather seats, large speedometer and matching combination gauges. The engine was a stock 331 cubic-inch Chrysler Hemi with four Zenith downdraft carburetors. Horsepower was 220.
At the age of 43, Briggs S. Cunningham II became president of cunningham motors. the purpose of the company was to build a vehicle that would be capable of winning the Le Mans for the US. The rules for the race included that the vehicle must be made by a manufacturer that sells a certain number of vehicles per year. cunningham meeted this criteria by selling the C2R and the C3 Vignale Coupe. These cars are among the most collectible us production vehicles today.

The C-3 #5210 arrived in the United States in late 1952 with a Vignale body from Giovanni Michelotti. This C-3 bore more resemblance to other Vignale designs, particularly some of the early Ferrari 212 and 225. Probably one of Vignale's better efforts, it was listed as one of the World's ten best designs by Arther Dexler, director of the New York Museum of Modern Art. This car was used for some time as a Briggs Swift Cunningham Company demonstrator. It was sold to the current owner in 1975 who completed a total restoration of the car in 2004 using all original parts.
During the 1950's Mr. Briggs C. Cunningham Jr. made it his personal mission to claim victory at the 24 Hours of LeMans. Several times, he came very close to accomplishing his goals. He financed the entire endeavor himself.

The first in the series was dubbed the C-1. It was powered by a 331 cubic-inch Chrysler Hemi and matted to a tubular chassis. It was suspended in place by a De Dion rear suspension and a front coil-spring setup. Only one C-1 was ever created and it was designed for road use. The C-2, also called the C-2R, was introduced in 1951. There were three examples created, all designed for racing competition. One was driven by John Fitch and Phil Walters at LeMans where they managed to run as high as 2nd place. The fuel for the event was supplied by the French organizers which turned out to be the team's downfall. It did not work well with the Chrysler engine and eventually the Hemi's valves began to burn. When the C-2R models returned to the United States, they solidified their potential by winning at Road America and Watkins Glen.

For 1952 a new car was needed, one that could comply with the ever-changing rules and regulations. For the 1952 year, the biggest hurtle was satisfying the homologation rule which stated that 25 production vehicles needed to be created. A prototype of the C-3 was created at Cunningham's West Palm Beach factory. At the time of completion, it was estimated that the build cost was around $15,000 and the selling price of $8000 to $9000 would fall short of covering the cost.

In an effort to manage costs, Alfredo Vignale's of Turin, Italy was tasked with building the bodies to a new design by Giovanni Michelotti. The result was one of America's most stunning Gran Turisimo vehicles ever created.

The ladder-type tub chassis was very similar to the C-2. A coil-sprung Chrysler live axle located by parallel trailing arms replaced the prior De Dion rear end suspension. The eleven-inch drum brakes were borrowed from Mercury. The 105 inch wheelbase was initially used but was later enlarged to be more accommodating for the 2+2 configuration. The engine was a Chrysler unit that produced 235 horsepower which was sent to the rear wheels through a semi-automatic Chrysler transmission. The C-3 Continental Competition Coupes could race from zero-to-sixty in under seven seconds.

Inside the occupants were treated pleated leather seats and large instrumentation. The spare tire and fuel tank occupied most of the space in the trunk so luggage had to be carried inside the vehicle. The first C-3 Coupe, named Continental, was shown throughout 1952 and 1953 by Cunningham and his team. In October of 1952, the second C-3 constructed made an appearance at the Paris Auto Show. By 1953, production of the C-3 was in full swing, able to create a chassis a week. The bottleneck was with Vignale who required almost two months to finish the rest of the vehicle. In total, five cabriolets and twenty coupes were created with the coupes carrying a price of $11,422.50.

Cunningham made additional attempts at winning at LeMans with his C-4R, C-4RK, C-5R and C-6R.
By Daniel Vaughan | Nov 2008
For more information and related vehicles, click
here
Postwar Ferrari Named Best of Show at 2014 Pebble Beach Concours d'Elegance
1954 Ferrari 375 MM Scaglietti Coupe Named 'Best of Show' PEBBLE BEACH, Calif. (August 17, 2014) -- Excited cheers echoed across the 18th fairway of Pebble Beach Golf Links Sunday when a 1954 Ferrari 375 MM Scaglietti Coupe was named Best of Show at the 64th annual Pebble Beach Concours d'Elegance. The car, owned by Jon Shirley of Medina, Washington, was the first postwar car to take the top award at the prestigious event in nearly five decades. It was also the first Ferrari to win. ...[Read more...]
63rd Pebble Beach Concours d'Elegance Names 1934 Packard 'Best of Show'
The competition showcased 248 cars, including 48 from abroad PEBBLE BEACH, Calif. (August 18, 2013) -- A 1934 Packard 1108 Twelve Dietrich Convertible Victoria owned by Joseph and Margie Cassini III of West Orange, New Jersey, was named Best of Show at the 63rd Pebble Beach Concours d'Elegance, held Sunday on the 18th fairway of Pebble Beach Golf Links at Pebble Beach Resorts. The event showcased 248 cars from 36 states and 12 countries and raised $1,277,007 for charity. 'This Pack...[Read more...]
Blackhawk Automotive Museum Salutes The Automotive Legacy Of Briggs S. Cunningham An American Hero
DANVILLE, California. (June 10, 2013) - In the history of competition, few figures have participated in more than one sport at the highest level; even fewer have made history in two. Briggs Swift Cunningham II not only won the America's Cup, the most cherished prize in yacht racing, but he also brought American sports car racing to the international stage in a grand manner. With the America's Cup Trials in San Francisco Bay this summer, Tim McGrane, Executive Director of the Blackhawk Aut...[Read more...]
Barrett-Jackson Generates Nearly $109 Million In Sales
• Sets Record Attendance At The 42nd Annual Scottsdale Auction
• Batmobile sells for $4.62 million dollars to a lifelong fan to worldwide audience; marks second-highest single-car sale at Barrett-Jackson
•1,343 cars sold •$108,766,069 gross sales – A 17% increase over 2012 •300,000 in attendance •Charity cars – 21 total for $5,005,000 Scottsdale, Ariz. – Jan. 22, 2013 – Barrett-Jackson Auction Company, The World's Greatest Collector Car Auctions™, generated nearly $1...[Read more...]
Sold! Barrett-Jackson's 5000 Series Generates More Than $29.2 Million In Scottsdale
Original 1966 TV Batmobile Sells for $4.62 Million at The World's Greatest Collector Car Auctions™ and New World Records are Set January 19, 2013 •LOT #5037 The Original Batmobile is the highest selling car at the company's annual Scottsdale Auction •LOT #5019 1947 Talbot-Lago T-26 Grand Sport sets a new world record for the model •LOT #5034 1956 Chrysler Diablo Concept Convertible sets a new world record for Chrysler concept cars Scottsdale, Ariz. (Jan. 20, 2013) – Barr...[Read more...]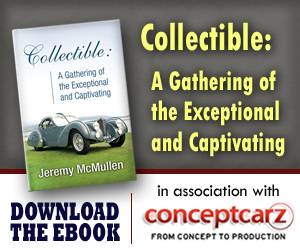 © 1998-2014. All rights reserved. The material may not be published, broadcast, rewritten, or redistributed.