1953 Mercedes-Benz 300S news, pictures, specifications, and information

Tweet
The Mercedes-Benz 300 Series was introduced to the public at the 1951 Frankfurt Auto Show and was created specifically for the United States post-war economy. When first introduced, they were only available as a four-door sedan or cabriolet. The 300 S Series was introduced in 1952 and brought with it a few improvements, such as a big increase in horsepower that raised the 115 horsepower engine up to 150. Top speed was 110 mph. The curvy body was accented by a wrap-around windshield and graceful fender lines. The largest down fall for these vehicles had to have been the price tag, which was $12,500. This was far significant that a standard car which cost around $1000. As a result, only 560 examples were produced over its six year production lifespan.

The 300 S was available as a coupe, roadster, and cabriolet. The interior was adorned in leather; the dash was constructed of walnut trim and chrome instruments.

The 1953 Mercedes-Benz 300S cabriolet Conversion example shown with tobacco leather interior and yellow exterior was offered for sale at the 2006 RM Auction held in Monterey, California. It was estimated to fetch $175,000-$225,000. It has had a restoration since new and is said to have been in excellent condition. It is powered by a 2996-cc inline six-cylinder engine capable of producing 150 horsepower. It has power steering and a Mercedes-Benz automatic transmission. At the conclusion of the auction the vehicle had not been sold.
By Daniel Vaughan | Dec 2006
Mercedes-Benz re-entered the luxury market in 1951 with the beautifully crafted 300 series, which retained the elegance of the prewar 5000K and 540K models. The 300S model was unveiled at the Frankfurt Auto Show as the most expensive German automobile of its time. The S designates a shortened wheelbase and upgraded 6-cylinder 150 horsepower engine with twin carburetors. Offered as both a coupe and cabriolet, the 300 series was built until 1962.

The Mercedes-Benz 300 was designed primarily for export in a variety of body styles and was introduced at the 1952 Paris Auto Salon. The 'S' in the 300S name represented 'Super' - it combined classic styling with advanced engineering. It was offered as a convertible cabriolet or sedan. The 300S Roadster had a fully disappearing top and brought the sleek and sporty persona to an even higher level. Power was from a M188 single over head cam 3.0-liter six-cylinder engine equipped with 3 Solex carburetors and offering 150 horsepower. There was an independent suspension at all four corners and an X-frame chassis made of oval tubes. The interior featured leather trim and lavish wood accents. The Sindelfingen factory built 120 of these bodies from 1952 to 1954.

Approximately 100,300 S Roadsters were built from 1952-1955 This model is the sequel to the Pre-war 540K.

Power comes from the 3 Litre engine with 3 carbs and high compression @ 1:78, HP is 150, Top speed is 109mph.

This car was custom ordered with dual wood, color keyed piping and full factory luggage including very rare interior set, all color keyed. The color combination was used by Liska in Pretige Catalog.

About 150 examples of the 300S Roadster were built during its production run from 1952 through 1954. The car is equipped with a three-liter six-cylinder engine and a four-speed fully synchromesh transmission, and has a top speed of 108 mph. Optional equipment includes a Becker 'Nurburg' six-band radio, the original Baisch fitted trunk luggage set, and the extremely rare original Baisch fitted interior luggage set. This car was originally purchased in Germany by a US Army Captain, who drove it while he was in Europe, and then brought it back to the United States with him when he returned several years later. Eventually, he brought the car to Pennsylvania, where, in 1965, he traded it to a local Mercedes dealer. The car spent the next 40 years in Swathmore, PA. it was purchased by the current owner in 2005, and has undergone a complete restoration to its original condition and color.
Mercedes-Benz introduced the 300 Series at the Frankfurt Auto Show in 1951. It was designed specifically for the export market and it featured a modern wraparound windshield and flush-mounted headlights. During its initial introduction, the 300 Series was available only in four-door configuration, as either a saloon or cabriolet. In mid-1952, Mercedes-Benz introduced the 300 S, or 'Super' and it combined the elements of the existing 300 Series with the upcoming (but delayed) 300 SL sports car. The biggest improvement was under the hood, with a 30 percent increase in horsepower, from 115 to 150. Top speed was a remarkable 110 mph. It also had a wraparound windshield and a curved rear body line.

The Mercedes-Benz 300 S came equipped with a comprehensive list of standard equipment including no-glare mirrors, vacuum-assisted brakes, backup lights, reclining seats, and windshield washers. The price tag was equally impressive as the power and luxury, costing as much as 10 standard cars. The $12,680 price tag was part of the reason just 560 examples of the 300 S were built, with 203 of those being cabriolets.

The 300 S introduced three new bodies on a 25-centimeter shorter chassis, a coupe, cabriolet, and roadster. The styling was fresh and modern and the interior was most impressive. The lavish interior had supple leather, glossy and burled walnut trim, a dash with chrome-accented instruments, and a switchgear that was made with the precision of fine jewelry.

This particular cabriolet was maintained in the care of its original owner from 1953 until 1979. The second owner treated the car to a no-expense-spared restoration that was completed in 2010. The car is finished in Medium Red and has matching wheels and center caps and a convertible top that is finished in the correct fabric. Inside, there is tan leather upholstery, which is trimmed with wool carpeting. There is a set of handmade reproduction German pigskin luggage, two spare tires and period-correct whitewalls, an original tool roll, and the correct jack.

Since the restoration was completed in 2010, the car has won numerous First Place awards at the Greystone Mansion, Palos Verdes, Santa Barbara, and Dana Point Concours d'Elegance, as well as at the San Marino Motor Classic.
By Daniel Vaughan | Oct 2014
The Mercedes-Benz 300 was produced from 1951 through 1958 and is one of the most graceful and classic creations of the post-World War II era. The style was both classic and modern and built to high standards. They were constructed from fine materials using the latest in technology and achieving minimal weight with a high degree of strength.

The 300 was built on a traditional body-on-frame construction as many other marque's, including most of the Mercedes-Benz line, had switched to unit-body construction. The body-on-frame construction was ideal for maintaining a high level of quality for vehicles produced in limited quantities. The front end was suspended in place through the use of an independent suspension with A-arms and coil springs. The rear was the tried-and-true swing axle with coil springs.

Under the bonnet was a 2996-cc six-cylinder engine with Bosch mechanical fuel injection that produced 175 horsepower. Considering the modest wheelbase size and the overall low weight of the vehicle, the 175 horsepower was more than enough to carry these custom-built vehicles at highway speeds with little effort. The car was fast, luxurious, safe, and comfortable.

From November of 1951 through March of 1962, there were 11,430 examples of the Mercedes 300 constructed. Most were built atop of a 120-inch wheelbase and with four-door configuration. Just over 700 were convertible sedans.

The 300 had been introduced at the Frankfurt Auto Show. Mercedes-Benz selected the Paris Auto Show to introduce the next iteration of the 300-Series, the 300S. This was a much sportier version that rode on a shortened, 114.2-inch, wheelbase and built in 2-door open and closed configuration. The engine was a multi-carbureted unit that produced just over 160 SAE horsepower.

The Mercedes-Benz 300S was a very fast automobile that still retained luxury, comfort, and style. Built in very limited quantities, it was an exclusive automobile.

Production of the 300S lasted from 1952 through April of 1958 with a total of 760 examples being constructed.

The final iteration of the 300-Series was the 300SC, which made its appearance at the 1955 Paris Auto Show. It was given a detuned version of the 300SL's Bosch mechanical fuel-injected engine and a new 'low-pivot' swing axle rear suspension.
By Daniel Vaughan | Feb 2007
Large and luxurious, the Mercedes 300 series was built from 1951 until 1957 in its original form. The company's largest and most-prestigious models, the Mercedes-Benz Type 300 is considered a trademark of the era throughout the 1950s. With a 3 liter engine capacity, the name 300 said it all. Exclusive, expensive, elegant and full of power, the Type 300 vehicles were in an elite status all of its own. In a tribute to the Chancellor of Germany at the time, this series was often referred to as the Adenauer, after Konrad Adenauer. During his time as Chancellor, Adenauer used a total of six of these vehicles.

The main competition that the 300 Series faced during its production time was the less-expensive Ponton series. A large majority of the company's sales were directed in the area of this cheaper series. During the early 1960's, both the Ponton series and the Type 300 were eventually replaced by the 'Heckflosse' cars.

Available as either a sedan or cabriolet, the Type 300 was offered both with four doors, along with seating for six. With a more modern body, the 'W186' Type 300 was built on a pre-war chassis, yet it utilized a modern 3 L straight-6 engine. The most interesting feature was a rear load-levelling suspension that was operated by a switch on the dashboard. Many other luxury features were offered on this series, these included a VHF mobile telephone, a dictation machine and a Becker radio. The Chancellor's personal vehicle was equipped with a writing desk, sirens, a dividing partition, curtains, and many more features.

A special Type 300 Lang, Innenlenker model was a limousine version that rode on a 20 cm (7.9 in) longer wheelbase.

The Type 300 b was introduced with power brakes in 1954. In September of 1955, a larger rear window was featured on the Type 300 c. Also featuring a swing axle rear independent suspension, the Type 300 c was sold at $10,864 in the U.S. with the convertible available at an expensive $14,231.

In August of 1957, the B-pillar was updated for the hardtop look in the Type 300 d. With a total of 3,077 produced, the d was produced until March of 1963. Available with a compression ratio of 8.55:1 and Bosch fuel injection, the d produced 160 hp. The W112 300SE replaced the limousine version.

Mercedes-Benz's top-end vehicle in 1952 following its introduction, the 'W188' Type 300 S was available as a 2+2 coupe, cabriolet or roadster. Marketed as one of the top luxury vehicles in the world, the W188 was actually very similar mechanically to the more contemporary W186. The Type 300 Sc received the addition of fuel injection in 1955, along the same time that Mercedes-Benz's 'low-pivot' independent suspension was substituted. Dual chrome strips were placed on each side of the hood that denotes the 'Sc' model.

The 300 S line was an established Mercedes tradition, 2-door convertible and coupe versions of the limousine model. These models had a body built on a separate chassis, and were conventionally styled grand tourers. The SL, which stood for 'Sport Leicht', and can be broken down to lightweight sportscar, was introduced in the same year. Essentially a derivative of the 'ordinary' Mercedes 300 series, there was really nothing ordinary about the 300 SL.

The vehicle that was responsible for re-establishing Mercedes-Benz as a formidable power in sports vehicle racing following World War 2, the 300 SL was introduced in 1952. Beginning as a thoroughbred road racing vehicle, the exotic 300 SL finished its career in 1963 as a very fast convertible for the wealthy.

Following such an impressive impact on car enthusiasts worldwide, there has continued to be an SL model in the Mercedes Range ever since. There has never been another SL model in the Mercedes range that has been able to live up to the prestige, engineering and styling of the original 300 SL.

Introduced at the 1953 Mille Miglia, where a total of 300 SL's took part in the event, the original 300 SL was first introduced as a contender for the famous road races of those days. One of the SL models took 2nd place, and another took 4th place, making a very impressive mark on viewers. This was only the beginning of many more racing successes soon after.
By Jessica Donaldson
For more information and related vehicles, click
here
VOLVO ANNOUNCES ADDITIONAL DETAILS, PRICING OF ALL-NEW XC90 T6 AWD
• XC90 T6 AWD Momentum and Inscription deliver a true next-generation, luxury SUV experience
Rockleigh, N.J. (Oct. 2, 2014) -- Volvo Cars, as part of the reveal of the all-new XC90, recently announced its new trim level structure – Momentum, Inscription and R-Design –offering a tailored experience at every level. Momentum provides a well-appointed vehicle designed to meet and exceed the needs of most customers. Inscription is crafted specifically for customers that hold an addit...[Read more...]
THE COUNTDOWN TO AUCTIONS AMERICA'S FORT LAUDERDALE SALE NOW UNDERWAY
• Auctions America kicks off its 2014 collector car calendar March 14-16 in Fort Lauderdale • Regarded as South Florida's premier collector car auction, the multi-day sale features nearly 500 cars spanning all segments of the collector car market • Joining the list of previously announced feature consignments are a 1970 Plymouth Hemi Superbird, a 1959 Cadillac Eldorado Biarritz and a 1934 Packard Twelve Convertible Sedan • Digital catalog now available for download at auctionsamerica.com [I...[Read more...]
EXCLUSIVE VOLVO OCEAN RACE EDITION AND V70 & XC70 EDITION RELEASED IN GENEVA
Exactly forty years after the completion of the first race, Volvo Car Group (Volvo Cars) is celebrating the upcoming 2014-2015 Volvo Ocean Race by presenting another special edition of sailing-inspired cars. The fifth generation Volvo Ocean Race Edition, which includes the Volvo V40, V40 Cross Country, V60 and XC60, will be launched at the 2014 Geneva Motor Show. At the same time, Volvo Cars will introduce the V70 and XC70 Editions for customers with a taste for a more dynamic look and handli...[Read more...]
Breaking news from Coys
1966 AC Shelby Cobra - Now selling at No Reserve! Coys are pleased to announce that a 1966 AC Shelby Cobra will now be selling at No Reserve later today at the Autosport International show at the NEC in Birmingham. Featured on the front cover of Classic & Sportscar magazine in September 2012, this Cobra is beautifully presented in Rangoon Red paintwork with black leather upholstery and hood and tan tonneau and sidescreens, and the car still displays a delightful patina. The 427ci b...[Read more...]
Lost Mercedes - Surfaces At Bonhams
One owner, unrestored, supercharged 'S' Type Mercedes to be sold by Bonhams at Goodwood Revival this autumn One of the greatest and most important motor car finds of the last decade, the 'Lost Mercedes' is to be offered at Bonhams Goodwood Revival sale on Saturday 15th September 2012. Bonhams announced today that it has been commissioned to sell a recently discovered 1928 Mercedes-Benz 26/120/180 'S' Type Sports Tourer which almost without precedent for motor cars of this type and d...[Read more...]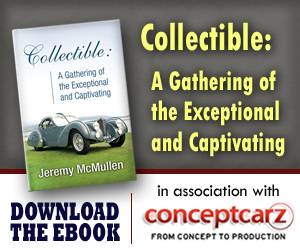 Mercedes-Benz
Monthly Sales Figures
Volume
November 2014
37,110
October 2014
30,733
September 2014
29,523
August 2014
28,958
July 2014
29,406
June 2014
28,707
May 2014
26,617
April 2014
28,281
March 2014
29,316
February 2014
22,609
January 2014
23,892
December 2013
35,835
(More Details)
© 1998-2014. All rights reserved. The material may not be published, broadcast, rewritten, or redistributed.