1950 Ferrari 166 Inter news, pictures, specifications, and information

Tweet
Ferrari 166 Inter Coupe with chassis number 0071 S is a right hand drive vehicle that was built by Vignale. Though it was a 166 Inter Coupe, it has been updated to 195 specifications. It is a very early example of the Enzo Ferrari built automobiles and was built in 1950. Its first owner took possession of the vehicle in April of 1950. The car has been in the ownership of several individuals since then; in the 1980's it became the property of the US based individual. Under the ownership of Ed Weschler in 1987, it was entered in the Chicago Historic Races. Weschler owned the vehicle until the 1990's when it was sold to Stephen Dudley. Under his care, the car has been shown at the 2004 Meadow Brook Concours and at the Cavallino Classic. It has even been raced in historic competition events such as the Cavallino Classic at Moroso Motorsport Track.
By Daniel Vaughan | Feb 2007
In 1949, Ferrari introduced their 166 Inter Barchetta at the Paris Motor Show. It housed a 2.0-liter V12 engine that was also found in the 166S and 166MM and was available in various states of tune with one to three carburetors. Total production over a two-year period was just 37 units. They were bodied by Bertone, Ghia, Pinin Farina, Touring, Vignale, and Stabilimenti Farina.

This example, chassis number 0049/S, began life in 1950 as a Berlinetta by Carrozzeria Ghia. It is believed to have been delivered to Inico Bernabei in Rome, Italy and sold later that same year to an owner in Naples. At some point in its early history, perhaps before it was sold, a second chassis number was stamped in the frame. However, this car is known as 0049/S. It is an odd chassis number which was typically assigned to street cars, not competition cars. Many Ferrari street cars, however, were used for racing.

The car was later exported to the United States, and used for many years as a competition car. By the mid-1970s, it had passed through several American owners and had come into the care of Ron Walden in Southern California. During this time, the 0049/S engine had been removed and fitted into another car. A fire broke out in the garage where 0049/S was being stored and damaged much of the trim, glass and interior of the coupe body. The car had been partly dismantled prior to the fire and parts were stored in different sections throughout the garage. The body and some of the trim survived.

In the mid-1980s, a new owner purchased 0049/S along with another car, which had the original engine of 0049/S. The chassis was then converted to the style of Carrozzeria Touring Barchetta. The frame was modified and a new subframe and body panels was formed. The work was completed by 2000.

A correct-type five-speed gearbox and differential was mounted to the rebuilt engine.

In 2010, this car was offered for sale at the Gooding & Company auction in Pebble Beach where it was estimated to sell for $750,000 - $1,000,000. As bidding came to a close, the car had been sold for the sum of $753,500 including buyer's premium.
By Daniel Vaughan | Dec 2010
Racing takes money. And Enzo Ferrari realized this. That is why he produced the 166 series, which was created to be their bread-and-butter. The knowledge that was gained by racing was incorporated into the next series of road-destined vehicles.

The Inter was a street version of the 166. Thirty-seven 166's were built, with seven different kinds of bodies fitted to it.

The 166 does have some racing history behind it. It won the Mille Miglia in 1948 and 1949 as well as the Giro d'Italia. The 166 also won the Spa 24-hour race in 1949.
By Daniel Vaughan | Dec 2010
Ferrari displayed two cars at the 1948 Turing Motor Show. One car was the 166 Mille Miglia Barchetta and the other was the 166 Inter Coupe, so named to commemorate the racing victories by Scuderia Inter. The 166 Inter was produced between 1948 and 1953, with just 37 examples produced. (Odd-numbered chassis numbers between 007S through 0079 S). Coachwork for the 166 Inter was done by Carrozzeria Touring, Bertone, Ghia, Stabilimenti Farina and Vignale.

The 166 Inter was powered by an all-alloy V-12 engine that displaced 1995cc and produced 110 horsepower. The '166' in the model designation referred to the swept volume of a single cylinder in cubic centimeters. The Combo-designed engines had twin camshaft nose-driven Marelli distributors and were fitted with a single twin-choke carburetor as standard equipment. A triple carburetor setup was also available. The 166 Inter had independent front suspension via a transverse leaf spring, wishbones and Houdaille lever-type hydraulic shock absorbers. In the back, there were semi-elliptic leaf springs and similar Houdaille hydraulic shock absorbers. Hydraulic drum-type brakes were fitted at all four corners.

This example, chassis number 043S wears coachwork by Milan's Carrozzeria Touring. From May 4th through May 14th of 1950, the car was on display at the XXXII Turin Motor Show. In July it was delivered to its first owner, A.I.C.A.R. S.r.l. of Milan, Italy, whose acronym translates to the International Agency for Automobile and Spare Parts Trading. It was then re-sold by A.I.C.A.R. to the first private owner, Mr. Moretti of Milan, Italy.

The car was later exported from Italy to the United States. In the 1980s, the car was owned by Ron Pinto of Rancho Palos Verdes, California. It was purchased by Lyle Tanner in 1986. The following year, it was purchased by Henk P. C. Van de Meene of The Netherlands. At that time, it was reported to have been finished in red with a brown wool cloth and tan leather interior. In 2008, the car was in the care of Danny Donovan. The current owner acquired the car in 2009 in fully restored condition, featuring a dark blue exterior and brown leather/tan cloth upholstery.

In 2011, the car was offered for sale at RM Auction's Arizona sale where it was estimated to sell for $400,000 - $600,000. As bidding came to a close, the car had been sold for the sum of $412,500, inclusive of buyer's premium.
By Daniel Vaughan | Jan 2011
Clemente Biondetti and Count Igor Troubetzkoy won the Targa Florio on April 3rd of 1948, marking Ferrari's first major international win. The car was a closed Berlinetta Ferrari 166 and would later capture a victory at Italy's most important race, the Mille Miglia in 1948.

The Ferrari 166 was officially introduced at the Turin Salon in September of 1948. The body was courtesy of Touring utilizing the patented 'superleggera' technique. The alloy coachwork was well proportioned, covering the narrow tube skeleton structure. The frame consisted of an oval tube cross-section ladder with an X-shaped cross member. The short wheelbase car was given a Giacchino Colombo-designed V12, which would become the basic structure that would serve Ferrari road and race car for the next two decades.

In total, there were a mere 33 examples of the 166 MM produced between 1949 and 1951. Most of the 166 models were given Carrozzeria Touring coachwork in either Barchetta or Berlinetta forms. 26 were Barchettas and 7 were Berlinetta models. Of the seven Touring-bodied Berlinettas, only five were the Le Mans Berlinettas, named for Ferrari's victory at the 1949 24 Hours of Lemans in a 166MM.
By Daniel Vaughan | Mar 2009
It was in 1948 when the newly formed Italian automobile company named Ferrari began selling a promising sports car named the 166. The two seater sports car featured a 12-cylinder engine mounted in the front and supplying over 100 horsepower to the rear wheels. The engine was just under two-liters in size and had a unitary displacement of 166 cc, thus, the evolution of the model name. Production would last until 1953 with only 38 examples being produced. Even though production was low, its accomplishments are large, with wins at LeMans, Mille Miglia, and the Targa Florio.

The 166 was a continuation of the 125, introduced a year earlier. The 125's size of 1497 cc was later enlarged to 1902cc, bringing about the Tipo 159. In 1948, it was enlarged to 1995 cc and became the 166.

As was customary at the time, a rolling chassis was supplied to custom coachbuilders to outfit the vehicles according to customer specifications and their intended purposes. The 166 MM was named after its historic victories at the Mille Miglia. The 166 MM versions were given even chassis numbers and built with racing intentions. The 166 Inter, named after victories at the Coppa Intereuropa at Monza, were given odd chassis numbers and became Ferrari's first road car.

The 166 Inter road cars featured a 2 liter, 12-cylinder Colombo engine producing about 115 horsepower. The engines were mounted longitudinally and given one Weber 32 DCF Carburetor. A five-speed manual gearbox provided power to the rear wheels while drum brakes provided the stopping power. Top speed was achieved at just over 105 mph. Zero-to-sixty took about ten seconds. The tubular frame was given a live-rear axle and a front wishbone suspension. When production began, Carrozzeria Touring was the primary coachbuilder, outfitting the cars in both Berlinetta and Coupe bodies. Later, other coachbuilders such as Pinin Farina, Ghia, Vignale, and others, produced bodies for the 166 Inter.

The phenomenal accomplishments achieved on the race track did much to stir enthusiasm for the cars. To generate even more publicity, in November of 1948, Ferrari displayed examples of his 166 MM and 166 Inter Coupe at the Turin Motor Show. Other shows included the Paris salon in October of 1950 and the Geneva Salons in March of 1951.

With just 38 examples created, the 166 Inter was replaced in 1950 by the 195 Inter. The 195 Inter came into existence by the enlargement of the engine to 2.3 liters. A year later the engine was enlarged to 212 cc and the name changed to 212 Inter. In 1952, after 142 examples were created, production ceased.

166 MM

The 166 MM was a competition version of the 166 Inter. It featured the same 12-cylinder engine, but modified to produce 135 horsepower. The suspension and chassis were similar to the 166 Inter. The bodies were lightweight, small, and built to endure the grueling requirements that racing requires. Initially, Ferrari intended the 166 MM to be a customer racing car. After a number of 166 MM models captured a large number of class and overall victories against stiff competition such as Maserati, Cistiralia, and Alfa Romeo, Ferrari commissioned the creation of the 166 MM as factory works cars.

Touring of Italy was commissioned to provide the coachwork for most of the 166 MM, and many were given Barchetta bodies. The name 'Barchetta' came about because of the size and design of the car. Barchetta in Italian means little boat.

Clemente Biondetti and Giuseppe Navone drove a 166 MM to overall victory at the Mille Miglia in 1948. A year later, Biondetti and Ettore Salani captured the victory at Mille Miglia in a 166 MM. Giannino Marzotto and Marco Crosara capture victory at Mille Miglia in 1950, driving a 166 chassis with a bigger 195 engine. In 1949 a Ferrari 166 MM, entered by Lord Selsdon and mostly driven by Luigi Chinetti, captured overall victory at Le Mans.

The 166 MM's were a powerful, reliable and competitive automobile. Their historic accomplishments are legendary and their designs are elegant, beautiful and breathtaking. VIN #002C, a 166 Spyder Corsa, is the oldest Ferrari car still in existence.
By Daniel Vaughan | Feb 2007
For more information and related vehicles, click
here
Extremely Rare 166 Inter Berlinetta, Ferrari's First Road Model, to Headline Russo and Steele's Highly Anticipated Monterey Auction Event
Throughout its storied history, California's Monterey Peninsula has played host to a pantheon of the greatest competition-inspired road cars ever conceived and built. This year, Russo and Steele's outstanding early consignments for Monterey will include a truly significant offering in the form of Ferrari's very first road-going Sports/GT series, the 166 Inter. Only 37 were produced in all, with just eight – exemplified by the striking Berlinetta offered here, numbered 037 S – fitted with elegant...[Read more...]
Postwar Ferrari Named Best of Show at 2014 Pebble Beach Concours d'Elegance
1954 Ferrari 375 MM Scaglietti Coupe Named 'Best of Show' PEBBLE BEACH, Calif. (August 17, 2014) -- Excited cheers echoed across the 18th fairway of Pebble Beach Golf Links Sunday when a 1954 Ferrari 375 MM Scaglietti Coupe was named Best of Show at the 64th annual Pebble Beach Concours d'Elegance. The car, owned by Jon Shirley of Medina, Washington, was the first postwar car to take the top award at the prestigious event in nearly five decades. It was also the first Ferrari to win. ...[Read more...]
Volkswagen Celebrates 60 Years Of The Karmann Ghia
◾Volkswagen Karmann Ghia prototype shown internally in 1953 ◾Osnabrück-made sportster started the Volkswagen brand's move upmarket Wolfsburg, August 20, 2013 – Thanks to the Karmann Ghia, Volkswagen had a car in the mid-1950s in its line-up that was positioned above the Beetle, allowing the company to appeal to a broader customer base. It is now 60 years since that prototype was shown internally, on the occasion of the Paris Motor Show. The car went into full production in 1955. Today...[Read more...]
63rd Pebble Beach Concours d'Elegance Names 1934 Packard 'Best of Show'
The competition showcased 248 cars, including 48 from abroad PEBBLE BEACH, Calif. (August 18, 2013) -- A 1934 Packard 1108 Twelve Dietrich Convertible Victoria owned by Joseph and Margie Cassini III of West Orange, New Jersey, was named Best of Show at the 63rd Pebble Beach Concours d'Elegance, held Sunday on the 18th fairway of Pebble Beach Golf Links at Pebble Beach Resorts. The event showcased 248 cars from 36 states and 12 countries and raised $1,277,007 for charity. 'This Pack...[Read more...]
Historic Jaguar D-Type Leads Growing List of Significant Entries for RM's Monterey Sale
• RM Auctions building towards a spectacular roster of cars for its flagship Monterey sale held during the famous Pebble Beach Concours d'Elegance motoring week, August 16–17, in California • Historic 1955 Jaguar D-Type leads a superb roster of the world's finest sports and racing cars poised for the RM podium • Additional star lots include a 1955 Ferrari 750 Monza Scaglietti Spider, a 1950 Ferrari 166 Touring Barchetta, a 1961 Ferrari 400 Superamerica SWB Coupe Aerodinamico and a 1953 Masera...[Read more...]
Chubb Insurance Concours d'Elegance Judging Day Concludes Salon Prive 2012
• 'Best of Show' prize goes to the 1950 Ferrari 166 MM Barchetta entered by Dudley and Sally Masson-Styrron
• Most prestigious judging panel in Salon Privé history congratulates all category winners for the UK's most outstanding line-up of bikes and cars in 2012
Syon Park, West London, 10th September 2012 – The Chubb Insurance Concours d'Elégance judging day at Salon Privé London marked the close of the Luxury Super Car Show, with a fabulous line up of 111 cars and bikes...[Read more...]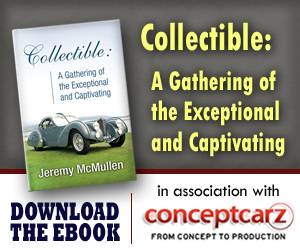 © 1998-2014. All rights reserved. The material may not be published, broadcast, rewritten, or redistributed.