1968 Ferrari 330 news, pictures, specifications, and information

Tweet
At the 1966 Geneva Auto Show, Ferrari introduced their grand touring 330 GTC. The chassis design was similar to the 275 GTB with power coming from a four-liter, twelve cylinder engine. Pininfarina was tasked with creating the coachwork, using a front end borrowed from the 400 Superamericas with the rear similar to the 275 GTS. The side featured thin-pillars which was a unique feature of the 330 GTC and complimented by a prominent beltline from the doors back.

The design was popular and continued into the 4.4-liter 365 GTC in 1968. The interior was luxurious with suitable room for luggage both behind the seats and in the trunk.

Prior to being succeeded by the 365 GTC, around 600 examples of the 300 GTC were created, making it the most successful Ferrari model in the company's history up to that point.

This 1968 Ferrari 330 GTC with chassis number 11403 was brought to the 2007 Monterey Sports & Classic Car Auction presented by RM Auctions, where it had an estimated value of $225,000 - $275,000. It has recently been in storage for a number of years and has also been treated to a bare-metal re-paint since new. It is finished in its original black color and the interior has black leather seats that were also restored to show quality. It has had a major tune up and sports the original Weber carburetors, Borrani wire wheels, rear-mounted five-speed manual transaxle with single dry-plate clutch, and four-wheel disc brakes.

At the end of the auction the lot had failed to find an interested buyer willing to satisfy the vehicles reserve. A high bid of $190,000 was not enough and the vehicle would leave the auction unsold.
By Daniel Vaughan | Dec 2007
It wasn't long after the 330 GTC's introduction at 1966's Geneva Auto Show that the two-seat coupe had earned a reputation as the 'best all around' Ferrari - and with good reason. Its understated looks were classy and elegant, the steering light at most every speed, the interior comfortable, the ride superb, the engine ideal. It was truly a Ferrari one could use every day.

Pininfarina designed and built the GTC's steel body, which successfully blended the general design of the 275 GTS with the front-end treatment of the 500 Superfast. Car and Driver's one-word sum-up of the car's appearance: 'Class.'

Underneath was the 94.5-inch (2400 mm) chassis found on the 275 GTB and GTS. Under hood was the 300 horsepower 4.0-liter V-12 from the larger 330 2+2, but with a redesigned block. The gearbox was mounted at the rear, as on the 275 GTB, for better weight distribution. The GTC also had independent rear suspension.

This model was quite popular, with almost 600 made.
| | | |
| --- | --- | --- |
| | | Coupe |
A total of 604 330 GTCs were produced and this example is one of the last completed. It features Pininfarina coachwork. The 242 cubic-inch (3.97-liter), double overhead cam, inclined V-12 engine develops 300 horsepower and is coupled to an all-synchromesh 5-speed transmission. The chassis had independent A-arms and coil-spring suspension with disc brakes and weighs 2,867 pounds. The car sold for $14,900 in 1968.

The car is capable of acceleration from zero to 60 mph in just seven seconds and a top speed of 143 mph.

The car was restored in 2008. The interior seats and dash are original and the car has all books and tools.
This Ferrari 330 GTC is the 521st example and was ordered new on April 3rd of 1968. Assembly was completed on April 11th. The car was finished in Marrone Colorado and finished with beige interior. On April 26, the GTC was delivered to the Milan-based dealer M. Gastone Crepaldi, who shortly thereafter sold the car to Avagolf S.p.A. on behalf of company president Mr. Pesenti.

In November 1974, Avagolf traded 11247 back to Crepaldi, and soon after it was purchased and imported to the United States by the Luigi Chinetti Motors. Soon after, Paul Folwell of Bronxville, New York became the vehicle's next owner. In April 1976, Mr. Folwell sold the GTC to Alan Gerst of Long Island, who retained it for the next three years. In mid-1979, 11247 was acquired by Bill Fraley. In the late 1990s it was given a thorough restoration. Upon completion, it was painted in Rosso Chiaro.

This car has been awarded a platinum trophy at the Ferrari Club of America's concours event at the Cavallino Classic with a score of 97.5. A complete mechanical and cosmetic restoration was performed on the car in the early 1990s. The car is always driven to event and has 125,000 kilometers on its odometer. A two-seat coupe, the 330 GTC is considered by many, including the late Phil Hill, to be one of Ferrari's best all-around road cars of the period. Larger than the 275, its contemporary, it was no less aggressive when it needed to be but certainly smoother the rest of the time. It has a 4-liter Colombo V12 engine.
By Daniel Vaughan | Jan 2014
This 1968 Ferrari was the first 330 GTC invited to the Pebble Beach Concours d'Elegance. It Fly Yellow paint scheme was done by Junior Conway of Junior's House of Colors. The car was originally delivered to Luigi Chinetti Motors in Greenwich, Connecticut and later sold to a Ferrari client living in Miami, Florida. It remained in Florida until the mid-1980s, when it was sent to San Francisco and into the care of a new owner.

This car is fitted with a classic AM/FM radio, leather bucket seats and wood-rimmed steering wheel. The engine bay features the correct crackle-finish texture, copper tubing, hoses and clamps. It rides on the optional Borrani wire wheels and the correct Michelin XWX tires.

In 2010, this Ferrari was brought to Gooding & Company's Scottsdale Auction where it was estimated to sell for $225,000 - $275,000. As bidding came to a close, the lot had been sold for the sum of $374,000, inclusive of buyer's premium.
By Daniel Vaughan | Feb 2010
Ferrari put their four-liter twin-cam 330 V-12 engine into a two-seat Spider for 1966, along with a coupe model that shared its clean, elegant and somewhat conservative appearance. It was a car meant for the businessman who was looking for an elegant car fitted with quiet performance.

The 330 GTS shared styling with the Pininfarina-designed 275 GTS and featured a modified front end with a longer nose, similar to the 500 Superfast. They were well trimmed and appointed, with leather upholstery, wood paneled dashboards and electric windows.

This example is chassis number 10189. It was finished at the Ferrari factory in May of 1967 and was the 35th of only 100 GTS models constructed. It was originally painted in Argento with a black leather interior. The car was delivered new to Milan's official Ferrari dealer Gastone Crepaldi S.A.S. where it soon found its first owner. A short time later, it was exported to the US and, by the 1970s, was in the care of Mr. Victor Williams in North Carolina. It would remain in the Bay Area for the next two decades.

During the late 1980s, the car was owned by a Japanese collector. In 1997, it appeared in Los Angeles, California. It was still largely original and wearing its factory delivered silver paint. The odometer showed 66,900 kilometers.

The current owner has given the car an interior refurbishment. In 2004, the car was stripped to bare metal and repainted - with the body repaired as needed.

In 2010, this 330 GTS was offered for sale at Gooding & Company's auction held in Amelia Island, Florida. The car was expected to sell for $650,000 - $800,000. As bidding came to a close, the car had been sold for the sum of $627,000, inclusive of buyer's premium.
By Daniel Vaughan | Apr 2010
A total of 604 330 GTCs were produced and this example features Pininfarina coachwork. The 242 cubic-inch (3.97 liter), double overhead cam, inclined V12 engine offers 300 horsepower and is coupled to an all-synchromesh 5-speed manual transmission. The chassis has independent A-arms and coil spring suspension with disc brakes and weighs 2,867 pounds. The car sold for $14,900 in 1968.

This car was sold in Rome and was imported to the United States in 1970. It passed through several owners until purchased by the current owners in 2009.
Convertible Coupe
Chassis Num: 11021
Engine Num: 9823

Sold for $912,500 at 2013 Bonhams.

The GTS was the convertible option of the GTC and was introduced at the Paris Salon in 1966 Paris Salon. Power was from a 4.0-liter, 300 horsepower version of Ferrari's twin-cam, 60-degree V12, as used in the 330GT 2+2. Riding on a short 2400mm wheelbase, it was built from sturdy oval-section main tubes in a steel space-frame. The suspension was independent all around by wishbones and coil springs. First introduced on a road-going Ferrari 1964 - the 275GTB - the rear suspension incorporated the five-speed, all-synchromesh gearbox in the form of a transaxle. The 330GTS - unlike the 275GTS - used the torque-tube transmission introduced on the 275GTB towards the end of 1965.

The 330GTS Gran Turismo was luxuriously with leather seats and electric windows as standard. Radio, air conditioning and Borrani wire wheels were available as optional equipment. Top speed was in excess of 150 mph. Just 100 examples of the 330GTS were produced by the factory between 1966 and 1968, alongside 600 of the 330GTC Berlinetta.

This example, chassis 11021, is the 84th examples of the 330 GTS to be built. It was ordered new through Jacques Swaters' Garage Francorchamps, in Brussels, Belgium. It was delivered by the factory on September 26th of 1968. It had been specified as being in Argento that June, but on the final invoice this specified Bleu Ribot as its color. This must have been altered at the later stages of its build. The interior was done in black leather. It came equipped with a factory hard top at a cost of nearly 5% of the invoice.

The first private owner is not known and further European history is not recorded. Within three years, the car had made its way across the Atlantic and into the United states. It has resided in the U.S. ever since. In the 1970s it was owned (or managed) by Kyle Fleming of Virginia Beach, Virginia, and advertised by him in 1979. It was listed as having new red lacquer paint, Borrani wire wheels and factory air conditioning. Handled by Ed Waterman in January 1987, the Ferrari had passed to Dr. D.G. Whitney of Roswell, Georgia by 1990. A decade later, the car is known to have been in private New Jersey ownership. By this point in history, the car was referenced as having a 330 GT 2+2 engine, number 9823, which is the identical type 209 specification to its original unit.

Sometime in the early 2000s, Texas collector Gene Ponder acquired the car. Mr. Ponder had the car refurbished and its interior lightly customized to match the exterior - in red and black leather with a red leather top cover. Its top is in black double duck. Chrome shields have also been fitted behind the Ferrari badge on its nose.

In 2007, gene Ponder's collection in Marshall, Texas was sold. At that time, the car came into the car of the Oldenburg Family. Since that time, it has accrued some 8,500 kms.

In 2013, this car was offered for sale at Bonhams Auction in Scottsdale, Arizona. As bidding came to a close, the car had been sold for the sum of $912,500 including buyer's premium.
By Daniel Vaughan | Feb 2013
The Ferrari 330 series was produced from 1963 through 1968. They were replacements for the Ferrari 250 GT 2+2 with many of the series retaining the style and mechanical components of their predecessors.

The front-engined, rear-wheel drive vehicle were powered by a derivative of the 400 Superamerica's four-liter Colombo 12-cylinder engine.

The first in the series was the 330 America, which was actually a 250 with a new engine. During its production lifespan, lasting only a year, 50 examples were produced of the 2+2 sports car.

The 330 GT 2+2 was introduced to the public at the 1964 Brussels Motor Show, built as a replacement for the 330 America. The 330 GT 2+2 is unique in that it provided ample seating for four individuals plus luggage. These were the ultimate road-going, practical sports cars that could be used for every-day transportation. The 330 GT 2+2 was a new product, not just an engine modification. Under the hood was a Tipo 209, twelve-cylinder engine capable of producing 300 horsepower. Disc brake were placed on all four corners to provided the stopping power. The 1964 model used a four-speed manual gear box with overdrive. The 1965 version, known as the Series II, received a 5-speed manual gearbox. Other changes included alloy wheels, dual-light front clip, and optional power steering and air conditioning.

The 330 GT 2+2 was produced from 1963 through 1968. Around 1080 models were produced of the 330 GT with 50 of them being Type 330 GTE Americas.

The 330 was a replacement for the 275. The shortened wheelbase and independent rear suspension was courtesy of its predecessor. The GTC (Gran Turismo Coupe) Pininfarina designed vehicle was debuted in 1966 at the Geneva Auto Show. It had a V-12 engine mounted in the front that was capable of producing 300 horsepower. The five-speed manual gearbox was located in the rear transaxle.

The 330 GTS (Gran Turismo Spyder) was shown in October 1966 at the Paris Auto Show.

There were around 600 coupes and 100 spyders produced during the production lifespan. In 1968 they were replaced by the 365 GTC/4 Daytona.
By Daniel Vaughan | Oct 2006
The Ferrari 330 series belonged to a long line of Ferrari road cars with front-mounted V12 engines, cars that were members of a bloodline whose history is still being written by the 612 Scaglietti and 599 GTB Fiorano. The 330's name derived from the then-familiar Ferrari practice of naming cars for their per-cylinder displacement in cubic centimeters, indicating that the engines used to power this series of cars displaced a total of 12x330cc, or about four liters. Preceded by the 275 and replaced by the 365, the 330 was caught right in the middle of a glorious era for Ferrari road cars.

The 330 spawned the vaunted 330 P series of mid-engined racers, which battled Ford's GT-40 in sports car racing throughout the mid-1960s. A successor to the legendary 250 GTO was also created using the 330 motor, named the 330 LMB. Ferrari produced only four of these latter models.

The 330 road cars were decidedly more relaxed and less exhilarating than the racing cars mentioned above, but their relatively high sales numbers and use of race-bred components meant that they were still important cars to Ferrari's history. Ferrari produced the 330 road cars primarily in four guises: the 330 America, the 330 GT 2+2, and the coupe/spider couple named 330 GTC and 330 GTS.

Ferrari introduced the 330 America first. It was a transitional model, essentially a 250 GTE 2+2 with the new 330 motor. The 330 GT 2+2 followed in 1964, and was a more thoroughly revised grand tourer built on a chassis stretched by 50mm compared to the America. This newer model, though still closely related to its predecessor, wore a controversial body design by the familiar Pininfarina. Its front end styling used an unconventional quad-headlight arrangement that mounted the two lights per side in clusters canted down toward the egg crate grille, creating an aggressive but cumbersome appearance of slanted eyes. The Mulliner Park Ward-bodied Rolls-Royce Silver Cloud III of the mid-1960s used a similar frontal treatment, also with questionable results.

A more harmonious front end debuted on the 1965 Ferrari 330 GT 2+2, reverting to a more traditional twin-headlight approach. Other changes for 1965 included the replacement of the four-speed with overdrive gearbox by a 5-speed unit, and the introduction of power steering and air conditioning as options. Production of the 330 GT 2+2 continued until late 1967, by which time Ferrari had produced some 1,075 examples of the model. This was an excellent figure for a 1960s Ferrari, especially when compared to the 50 examples of the transitional 330 America that the company produced.

At the Geneva Motor Show of 1966, Ferrari introduced a two-seater 330 coupe called the GTC. Also styled by Pininfarina, the GTC looked surprisingly sultry given that its design was an amalgamation of prior cues. From the front the GTC aspired to 500 Superfast or 400 Superamerica greatness, while from the back the car looked like a 275 GTS with a fixed roof. Somehow the look came together remarkably well, though, creating an iconic Ferrari design without the hand-me-down flavor that could have resulted from the borrowed styling features.

Later in 1966, at Paris, the spider version of the 330 appeared. Named 330 GTS and clearly an open version of the GTC, it too was a lovely design. Production of both the GTC and GTS ended in 1968, after Ferrari produced approximately 600 coupes and 100 spiders.

The engine common to all 330 series road cars was a 60-degree V12 of 3,967cc displacement. The block and heads were cast silumin, an aluminum and silicon alloy. A chain-driven single overhead camshaft per cylinder bank operated two inclined valves per cylinder that opened into hemispherical combustion chambers. Ferrari employed three Weber carburetors and an 8.8:1 compression ratio in the 330 motor to create a power plant that was capable of 300bhp at 6,600rpm in street tune. The V12 was bolted to a 5-speed gearbox in all 330 road cars, excepting the 330 America and early 330 GT 2+2, which used 4-speed gearboxes with overdrive.

Double wishbones and coil springs suspended the front end of all 330 road cars. The GTC and GTS used independent rear suspensions, but the 2+2 models retained live axles. Brakes were assisted four wheel discs on all models, using an unconventional dual-circuit design that incorporated two master cylinders and two servos.

Pininfarina styled and bodied all four standard versions of the 330 road car, though there were bespoke examples crafted by other coachbuilders including Michelotti and Drogo. The 330 chassis was made of tubular steel, and the Pininfarina bodies too were primarily steel, but with opening panels in aluminum.

As witnesses of Ferrari's finest days, the 330 series road cars have become historically important and commensurately collectible. The GTC and GTS remain the thoroughbred sophisticates of the series and command high prices. The 2+2 models, though, especially the oddly styled early 330 GT 2+2s, represent good value and are some of the most attainable machines to emit the distinctive mechanical symphony of a 1960s Ferrari V12.

Sources:

'Ferrari 330.' CarsfromItaly.net n. pag. Web. 27 Dec 2010. http://carsfromitaly.net/ferrari/index.html.

'Specifications.' 330 Register n. pag. Web. 27 Dec 2010. http://www.330register.com/models.cfm.

Tyer, Ben. 'Ferrari 330 GTC.' Supercars.net n. pag. Web. 27 Dec 2010. http://www.supercars.net/cars/551.html.
By Evan Acuña
For more information and related vehicles, click
here
Postwar Ferrari Named Best of Show at 2014 Pebble Beach Concours d'Elegance
1954 Ferrari 375 MM Scaglietti Coupe Named 'Best of Show' PEBBLE BEACH, Calif. (August 17, 2014) -- Excited cheers echoed across the 18th fairway of Pebble Beach Golf Links Sunday when a 1954 Ferrari 375 MM Scaglietti Coupe was named Best of Show at the 64th annual Pebble Beach Concours d'Elegance. The car, owned by Jon Shirley of Medina, Washington, was the first postwar car to take the top award at the prestigious event in nearly five decades. It was also the first Ferrari to win. ...[Read more...]
Automobiles with Exceptional Provenance Highlight Gooding & Company's Pebble Beach Auctions
SANTA MONICA, Calif. (July 10, 2014) – Gooding & Company, celebrated for its world-class automotive auctions and record-breaking results, will begin its second decade as the official auction house of the Pebble Beach Concours d'Elegance® on August 17 and 18. Gooding & Company is pleased to share a hand selected group of consignments from our Pebble Beach Auctions with exceptional provenance. Exciting entries include an extremely rare 1939 Alfa Romeo Tipo 256 Cabriolet with spectacular one...[Read more...]
REVERED FERRARI 250 LM LEADS SUPERLATIVE ROSTER OF ITALIAN SPORTS CARS AT RM'S FLAGSHIP MONTEREY SALE
· RM Auctions announces a legendary 1964 Ferrari 250 LM by Scaglietti as the latest multi-million-dollar highlight for its flagship Monterey sale, August 15–16 in California · 250 LM leads a superb roster of no less than 26 Ferraris at RM's two-day sale; additional new entries include a 1953 250 Europa and a 1963 400 SA LWB Coupe Aerodinamico Series II · RM joins in Maserati's 100th anniversary celebrations, presenting no less than four examples from the luxury Italian ma...[Read more...]
One of World's finest competiton car collections to be sold at RM's Paris sale
• RM Auctions announces stunning Harburg Collection for its debut Paris sale, 4–5 February 2014 • Collection boasts a number of highly significant Porsche models, including a 1973 ex-Works 917/30 Can-Am Spyder, a 1982 ex-Works 956 956 Group C Sports-Prototype, a 1964 904 Carrera GTS, a 1959 356 A Carrera 1500 GT Speedster, and a 1987 959 • Other remarkable models to be offered in the collection include a 1955 Jaguar D-Type, a 1955 Ferrari 750 Monza Spider, the ex-Briggs Cunningham 1950 Aston M...[Read more...]
Six Decades Of Ferrari At Mecum's Daytime Auction
1954 Ferrari 750 Monza Headlines Select Offering of Italian Illuminati Mecum Auctions will present its 4th annual Monterey Daytime Auction, Aug. 16-18, 2012 at the Hyatt Regency Monterey Hotel and Spa on Del Monte Golf course, featuring some of finest machines Ferrari has ever produced headlined by a 1954 750 Monza Spyder Scaglietti. By turns part of the Engelbert Stieger, Brando Wang, Walter Burani and Roberto Crippa collections, 1954 Ferrari 750 Monza Spyder Scaglietti S/N 0462MD...[Read more...]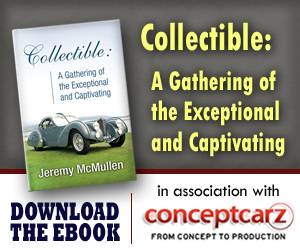 © 1998-2014. All rights reserved. The material may not be published, broadcast, rewritten, or redistributed.