1984 Ferrari 400i news, pictures, specifications, and information

Tweet
This 1984 Ferrari GTi 400 with chassis number 50807 is powered by a 4823cc V12 engine with dual overhead cams and a horsepower rating of 315. There is a five-speed manual gearbox and four-wheel disc brakes.

The Ferrari 400 Series was a new 2+2 that continued the Prancing Horse marque's tradition of offering a true luxury car with four rear seats and fitted with every possible amenity. They were introduced at the 1976 Paris Auto Show and signaled the first time a factory-installed automatic was an option. The Pininfarina designed body was accented by Ferrari's five-spoke magnesium wheels.

This car features many rare modifications and characteristics that set it apart from most GTi 400s. It was purchased on February 27th of 1984 by Greg Garrison. It was ordered with Watermelon paint and a beige leather interior. It has the manual transmission and over 412 upgrades. Garrison had written Pininfarina a letter asking him 'to think of special things to add to this car.' There are color coded bumpers and electric seats as well as distinctive chrome trim. The car has a hood scoop that was two-and-a-half times larger than standard. The interior features a double-insulated leather headliner, extra sound deadening and heat-resistant panels specifically designed to cope with demanding desert conditions.

In 2007 it was brought to the Gooding & Company auction held in Pebble Beach, Ca where it was estimated to sell for $30,000 - $40,000 and offered without reserve. Bidding surpassed those estimates, settling at $46,200 including buyer's premium.
By Daniel Vaughan | Apr 2008
The 400 was Ferrari's first machine to stray from the company's racing roots. Sure, it had sharp Pininfarina styling and a thirsty V12. But the 400 also had four seats and, most significantly, an available automatic transmission.

Today, with the vast majority of cars sold being supplied with automatics, that little detail seems unimportant. Ferrari, though, was one of the most successful race car builders of all time. Its street cars exuded track-refined engineering, and they were all devastatingly fast and steadfastly hardwired to the human in the driver's seat. An automatic transmission signaled a disruption in that philosophy of car building. A transmission that shifts for you, especially when three other people are in the car, creates a great distance between mankind and machine.

At least the logic behind Ferrari's decision to introduce its auto was clear: Americans loved automatic transmissions. Sure enough, there's proof that we still do. Ferrari saw a market they were missing in the GT world, and decided to go ahead and create a Gran Turismo that was more about gulping down the miles in high fashion than submersing the driver in total mechanical involvement.

The automatic used in these cars was a GM Turbo-Hydramatic. If that sounds familiar, it's because the same tranny was used in familiar greats by Jaguar, Cadillac, and Rolls-Royce. What do those three companies have in common with Ferrari? Nothing. Price, maybe, but surely no driving characteristics were ever shared between the brands. This meant that the auto was mismatched to the 400's V12. It was a great, smooth transmission, but it was lazy and luxurious, not quick and concise.

For the enthusiasts, a proper gearshift was still available. It was a 5-speed, and it allowed the pilot to harness the V12 with finesse. But the success of the auto proved something about Ferrari's wealthy clientele, many of whom were clearly more concerned with their image than with a Ferrari's phenomenal road manners.

The 400's engine, at least, was thoroughly Ferrari. It was based on the Daytona's excellent powerhouse, and made about 340hp out of 4.4 liters when first used in the car. It had twin overhead cams, and, beginning in 1979, fuel injection. The 'i' in 400i stood for injection, a feature that replaced the original 400's carburetors and followed through to the updated 412 model that carried much of the original 400's styling and character up until 1989.

Crisply styled by Pininfarina, the 400 looked the part of a proper Gran Turismo. It was comfortable, fast, and could handle four people with effortless ease. Was it really a Ferrari, though? Regardless of the controversy behind it, the 400 was a good car that added another type of vehicle to Ferrari's repertoire.

The influences of the 400 can be seen in some modern Ferraris, notably the 456 and 612, both of which have sold successfully in the United States. Ferrari used the 400 to show that it could build more than temperamental, racy machines for driving die-hards. It proved that the storied company could also make a brilliant GT.

Sources Used:

Wilson, Quentin. The Ultimate Classic Car Book. First. London: Dorling Kindersley Limited, 1995.
By Evan Acuña
Considered to be the lesser-known front-engined 2+2 coupes, the Ferrari 400 and 412 began production in 1976.

First introduced in 1976, the Ferrari 400i lasted until 1984. A total of 507 of the Ferrari 400i were produced and introduced at the Paris Show in 1972.

The body style was coupe and had a 4.8 L FI V12 engine.

At first, the chisel-edged Pininfarina shape was showcased as the 365 GT4 2+2 with a four-cam 4.4-litre V12 with a five-speed manual gearbox only. A short lived variant, the 365 was a 150 mph 4-seater that was replaced in 1976 by the 400GT.

In 1979 the 400i came with Bosch injection to enhance smoothness though it robbed the V12 of 30 bhp. The Bosch K-Jetronic fuel injection replaced the carburetors on the 400. The emissions were much improved but the power was down substantially.

1985 introduced the 412 the last of the 400 line and considered to be the best model lasted until 1989. Improved with an increase in displacement to 4943 cc, the newest 400, now came with ABS.

The most civilized Ferrari of its generation, they were the first models to offer automatic transmission. Introduced in 1976 at the Paris Motor Show, the 400 Automatic (or 400A) offered a 3-speed unit from General Motors.

The engine was based on the Daytona, was a 4.8 L (4823 cc) V12 that was capable of producing 340 hp. It carried the traditional GT car layout with driving rear wheels mounted in front.

Only 147 models were five-speed manuals which showed the direction that the market was heading.
By Jessica Donaldson
Russo and Steele Exceeds $12M Monterey!
Scottsdale, Arizona (August 21, 2014) – After a thrilling week of camaraderie and cars down by the waterfront at Fisherman's Wharf in beautiful downtown Monterey, we are now busy closing the books on our fourteenth annual Monterey auction event. Russo and Steele Collector Automobile Auctions wish to thank all of our buyers, consignors, friends, family, sponsors and vendors for making the event so very special for us all. To briefly recap, Russo and Steele's 2014 Monterey auction event...[Read more...]
MAZDA MX-5 MIATA CELEBRATES 25 YEARS OF EXHILARATION
◾Celebrate the World's Best-Selling Two-Seat Roadster on Twitter with hashtag #MX5Turns25 CHICAGO, Feb. 7, 2014 - On February 9, 1989, the world was introduced to the all-new Mazda MX-5 Miata at the Chicago Auto Show. A few months later, it was named as one of the five 'World's Best Cars' by Road & Track and never looked back. Twenty-five years later, MX-5 has racked up more than 200 awards and sold more than 920,000 worldwide as of December 2013, making it the Guinness Book of Worl...[Read more...]
KIA NIRO CONCEPT MAKES U.S. DEBUT AT 2014 CHICAGO AUTO SHOW
Cutting-Edge Urban Hybrid Vehicle Shows Off Kia's Ambitious Vision of a Lifestyle City Car •Niro's B-segment design is futuristic, upscale and performance-inspired •Hybrid electric drive intended to give Niro four-wheel drive capabilities when needed CHICAGO, Feb. 6, 2014 – Kia's dramatic and modern Niro urban lifestyle concept vehicle, which was unveiled last September at the Frankfurt Motor Show, today made its U.S. debut at the 2014 Chicago Auto Show. The Niro hints at a ...[Read more...]
SUBARU ANNOUNCES PRICING FOR 2014 WRX AND WRX STI
Cherry Hill, N.J. - Subaru of America, Inc. today announced pricing for the 2014 WRX® and WRX STI®. Subaru's iconic line of sport models have seen their sales increase by nearly 40-percent year-to-date and have a starting MSRP of $25,995. The 2014 Subaru WRX delivers the biggest performance value in its competitive set. The WRX offers more power than rivals like the Ford Focus ST and Volkswagen GTI, neither of which offers all-wheel drive. In the WRX, a 2.5-liter turbocharged/intercooled fo...[Read more...]
PORSCHE 918 SPYDER WOWS GOODWOOD
◾Innovative 887 hp plug-in hybrid super sports car makes public dynamic debut at Festival of Speed ◾Pedigree motorsport technology delivers maximum performance with minimum fuel consumption ◾Mid-mounted 4.6-litre V8 engine and two electric motors with lithium-ion batteries combine to deliver 0-62 mph in 2.8 secs, 211 mph top speed, plus approx. 85 mpg and 79 g/km CO2 (NEDC) ◾Independent all-wheel drive offers traction and driving dynamics benefits ◾Priced from 781,155 Euro – 'Weissach' packa...[Read more...]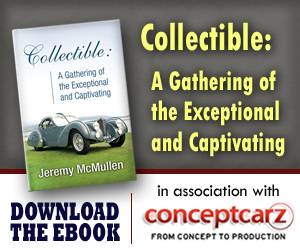 © 1998-2014. All rights reserved. The material may not be published, broadcast, rewritten, or redistributed.