1948 Cadillac Series 62 news, pictures, specifications, and information

Tweet
As World War II came to an end, Cadillac turned its attention on producing cars again. Development began immediately on the first all-new postwar Cadillac, led by the Series 61 and 62 models, which shared the all-new GM C-body platform. For 1948, the Cadillac models had a pronounced horizontal styling theme and a pair of subdued tailfins reminiscent of the P-38's twin tails. Both the Series 61 and 62 models had different levels of interior and exterior fittings and trim. The Series 62 was the upscale model, easily identifiable with its stone shields and the lack of chrome rocker moldings. The 1948 models were the last to receive the 346 cubic inch flathead V8 engine, noted for its smoothness and durability.

This Series 62 Convertible Coupe wears an older restoration. It has a new tan Haartz cloth top, excellent brightwork, dual rear view mirrors, full 'sombrero' wheel covers and a set of period wide whitewall tires. The interior is period correct, featuring leather upholstery equipped with amenities including power window lifts, an AM radio and an electric clock. Power is from a 346 cubic-inch V8 engine mated to a Hydra-Matic automatic transmission. There are four-wheel hydraulic drum brakes and an impendent front suspension with coil springs.

In 2009, this car was brought to RM Auctions 'Vintage Motor Cars of Meadow Brook' where it was estimated to sell for $60,000-$80,000. As bidding came to a close, the lot was sold for the sum of $46,750 including buyer's premium.
By Daniel Vaughan | Sep 2009
Cadillac introduced the first rear fins in 1948 and this design theme would remain, in various treatments, for more than a decade. The Series 62 Convertible Coupe received strong horizontal lines, a cut-down windshield, push-button controls and an interior layout that influenced many designs of the 1950s.

It is estimated that around 100 examples of the Convertible Coupe remain in existence. This example was given a restoration in 1993 and has received a number of Cadillac-LaSalle Club awards including a First Primary, First Senior and even Best of Show honors in the Post-War category at the 1994 Grand National. In July of 1998, it was featured on the cover of The Self Starter, the official publication of the Cadillac-LaSalle Club.

The car is painted in Madeira Maroon over custom-dyed, Bridge of Weir leather upholstery. There are tan carpets and a convertible top. The car rides on whitewall tires with polished wheel covers. Inside, there is a drum-style instrument cluster that was a unique, one-year-only feature.

Powering the car is a flathead V-8 that displaces 346 cubic-inches and is fitted with a single Carter carburetor. The 150 horsepower produced is sent to the rear wheels via a three-speed Hydra-Matic transmission.

In 2011, the car was offered for sale at the Gooding & Company auction in Scottsdale, Arizona. The car was estimated to sell for $65,000 - $85,000 and offered without reserve. As bidding came to a close, the car had been sold for the sum of $93,500 including buyer's premium.
By Daniel Vaughan | Mar 2011
The 1948 Cadillacs were given an all-new, cohesive body design featuring a cut-down windshield and horizontal lines that followed the entire length of the car. Exclusive to this year were a drum-shaped instrument panel that housed all the gauges and controls. This design was discontinued the following year as it was deemed too complex and costly to produce.

This Convertible Coupe has been in prominent collections in the past decade. The car has been restored to high standards and finished in Lucerne Green with a tan interior with matching carpets. It features factory-available options, including an AM radio, the $174 Hydra-Matic four-speed transmission, heater and electric clock. Power is from a 346 cubic-inch Flathead V-8 with a single Carter carburetor.

In 2012, the car was offered for sale at the Pebble Beach auction presented by Gooding & Company. The car was estimated to sell for $100,000 - $120,000 and offered without reserve. As bidding came to a close, the car had been sold for the sum of $90,750 inclusive of buyer's premium.
By Daniel Vaughan | Nov 2012
The Harley Earl designed Cadillac Series 62 De Ville was a very large vehicle that featured a large, 6,390 cc (390 cubic inch) V-8 engine. The back had large fins that did little for performance and handling but was all about the style of the vehicle. The design of the vehicle was inspired by the space program and the era of jet engines. The large, 4400 lb car was fitted with drum brakes. These often wore out quickly. If a U-turn needed to be made, the driver would need a parking lot. The turning radius was 24 feet.

The car was a luxury vehicle that could carry six individuals comfortably. The car was a convertible with the top being raised and lowered automatically. The interior had electrical gauges. The head lights would turn on at dusk and were also capable of switching from high beam to low beam when they sensed oncoming traffic. In total, there were eight lights on the front of the vehicle. The four on the top were the driving lights while the lights mounted on the bumper were the parking lamps. To add to the driving comfort, air suspension was used. This aided in providing a very soft ride but there was significant body roll when cornering. With the V8, it was capable of creeping to sixty in 11 seconds. This reinforced the notion that this Cadillac was built for comfort and not for speed. The drivers enjoyed the ride and they looked good cruising along, enjoying the large open road.
By Daniel Vaughan | Sep 2011
For more information and related vehicles, click
here
FIRST RETAIL UNIT 2015 FORD MUSTANG GT FASTBACK SELLS FOR $300,000 AT BARRETT-JACKSON AUCTION IN SCOTTSDALE
◾The first retail unit 2015 Ford Mustang GT Fastback sold for $300,000 with proceeds benefiting JDRF, the leading diabetes research organization ◾With this sale, Ford has increased its JDRF charity car vehicle sales to more than $3.5 million ◾The winning bidder will personalize their new car with available 2015 Mustang GT options ◾Shelby GT500-inspired, 1956 Ford F-100 pulled in $450,000 for the Children's Hospital of Saskatchewan in Canada. KISS bassist and Rock and Roll Hall of Fame inducte...[Read more...]
Car Expert Hans Wurl Joins Gooding & Company's Team of Classic Automobile Specialists
SANTA MONICA, Calif. (December 9, 2013) – Gooding & Company, the official auction house of the Pebble Beach Concours d'Elegance®, is expanding its existing team with the addition of Hans Wurl, a well-known classic car specialist with a strong technical background. Wurl has served as advisor to noted collectors and participated in some of the best collector car events around the world. Based in Seattle, Wurl joins Gooding & Company's team of respected automotive specialists David Brynan,...[Read more...]
POTEET, CIZEK EARN TOP AWARDS AT GOODGUYS 16TH PPG NATIONALS
Columbus, OH – Tennessee's George Poteet and Nebraska's Ron Cizek collected the top two awards at the Goodguys 16th PPG Nationals in Columbus, Ohio last weekend. Under brilliant sunshine and in front of record crowds, Poteet's vintage NASCAR-inspired '69 Torino won the Goodguys 2013 Optima Batteries Street Machine of the Year while Cizek's popular Ridler award-winning '40 Ford coupe collected the Goodguys 2013 Classic Instruments Street Rod of the Year title. For Cizek, it's the second ma...[Read more...]
1975 Learjet 35 To Be Auctioned Off At Upcoming Barrett-Jackson Palm Beach
The World's Greatest Collector Car Auctions to Offer One-of-a-Kind Classic Aircraft During Sale on Saturday, April 6 Vintage, restored airplanes may be nothing new for Barrett-Jackson, but the stunning 1975 Learjet 35 Fixed-Winged Jet (Lot #770) that will be offered up for sale on Saturday, April 6 at the upcoming 11th annual Palm Beach auction will certainly be a sight to see. The magnificent aircraft will be presented by one of the nation's premier air-ambulance services, Angel MedFl...[Read more...]
Texas-Sized Charlie Thomas Collection Brings $7.4 Million At Dallas Auction
• RM Auctions' sale of the Charlie Thomas Collection generates $7.4 million, with 100 percent of lots sold • Top sellers include a 1946 Chrysler Town & Country Roadster for $143,000 and a 1954 Packard Caribbean Convertible for $132,000 • Sale captures attention of global collector car community with bidders representing eight countries around the world and 31 states across the U.S. • RM wraps up its 2012 calendar with its annual London, England sale, October 31, followed by the John Staluppi ...[Read more...]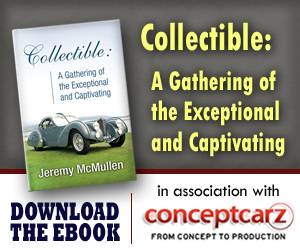 Similarly Priced Vehicles from 1948
Packard Standard Eight ($2,125-$3,425)
Buick Series 70 Roadmaster ($2,300-$3,430)
Chrysler Town and Country ($2,450-$3,415)
Chrysler New Yorker ($2,065-$3,415)
Hudson Commodore ($2,375-$3,140)
Packard Super Eight ($2,670-$3,806)
Lea-Francis Fourteen ($2,965-$2,965)
Buick Series 50 Super ($1,985-$3,130)

Average Auction Sale: $56,373
Cadillac
Monthly Sales Figures
Volume
November 2014
13,148
October 2014
13,615
September 2014
13,829
August 2014
16,650
July 2014
15,241
June 2014
13,941
May 2014
14,688
April 2014
13,900
March 2014
14,765
February 2014
13,437
January 2014
11,386
December 2013
18,165
(More Details)
© 1998-2014. All rights reserved. The material may not be published, broadcast, rewritten, or redistributed.