1957 Austin-Healey 100-6 news, pictures, specifications, and information

Tweet
Introduced in 1957, the Austin-Healey 100-6 Roadster was powered by a 2.6-liter Austin engine with 102 horsepower. The car had new, longer body, which allowed two children's seats to be fitted in the rear of the cockpit. The new model was heavier and less sporty than its predecessor, but it appealed to a wider clientele. Donald Healey drove a prototype version of this car over 200 mph at Bonneville Salt Flats in August of 1956. The 100-6 was the first Austin- Healey to have a six-cylinder engine with two SU side draft carburetors, a four-speed transmission with electric overdrive, and a new six-port cylinder head. In 1957, 7,382 100-6s were produced, with the vast majority of them being sold in the United States.
The Austin-Healey was the winner of a 1952 competition to design a new medium priced sports car that would be based on Austin mechanicals. Donald Healey's Hundred won the competition, receiving an award at the Earl's Court Motor Show in London. The car was renamed the Austin-Healey by Leonard Lord, head of BMC, prior to production in the spring of 1953. Initially the car was offered with the 90HP, 2660cc, four cylinder, 3-speed powertrain from the Austin A90 Atlantic. A new 102 HP, 2639cc, six, with a four-speed and electric overdrive, was introduced in 1957. This became the 100-6, which had a wheelbase increase to 92 inches, from 90.

Austin-Healeys soon became popular in America due to their reasonable price, good looks and tough, reliable drivetrain. Service was available at Austin dealers throughout the US. The same basic body and chassis were used through the final year of production in 1967. The 100-6 had a top speed of 104 mph, with 0-60 mph time of 12.9 seconds. A total of 10,826 100-6's were produced from August, 1956 to March, 1959. Its P.O.E. price was $3,195.

This car is equipped with the standard steel wheels and a two-tone paint scheme with matching interior. It has undergone a total body-off-frame restoration to the exact factory specifications.
This 100-Six was completed as a left-hand drive export model on January 30, 1957 and sent to the United States. It was assembled at the Longbridge plant, prior to Austin moving production to its MG factory in Abingdon in October of that year.

The current owner purchased the car in 1967 at the age of 16 years old. The original owner had replaced the original engine with a competition 2,912cc engine from an early BT7 3000 Mark I.

In 1982, the car was given a ground-up restoration which was completed in August 1984. The body was removed and the infrastructure was replaced with authentic Healey parts. Frame-up structural re-fabrication, suspension, Lucas electrical components, upholstery, chrome re-plating and factory-correct wire wheels were key elements of the restoration. In keeping with its original specifications, the car was painted in ivory with a red interior.

Since the restoration was completed, the car has been kept in a garage and averaged less than 500 miles per year. It is equipped with a luggage rack, fender-mounted mirrors and stone guards.

In 2009, it was offered for sale at the Vintage Motor Cars of Hershey presented by RM Auctions. It was estimated to sell for $40,000 - $55,000 and offered without reserve.
The Austin Healey 100 was introduced in October of 1952 at the Earls Court Motor Show. The first Austin Healey 100's were known as 100-4 or BN1. The name 100 came-about by being able to break the 100 mph barrier. The BN also had meaning. The B represented the engine class which meant it had between 2000 and 3000 cc. The N represented the body-style configuration, two-seat and open-top. The 100 was powered by a A90, 2660 cc, four-cylinder engine capable of producing 94 horsepower. The manual three-speed transmission was also borrowed from the A90. However, the first gear was blocked off and was fitted with overdrive on the second and third gears to provide extra power.
The name 'Austin Healey' was formed by a partnership comprising of the designer, Donald Mitchell Healey, and the manufacturer, Austin.

During its total production cycle, 10,688 examples of the BN1 were produced.

In October of 1955, the BN2 was introduced. The BN2 was similar to the BN1 in design but now featured larger drum brakes and a new four-speed transmission with overdrive.

During its production run, 3,924 examples of the BN2 were produced.

The Austin Healey 100S was produced in limited numbers, only 55. Their primary purpose was for competing in racing and rally events as well as for development and marketing purposes. They were entered into races such as Sebring, Mille Miglia, and Le Mans. They were copies of special factory test car that Stirling Moss raced in the 1954 12-hour Sebring race where he placed third. The 100S's were produced at the Healey Warwick factory and most were decorated with the American racing colors, white and blue. Of the 55 that were built, only 10 remain unaccounted for. The 100S, when compared with the 100, featured Dunlop disc brakes on all four wheels, different cylinder head and internal engine modifications, four-speed gearbox without overdrive, and a light-alloy body shell.

The 100S was followed by the 100M. The 100M was a Le Mans variation of the BN2 with an increased horsepower rating of 100-110. It featured bigger carburetors and modified distributor. Valve springs and anti-roll bars were added to the suspension. During its production run, 1100 of the Le Mans BN2's were produced.

Over time, about 100 BN2 were later modified but in order to qualify for the Le Mans configuration the vehicles needed to meet specific standards. These standards included a 1.75 inch H6, SU carburetors, cold air box and air tube, Le Mans regulation strap and a factory style louvered hood.

The four cylinder engine was used from 1952 through 1956, after which a BMC six-cylinder engine was used. The car was dubbed the '100 Six'. Three years and a few engine modifications later, the car was named the '3000' and today is known as the 'Big Healey'. Over the production lifespan of the 3000, it could be assembled with multiple options such as a two-seater or 2+2, hard-tops, single or duo-tone paint schemes, overdrive, and more.

In 1962 the body was redesigned with a curved screen and wind up windows. The interior of the vehicle was revamped in 1964 and also received more ground clearance.

The 3000 was produced from 1959 through 1968. The original engine produced 124 horsepower and was capable of about 114 mph. Modifications to the engine throughout the years increased the horsepower to around 148 and the top speed to 121 mph. The size of the car, the power of the engine, and weighing in at around 2400 lbs made this car responsive, competitive and fun to drive.

In all, there were around 73,000 100's and 3000's produced with 58,000 featuring the six-cylinder engine.
By Daniel Vaughan | Mar 2006
For more information and related vehicles, click
here
World's Rarest Muscle Car to Join a Spectacular Show Field at the 2nd Annual Concours d'Elegance of Texas
Houston, Texas. April 1, 2012. Organizers of the 2nd annual Concours d'Elegance of Texas have confirmed that the world's rarest muscle car, the only big block GT convertible ever built by Shelby American Inc., will be part of this year's spectacular show field on Sunday, May 5 at La Torretta Lake Resort & Spa. The 1967 Shelby GT500 Convertible was originally assigned to Carroll Shelby, the most expensive GT500 in Shelby American's company car inventory and the only Shelby GT Convertible f...[Read more...]
Coys True Greats London Sale
Coys round off their 2012 auction calendar with their world-famous True Greats sale of important collectors cars, classic film posters and the Keeler Collection of rare models. With some 400 lots coming under the auctioneer's hammer on 4th December, this sale offers a superb choice of entries for any car collector. Among the great entries include two Lamborghini Miuras, a rare Aston Martin DB5 Vantage in left-hand drive, accompanied by its sister models a DB4 and a DB6, and from Germany a be...[Read more...]
VOLKSWAGEN DELIVERS OVER 41,000 VEHICLES IN AUGUST, REPORTS A 62.5% SALES INCREASE VS. PRIOR YEAR
•Sales momentum supported by improved Total Quality rankings and continued U.S. investments •62.5 percent increase marks the best August since 1973 with 41,011 units sold •Best year-to-date sales since 1973, a 37.6 percent increase •Best August ever for Passat and Tiguan with 10,090 and 2,746 units sold respectively •Jetta Sedan achieved sales of 13,377 units, best August since 2002 •High-mileage, clean diesel TDI models account for 21.4 percent of sales in August. Herndon, VA (S...[Read more...]
A Piece of Hollywood and Jaguar History
Clark Gable's 'Best in Class' 1949 XK120 This weekend, a very special XK120 graced the judging field at the 62nd Pebble Beach Concours d' Elegance. This particular XK120 is significant, not only because it was named 'Best in Class,' but because its first owner was none other than Hollywood icon Clark Gable, a devoted Jaguar enthusiast. Gable's XK120, chassis No. 670003, was judged 'Best in Class' in the 'Postwar Sports Open' category. The car is owned by Mr. Jeff Lotman, of Los Ang...[Read more...]
Cherished Classics From The Pettit Collection Will Be Offered Without Reserve
• The 1929 Duesenberg 'Blue J' and 11 collector cars from the William A. C. Pettit, III Collection will be sold at Gooding & Company's Pebble Beach Auctions
• Estate Proceeds will benefit the Shriners Hospital for Children®-Tampa
Gooding & Company, the acclaimed auction house celebrated for selling the world's most significant and valuable collector cars, is honored to present the finest automobiles of the William A.C. Pettit, III Collection at its Pebble Beach Auctions on Aug...[Read more...]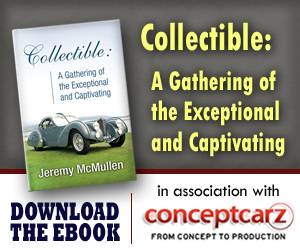 © 1998-2014. All rights reserved. The material may not be published, broadcast, rewritten, or redistributed.