1929 Willys Knight Model 66B news, pictures, specifications, and information

Tweet
John North Willys was president of the corporation until his death in 1935. Prior to Willys he had been president of the Overland Company. A six cylinder of the sleeve valve design powered the various models of Willys-Knight. Although other engines were used in many models the sleeve valve was the motor of choice of Mr. Willys. The company built many models, among them, Willys Six and Whippet. The acquisition of Stearns-Knight of Cleveland introduced the Falcon-Knight and Stearns-Knight models in 1925. The Willys 77's were developed to help bolster the sagging sales in 1933 and all other models were dropped. The 77 was designed as an economy car to compete wîth the American Austin. The 77 was renamed Overland in 1939 and later to become the Americar in 1941 and was produced until 1942.

During World War II, Willys and Ford Motors produced the Jeep. They are still being produced by Chrysler-Daimler Motors.
Source - Frick Car Museum
Willys-Knight automobiles were produced between 1914 and 1933 model years by the Willys-Overland Company of Toledo, Ohio. These expensive cars were known for their sleeve-valve engines in four- and six-cylinder designs, though they also had a V-8 from 1917 to 1919. This engine design allowed for better breathing at higher RPMs but used more oil and seized easily if improperly lubricated.

In 1913 the Willys-Overland was the number two selling automobile in America just behind Ford. That same year, John North Willys was told by his doctor that he had been working far too hard and should either go abroad or to a sanitarium. Not surprisingly, Willys choose Europe, but couldn't stay far from his work. While there, he met Charles Yale Knight. Knight had invented an engine with sleeve valves rather than the unusual poppet valves. Willys wasn't a mechanic or engineer by any means, but he was a great salesman and immediately realized the sleeve valve's novelty and promotional possibilities. The sleeve valves were much quieter operating, though they had a propensity to burn more oil. Ultimately poppet valves won out though, beginning in 1914, Willys-Overland produced more Knight-engined cars than virtually all other manufacturers in the world combined.

Although the Willys-Knight was middle-market range, Willys couldn't resist giving his namesake car an upscale edition. Introduced at the 1929 New York Automobile Show, the car was styled by designer Amos Northup, better known for styling the REO Royale. It was Northup who gave the car its distinctive grid work on the doors which the New York press labeled 'Plaidside' - and the name stuck! Wearing coachwork by Griswold of Detroit, the 66B is powered by a 280 cubic-inch 87 horsepower sleeve-valve six. This example is one of about 400 produced which eleven are known to survive.

Griswold of Detroit built the body. It is believed to have been Willys-Overland's actual show car for the 1929 new York Auto Show at Madison Square Garden where it garnered a 1st place award. It was restored in the late 1950s by Melvin 'Sleeve-Valve' Bailey but then languished in a leaky barn after his death in 1968. The current owner rescued and restored it, finishing in 2012.
For more information and related vehicles, click
here
Pinehurst Concours Celebrating Two Car Anniversaries
VILLAGE OF PINEHURST, N.C. (May 1, 2014) – The Pinehurst Concours d'Elegance will stage 119 rare and vintage cars in 12 classes Sunday-- from Brass Era autos more than 100 years old to noteworthy race cars -- and the second annual auto showcase will also celebrate two significant anniversaries. Class 6 gracing the Pinehurst Resort fairways will honor the 50th anniversary of the Ford Mustang, while Class 7 pays tribute to the 40th anniversary of the Porsche Turbo. The Ford Mustang debuted i...[Read more...]
NEW YORK INT'L AUTO SHOW TICKETS: NOW AVAILABLE & ON SALE!
We just couldn't wait any longer, they're finally here! Tickets to the 2014 Show and more are now available for purchase. Get a jump-start on your Holiday shopping by giving the gift of an unforgettable experience to be a part of the first and largest Auto Show in North America (and at a discount). Whether it's a general admission, group tour, or early access ticket, we have a lot of exciting and memorable activities awaiting you and your loved ones. No need to fight the crowds or get up earl...[Read more...]
NEW YORK AUTO SHOW AND WORLD CAR AWARDS AGREE TO 5-YEAR ALLIANCE
The New York International Automobile Show (NYIAS) and World Car Awards (WCA) are pleased to announce a five-year alliance that will keep the prestigious Awards program in New York City through 2018. The agreement marks the formalizing of an eight-year relationship between WCA and NYIAS that has seen the program grow to become the premier global automotive award of its kind. Under the new agreement, the groups will continue to co-sponsor and co-host the World Car Awards. The new deal ensures t...[Read more...]
Carroll Shelby, Ford Family for More Than Half a Century
Carroll Shelby was a member of the Ford family for the better part of 60 years, producing stunning performance vehicles from concepts to production models. He once said his energy and passion for performance products were always strongest when he was working with Ford. Shelby most recently collaborated with the company on the 2013 Ford Shelby GT500 Mustang, the most powerful production V8 in the world. Working with SVT engineers at Sebring and the Arizona Proving Grounds, at times he drov...[Read more...]
New York Auto Show Launches Photo Contest
Winner Receives All-Expenses Paid Trip to NYC Including Exclusive Press Day Access The New York International Automobile Show is looking for budding shutterbugs to send in their best automobile photographs for the chance to win an all-expenses paid trip to visit the Show at the Jacob K. Javits Convention Center in Manhattan. Launched in connection with Snap MyLife, Inc., the official Photo Sponsor of the Show, car lovers can visit www.snapmylife.com/autoshowcontest for competition info...[Read more...]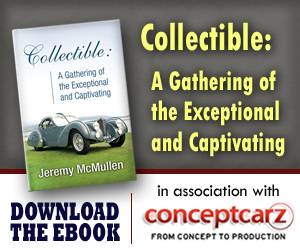 Similarly Priced Vehicles from 1929
Packard 633 ($2,400-$6,500)
Packard 626 ($2,375-$2,400)
Auburn 8-120 ($1,795-$2,145)
Franklin Model 135 ($2,485-$2,625)
Stutz Model 6 Blackhawk ($2,399-$2,399)
Stutz Model 8 Blackhawk ($2,345-$2,345)
Chrysler Imperial Series 80L ($2,675-$2,675)
© 1998-2014. All rights reserved. The material may not be published, broadcast, rewritten, or redistributed.