1929 Willys Knight Model 66B news, pictures, specifications, and information

Tweet
John North Willys was president of the corporation until his death in 1935. Prior to Willys he had been president of the Overland Company. A six cylinder of the sleeve valve design powered the various models of Willys-Knight. Although other engines were used in many models the sleeve valve was the motor of choice of Mr. Willys. The company built many models, among them, Willys Six and Whippet. The acquisition of Stearns-Knight of Cleveland introduced the Falcon-Knight and Stearns-Knight models in 1925. The Willys 77's were developed to help bolster the sagging sales in 1933 and all other models were dropped. The 77 was designed as an economy car to compete wîth the American Austin. The 77 was renamed Overland in 1939 and later to become the Americar in 1941 and was produced until 1942.

During World War II, Willys and Ford Motors produced the Jeep. They are still being produced by Chrysler-Daimler Motors.
Source - Frick Car Museum
Willys-Knight automobiles were produced between 1914 and 1933 model years by the Willys-Overland Company of Toledo, Ohio. These expensive cars were known for their sleeve-valve engines in four- and six-cylinder designs, though they also had a V-8 from 1917 to 1919. This engine design allowed for better breathing at higher RPMs but used more oil and seized easily if improperly lubricated.

In 1913 the Willys-Overland was the number two selling automobile in America just behind Ford. That same year, John North Willys was told by his doctor that he had been working far too hard and should either go abroad or to a sanitarium. Not surprisingly, Willys choose Europe, but couldn't stay far from his work. While there, he met Charles Yale Knight. Knight had invented an engine with sleeve valves rather than the unusual poppet valves. Willys wasn't a mechanic or engineer by any means, but he was a great salesman and immediately realized the sleeve valve's novelty and promotional possibilities. The sleeve valves were much quieter operating, though they had a propensity to burn more oil. Ultimately poppet valves won out though, beginning in 1914, Willys-Overland produced more Knight-engined cars than virtually all other manufacturers in the world combined.

Although the Willys-Knight was middle-market range, Willys couldn't resist giving his namesake car an upscale edition. Introduced at the 1929 New York Automobile Show, the car was styled by designer Amos Northup, better known for styling the REO Royale. It was Northup who gave the car its distinctive grid work on the doors which the New York press labeled 'Plaidside' - and the name stuck! Wearing coachwork by Griswold of Detroit, the 66B is powered by a 280 cubic-inch 87 horsepower sleeve-valve six. This example is one of about 400 produced which eleven are known to survive.

Griswold of Detroit built the body. It is believed to have been Willys-Overland's actual show car for the 1929 new York Auto Show at Madison Square Garden where it garnered a 1st place award. It was restored in the late 1950s by Melvin 'Sleeve-Valve' Bailey but then languished in a leaky barn after his death in 1968. The current owner rescued and restored it, finishing in 2012.
For more information and related vehicles, click
here
LEXUS NX MAKES SURPRISE DEBUT IN NYC TODAY
The all-new Lexus NX crossover was revealed at the 2014 New York International Automobile Show today. The new model is the brand's first entry into the luxury compact crossover segment and is the first turbo in the lineup. The sharply styled NX will be offered in naturally aspirated and hybrid powertrains. The U.S. market will offer the NX 200t turbo and NX 300h hybrid. The NX 200t F SPORT will also be available with unique exterior and interior features. Both models are on display at the N...[Read more...]
McLAREN AUTOMOTIVE ANNOUNCES NORTH AMERICAN PRICING AHEAD OF NEW YORK AUTO SHOW DEBUT
◾New McLaren 650S Coupé and Spider now available in North America ◾US pricing for 650S Coupé starts at USD $265,500 and USD $280,225 for the 650S Spider ◾Canadian pricing for 650S Coupé and Spider is CAD $287,000 and CAD $305,500 respectively ◾McLaren 650S to make US debut during the 2014 New York Auto Show Following the global debut at the Geneva Auto Show, the McLaren 650S Coupé and 650S Spider are now on sale in the US and Canada across all 15 retail locations (13 in the US, two in Cana...[Read more...]
ALFA CHOOSES NEW YORK AUTO SHOW FOR BRAND'S U.S. RETURN
Alfa Romeo will mark its North American return at the 2014 New York International Auto Show with the highly anticipated and high-performance Alfa Romeo 4C. Coming soon, the all-new Alfa Romeo 4C delivers an exotic mid-engine design inspired by the brand's legendary racing history. State-of-the-art carbon fiber monocoque, a turbocharged engine influenced by Formula 1, and advanced technological solutions combine to deliver supercar-level performance and driving exhilaration. 'With mor...[Read more...]
Final Countdown Underway to RM's Michigan Sale
RM Auctions, the official auction house of the Concours d'Elegance of America, has secured a wonderful selection of classic automobiles for its St. John's sale, July 28, in Plymouth, Michigan. Hosted on the beautiful grounds of the Inn at St. John's, the single-day sale is a mainstay on the auction concours circuit and boasts a reputation for including exceptional American classics. The upcoming sale, featuring more than 70 quality collector cars, presents nearly a century of American and Eu...[Read more...]
2014 Impala Focuses on Crash Avoidance From All Angles
The all-new 2014 Chevrolet Impala is the latest addition to Chevrolet's passenger car lineup and provides first-ever safety technologies for the global brand. Unveiled earlier this year at the New York Auto Show, the Impala leads the full-size segment with 10 standard air bags and boasts numerous active safety systems. While passive safety systems, such as air bags and seat belts, protect occupants in the event of a crash, active safety systems are designed to prevent a crash in the first pl...[Read more...]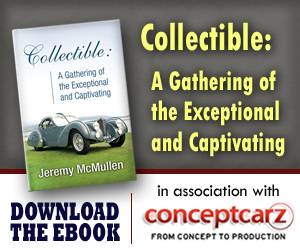 Similarly Priced Vehicles from 1929
Packard 633 ($2,400-$6,500)
Packard 626 ($2,375-$2,400)
Auburn 8-120 ($1,795-$2,145)
Franklin Model 135 ($2,485-$2,625)
Stutz Model 6 Blackhawk ($2,399-$2,399)
Stutz Model 8 Blackhawk ($2,345-$2,345)
Chrysler Imperial Series 80L ($2,675-$2,675)
© 1998-2014. All rights reserved. The material may not be published, broadcast, rewritten, or redistributed.