1957 Buick Series 40 Special news, pictures, specifications, and information

Tweet
All Buick models earned an ambitious restyling and a bigger engine in 1957. The series 40s were wider and lower with a bright 'sweepsear.' All Model 46C Convertibles were trimmed in two-tone cordaveen and included an outside left hand rearview mirror. The engine is a 364 cubic-inch V8 rated at 250 horsepower. This Special Model 46C Convertible example is considered a six-passenger, 2-door convertible coupe of which only 8,505 were made, and originally cost $2,987. This Buick was recently featured as part of the 'Class of 1957' display at Meadowbrook in 2007.
The 'Small' Buick Promised a Big Thrill
'For 1957, Big Thrill's Buick,' declared the announcement ads, and the Series 40 Special would once again be the biggest selling Buick of them all. Although it maintained a strong resemblance to its immediate predecessor, the 1957 Buick was an all-new design. The 'small' Buicks (Special and Century) shared basic Fisher bodies with Oldsmobile, while the 'big' Buicks (Super and Roadmaster) were based on the Cadillac body.

The Special was offered in a full range of models that included both 2- and 4- door sedans and hardtops, a station wagon, or, Estate Wagon as Buick called it, and a convertible. A 364 cubic-inch Buick-built V8, rated at 250 horsepower, was standard and a 'Red-Line' bar-graph type speedometer added to the fun.

This Special Convertible, in Seminole Red, includes the following options: Variable-Pitch Dynaflow transmission, power steering, power brakes and full wheel covers.
This 1957 Buick Model 40 Special Convertible was offered for sale at the 2007 Sports and Classic Car Auction presented by The Worldwide Group, in Hilton Head Island, SC where it was estimated to sell for $40,000 - $60,000. It was offered without reserve.

By 1957 the Series 40 which had seen the name-plate production since 1930, was a very ornate and beautiful machine. The design was very pleasing and accepted by many willing buyers. Under the hood was a proven 364 cubic-inch V8 engine that provided ample power to match the vehicles luxurious appointments.

This example has many rare factory options including the highly sought-after air conditioning, power windows, power seat, power brakes, and power steering. It is finished in its original color of red and white. It has been treated to a frame-off restoration since new and is still in excellent condition.

At auction the lot was sold for $56,100, falling in-between the estimated value.
By Daniel Vaughan | Nov 2007
By July 7th of 1957, Buick had produced its nine-millionth car, something it began in 1903. For 1957, the Buick models became lower and wider and included extra flair with the help of chrome and boldly styled fins. The fuel door could be found in the rear bumper and the bumper ends had either a single or dual exhausts.

All of the closed models, with the exception of the wagon, were upholstered in nylon and Cordaveen materials. The interior featured a standard Red Liner speedometer, dual horns, a trip mileage indicator, dual sun visors, turn signals, a glove box lamp, and a color-coordinated dash panel.

This particular Two-Door Hardtop Coupe is a fully restored example that is finished in two-tone paintwork of red and white. Chrome and wide whitewalls compliment the paint scheme.

In 2008 this 1957 Buick Special Two-Door Hardtop was brought to RM Auctions' Vintage Motor Cars of Meadow Brook. It was estimated to sell for $30,000-$40,000 and offered without reserve. A high bid of $34,100 including buyer's premium was enough to secure new ownership. The lot was sold.
By Daniel Vaughan | Sep 2008
Buick introduced the Series 40 in 1930 as a replacement for the Series 116. The Series 40 rode on a 118-inch wheelbase and powered by a 258 cubic-inch six-cylinder engine which produced 80 horsepower. Braking was through mechanical drums found on all four corners. The suspension was comprised of semi-elliptic springs and Lovejoy hydraulic shock absorbers. During its first year, there were six bodystyles to select from, including a Sedan, Sport Roadster, Business Coupe and Special Coupe in two-door configuration. A Phaeton and Sedan version were offered with four doors, with the four-door sedan with seating for five being the most popular bodystyle on the Series 40. Pricing was rather competitive, starting at $1260 and continuing through $1300. The Phaeton had seating for four or five, and had the lowest sales in the Series 40, total just under 1000 examples.

The name 'Series 40' remained dormant for a few years, making its re-appearance in 1934. They were again Buicks entry-level vehicle, though much had changed in these few short years. The Series 40 lightweight vehicles powered by an eight-cylinder engine that measured 233 cubic-inches and produced nearly 100 horsepower.

The name 'Series 40' would stick with Buick until 1959, when a new series naming scheme was introduced. During this time, the Series 40 would be powered by eight-cylinder engines which grew in size in power throughout the years.

For 1934, the Series 40 rested on a 117-inch wheelbase and had an entry price of a mere $795. The top-of-the-line Series 40 would set the buyer back $925. The four-door Club sedan continued to be the most popular of the Series 40, selling nearly 11,000 examples in 1934. Five body styles were available, including a two-door Touring Sedan, Sport Coupe, and Convertible Coupe.

For 1935, little changed. A few extra colors were added and the trim was revised slightly. Mechanical problems from the 1934 Series 40 were resolved, such as clutch and timing chain issues. A new bodystyle was added, the Convertible Coupe.

Changes occurred both visually and mechanical for 1936. The car now rested on an enlarged, 118-inch wheelbase. Over 77,000 examples of the four-door sedan were sold, which was a drastic improvement over the prior years sales figures. Much of the vehicles aesthetics received attention. The windshields and roof lines became more rounded. The spare tire was mounted discretely in the trunk for some body styles, and mounted on the left-hand side of the vehicle for others.

Sales continued to be strong throughout the 1930s for the Series 40. The car grew even larger in 1937, now sitting on a 122-inch wheelbase. The engine now measured 248 cubic-inches and produced 100 horsepower. Production continued until the onset of World War II, when the American automobile producers switched to aid in the production of war-time materials.

When production resumed in 1946, the Series 40 was the only model in Buick's lineup to utilize the prewar Fisher B-body styles of the postwar era. There were two body styles available, both resting on a 121 inch wheelbase and had seating for six. The four-door version cost $1,580 while the two-door version was priced at $1520. These were Buick entry-level vehicles, just as they had been in prior to World War II. Sales were slow, with around 3000 examples produced from the combined sales of the two- and four-door version. The 248 cubic-inch engine was rated at around 110 horsepower.

Major changes did not occur on the Series 40 until 1950, when the cars were given changes to their styling. The styling was modern and memorable, with the grille being one of the more distinguishable features on the car. Three vent-ports were now located on the side of the engine bay. The public approved of these changes, and sales were strong, reaching over 200,000 for the Series 40 and Series 40D. The Series 40D was a Special Deluxe model that had the same styling and size as the Series 40, but added improvements to the interior, addition trim and molding, and 'Special' on the front fenders.

In 1954 the Series 40 was given a new body that was lower and wider than it previously had. The front had a new grille design which many termed as the 'electric shaver' design. The front and rear windows were curved and there was enough glass throughout the drivers and passengers view to provide a nearly 360-degree view. Mounted under the hood was a new 264 cubic-inch V8 engine which produced over 140 horsepower. The vehicles outfitted with the Dynaflow gearbox had even more power. A new steering linkage and suspension gave the vehicle a smooth ride, complimenting the cars appearance.

By 1956, the Series 40 was given visual changes to its grille, ornamentation, and headlights. New bumpers were added to the front and rear of the vehicle. On the inside, the instrumentation was the same as other Buick models, a trend that had not been seen on Buicks since the pre-War era. Improvements to the engine meant an increase in horsepower, now rated at over 220 for the Dynaflow version. Sales were strong with the 2-door Riviera Hardtop being the most popular, with over 113,000 units sold in 1956. The price ranged from $2410 through $2775. The most expensive Series 40 was the six-person Estate Wagon which saw over 13,700 units being purchased.

There were many changes in 1957 to the Series 40, including a new grill insert, the 'B U I C K' name on the front of the car, chrome wings in the rear, along with a slew of other changes. In the back was a single exhaust pipe, with dual exhausts being offered for an additional cost. The three portholes on the side signified 'Super' while other models received four. Horsepower for the Dynaflow version had now reached 250 with 380 foot-pounds of torque. Sales continued to be strong, though they dipped a little from the prior year.

For 1958 the Buick Series 40 were given dual headlights in the front and an exorbitant amount of chrome. There was a circular ornament with a 'V', symbolizing V8, placed on the front and in the center of the hood. Dual horizontal moldings ran along each side of the vehicle, from front to back. Sales were strong, but they were still on the decline.

For 1959, Buick introduced their Series 4400 as a replacement for the Series 40. The Series 4400 was a very wide car with modern style indicative of the era.

The Series had served Buick for many years, as their entry level vehicle. The V8 engine found under the hood (except for the initial years) were more than adequate to carry the large and elegant bodies. Offered in a variety of bodystyles, the cars were versatile and accommodating to many individuals wishes and needs.
By Daniel Vaughan | Nov 2007
For more information and related vehicles, click
here
INTERNATIONAL ENGINE OF THE YEAR AWARD 2014: VOLKSWAGEN'S TSI TECHNOLOGY TRIUMPHS AGAIN
Wolfsburg, 27 June 2014: TSI technology from Volkswagen has once again received the 'International Engine of the Year Award': the 1.4 litre TSI twincharger, which won for the ninth time in succession in the 1.0 to 1.4 litre cubic capacity category, is thus the most successful engine in the history of this international competition for engine technology. For several years, the TSI brand has stood for intelligent downsizing from Volkswagen. Despite their comparatively small cubic capacit...[Read more...]
VOLKSWAGEN OF AMERICA REPORTS MAY 2014 SALES
◾May sales total 32,163 units ◾Passat delivered 8,955 units for the month ◾Jetta sedan delivered 12,049 units for the month ◾Tiguan delivered 2,649 units for the month ◾High-mileage, TDI® Clean Diesel models accounted for 23.6 percent of sales in May ◾Passat TDI sales were 3,172, representing 35.4 percent of sales of the vehicle marking the best year-to-date ever. Herndon, VA (June 3, 2014) — Volkswagen of America, Inc. (VWoA) today reported 32,163 units delivered in May. In lat...[Read more...]
VOLKSWAGEN'S NEW TURBO ENGINES AND 2015 GOLF ON DISPLAY AT THE SEMA SHOW
Tuned Jetta sedans featuring new EA888 turbocharged TSI® engines on display in Las Vegas; First North American tuned seventh-generation Golf debuts before market launch in 2014 Las Vegas, NV - With U.S. sales having more than doubled since 2009, Volkswagen continues its march to sustainable growth with the brand's most compelling lineup in its history and plans to add several exciting new products and innovations in the near future. Two significant enhancements to the VW lineup...[Read more...]
VOLKSWAGEN OF AMERICA REPORTS AUGUST 2013 SALES
- Best-ever August and year-to-date results for Passat and TDI® Clean Diesels •Best August and year-to-date for Passat with 10,194 and 76,364 units, respectively •Jetta Sedan delivered 13,508 units for the month •Tiguan delivered 2,948 units, marking the best August and year-to-date ever •High-mileage, TDI® Clean Diesel models accounted for 30.4 percent of sales in August and 24.3 percent of sales year-to-date, the best August and year-to-date results on record •Passat TDI sales reach 43.8 ...[Read more...]
Golf R Celebrates Its World Premiere At The Frankfurt Auto Show
Wolfsburg, 2 September 2013 –The most powerful Golf in the range excites with 296 horsepower and a 0 to 62 mph sprint time of just 4.9 seconds. The vehicle's distinctive styling also highlights its sporty character. The new Golf R was developed by Volkswagen R GmbH to provide dynamic performance. The sportiest Golf is powered by a newly configured 296 horsepower TSI engine, which is not only 30 horsepower more powerful, but also 18 per cent more fuel-efficient than the previous engine....[Read more...]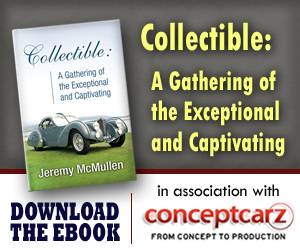 Similarly Priced Vehicles from 1957
Chevrolet Bel Air ($2,173-$2,900)
Lotus 7A Series 1 ($2,995-$2,995)
Alfa Romeo Giulietta ($2,800-$3,785)
Buick Caballero Estate ($3,045-$3,045)
Plymouth Suburban ($2,300-$2,850)
DeSoto Firesweep ($2,775-$3,308)

Average Auction Sale: $42,458
Buick
Monthly Sales Figures
Volume
June 2014
21,403
May 2014
19,957
April 2014
19,214
March 2014
20,428
February 2014
19,192
January 2014
13,278
December 2013
15,379
November 2013
15,072
October 2013
17,555
September 2013
15,623
August 2013
24,650
July 2013
16,393
(More Details)
© 1998-2014. All rights reserved. The material may not be published, broadcast, rewritten, or redistributed.