Image credits: © Chevrolet. GM Corp
1959 Chevrolet Impala Series news, pictures, specifications, and information

Tweet
The 1959 Chevrolet was completely different and was a one year only design. The headlamps were so low at night you could detect it as a 1959 Chevrolet. The rear end had wings resembling a seagull and under the wings the taillights appeared to be cat eyes. The Impala had a production run of 65,800 units and weighed 3,659 pounds. The selling price was $3,451 and came with a 283 cubic-inch V-8 engine and Powerglide transmission.
| | | | |
| --- | --- | --- | --- |
| | | | Impala Series 1700 Six Cyl Hardtop Convertible |
Named for a Southern African Antelope, the Impala was introduced in 1958 as a new upmarket, sporty trim package created for Bel Air coupes and convertibles. The Impala became a separate model in 1959 in both two and four-door versions and became the best-selling car in the Chevrolet lineup. For 1960, it became the best-selling automobile in the United States and held that position for the next decade. From 1958 until 1966, Impala sales were in excess of 13 million units, more than any other full-size car in the history of the automobile. In 1965, the Impala set an all-time industry annual sales record of more than 1 million units in the United States, which has never been bettered. The unique rear fins and a 'Continental Tire Kit' typified the era.
| | | | |
| --- | --- | --- | --- |
| | | | Impala Series 1700 Six Cyl Hardtop Sport Sedan |
The 1959 Chevrolets were even longer, lower and wider than before, and a radical departure from the more conventionally proportioned cars from 1958. Their most distinguishing styling feature was the 'laid over' tailfins forming 'brows' over the 'cat's eye' taillight. Coupes like this one, display a crisp-lined hardtop highlighted by a wrap-over back window that allowed an almost unlimited rear view.
The new small-block V8 was introduced for 1955 and helped Chevrolet become a sales leader and also the performance leader in the low-priced field. Upgrades followed in 1956 and 1957 including fuel injection and achieving the one-bhp-per-cubic-inch for its 283 cubic-inch engine. In 1958, the line was completely redesigned with the flagship being the new Impala subseries in the Bel Air line, appearing in two body styles only, a convertible and 'Sport Coupe' two-door hardtop.

The Impala was given new uniquely-contoured rear fenders and extra taillights. Under the bonnet was a new engine designed for truck use, joining the small-block V8. It had a displacement size of 348 cubic-inches an available in several stages of tune, producing 250 to 315 BHP.

For 1959, all General Motors cars were redesigned in reaction to Chrysler Corporation's finned 1957s. Chevrolet was given gull-wing rear fender adornment and long horizontal 'eyebrows' in the leading edge of the hood. At the top of the series was the 'Impala' and available as a four-door sedan, two- and four-door hardtops, a convertible and a four-door Nomad station wagon.

This Impala Convertible is finished in Crown Sapphire, with a light and medium turquoise vinyl interior. The car has had only three owners from new and was given a full rotisserie restoration in 1995. The top and upholstery were redone in 2010.

Power is from a 348 cubic-inch Super Turbo-Thrust engine breathing through two-barrel carburetion and offering 280 horsepower. It has a Powerglide transmission and Positraction. It is equipped with dual exhausts, power brakes and power steering. It has a Wonderbar signal-seeking radio with dual antennas, spinner hubcaps, windshield washers and E-Z Eye tinted glass. Other accessories include a tissue dispenser and a Cadillac-inspired grille guard.

In 2012, this vehicle was offered for sale at RM Auction's sale in Scottsdale, Arizona. It was estimated to sell for $75,000-$100,000 and offered without reserve. As bidding came to a close, the car had been sold for the sum of $88,000 inclusive of buyer's premium.
By Daniel Vaughan | Feb 2012
Impala Series 1800 V8 Sport Coupe
Chassis Num: F59L151129

High bid of $100,000 at 2013 Mecum. (did not sell)

The swept-wing rear sculpting and 'cat's eyes' tail lights are classic styling cues that set the 1959 apart from every other car of the era. This Impala 2-door hardtop has a very rare factory option - it is known to be one of only 19 equipped with the Rochester Ram Jet Fuel Injection 283/290 HP small block V8 backed by a floor-shifted Borg Warner T-10 4-speed manual transmission and a Positraction rear end. It is finished in Tuxedo Black paint, has black painted steel wheels, dog dish center caps and correct 700-14 BF Goodrich Silvertown wide whitewall tires. It has a two-tone Red interior. There is an AM radio, heater, in-dash electric clock and a column-mounted Sun Super Tach to monitor the solid-lifter 283's RPMs.
By Daniel Vaughan | Nov 2013
For more information and related vehicles, click
here
Russo and Steele Collector Car Auctions Kicks off 2014 in a Big Way with Outstanding Results and New World Records at Scottsdale
Phoenix, Arizona (January 22, 2014) – At Russo and Steele Collector Car Auctions, we are thrilled to announce the achievement of outstanding results and world-record sales at our January 15-19 Scottsdale, Arizona Sports and Muscle auction event. Throughout the event's five action-packed days, beautiful weather helped draw record attendance numbers, estimated at 35% higher than 2013 levels. At the time of writing, preliminary sale results exceeding $21 million were generated with a very st...[Read more...]
BARRETT-JACKSON & FOX ANNOUNCE MAJOR CROSS-NETWORK EXPANSION OF SIGNATURE SCOTTSDALE AUCTION
• Renowned Collector Car Auction Televised By Major Broadcast Television Network
• 'World's Greatest Collector Car Auctions™' To Reach Millions of New Viewers, Jan. 14-19, 2014
Scottsdale, Ariz. – Barrett-Jackson, The World's Greatest Collector Car Auctions™, today announced that FOX Sports has expanded its viewership reach for the Scottsdale, Arizona auction to include five channels within its family of networks – In total, there are 36 hours and six-consecutive days of...[Read more...]
Last Lap Pass Drives Maccachren To Victory In Sst Round No.4
San Diego, Calif. (May 4, 2013) – SPEED Energy Stadium SUPER Trucks invaded Qualcomm Stadium in San Diego, Calif., for a full night of racing action with four distinct divisions testing their skills on the uniquely prepared high flying dirt and asphalt course. Rob MacCachren, Dan Runte, Apdaly Lopez, and Myles Cheek were able to conquer the multiple challenges of the most difficult course this year to record wins in Round No. 4 of SST competition. Rob MacCachren, of Las Vegas, Nev., dr...[Read more...]
Mecum's Auction Of Private Museum Collection A Pronounced Success
Verde Classics Museum Collection Brings More Than $3.7 Million in No Reserve Sales Mecum Auctions' Verde Classics Museum Collection Auction held in Boynton Beach, Fla., Feb. 23 included the successful sale of more than 75 collector cars and 470 lots of Road Art and memorabilia. One hundred percent of lots were sold and total sales of car enthusiasts Fran and Ron Green's personal collection for the special one-day auction event reached $3,784,520. The auction preview, held Feb. 22, ...[Read more...]
Bonhams to offer the renowned Oldenburg family collection of classic automobiles at Scottsdale
More than 30 American, British and Italian cars of various vintages head to Scottsdale, Arizona Bonhams is honored to have been chosen to represent the highly esteemed Oldenburg Family Automobile Collection at its second annual Scottsdale Auction in January. The extensive collection of more than 30 cars from the prominent horse breeding family includes multiple models of the same marque, including Ferrari and Jaguar. The Italians Leading the impressive assembly are ...[Read more...]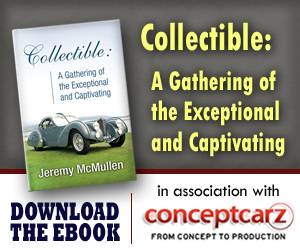 Similarly Priced Vehicles from 1959
Plymouth Sport Fury ($2,930-$3,130)
Studebaker Lark VIII ($2,315-$2,588)
Elva Courier MKII ($2,895-$2,895)
MG MGA ($2,460-$3,640)
Ford Galaxie ($590-$3,350)
Plymouth Suburban ($2,570-$3,135)

Average Auction Sale: $53,028
Chevrolet
Monthly Sales Figures
Volume
June 2014
188,567
May 2014
205,010
April 2014
181,648
March 2014
179,681
February 2014
153,913
January 2014
119,089
December 2013
153,493
November 2013
145,089
October 2013
155,214
September 2013
127,785
August 2013
187,740
July 2013
162,670
(More Details)
© 1998-2014. All rights reserved. The material may not be published, broadcast, rewritten, or redistributed.