1971 Plymouth Barracuda news, pictures, specifications, and information

Tweet
From the mid-1960's until the close of that decade, automobiles became lighter, more compact, and more powerful. Auto manufacturers continued to compete against one another for drag-strip supremacy. As government regulations and safety concerns increased, the muscle car era began to decline rapidly.

Many of these ultimate high-performance muscle cars were built to satisfy homologation requirements. Others were built just to have the fastest machine on the road. The Plymouth Hemi 'Cuda is an example of one of the fiercest and most powerful vehicle ever constructed for the roadway. It was derived from the lesser Barracuda's which began in the mid-1960's. It was built atop the 'E' body platform and was restyled in 1970 by John Herlitz, making it longer, wider, and lower. The 426 cubic-inch Hemi V8 was capable of producing an astonishing 425 horsepower. Matted to a four-speed manual 833 transmission, this was the ultimate muscle car of its day.

This 1971 Plymouth Hemi 'Cuda Convertible with black paint and orange billboards was offered for sale at the 2006 RM Auction in Monterey, CA where it was expected to sell between $180,000-$220,000. It came equipped from the factory with power windows, power brakes, power steering, Rally instrument cluster, rim blow steering wheel, bucket seats, AM/FM cassette radio, and driving lights. It has a Dana '60' rear end and the 426 cu in engine. It is one of just 374 'Cda Convertibles built in 1971. On auction day bidding reached $165,000 which was not high enough to satisfy reserve. The vehicle was left unsold.
By Daniel Vaughan | Dec 2006
This 'Cuda Convertible was given a show-quality restoration to original specifications and is one of just 374 examples originally produced for the 1971 model year. It is believed to be one of just 87 383-powered convertibles produced for the last year of 'Cuda convertible production in 1971. The 383 cubic-inch V8 has four-barrel carburetors and is capable of producing 300 horsepower. There is a TorqueFlite three-speed automatic gearbox and four-wheel hydraulic brakes.

The car is finished in Tawny Gold, with a white interior and a white power-operated convertible top. Features include dual chrome-tipped exhaust outlets, floor console, hood pins, power brakes, power steering, Rallye wheels, a 'Slap Stik' shifter and a 'Tuff' steering wheel.

In 2010, this 'Cuda Convertible was offered for sale at the Vintage Motor Cars of Meadow Brook presented by RM Auctions. The car was estimated to sell for $60,000 - $70,000. As bidding came to a close, the car had been sold for the sum of $44,000 including buyer's premium.
By Daniel Vaughan | Aug 2010
The 3rd generation Barracuda ran from 1970 through 1974; the previous generations were A-body Valiant based which began in 1964. Designed by John E. Herlitz on the 108-inch wheelbase, unibody, E-platform, a shorter and wider version of the existing B-body. This example has the non-Hemi 340 cubic-inch V8 with automatic and it is a stock example. 1971 was the only year for four headlamps. Somehow, this model series didn't sell to expectation and production slowed over the years, making the cars quite rare today. An unaltered car is even more rare.
The first series of the Barracuda was produced from 1964 through 1969, distinguished by its A-body construction. From 1970 through 1974 the second series was produced using an E-body construction.

In 1964, Plymouth offered the Barracuda as an option of the Valiant model line, meaning it wore both the Valiant and Barracuda emblems. The base offering was a 225 cubic-inch six-cylinder engine that produced with 180 horsepower. An optional Commando 273 cubic-inch eight-cylinder engine was available with a four-barrel carburetor, high-compression heads and revised cams. The vehicle was outfitted with a live rear axle and semi-elliptic springs. Unfortunately, the Barracuda was introduced at the same time, separated by only two weeks, as the Ford Mustang. The Mustang proved to be the more popular car outselling the Valiant Barracuda by a ratio of 8 to 1.

The interior was given a floor-shifter, vinyl semi-bucket seats, and rear seating. The rear seats folded down allowing ample space for cargo.

By 1967, Plymouth redesigned the Barracuda and added a coupe and convertible to the model line-up. To accommodate larger engines, the engine bay was enlarged. There were multiple engine offerings that ranged in configuration and horsepower ratings. The 225 cubic-inch six-cylinder was the base engine while the 383 cubic-inch 8-cylinder was the top-of-the-line producing 280 horsepower. That was impressive, especially considering the horsepower to weight ratio. Many chose the 340 cubic-inch eight-cylinder because the 383 and Hemi were reported to make the Barracuda nose-heavy while the 340 offered optimal handling.

In 1968 Plymouth offered a Super Stock 426 Hemi package. The lightweight body and race-tuned Hemi were perfect for the drag racing circuit. Glass was replaced with lexan, non-essential items were removed, and lightweight seats with aluminum brackets replaced the factory bench, and were given a sticker that indicated the car was not to be driven on public highways but for supervised acceleration trials. The result was a car that could run the quarter mile in the ten-second range.

For 1969 a limited number of 440 Barracudas were produced, giving the vehicle a zero-to-sixty time of around 5.6 seconds.

In 1970 the Barracuda were restyled but shared similarities to the 1967 through 1969 models. The Barracuda was available in convertible and hardtop configuration; the fastback was no longer offered. Sales were strong in 1970 but declined in the years that followed. The muscle car era was coming to a close due to the rising government safety and emission regulations and insurance premiums. Manufacturers were forced to detune their engines. The market segment was slowly shifting from muscle-cars to luxury automobiles. 1974 was the final year Plymouth offered the Barracuda.
By Daniel Vaughan | Aug 2010
For more information and related vehicles, click
here
Dream Car Saturday Ready to Launch at Russo and Steele's 15th Anniversary Scottsdale Auction Event!
Scottsdale, Arizona (January 17, 2015) – Following 2 great days of record attendance, stratospheric sell through and a world class seminar moderated by SEMA Hall of Fame member Wade Kawasaki and featuring an all-star panel of guest experts which included such noted personalities as Wayne Carini from TV's Chasing Classic Cars, McKeel Hagerty of Hagerty Insurance, Jim Menneto from Hemmings Motor News, and Oscar Pereda from Michelin North America, we prepare to enter our exclusive gladiator...[Read more...]
Russo and Steele Collector Automobile Auctions Kicks Off 15th Anniversary with Eight Initial Offerings to Watch
Scottsdale, Arizona (December 1st, 2014) – For Enthusiasts – By Enthusiasts. ™ This is far more than a tagline at Russo and Steele Collector Automobile Auctions. It's a lifestyle, and we are gearing up to deliver that singular passion to the High Desert of sunny Scottsdale, Arizona for our annual flagship event during the world renowned collector car week. Additionally, Scottsdale marks the kick-off of the year-long celebration of our 15th anniversary. Held over five thrilling a...[Read more...]
Mecum Hits East Coast with 1,000 Collector Cars and Vintage Motorcycles in Harrisburg
Auction Slated for July 24-27 at Pennsylvania Farm Show Complex and Expo Center Walworth, WI - July 9, 2014 -- Mecum Auctions, the largest collector car auction company in the world, will conduct its first-ever auction in Harrisburg this July 24-27 at the Pennsylvania Farm Show Complex and Expo Center with an estimated 1,000 collector cars expected to cross the auction block Thursday through Saturday and 200 motorcycles on Sunday. Featured consignments include a well-docume...[Read more...]
Holden Celebrates 35 Years of Commodore
Holden is celebrating the 35th anniversary of its most iconic nameplate, Commodore. For over three decades, the Holden Commodore has delivered significant advances in vehicle performance, safety and comfort on the way to becoming Holden's longest-standing and most successful nameplate. Holden Executive Director, Vehicle Sales, Service and Marketing, Phil Brook, said Holden was extremely proud of Commodore's success. 'There are not many nameplates in Australia that can lay claim to a ric...[Read more...]
Final Countdown Underway To South Florida's Premier Collector Car Auction
• Auctions America kicks off its 2013 auction season, March 22-24 with its highly anticipated Fort Lauderdale Collector Car Auction • Celebrating its 11th year, the multi-day auction features more than 550 quality collector cars • Latest feature attractions include an outstanding 1963 Shelby Cobra and a 1974 Ferrari Dino 246 GTS • Digital catalog now available for download at auctionsamerica.com AUBURN, Indiana (February 27, 2013) – With the final countdown underway to its highly an...[Read more...]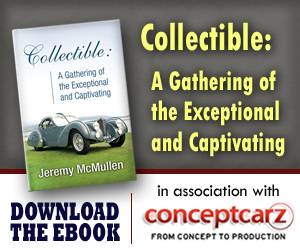 Similarly Priced Vehicles from 1971
Ford Mustang ($2,910-$4,120)
Oldsmobile Cutlass Supreme ($3,336-$3,500)
Pontiac Firebird ($3,047-$3,446)
Dodge Challenger Pace Car ($3,200-$3,200)
Chevrolet Camaro Series ($2,760-$3,940)

Average Auction Sale: $153,145
© 1998-2014. All rights reserved. The material may not be published, broadcast, rewritten, or redistributed.