1952 Alfa Romeo 1900C news, pictures, specifications, and information

Tweet
Designed by Orazio Satta to meet the needs of a market represented by the middle class, the 1900 is the first Alfa Romeo built entirely on a production line. A modern, functional car, wîth outstanding characteristics, it is also cheap. Its weight is considerably reduced, thanks to the construction technique - used for the first time - of a body in which the bodyshell is one piece wîth the chassis. The 4-cylinder 1884 cc engine, well received even by the most demanding customers, has the same classic structure and generous performance typical of Alfa Romeo engines. The simple and functional bodywork style is characteristic of the Italian trend of the time. The model appears in various versions: as a normal saloon, a saloon TI, a sprint (with short and long wheel base), and a military off-road vehicle (the 'Matta' -'Crazy' car).
Source - Alfa Romeo
This unrestored 1952 Touring Superleggera-bodied Alfa 1900 Corto Gara was driven by Franco Cortese in the 1952 Mille Miglia. The Corto Gara, chassis 01047, is one of a smaller number of special competition cars that were prepared by the factory for the 1952 race. The car participated in the retrospective Mille Miglia in 1984, 1989, 1990, 1995, and 1997. It has also participated in numerous California Milles and has been a frequent participant in the Monterey Historic Races.

The Corto Gara cars had highly tuned 4-cylinder, 1884 cc engines with Weber carburetors and stiffer suspensions. Their interiors were a spartan version of the production car interior with a speed column shift and a chronometric Jaeger tachometer. The exterior was distinguished by the flat glass V-windshield, sliding Perspex side windows, louvered Perspex rear quarter window, Monza type fuel filler mounted in the tail (eliminating the trunk lid) and a single large driving light mounted on the grill.
Competed in the 1952 Mille Miglia!
Alfa Romeo is an Italian automobile manufacturer founded in 1910, and it has been a part of the Fiat Group since 1986. The company was originally known as A.L.F.A. which is an acronym for Anoima Lombarda Fabbrica Automobili (or: Lombard Automobile Factory; Public Company).

The Alfa Romeo 1900 Sprint Coupe was introduced in 1951. It had a 100 horsepower 4-cylinder twin overhead cam all-aluminum engine.

This car, serial number 1047, is the only survivor of six specially-made 'Corta Gara' (short race) cars made by Alfa Romeo for the 1952 race season. This car has a Touring 'Superleggera' (super light) aluminum body that was a lowered, reshaped, and lightened version of the series production Touring Sprint coupes. This Corta Gara has a highly-tuned 135 horsepower engine with twin Weber carburetors, a stiffer suspension, Jaeger tachometer, flat glass 'V' windshield, 80 liter gas tank with Monza-type fuel filler in the tail, no bumpers, and a driving light mounted on the grill.

This car competed in the 1952 Mille Miglia race, driven by Franco Cortese. It carried number 510 (the departure time). This car remains in unrestored original condition, except for the exterior paint and interior.
This 1952 Alfa Romeo 1900C Berlinetta is a five-window Superleggera and one of 650 first-series examples produced from 1951-53 by Touring. A three-year nut-and-bolt restoration has been performed on this car brining it to show quality level. This restoration process, including the 12-coat of final finish, was documented in the January 2006 issue of Hemmings Sports & Exotic Car magazine. It is painted in blue paintwork with an interior in monochromatic shades of blue and rides on Borrani wire wheels. The car is a two-time Best of Show winner from the Saratoga Auto Museum.

In 2008, this vehicle was offered for sale at the 'Sports & Classics of Monterey' presented by RM Auctions. It had an estimated value of $70,000 - $90,000. It was offered without reserve and sold for a high bid of $55,000 including buyer's premium.
By Daniel Vaughan | Jan 2009
Much of Europe was devastated by bombing and attacks during World War II and factories that had been producing vehicles switched to producing materials and vehicles in support of the war efforts. The war ended in 1947 and by 1950 Alfa Romeo had a new vehicle ready for serious production. It was designed by Dr. Orazio Satta Puliga and was the first Alfa Romeo to use unitary construction. Under the hood was a four-cylinder engine with dual-overhead-camshafts which was a tribute to the companies racing history. The suspension was also sporty with an Independent front suspension with wishbones and coil springs. In the rear was a live rear axle.

This was a very important vehicle for Alfa Romeo as the company struggled to regain its market-presence after the war. The 1900 was produced by Alfa Romeo in a variety of bodystyles with the sedan being the most popular. Though custom coachbodies was not as prevalent after the 1940's, nearly every major Italian Coachbuilder created a coupe or cabriolet version of the vehicle. Part of the popularity was the vehicles sporty characteristics which made it easier for the coachbuilder to design and create attractive bodies.

Touring created three series of Super Sprints on a shortened version of the chassis. As mentioned before, the majority of the vehicles were sedans and only 10% of the vehicles created sat atop a shortened (corto) chassis. It is estimated that Touring created around 965 examples of the corto chassis, each were hand built and created as a special-order purchase. Many of the details were left up to the consumer to cater to their every wish and desire.

The examples created by Pinin Farina were mostly cabriolets. Zagato created 41 examples with most being coupes and two being convertibles. The bodies by Zagato are considered some of the most memorable and exciting of all the custom built Alfa Romeo 1900's.

When the 1900 was first introduced it was powered by a four-cylinder engine that produced an adequate 90 horsepower. A few years later the Ti version was introduced which raised the horsepower to about 100. Throughout the years, horsepower would again be improved and specifications varied.

Production of the 1900 lasted for ten years with more than 21,000 examples produced.
By Daniel Vaughan | Apr 2007
The Alfa Romeo 1900 Series was produced from the very early 1900s through 1959. It was designed by Italian designer, Orazio Satta, and became the company's first car built on a production line. This vehicle signaled a radical departure from the type of business Alfa Romeo had constructed in the pre-War era. This shift towards an affordable production automobile was a necessary evolution for the company and a gamble that would prove to be the correct endeavour. In the pre-War era, the company had created expensive and powerful performance machines. Other marque's, such as Delahaye and Talbot Lago, had also be renowned for their performance machines, and had continued to cater only to this type of business in the post-War era. By the close of the 1950's, Alfa Romeo was still in business, while Talbot and Delahaye both were not.

In keeping with Alfa Romeo's tradition, Satta was given the difficult task of creating a vehicle that was affordable and could be mass produced, yet still retain the company's heritage of quality and performance. What was created was a major advancement, as the vehicle was given a unitary construction where the body worked as part of the chassis and housed many of the mechanical components. Prior to this, the body and chassis had been constructed separately, which was a traditional method by most marque's. The unitary construction made mass production much easier, allowed cost to remain low, and kept the vehicles performance to maximum. The major drawback to this type of construction was the difficulty it provided with custom coachwork.

The design of the vehicle was perfected by the Alfa Romeo designers with the help of wind tunnels. The vehicle was given a very aerodynamic body that was elegant and memorable. Under the bonnet was a four-cylinder engine that displaced 1884cc and fitted with dual overhead camshafts. Horsepower was impressive considering the engines size, rated at around 90 which put it on par with the larger 6C 2500 six-cylinder engine. The engine was placed in the bay at a longitudinally angle, matted to a four-speed manual gearbox with steering-column levers, and powered the rear wheels. Top speed was achieved at just over 105 mph.

The vehicle was attractive, sporty, and elegant. It was a fine addition to Alfa Romeo's proud heritage and their quest to create a more affordable, mass produced automobile. 7,400 base model examples were produced between 1950 through 1954 making it their most popular vehicle to date.

One year after the vehicles introduction, Alfa Romeo introduced the Ti and Super versions. Both were created in a way that provided flexibility to coachbuilders to create a wide range of custom bodies. The list of builders included Ghia, Touring, and Pinin Farina. The list of body styles ranged from racing machines to two-seater luxury automobiles. The Super body style had a shorter wheelbase and was an excellent platform to create sporty versions of the 1900.

By 1954, Alfa Romeo introduced a larger engine that increased horsepower even further. The top-of-the-line version in terms of performance was the Super Sprint, which offered 115 horsepower. It seems that after Alfa Romeo secured their initial goals of creating an affordable automobile, they immediately searched for ways to improve upon its performance.
By Daniel Vaughan | Aug 2007
RECORD DAY AT BONHAMS GREENWICH AUCTION
(June 2, 2014) Greenwich, CT – Standing room only crowds packed the Bonhams tent at the 7th annual Greenwich collector motorcar auction with the sale totaling in excess of $8 million dollars—besting last year's record breaking total by over 40%, with over 93% of lots offered finding new homes. The capacity crowd grew nearly silent as the catalog cover lot, a 1975 Lamborghini Countach LP 400 'Periscopica', sold for over $1.2 million dollars to a bidder seated in the front of the room, beat...[Read more...]
Italian Racing Classics Lead Gooding & Company's 10th Anniversary
SANTA MONICA, Calif. (June 4, 2013) – Gooding & Company, the official auction house of the Pebble Beach Concours d'Elegance acclaimed for selling the world's most significant and valuable collector cars, will be hosting the 10th Anniversary sale of the Pebble Beach Auctions on August 17 and 18. This year Gooding & Company offers an early preview of some of the most highly sought after and rapidly amassing value collectible – the distinguished Italian race car. Auction highlights include a...[Read more...]
ACURA NSX PRODUCTION SITE SELECTED IN OHIO
05/14/2013 - MARYSVILLE, Ohio Acura today announced that the all-new NSX supercar will be produced at a new Performance Manufacturing Center in Ohio, a $70 million advanced production facility encompassing 184,000 square feet to be housed inside Honda's former North American Logistics facility and located in the midst of Honda's existing R&D and production engineering operations. The site for the new production facility, which will be Honda's third auto plant in Ohio, is only a few mi...[Read more...]
Jaguar Land Rover Debuts Three All-New British Vehicles At 2012 Los Angeles International Automobile Show
Jaguar Land Rover introducing three new vehicles with special focus on the U.S. Market •High-performance 2014 Jaguar XFR-S makes its world debut •All-new two-seat sports car, the Jaguar F-TYPE, makes its U.S. Auto Show Debut •The world's first all-aluminum SUV, the 2013 Range Rover makes its U.S. Auto Show Debut •The U.S. will be the world's largest market for the three vehicles Jaguar Land Rover is debuting at the 2012 Los Angeles International Auto Show (MAHWAH, N.J.) – November...[Read more...]
Six Decades Of Ferrari At Mecum's Daytime Auction
1954 Ferrari 750 Monza Headlines Select Offering of Italian Illuminati Mecum Auctions will present its 4th annual Monterey Daytime Auction, Aug. 16-18, 2012 at the Hyatt Regency Monterey Hotel and Spa on Del Monte Golf course, featuring some of finest machines Ferrari has ever produced headlined by a 1954 750 Monza Spyder Scaglietti. By turns part of the Engelbert Stieger, Brando Wang, Walter Burani and Roberto Crippa collections, 1954 Ferrari 750 Monza Spyder Scaglietti S/N 0462MD...[Read more...]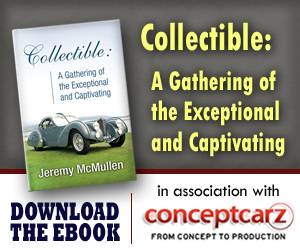 © 1998-2014. All rights reserved. The material may not be published, broadcast, rewritten, or redistributed.