1929 Cadillac 341B news, pictures, specifications, and information

Tweet
| | | | |
| --- | --- | --- | --- |
| | | | Fisher Body Convertible Coupe |
This 1929 341B Cadillac convertible coupe sits on a 140-inch wheelbase, weighed 4,909 pounds and was priced at $3,595. Options available at the time included 6 wire wheels, fender wells with 2 spares priced at $250, a heater was listed at $32 and tire mirrors were $30.

This was the first Cadillac to feature a Synchromesh transmission that eliminated the practice of 'double-clutching' while shifting gears. Other first-time features included security-plate safety glass used in all windows and the windshield, and electric windshield wipers.

The car is powered by a V-8, L-head engine, with 341 cubic inch displacement and an advertised 90 plus horsepower. Internal shoes were introduced on the Duplex-Mechanical brakes.
| | | | |
| --- | --- | --- | --- |
| | | | Fisher Body Convertible Coupe |
This 1929 Cadillac Roadster 341B rides on a 140 inch wheel base, weighs 4678 pounds and was priced at $3,350. Options included 6 wire wheels (2 side mounted) priced at $250 and tire mirrors were $30.

This was the first Cadillac year to feature a synchromesh transmission that eliminated double clutching while shifting gears. Other first time features included security-plate safety glass and electric windshield wipers. It also had an air pump installed under the driver's floorboard, geared to the engine and used to inflate the tires.

The car is powered by a V-8, L-head engine with 341 CID and an advertised 90+ horsepower. Internal shoes were introduced on the duplex mechanical brakes.

There are currently only five other 1929 Cadillac roadsters listed in the Cadillac LaSalle Club Directory.
| | | | |
| --- | --- | --- | --- |
| | | | Fisher Body Sport Phaeton |
The 1929 Cadillacs were among the first examples of the prestigious marque to feature styling developed under the direction of Harley Earl, who founded the pioneering General Motors Art & Colour design section in mid-1927.

New features found on all 1929 Cadillac's included chrome plating and security-plate safety glass. The '29s were the first cars in the industry to have 'Synchro-Mesh,' which eliminated the need to double-clutch when shifting gears. An L-head V8 engine with a 341 cubic-inch displacement was standard. It made 95 horsepower with the optional high-compression heads found on this example.

The 1929 341B Cadillac Sport Phaeton sat on a 140-inch wheelbase, weighed 5,160 pounds and listed for $3,950. The Fisher-bodied Sport Phaeton was distinguished from other (less expensive) open Cadillac's by its flip-up tonneau cowl, which carried a folding windshield for the comfort of the rear-seat passengers.

One of the prettiest body styles available on the Cadillac chassis - and there were many - was the dual cowl phaeton, as seen here. The rear passengers had their own fold-down cowl and a windshield.

The year 1929 represented several 'firsts' for Cadillac including safety glass and a synchro-mesh transmission. The engine was Cadillac's venerable 341 cubic-inch V8 that developed 90 horsepower. A transmission-mounted air compressor was standard equipment.

With body by General Motors' Fisher Body division, this Cadillac cost $3,950 new - plus the accessories seen here: running board spotlight and lap robe.

This well-documented Sport Phaeton was purchased new for a Christmas delivery to a family residing on 5th Avenue in New York City. It was equipped with many factory options, including six 'Buffalo' wire wheels, which cost $250 and included dual front fenderwells to carry the two spare wheels and tires. The unusual stanchion-mounted spot-light was also an option. The Sport Phaeton passed through several Texas collections before the present owners acquired it. A thorough professional upgrade of the restoration was recently completed.
This 1929 Cadillac Model 341-B has the Fisher-built roadster body and sold new for $3,350. 1929 marked the first year for shatterproof safety glass to be installed in all Cadillac windows and windshields and was also the first year for a synchro-mesh transmission. Over 18,000 Cadillacs were built and sold during the 1929 model year.
| | | | |
| --- | --- | --- | --- |
| | | | Fisher Body Sport Phaeton |
This car was delivered new to Boston, Massachusetts, in March 1929. It was sold and in early 1980, the owner started to restore the car. The current owner purchased the car in November 2007 and the next two winters were spent getting the vehicle to its present condition.

This car cost approximately $4,300 new. Some of the new features for 1929 included synchromesh transmission in second and high gear, electric windshield wipers and safety plate glass in all windows.
| | | | |
| --- | --- | --- | --- |
| | | | Fisher Body Sport Phaeton |
The 341 Series were the first Cadillacs designed by General Motors new design chief Harley Earl, who went on to become a legendary American designer. Sales figures for 1929 were nearly double those of 1928.

All Cadillacs for 1929 were built on a 140-inch wheelbase chassis. They were powered by the famous Cadillac V-8 overhead valve motor that developed '90-plus' horsepower.

Combining that powerful motor with this sporty phaeton (much lighter than a sedan or limousine) meant someone enjoyed some fast driving. Driving the Cadillac Series 341 was made easier thanks to another Cadillac innovation - the industry's first synchromesh transmission.
The exterior of the 1929 Cadillac was little changed. Parking lamps were moved from the cowl to the tops of the fenders which gave it a slightly sportier look. The mechanical components, however, received several significant changes. Most important was a new 'clashless' Synchro-Mesh Silent-Shift transmission, negating the need for double-clutching while also enabling much smoother gear selection. New mechanical four-wheel brakes required considerably less pedal pressure than earlier models, and shatterproof Security Plate glass became standard in all windows. The suspension system featured new double-acting Delco shock absorbers, and fully adjustable seats became standard.

This V-8 Sport Phaeton with coachwork by Fisher is a CCCA Full Classic. It was originally located by Joseph Schiro in a San Francisco garage. It received its AACA First Junior Award in 1969. Years later, Schiro sold the car to an individual on the Monterey Peninsula in California. Later, it was offered for sale in January 1996, when it was purchased by John Kinkaid, a St. Paul businessman who brought the car to Minnesota, where it has remained ever since. The current owner acquired the car. in 1998. Currently, the odometer shows only 62,000 miles, which are believed to be original.

Recently, the car has been given a new convertible top and side curtains, along with period-correct tires. The wire spoke wheels were also refinished and painted. The car includes its original trunk, Trippe lights, and a full set of tools, a shop manual, and its owner's manual.

In 2013, the car was offered for sale in Scottsdale, Arizona by RM Auctions. As bidding came to a close, the car had been sold for the sum of $88,000 including buyer's premium.
By Daniel Vaughan | Jan 2013
In 1928 Cadillac introduced a new V8 engine that was 341 cubic-inches and produced 90 horsepower. The vehicle in which is was installed was called the 341, or the Series 341 and 341B. Production of this engine, and this series, continued until 1929 when it was replaced by the 353. The Series 353 had a 353 cubic-inch engine which benefited from a 3.38 inch bore and 4.94 inch.
By Daniel Vaughan | Mar 2007
McLAREN NORTH AMERICA EXPANDS RETAILER NETWORK WITH FIVE ADDITIONAL LOCATIONS
◾New locations in Atlanta, Long Island, Scottsdale and Washington D.C. confirmed for North America ◾McLaren Vancouver confirmed as second Canadian location ◾Five new locations to support the continued expansion of the McLaren brand McLaren North America is pleased to announce the continued expansion of the retailer network, with the appointment of five new authorised retailers. The four locations in the US and one in Canada will take the network to 15 retailers representing the North Americ...[Read more...]
GM DESIGN'S TOM PETERS EARNS LIFETIME ACHIEVEMENT AWARD
PASADENA, Calif. – In addition to more than 30 years of designing some of General Motors' most memorable vehicles, Tom Peters led the exterior studio teams that produced two of GM's most important product introductions this year – the 2014 Chevrolet Corvette Stingray and 2014 Chevrolet Silverado full-size pickup. On Sunday, Peters received a lifetime achievement award for his work from his alma mater, Art Center College of Design, which has been at the forefront of art and design educ...[Read more...]
Barrett-Jackson Announces Three Bonus Hours Of Live TV Coverage During Inaugural Hot August Nights Auction August 8-10, 2013
The World's Greatest Collector Car Auctions™ Expands Coverage of the Inaugural Reno Tahoe Event on FUEL TV Scottsdale, AZ (April 30, 2013) – Barrett-Jackson, The World's Greatest Collector Car Auctions™, announced today that for the first time ever, it will broadcast three bonus hours of its inaugural Hot August Nights auction on FUEL TV, taking place at the Reno-Sparks Convention Center Aug. 8-10, 2013. The live coverage on FUEL TV will broadcast on Saturday, Aug. 10 from 5pm-8PM E...[Read more...]
POW! BAM! ZOOM! The Original 1966 TV Batmobile To Cross Auction Block At Barrett-Jackson Scottsdale
Holy Grail of TV Star Cars to be Sold for First Time January 19, 2013 Barrett-Jackson, the World's Greatest Collector Car Auctions™, announced today that it will offer one of the most recognized and popular pieces of entertainment history worldwide, at its 42nd annual Scottsdale www.barrett-jackson.com/scottsdale/ auction in January – the only 1955 Lincoln Futura concept car which was heavily modified by legendary customizer George Barris to become the original 1966 Batmobile in the l...[Read more...]
Automotive Hall of Fame Inductees Named
Awards to be Presented in Conjunction with the Concours d'Elegance of America The Automotive Hall of Fame will present its annual induction and awards ceremony on Thursday, July 26, 2012 as one of the week-long Concours d'Elegance of America events. It will be held at The Inn at St. John's in Plymouth, Michigan. Both the Concours d'Elegance of America and the Automotive Hall of Fame celebrate the heritage and history of Detroit. The show highlights the evolution of the automobile's...[Read more...]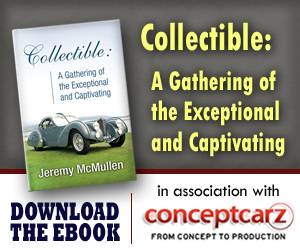 Similarly Priced Vehicles from 1929
Packard 645 Deluxe Eight ($4,600-$6,022)
Packard 633 ($2,400-$6,500)
Stearns J-8-90 ($5,500-$5,800)
Kissel White Eagle Series 126 ($3,185-$3,885)
Lincoln Model L ($2,995-$7,395)

Average Auction Sale: $98,343
Cadillac
Monthly Sales Figures
Volume
July 2014
15,241
June 2014
13,941
May 2014
14,688
April 2014
13,900
March 2014
14,765
February 2014
13,437
January 2014
11,386
December 2013
18,165
November 2013
16,172
October 2013
14,792
September 2013
13,828
August 2013
20,255
(More Details)
© 1998-2014. All rights reserved. The material may not be published, broadcast, rewritten, or redistributed.