1932 REO 8-35 Royale news, pictures, specifications, and information

Tweet
Convertible Coupe
Coachwork: Murray

Ransom Eli Olds was successful in selling his Curved Dash Oldsmobile, but when he resisted dropping it in favor of a more modern, expensive automobile he was forced out of his own company. Unable to use the Oldsmobile name, he started a new company using his initials.

This 1932 REO Royal Convertible Coupe with Murray coachwork, is one of only three known to exist today. The Royale featured one-step lever-action chassis lubrication, thermostatically controlled radiator shutters, large 15-inch Lockheed four-wheel hydraulic drum brakes and four-wheel leaf springs.

The Model B-350 was equipped with a 125 hp, 358 cubic inch straight-eight cylinder engine coupled to a four-speed manual transmission with a vacuum controlled clutch.

The $3,000 price tag guaranteed a top speed of 90 mph.
Convertible Coupe
Coachwork: Murray

In August 1904 Ransom E. Olds was forced out of the company he had founded, the Olds Motor Works. The firm built the curved dash Oldsmobile and was one of the largest producers of automobiles at that time. Olds immediately started a new company, using his initials to name it the REO Motor Car Company. REO would become a large and well known manufacturer of automobiles and would prosper into the 1920's. However, it the aftermath of The Great Depression, production of REO automobiles would cease in 1936.

REO decided to enter the luxury car market in 1931 and retained the services of Amos Northup, the chief designer of Murray Body to style the new cars. The resulting 835 Royale series REOs, powered by a 125-hp straight eight engine, were some of the most exciting cars on the road in their time, and they are today recognized as true Classics.

This 1932 REO Royale convertible coupe was purchased in September, 1931 by Miss Elizabeth Jeffreys, of Pueblo Colorado. Miss Jeffreys was the first woman to obtain a pilot license in Colorado. A story passed down with the car relates that she took her new REO to Bonneville, Utah salt flats to test the designer's claim of 120 mph top speed. The REO is said to have clocked 116 mph. Miss Jeffreys kept the car until she died, whereupon it passed to her sons, who sold the car in 1978. The present owner is the fourth owner.
Convertible Coupe
Coachwork: Murray

The Reo Model 8-35 is one of, if not the first, automotive designs tested in a wind tunnel at the University of Detroit Aeronautics Department. Designed by Murray, the fenders, radiator shell, and even the forward light bezels all show the efforts put forth to create a smooth, graceful and aerodynamic profile. Those efforts, combined with a powerful 358 cubic-inch engine, a rigid frame and huge Lockheed hydraulic brakes, gave Royale owners a swift and unique driving experience. And, as one writer of the time said, '....leaves nothing to be desired.' The Royale coachwork was awarded gold medals in both the Rome and Zagreb, Yugoslavia concours d'Elegance events in 1931. This example is finished in a color known at the time as 'steel dust iridescent,' chosen to highlight the aerodynamic features of the fenders and coachwork.
Ransom Eli Olds was successful in selling his Curved Dash Oldsmobile, but when he resisted dropping it in favor of a more modern, expensive automobile he was forced out of his own company. Unable to use the Oldsmobile name, he started a new company using his initials (REO).

In August of 1904, Ransom E. Olds founded the Reo Company. The REO Company manufactured automobiles and trucks from 1905 through 1936. In 1907, it was one of the top four automobile manufacturers in the United States, based on sales. After 1908, the demise of the REO Company began due to competition from Ford and General Motors.

The Depression and a courageous effort to offer vehicles in multiple price ranges ultimately led do the downfall of the company. The company was under the direction of Richard H. Scott from 1915 through 1933. The company was profitable from 1915 through 1925, but after 1933, Ransom Olds came out of retirement to get the company back on track. He resigned a year later and in 1936 the REO Company ceased production of automobiles.

1931
For the 1931 model year, the REO company offered models powered by either six- or eight-cylinder engines. The six-cylinder units displaced 268 cubic-inches and provided 85 horsepower. The 358 cubic-inch straight-eights had 125 horsepower. The naming scheme for this year signified the cylinders and the wheelbase. The large eight-cylinder engines were used in the elegant 8-35 Royales that rested on a wheelbase measuring 135-inches. The engine could also be found in the 8-30 Flying Cloud models. The six-cylinder engine in the 6-25 had a price starting around $1800 and helped diversify the selection catering to a wider audience of buyers. This was particularly important as The Great Depression decreased the number of buyer's able to afford the high-priced models.

The Royale's were very elegant, stately, and modern vehicles. They were given Murray-built bodies and carried a sticker-price of just under $2500. If customers were looking for more elegance, they were sure to find it on the 152-inch Royale with custom coachwork courtesy of Dietrich. The bodystyles offered in this range were a seven-passenger limousine and three convertibles. As would be expected with elegance of this level, only a few Dietrich bodied examples were ever produced.

Sales were slow in 1931, as was becoming a market-wide trend. The economic difficulties of the era had all marque's looking to diversify their accessories and model-lines in order to attract buyers. Reo's attempts included dropping their prices and increasing their horsepower. This did little to stimulate sales and they closed the year with a $3 million loss. A total of 6762 cars had been built.

The following year the company diversified their line even further with a smaller model named the Flying Cloud. It had a 117-inch wheelbase and a 230 cubic-inch six-cylinder engine developing 80 horsepower. It was extremely versatile, offered in nine open and closed models in both DeLuxe and standard trim. Pricing was fairly competitive, selling for around $980 - $1200. The other models remained mostly unchanged. The company hoped the new Flying Cloud would do well in the marketplace, but it did not. Total sales for the year reached around 3900 cars.

The company would stay in business for a few more years, officially closing their doors in 1936.
By Daniel Vaughan | Mar 2008
Eli Olds founded the REO Motor Car Company, in 1905, shortly after selling Oldsmobile, but was prohibited from using his name for a new car manufacturer. Wittingly, his initials R.E.O. were used to name the new company. The Royale, first produced in 1931, was a trend setting design by noted Murray custom coach designer, Amos Northrup and set the stage for true automotive streamlining. It was the first car tested in a wind tunnel to optimize aerodynamic design.

This Royal 8-35 has a 135-inch wheelbase, an inline eight-cylinder engine with 358 cubic inches displacement producing 125 horsepower at 3500 RPM. Other features include a nine-bearing crankshaft, one-shot lubrication system, thermostatically controlled radiator shutters and golf club storage door. Only 48 Royales were produced in 1932. There are only six other 8-35 Rumble Seat Coupes known to be in existence today.

This car underwent a 14-year frame-off restoration, which was completed in 1991. The 1931 through 1933 Royale series are the only REO Certified CCCA Classics.
MOPAR GOES ALL-IN WITH FLEET OF CUSTOMIZED SEMA SHOW RIDES
◾The 15,000-square-foot Mopar Specialty Equipment Market Association (SEMA) Show display will feature Chrysler, Jeep®, Dodge, Ram and FIAT brand vehicles personalized with Mopar products ◾Hundreds of existing and prototype Mopar parts and accessories also will be showcased at the Las Vegas Convention Center ◾Dodge brings a high-powered collection of concepts and production performance vehicles, including the Dodge Viper ACR Concept, Dodge Dart R/T Concept and Dodge Challenger T/A Concept, as...[Read more...]
Techno Classica 2014: more than 30 racing cars to celebrate 120 years of Mercedes-Benz motor racing history
•Cars that were the heroes of magical moments put their stamp on this high-powered, most comprehensive show presentation •With more than 30 vehicles, Mercedes-Benz Classic presents motor racing history in all its unique breadth and depth •120 years of Mercedes-Benz motor sport in the focus of the leading international classic motor show 120 years of Mercedes-Benz motor racing history have produced a timeline of extraordinary victories which since 1894 also stand for outstanding innovations ...[Read more...]
Gooding & Company Amelia Island Auction Preview
Gooding & Company, the auction house acclaimed for selling the world's most significant and valuable collector cars, will hold its annual Amelia Island Auction on Friday, March 7 on the Omni Amelia Island Plantation. David Gooding, President and founder: 'Originality was the driving force behind our Amelia Island Auction. As always, our specialists have a keen eye for effective preservation of blue chip category cars. Many of the outstanding examples we selected for this sale are excellent ...[Read more...]
Auctions America Continues Successful 2013 Season with its Annual Fall Carlisle Sale
• Auctions America rounds out its 2013 auction season in Carlisle, Pennsylvania, October 3-4 • Two-day Fall Carlisle sale, held in conjunction with the Carlisle Events Collector Car Swap Meet & Corral, features a diverse roster of 300 classics, exotics, muscle cars, hot rods, and customs • Auction highlights include a desirable 1967 Chevrolet Corvette 427/435 Roadster, a 1969 Chevrolet Camaro Z-28 RS Sport Coupe, and a 1960 Mercedes-Benz 190SL Roadster • Full event details and a frequentl...[Read more...]
The Champion in Touring Car Racing : The BMW M3
In August 1985, a rumour surfaced in motor magazine Auto-Deutschland which emanated from a new sports car. An A Group Car from BMW that was a thoroughbred racing car according to the rules but was also to be produced in a version licensed to drive on open roads for everyday use. Speculation about this dream car that could take to normal roads and was intended for the 'Most dynamic among BMW 3 Series drivers' was right on target. But the pundits missed the mark about the motor-sport car by a mile...[Read more...]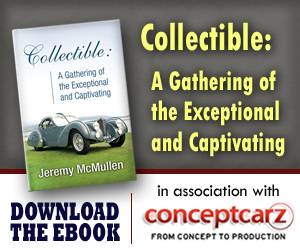 Similarly Priced Vehicles from 1932
Pierce Arrow Model 54 ($2,905-$3,555)
Packard Model 902 Eight ($2,655-$3,450)
Chrysler Series CL Imperial ($2,895-$3,595)
Stutz Model DV-32 ($2,804-$7,643)
Cadillac 355B ($2,795-$4,245)
LaSalle 345B ($2,390-$2,795)

Average Auction Sale: $184,250
© 1998-2014. All rights reserved. The material may not be published, broadcast, rewritten, or redistributed.